Due to the global impact of the black swan epidemic, home entertainment has become a leisure choice for more people, and a number of game companies have become the darlings of the capital market.
Due to the global impact of the black swan epidemic, home entertainment has become a leisure choice for more people, and a number of game companies have become the darlings of the capital market.
Last year, game engine company Unity raised US$1.3 billion, and its IPO valuation reached US$13.6 billion. Although the company is still at a loss, its share price has increased by nearly 200% after listing. Another e-sports company, SkillZ, also plans to go public through special mergers and acquisitions, with a valuation of US$3.5 billion.
Under such a listing boom, Children's online game company Roblox stepped up and chose to land in the US stock market through a direct listing. This also makes it the fifth company to choose this method after Spotify, Palantir, Slack, etc.
Actually, Roblox did not make this choice on a whim. It once submitted an IPO application to the SEC, but chose to postpone the listing due to its low valuation. Today, Roblox has completed a new round of financing and has made a comeback. The current valuation is more than 7 times the US$4 billion in the G round of financing, close to US$30 billion.
During this period, this sandbox mobile game platform company can be said to have successfully found the right way to increase its valuation. It is undeniable that social isolation is driving the game industry to usher in an explosion, and the external environment favors Roblox. However, whether it has excellent endogenous growth capabilities, it still needs to combine financial report data to find the answer.
Roblox is still "not enough" to be included in the billion-dollar club
Roblox focuses on the field of children's games, but it is significantly different from many game companies.
It mainly provides an operational platform and provides game creation tools through Roblox Studio. The core of this platform is its simulation engine, which has a similar expansion gameplay with Microsoft's "Minecraft", thus forming a huge UGC content community.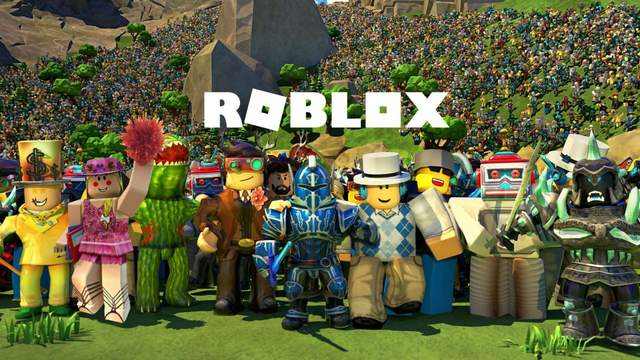 Among them, mainly developers design their own games for users. Most of the games on Roblox are free to download, and the profit model is more derived from the player's consumption of game items.
According to the prospectus data, Roblox achieved 313 million and 488 million in 2018 and 2019, respectivelyIn terms of dollar revenue, the latter increased by 56% compared with the former. The platform's representative games Adopt Me and Royale High have made important contributions to revenue growth.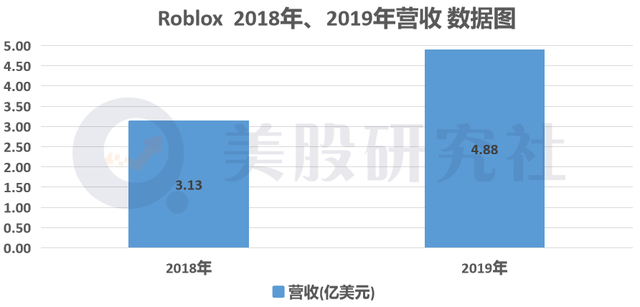 In terms of quarterly revenue, Roblox's revenue for Q1-Q3 in 2020 will be 157, 1.90, and 242 million US dollars, and the cumulative amount will reach 589 million US dollars. If it is conservatively estimated that Q4 last year was still US$242 million, the year-on-year growth rate will be more than 70% compared with 2019.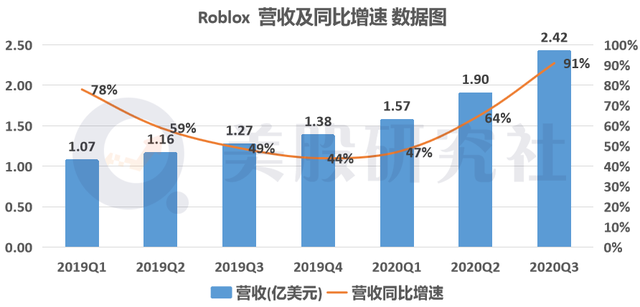 In addition, last year's Q1-Q3 revenue growth rate was 47%, 64%, and 91% respectively. The data is back in the expanding trend.
Roblox platform games are developed around mobile devices, which means that the company's revenue mainly comes from mobile games. According to Sensor Tower data, in 2020, five mobile games have annual revenues of more than 1 billion U.S. dollars and are among the "billion dollar clubs."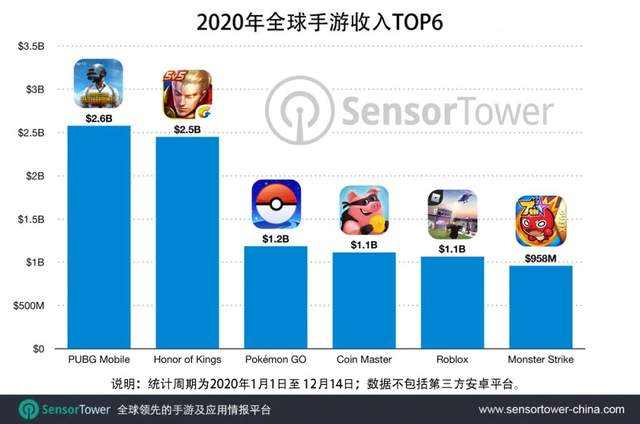 (Image source: Sensor Tower)
And Roblox is among them, ranking fifth. Its mobile revenue in 2020 is approaching US$1.1 billion, nearly doubling from 2019. In August last year, Sensor Tower gave a set of reports that Roblox is one of the fastest growing mobile games.
It is not difficult to find that Roblox experienced rapid growth last year, and part of it is undoubtedly affected by the positive impact of home isolation. During this period, Roblox has a large number of online activities and more than 2 million UGC content creation, making this snowball bigger and bigger.
However, the particularity of 2020 also determines that it is difficult to replicate. Therefore, Roblox will continue to maintain excellent results this year with greater uncertainty.
In addition, from the perspective of the company as a whole, Roblox's size still has a big gap with peers.
Regardless of which devices each product runs on, Roblox is far behind the game companies Activision Blizzard, EA and Take-Two.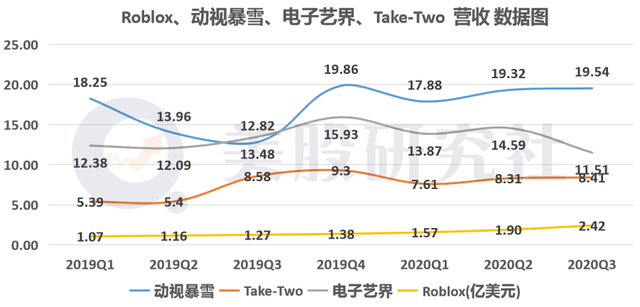 The income of the last three companies has reached 19.54, 11.51 and 841 million U.S. dollars in Q3 last year, which is several times that of Roblox in terms of income. Among them, Activision Blizzard used the well-known IP to create the "Call of Duty" mobile game crazy on the mobile terminal to attract money, widening the gap with the other two giants.
In contrast, Roblox, which will be listed in the future, will occupy a smaller market share in the game field. This means that it has less room for imagination than the currently listed game giants. In addition, one of its platforms has always been its core source of income, so Roblox's competitiveness is also extremely limited.
Holding "Generation Z" in my hand, UGC is struggling to "break the circle" problem
At the user level, Roblox's daily active users have maintained a long-term quarterly growth. From 155.8 million people in Q1 of 2019, it gradually increased to 36.2 million people in Q3 of 2020.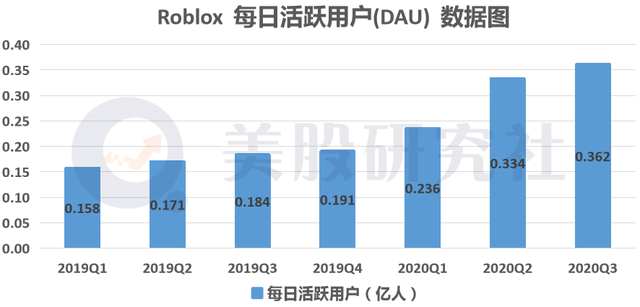 In the first nine months of last year, Roblox's daily active users reached 31 million, an increase of 82% over the same period in 2019. At the same time, the online time of these users on the platform more than doubled from last year, reaching 22 billion hours.
Although Roblox is not as well-known as Minecraft in China and has not received a lot of media coverage, there are still gamers who surpass the latter in the world.
According to a foreign media Eurogamer report, Roblox had 100 million monthly active users last year, surpassing Microsoft's game Minecraft. Therefore, in the sub-type of sandbox games, RobloxHolds most of the users.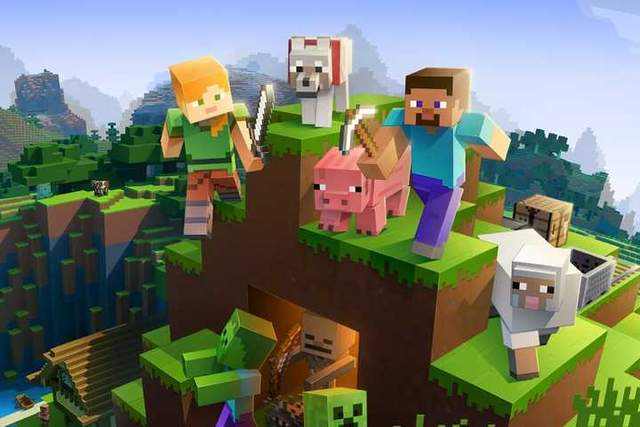 Moreover, the age level of this user group has more room for cultivation. The platform has 115 million Gen Z players, 25% of users are under 9 years old, and 29% are between 9 and 12 years old. Roblox is a long-established platform, and "Generation Z" has become one of the most representative labels.
It is precisely because of its unique label that the communication and sharing between platform users are particularly active. Users can not only play games on the platform, but also have some online virtual parties. Coupled with the impact of public health incidents last year, Roblox has accelerated its move to social platforms.
The management also saw the feasibility of developing the UGC content community. For example, the company's CEO revealed in a statement, "Although it was once regarded as a gaming platform. However, Roblox has grown into a global community through communication, entertainment and trading. Hundreds of millions of users have been connected."
Roblox's community has potential value that can be tapped, but it is also burdened with how to "break the circle". The prospectus shows that the company's loss in the first nine months of last year was US$203 million, an increase of over 400% from the loss of US$46.3 million a year ago; operating expenses during the same period were US$345 million, an increase of over 500 million from the US$62.6 million a year ago. %.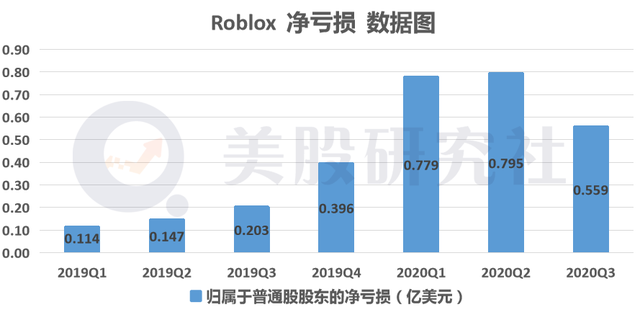 It is worth noting that the occurrence of losses is due to Roblox's maintenance of the platform community, specifically the continued share rewards given to developers.
For the 12 months ending September 30, 2020, Roblox divided 960,000 developers. In terms of value, more than 1,050 people received more than $10,000 in revenue, and nearly 250 developers received more than $100,000 in revenue.
Some people in the industry said that currently Roblox's advertising performance indicators are only click-through rates, and click-through rates cannot track actual game installations. If Roblox can make advertising more transparent, it may enable developers to better control the distribution process, thereby increasing revenue.
So, to get rid of losses as soon as possible, Roblox still has some shortcomings to make up for. more importantYes, Roblox needs to open up new profit growth points on the existing basis. As a relatively special existence in the game industry, it has not been doing games as a platform for a long time, and it has not achieved profit in 14 years. If you try to change this status quo, you will undoubtedly seek new breakthroughs.
UGC games ebb and flow, how does Roblox support the future of the sandbox?
From the scene editor in the 90s to the large MOD community created by "Doom", to the founder of sandbox games "The Sims", it weakened the fixed rules of the game and gave players more freedom, gradually becoming The mainstream of game design.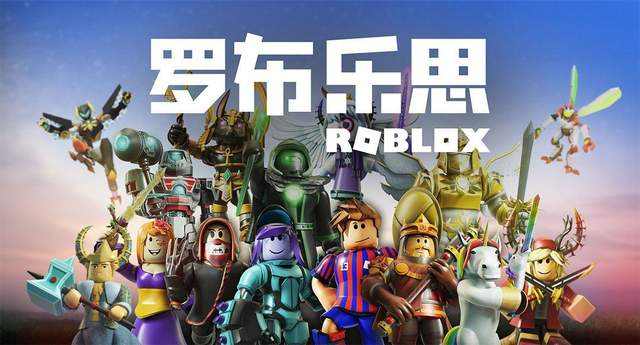 Roblox and Minecraft have become the two largest UGC games in the world. The former is a game creation platform and the latter is a collection of MODs. Although the two are somewhat different in nature, they are both typical representatives of UGC games.
The popularity of UGC games has lasted for many years, and many players are impressed by their plasticity. However, over the years, the innovation of UGC games will be exhausted.
The popular and classic gameplay of UGC games is not as fresh as the past. If you ignore the impact of the epidemic last year, it is an indisputable fact that the popularity of games has gradually declined.
The emergence of MOD gave UGC games a steady stream of vitality, but copyright and fees are always two topics that cannot be ignored.
This is true of "Minecraft", and so is the popular "Auto Chess" in 2019. MOD fees are opposed by users, which also prevents content creators from gaining revenue and discourages their creative enthusiasm.
For Roblox, in addition to how to find new profit growth points, the social problems that may arise in the "Generation Z" community and how to expand the age of the audience are also problems that it needs to solve.
For the latter point, the solution may be that Roblox needs to invest more in the game engine, especially to improve the operation of large-scale games and game visual effects.
Because even if the game on the current platform starts to satisfy more user groups and the gender ratio of the audience is more balanced, it is still not attractive to the masses of older age groups. This is also an important reason why its size is difficult to match with game publishing giants such as Activision Blizzard and EA.
So, in addition to cooperating with schools, some traditional game manufacturers can also be Roblox's partners, which can helpThe company adapts to a wider user group.
Roblox has existed for many years and experienced the ebb and flow of UGC games. There are still many obstacles to overcome to go further. This is what Roblox CEO David Baszucki said:
"There is still a way to go before the fully immersive digital community envisioned."
The source of this article: US Stock Research Institute, please indicate the source for reprinting.