Under the new crown epidemic, the consumption of tourists visiting Japan is sluggish, but the BtoC sales of Longjiao San in October reached more than 5 times of the same month of the previous year.
Editor's note: This article is from the micro-channel public number "Nikkei Chinese net" (ID: rijingzhongwenwang), Author: Nikkei Chinese network.
The Japanese company Ryukakusan is vigorously developing cross-border e-commerce business facing China. Under the new crown epidemic, the consumption of tourists visiting Japan is sluggish, but the BtoC sales of Longjiao San in October reached more than 5 times of the same month of the previous year. The throat medicine of Longjiao San is one of the most popular "magic medicine" in China. Gan Lu (32 years old) of the company's business headquarters used multiple social networking sites (SNS) and other platforms to drive sales.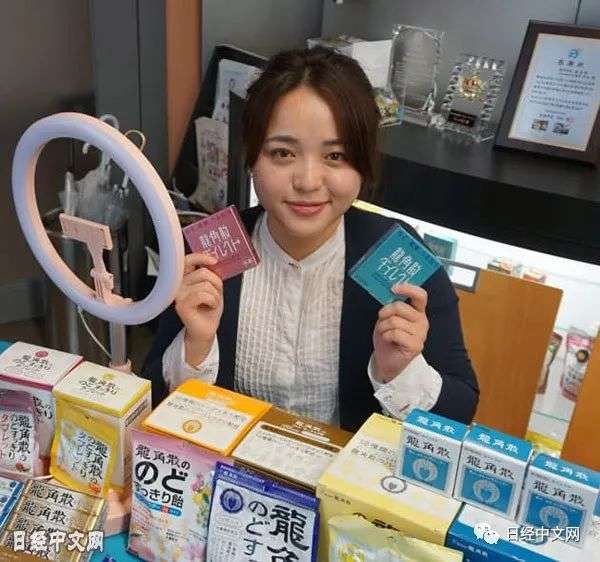 Gan Lu who entered Longjiaosan in 2017
Gan Lu was born in Beijing. He started living in Japan at the age of 19. She likes "Doraemon", and her father works in Japan, so she felt close to Japan when she was a child. After graduating from the Japanese language school in Fukuoka, he went to university in Nagasaki, then went to graduate school in Tokyo, and later worked as a reporter for a certain Chinese media in Japan. One of the interviewees at that time was Ryukakusan. She joined Ryukakusan in 2017 with the president of Fujii Ryuta who was determined to explore the Chinese market.
Longjiaosan has been well-known in China through personal purchasing services in the past. However, in the form of personal purchasing, the manufacturer cannot master the later sales channels. Therefore, the importance of cross-border e-commerce companies that can manage their distribution channels is increasing.
The year Gan Lu entered the company, Longjiao San launched an e-commerce business in China through Tmall. Gan Lu accumulates marketing experience in Japan while engaging in China business, starting with sales of 1 or 2 varieties. In September 2019, we successfully negotiated with Alibaba and opened a flagship store of Longjiaosan on "Tmall Global".
Gan Lu is still working hard to promote sales. For example, using Taobao's live broadcast to bring goods, President Fujii is invited to participate in the live broadcast to directly convey information to Chinese consumers. In addition, Chinese voice actors who like to use Ryukakusan products are invited to shoot videos and promote them through social networking sites.
However, Gan Lu believes that no matter how good an advertisement is, it is meaningless without a large number of people watching it. When Chinese consumers look for products online, they tend to carefully compare multiple websites and choose products with high overall ratings.
So, you need to post on Weibo every day, Bilibili, Douyin and other platform updates, all-round promotion of products.
In addition, different consumer attributes have different media platforms. New media continue to appear, so it is necessary to collect local information earlier and in more detail.
In 2017, when Longjiao San started its cross-border e-commerce business in China, the company had no internal experience in this area. Just when the social networking site was updated, Gan Lu repeatedly reminded that the relevant departments carefully checked the content, and after a layer of superiors approved it, it would be too late to send it, and it might lag behind other competitors.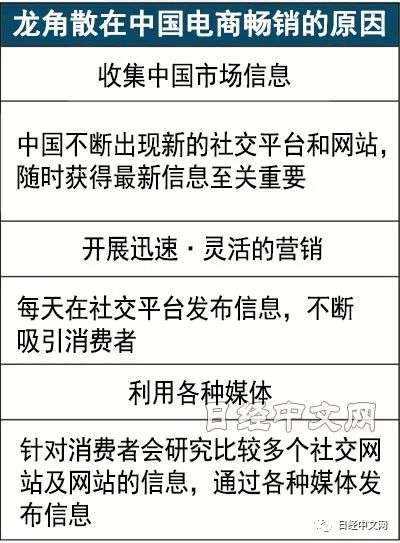 The statement about the efficacy of medicines must be carefully confirmed with the person in charge. Currently, Gan Lu is basically responsible for the content posted on social networking sites. As her boss, Kazuto Ito, the head of the international department of the business headquarters, also trusted her very much: "Gan Lu is the person in the company who knows the Chinese e-commerce market best."
Gan Lu's WeChat will pop up new messages from time to time to remind her. It turned out that the Chinese PR company she was working with asked her to approve the video posted on social networking sites and other platforms. In the past, the content for China was also done by a Japanese public relations company, but it was replaced by a local company in 2019.
In October 2020, Ryukakusan's cross-border e-commerce transaction volume in the Chinese market expanded to nearly 120 million yen, which was about 5.5 times the performance of the same month of the previous year (a little over 21 million yen).
The China business where Gan Lu worked alone now has two new Chinese employees who can share some work for her. Gan Lu also plans to carry out the same marketing for customers in the United States and Chinese.
Gan Lu said that the moment when his favorite Ryukakusan product is highly praised by Chinese consumers, it will feel very meaningful. She smiled and said that sales work is about continuous learning. Although you will encounter unexpected troubles, it will enrich your life experience.