It is not only a new weapon, but also a brand.
Editor's note: This article is from the micro-channel public number "First Financial Business Data Center" (ID: CBNData), Author: CBNData.
If you can buy a variety of big-name samples for only 1 yuan, why not give it a try?
So when Tianmao Uxian's offline pop-up store advertised "Big-brand sample capped at 1 yuan, Filorga, Kashi, and Helena Ladies' brands are all 1 yuan." It is difficult for anyone to refuse such a cost-effective, low-threshold trial experience.
More than 70 years ago, Ms. Estee Lauder created the free trial cosmetic sample; nowadays, more and more samples have evolved from free trial and gift with formal outfits to independently sold products , And gradually formed a huge market. According to NPD Group data, in 2018, the sales of skin care and cosmetics samples in the United States increased by 12% to 1.2 billion US dollars (about 8 billion yuan).
Various consumption scenarios of trial, blind box, collection store, and sample
The "sample" born as a trial outfit, in most cases, still appears as a means of brand marketing.
The first is free or low-cost distribution to potential target consumer groups. It's just formally changed from the past mall distribution and magazine advertisement page bonuses to the brand online membership application Receive, pay for postal trial, redeem points, etc. According to network data, Winona brought 290,000 new customers through the distribution of 300,000 samples, and L'Oréal's sample distribution brought a 25% repurchase rate for Double 11.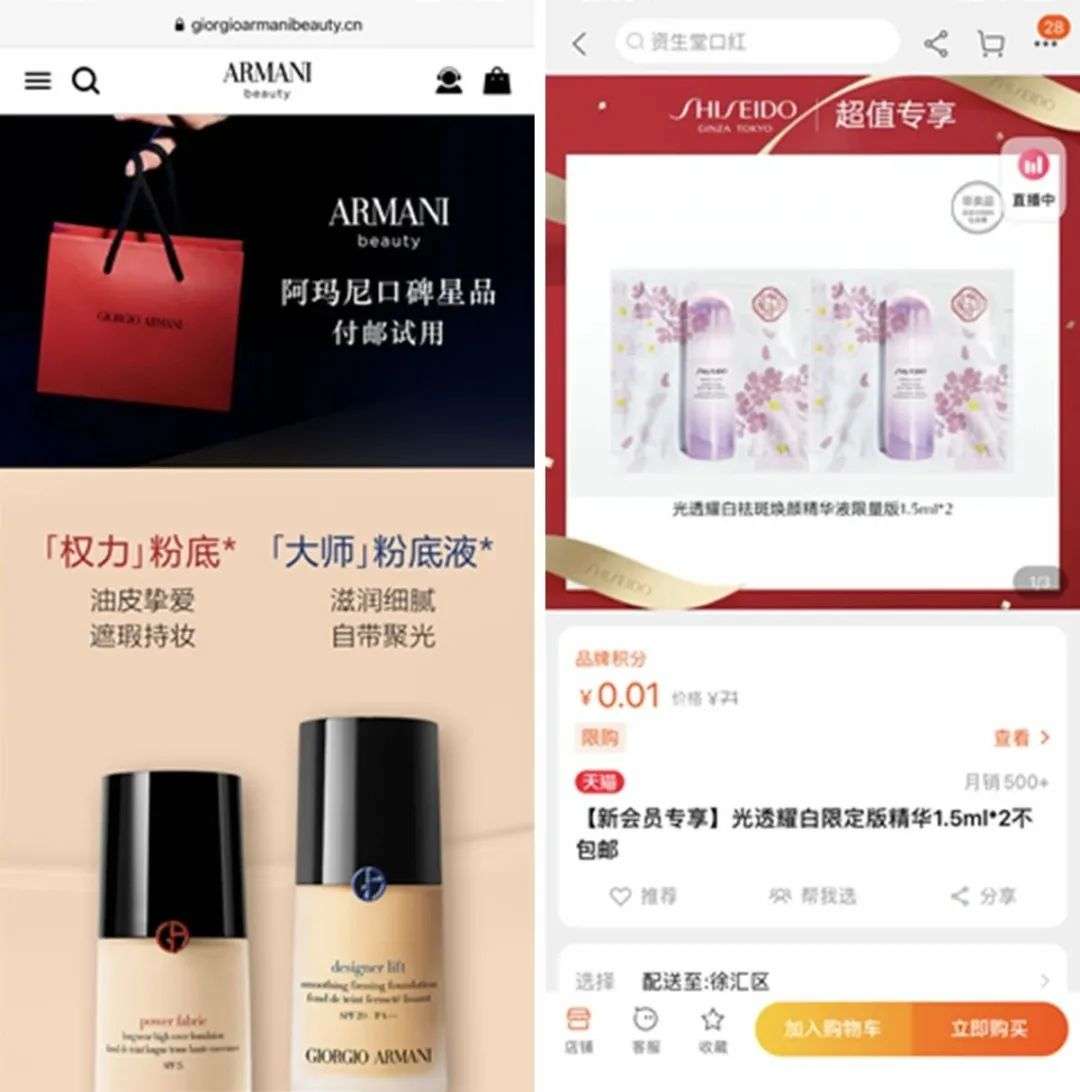 Picture source: Armani official website, Shiseido official flagship store
Secondly, it comes with the formal outfit. It has increasingly become a brand strategy during the e-commerce promotion period. For example, during the Double 11 period, most cosmetics and skin care brands no longer stimulate purchases by lowering their prices, but rely on the blessing of various gift samples to create a more cost-effective feeling for consumers. The live broadcast studios also provide benefits through additional samples. It also avoids the impact of direct price comparison on different channels.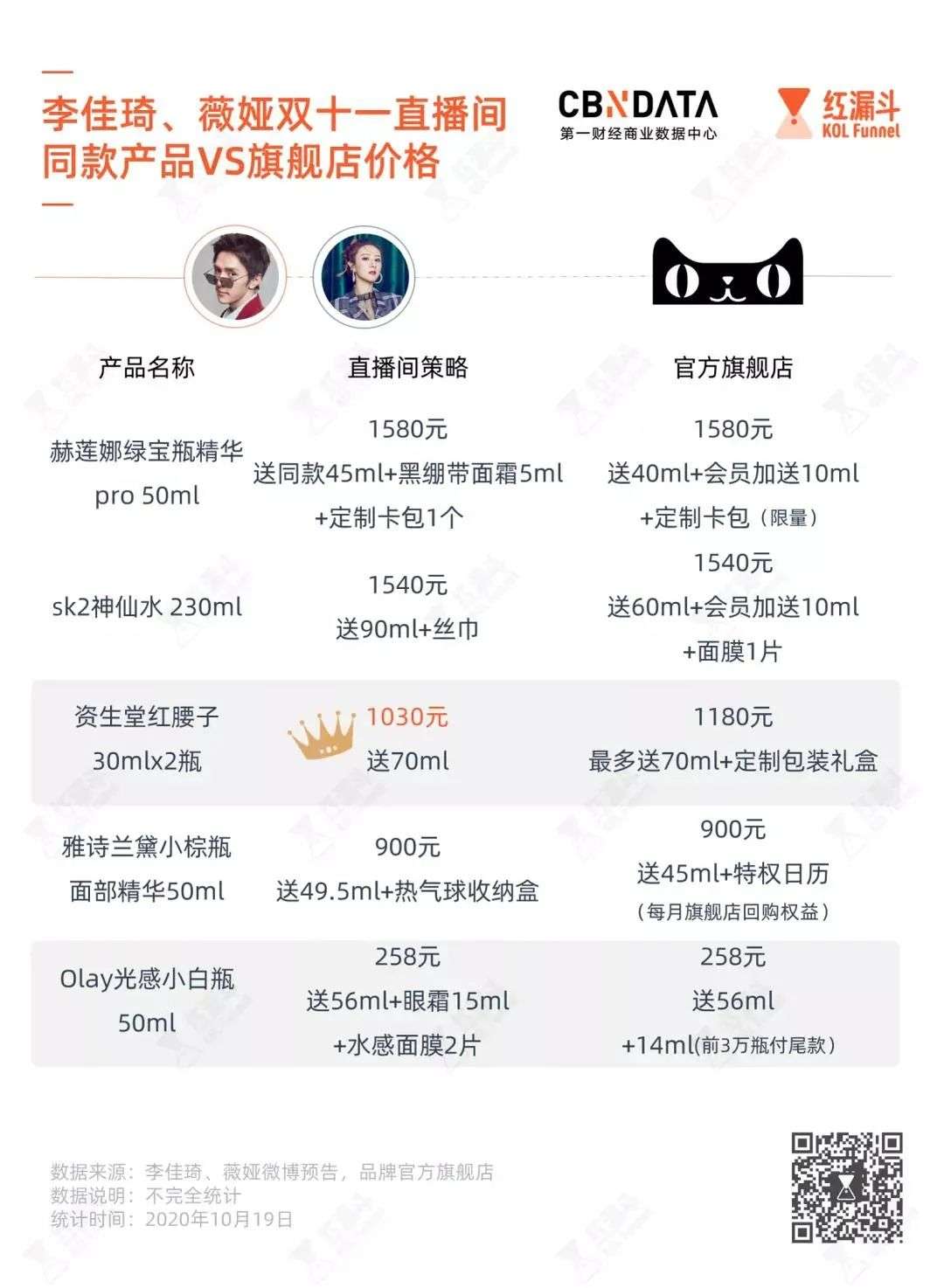 Picture source: Red funnel
The third is gift box customization. Combine different single product samples to create a sense of surprise and an early taste experience with value for money. For example, the Christmas gift boxes and countdown calendars launched by major foreign beauty brands every year, and the small beauty box series specially launched by L'Oréal Group, which integrates the trial packs of star products of its brands into different gift packages for sale.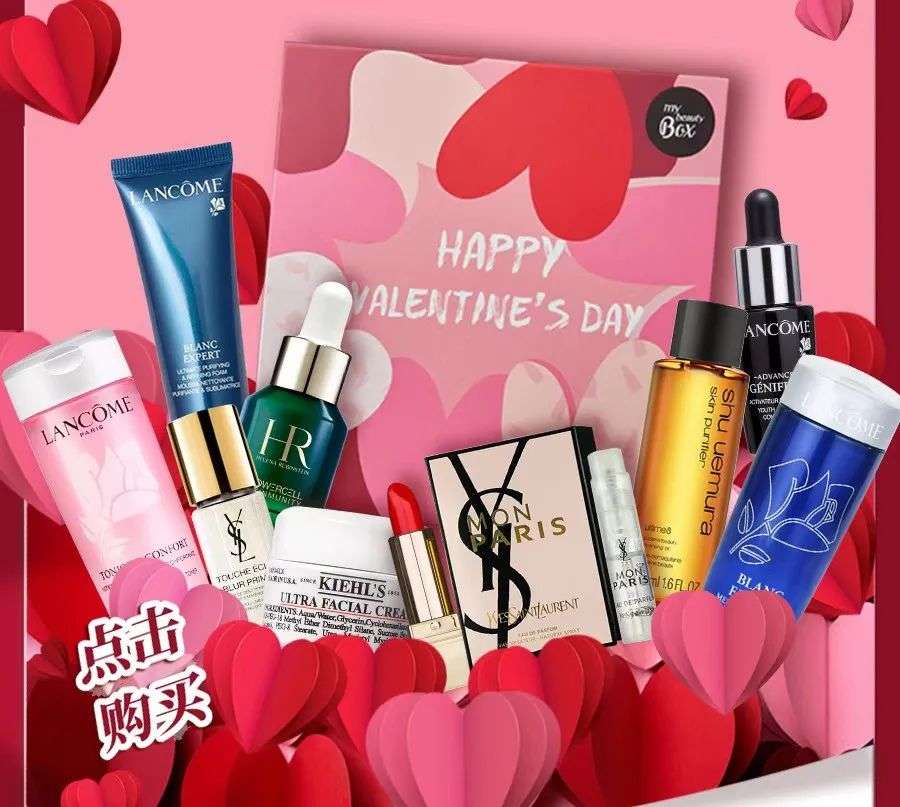 Source: L'Oreal Group Xiaomeihe official WeChat
For consumers, the sample is indeed the best choice for trial and early adopters. In addition to the brand for distributing to consumers and participating in promotions, the sample is also sold as a separate product on Tmall Uxian and Taobao. Beauty collection shops, Xianyu, as well as offline beauty collection shops such as Huamei, Colorist, and Xiran.
HARMAY Huamei, a new retail brand for beauty and lifestyle products, opened its first offline store in Shanghai in 2017, attracting a large number of young consumers to check in with its industrial-style warehouse shopping scene and big-name samples of cabbage prices.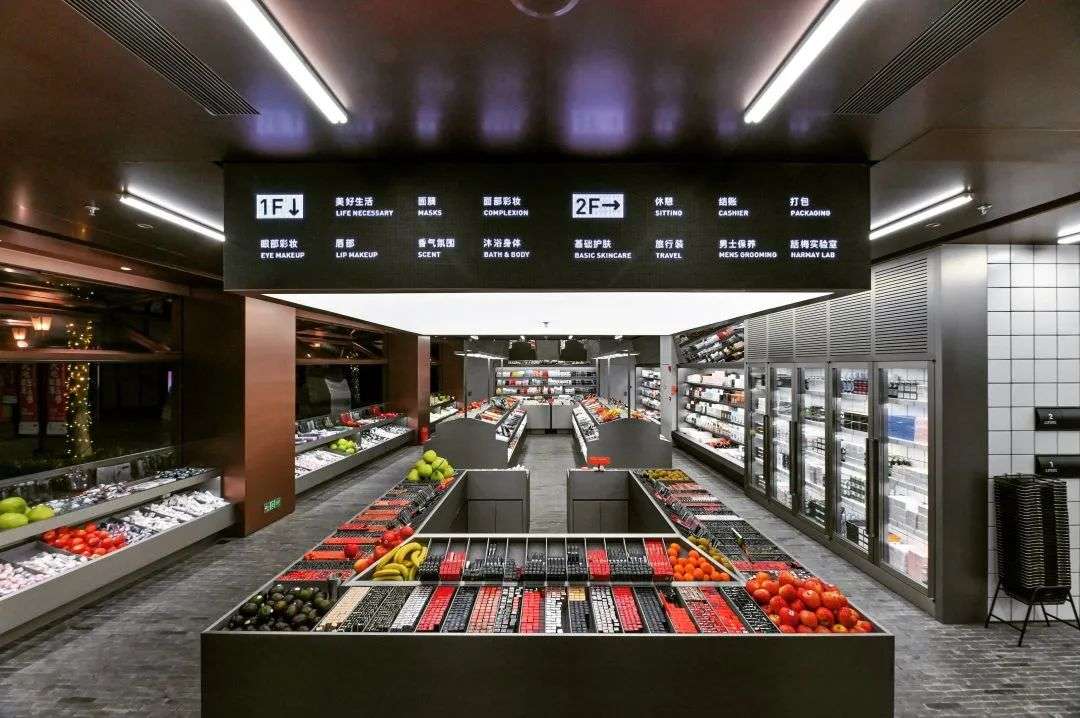 Source: HARMAY Huamei official website
On the last day of 2020, HAYDON Black Hole's first store opened in Wuhan, gradually expanding to other cities with the concept of "one city, one store" large flagship store. In the shop of nearly 1,000 square meters, the big-name samples of makeup and skin care account for a large proportion.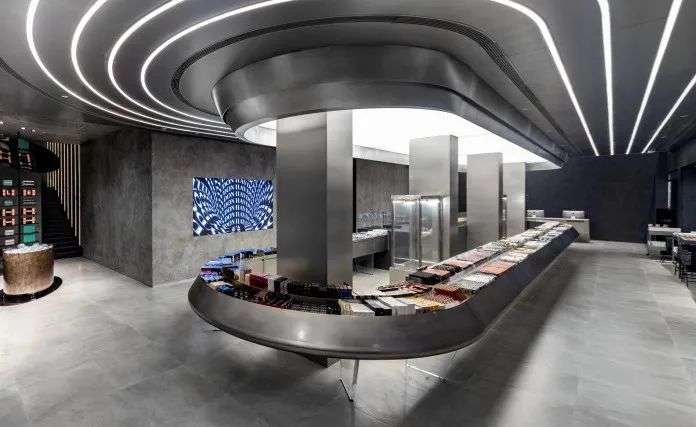 Source: HAYDON Black Hole Official WeChat
Compared to online, beauty collection stores can provide consumers with a more direct and personalized experience; compared to traditional beauty and personal care collection stores such as Sephora and Watsons, these new beauty collection stores rely on With a stylized store space, cost-effective and more comprehensive product strategies, and "do not disturb" services, it is more in line with the shopping needs of young consumers.
According to the "2020 Consumer Industry Investment and Financing Trends Report" released by the CBNData consumer station, in 2020, the number of offline investment events in the beauty channel will exceed the number of online, >It also presents the characteristics of a high proportion of color cosmetics, a high proportion of domestic brands, and a more sinking store layout.
Why does the small sample business become popular? Is it not good to pretend it?
Peng Yao, the colorist CEO of a beauty retail brand, once said in an interview: "Make-up itself is a category of strong experience, so colorists insist on 100% of all products Open samples, and all are open-shelf displays." Whether it's beauty collection stores, brand counters, independent stores, etc., in fact, most of them will provide open-shelf trial services, so come to the line Why do consumers still need samples?
For consumers, in addition to the trial, the sample also satisfies their earlier needs and travel needs. For example, lipstick, perfume and other categories, consumers are often not satisfied with a single color number or taste, and the consequence of stockpiling is often that they can't use up any formal dress. The mini version specifications accurately solve this Pain points, and the small and exquisite appearance also attracted a groupConsumers who pay for their beauty. In addition, in scenarios such as business trips, the portable sample also highlights its advantages.
At the same time, the unit capacity price of the sample is lower than that of the formal outfit. Under the influence of the trend of rational consumption, the sample can better satisfy consumers' pursuit of cost-effectiveness.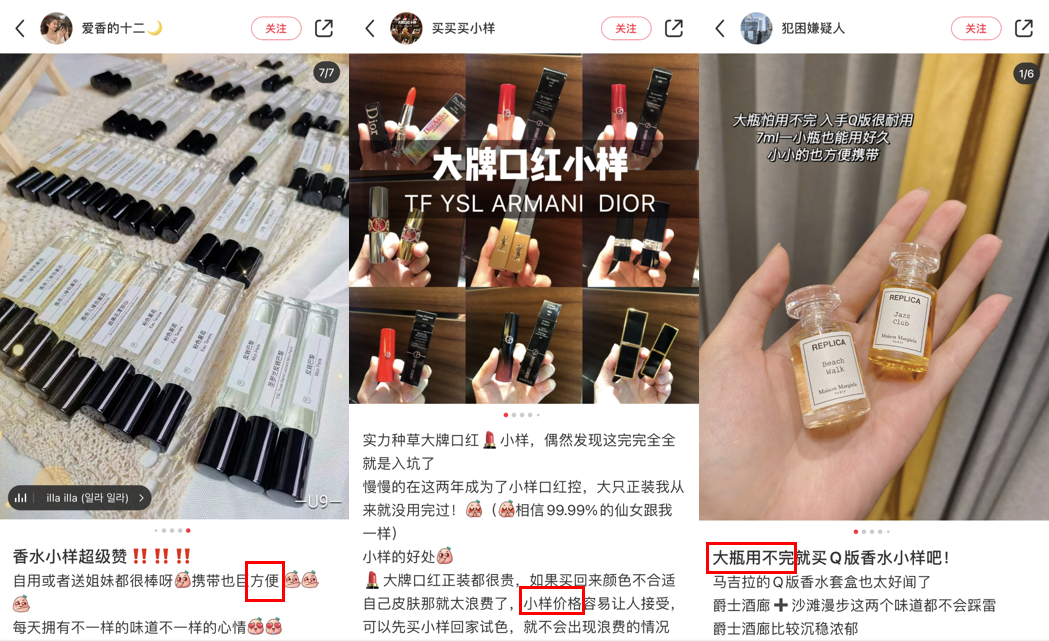 Picture source: Xiaohongshu
On the supply side, the sample is a powerful tool for brand and platform stores to attract new traffic. The demo lowers the threshold for consumers to try, and also gives many emerging niche brands an opportunity for consumers to use and buy back.
Ju Chunmao, a partner of Huamei, said to the public that "the big-name sample has increased the number of customer orders on the one hand, and on the other hand lowered the threshold for new customers." The relevant person in charge of L'Oreal small beauty box operator It was also pointed out: "Maybe some people have limited spending power at present, but want to try some high-end products, so it is a good choice to train consumers through sample combinations."
In addition, brands will also obtain market feedback through sample sales data to provide support for subsequent marketing strategy adjustments.
The source is doubtful and the conversion is limited. Where does the sample economy go?
According to a report published by Metropolis Express on January 28, a shop located on the first floor of Hangzhou Kerry Center was suspected of smuggling. After a consumer report, the local city supervision bureau contacted the customs department to assist in the investigation, and the merchant was unable to provide the goods involved. Proof of legal origin. After verification by the media, the store is a beauty collection store OnlyWrite, and the products involved are all cosmetic samples.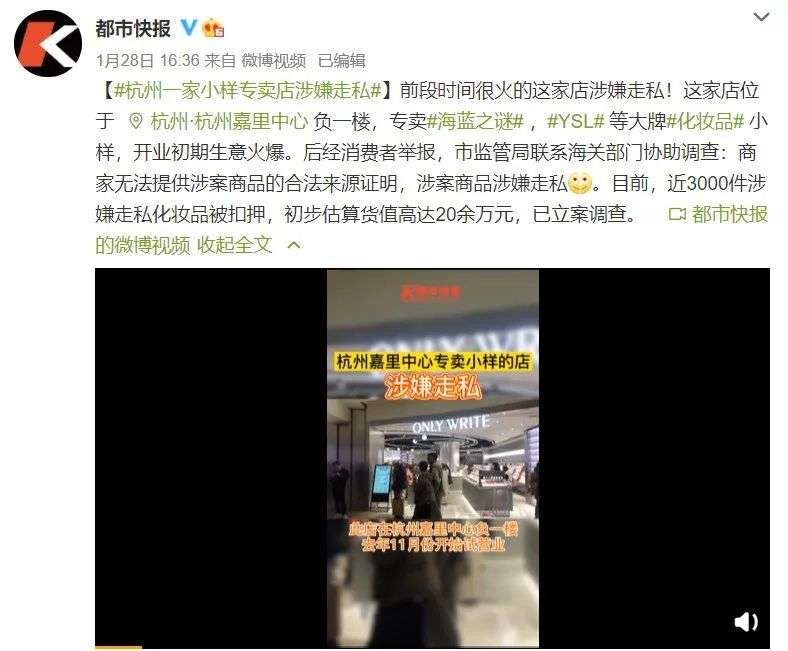 Source: City Express official Weibo
The source of the sample is questionable has always been a major cause of controversy among beauty collection stores. Many first-tier international brands generally do not authorize collection stores. The relevant person in charge of Shiseido China once revealed to the "China Consumer News" that the Shiseido Group's brand product samples are for the purpose of allowing consumers to experience the products, and they are provided to consumers for free. They are not for sale and not authorized online and Offline franchise stores sell samples.
"Consumers may be concerned about whether these demos can be circulated, but in fact they are all circulated products at the national level, but the sales methods of each brand are different." Black Hole founder and CEO Wang Lihong said to " The Southern Metropolis Daily stated, "Our channel-based brands are all sold after purchasing through legal channels. Our procurement link is very complete, and it is also traceable and quality inspection. Need to worry."
The media in the cosmetics industry has summarized several sources of distribution channels for small and medium-sized samples in the market. A few of them come from brand counter staff, brand internal employees and company gifts, and more are supplied by returned goods and fraud strong> Generated. The gray area in this and the backlash that fakes bring to the brand will affect the further development of the sample economy.
Furthermore, the transformational empowerment that the mockups bring to the brand is also limited. The big-name mockups that consumers buy for the purpose of "spinning wool" are difficult to build loyalty to the brand.
In this way, although the sample economy has its market, it has indeed brought a lot of new customers to the brand and promoted the business of many beauty collection stores, but in the long run, the channel problem has not been solved. Under the circumstances, the prospects for sample business may not be optimistic.
Author |Beans
Edit |Golden