Bank of America recently published a research report, predicting that in the next 10 years, the space economy market will more than triple in size, reaching US$1.4 trillion.
The space economy is reverie.
Bank of America recently issued a research report, predicting that in the next 10 years, the space economy market will more than triple in size, reaching US$1.4 trillion.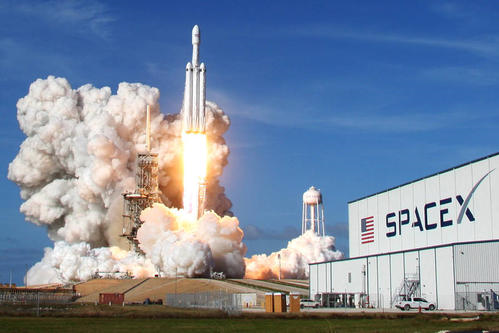 At the beginning of January this year, "Female Buffett" Cathie Wood announced plans to launch a "Space Exploration ETF" under the code "ARKX".
But since industry unicorns (such as SpaceX, Blue Origin) have not yet been listed, how can ordinary investors participate in the feast of the space economy?
The editor below will introduce three SPAC stocks to you.
VACQ: Merger with Space X competitor Rocket Lab
A few days ago, the space transportation startup Rocket Lab announced that it will soon go public through a merger with SPAC company Vector Acquisition (VACQ). According to reports, including debt, Rocket Lab's corporate valuation of the transaction may reach about $4.1 billion.
Rocket Lab is regarded as a competitor of Space X. However, there is a big gap between Rocket Lab's strength and SpaceX, and it is positioned at "small payload satellite launch."
According to media reports, Rocket Lab is developing a large reusable rocket called Neutron, which is 131 feet (about 40 meters) high and can carry approximately 18,000 pounds of cargo into orbit.
According to Rocket Lab's website, the company has launched 97 satellites for the government and private companies, and its supporters include defense giant Lockheed Martin (LMT). Rocket Lab also develops photonic spacecraft for NASA's lunar mission.
In addition, institutional investors such as BlackRock and Neuberger Berman Group LLC promised to participate in the transaction through a substantial oversubscription of approximately US$470 million in post-listing private equity investments.
The document shows that the estimated cash balance of the combined company is close to 750 million U.S. dollars and will be listed on the Nasdaq exchange under the stock code "RKLB".
Rocket Lab predicts that cash flow in 2024 will be positive, and revenue in 2026 will exceed $1 billion. It is expected that by 2023, the company willThe adjusted profit before interest, tax, depreciation and amortization will be positive.
After the news was announced, VACQ's stock price was relatively strong, and it pulled back slightly yesterday and stood firm at the $13 mark.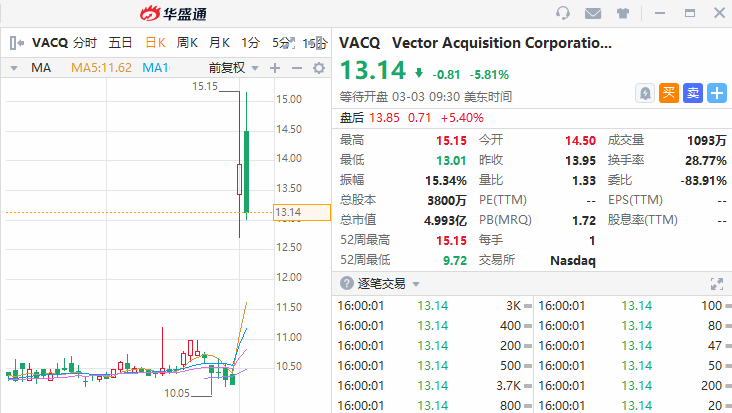 HOL: Merger with rocket launch startup Astra
At the end of February, rocket launch startup Astra announced that it would merge with Holicity (HOL), a special purpose acquisition company, and Astra was valued at US$2.1 billion.
Astra will be listed on the Nasdaq in the United States under the ticker symbol "ASTR", and the transaction is expected to be completed in the second quarter of 2021.
Astra's vision is to have the ability to mass-produce its transmitters. Compared with the aforementioned SpaceX or Rocket Lab, the Astra model uses a smaller spacecraft, but Astra provides launch services with a quick response and short-term turnaround at a relatively low cost.
At present, Astra has not used any of its launch vehicles to put customer satellites into orbit. The company plans to launch its first commercial launch in 2021.
From the perspective of stock price performance, HOL has experienced a round of speculation, and the current stock price continues to pull back.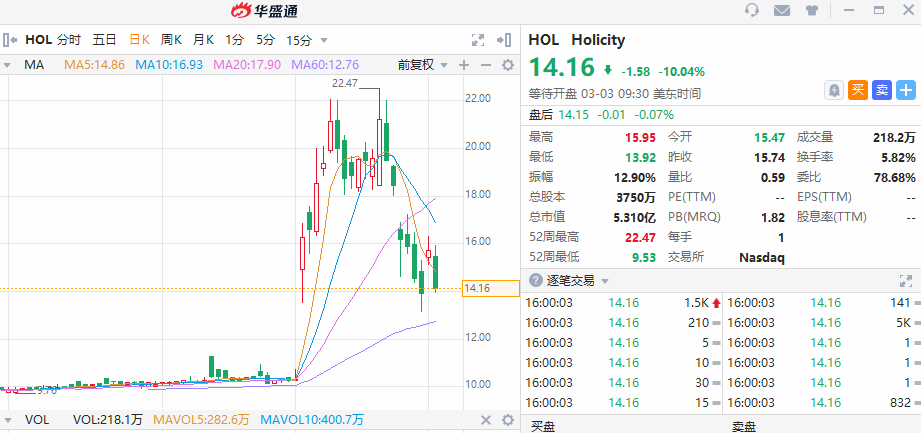 NSH: Merger with satellite data company Spire Global
On March 1, Spire Global, a satellite data company, announced that it will merge and go public with the special purpose acquisition company NavSight Holdings Inc (NSH). The transaction valued Spire Global's business at $1.6 billion.
Spire Global is an industry-leading global space data analysis and service provider that can help customers deal with challenges including climate change.
It uses a collection of nanosatellites to collect data and then sells it to customers. The collected data can be used for weatherForecasting, rail services, and aircraft and ship monitoring and other fields. Its customers include NASA, the U.S. Air Force and Chevron.
At this stage, Spire is still developing an innovative "space as a service" business model. Using the company's fully deployed infrastructure and large-scale operational capabilities, customers can run their own payloads on orbit through the API provided by Spire, and can start receiving data in less than a year and a simple subscription agreement .
From the stock price point of view, NSH's performance was relatively weak, and it pulled back for two consecutive days and returned to the $10 range.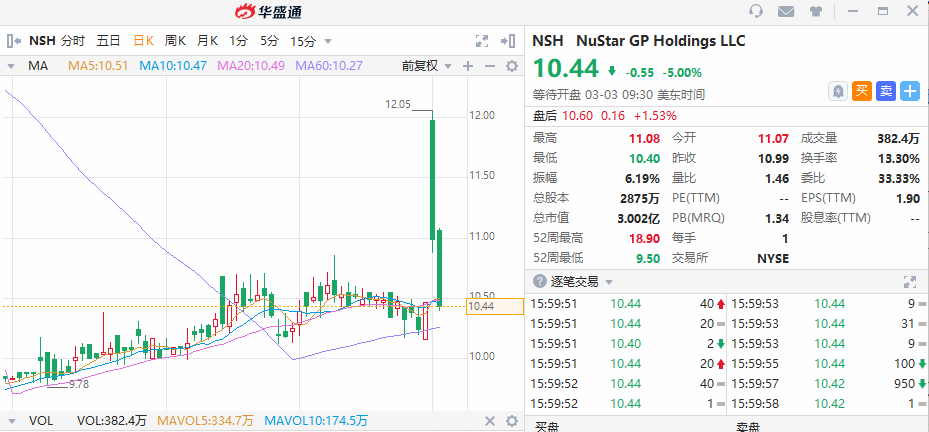 Risk and disclaimer: The above content only represents the personal position and opinions of the author of this article. Before making any investment decision, investors should take into account their own circumstances and consider the risks of investment products. If necessary, please consult professional investment advisors. This article does not constitute any investment advice, nor does it make any promises or guarantees.
This article comes from the information column of the Huashengtong APP, a Hong Kong-US stock trading platform under Sina Group. If you need to reprint, please indicate the source!