Settling in is just the beginning. How many steps are there from the "full-scale business" of the star?
Editor's note: This article is from the WeChat public account "Rhino Entertainment" (ID: piaofangtoushijing).
Author| Yuanmu
Edit|Park Fang
2020 can be said to be the first active year for celebrities to enter the video platform.
For video platforms, the competition of celebrity resources has also become the focus of efforts. First, Douyin Kuaishou attracted all kinds of celebrities one after another, and then there were B stations and Watermelon Video's side-sniping of celebrities, but celebrities' presence was only the beginning, and subsequent long-term operations and cooperation in specific types of activities were the key to testing the platform.
"Tide" of Douyin, "True" of Kuaishou
Based on the different tonality of each platform, they are also competing for star resources, and they also show different content differences.
Douyin pays more attention to popular and creative elements in content, and "stalks" are everywhere.
For example, Cecilia Cheung, who entered Douyin at the end of last year, released the first video that reproduced the classic lines of "Hedong Lion's Roar" that year. Using the "stuck" feature of the Douyin short video, it obtained nearly 20 million credits with creativity. Likes, Zhao Liying's first "immediately visible" video released after entering the station, with over 10 million likes, also received a good response on Douyin.
Tik Tok uses creative gameplay such as filters, stickers, magic expressions, and the official relay race event to continuously provide fresh topics and encourage celebrities to shoot short videos, such as the recently popular "ancient style" and "one-second turn "Anime face", "Test what hair color you are suitable for", etc., attracted celebrities such as Zhang Ziyi, Zhao Lusi, Meng Meiqi, etc. to perform. The platform will also launch challenges of the same name and work collection activities to attract amateur creators other than celebrities to spontaneously participate.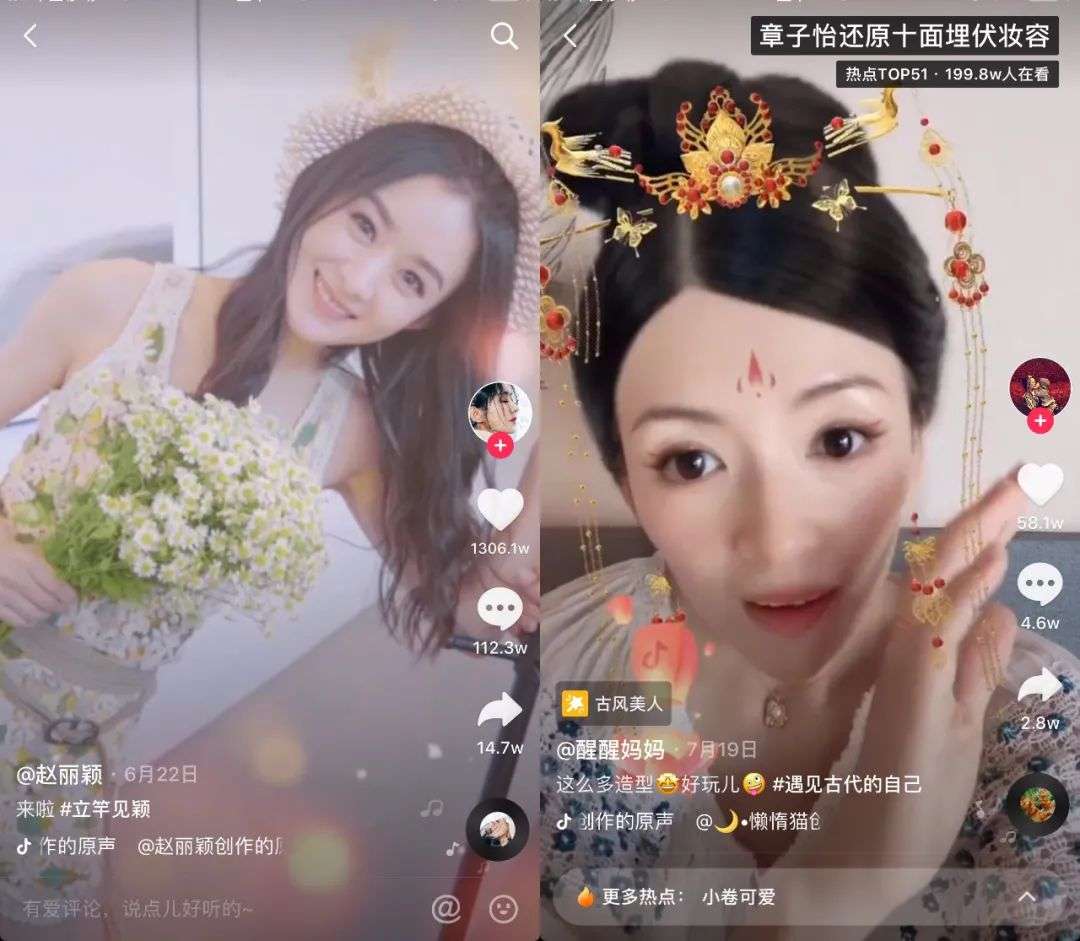 According to FUNJI statistics, as of the end of June 2020, a total of 2,533 certified artists have settled on Douyin. These artists have released 1,260,84 short videos and received more than 250 billion likes.
Compared with the creative vibrato, Kuaishou focuses on exploring the true side of celebrities. The live broadcast of "Stars Really Play" planned at the beginning of this year invited many celebrity guests such as Huang Zitao, ONER, Gem Gem, Hu Haiquan, Huang Bo, etc. Chat and interact with "Old Iron" in the live broadcast room, push