Most famous people sleep less than 8 hours a day
The Translation Bureau is its translation team, focusing on science and technology, business, workplace, life and other fields, focusing on introducing foreign new technologies, new perspectives, and new trends.
Editor's note: When it comes to sleep time, everyone basically regards 8 hours of sleep a day as a standard. Some people believe that enough sleep time can maintain vigor the next day. However, among the 50 celebrities from all walks of life in the world, although some have guaranteed 8 hours of sleep a day, there are also many people who sleep less than 8 hours a day. The original title of this article is Do You Get More Sleep Than Elon Musk, Jeff Bezos and Winston Churchill?, author Jessica Thomas combined relevant information and data to show everyone the world Daily and nighttime routines and sleep patterns of 50 celebrities.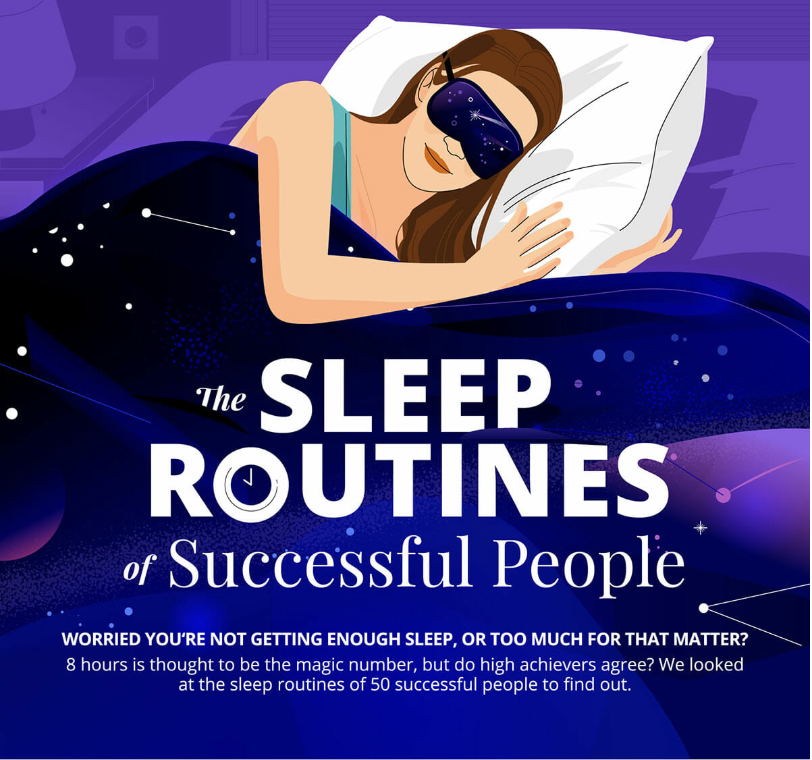 Image source:
In terms of the importance of sleep and how it affects our work performance, there are at least hundreds of books on the market. Some experts believe that showing exhaustion at work is actually similar to being drunk.
Of course, getting enough sleep may seem easier said than done, especially if you are a busy entrepreneur.
The good news is that many successful people in all walks of life sleep less than 8 hours a night.
Although there are also successful people who sleep for 8 hours or more, such as Arianna Huffington, who founded The Huffington Post. Huffington sleeps 8 hours a day, and the famous golfer Tiger Woods sleeps 8.5 hours a day, but the famous actor Mark Wahlberg, founder of Virgin Group Dozens of celebrities such as Richard Branson and Tesla CEO Elon Musk sleep less than 8 hours a day.
Online Mattress Review, an online mattress evaluation site, has compiled relevant data and information in the "Creator's Daily Life" series of books written by Mason Currey. Combined with the information publicly available on the Internet, an information chart of the sleep patterns of 50 celebrities was created.
These 50 celebrities are mainly from business, politics, entertainment, fashion, media, art, religion, sports and many other industries.
Here are some key highlights:
US President Donald Trump (Donald Trump) and Gordon Ramsay (Gordon Ramsay), known by the media as "Hell's Cook", are here for 50 Among the celebrities, sleep time is the shortest every day. Both of them like to work before going to bed, and sleep only about 3 hours a day.

The actor Mark Wahlberg is the "early bird" among 50 celebrities. When conditions permit, he usually starts to go to bed at around 7:30 to 8 at night, wakes up at 2:30 in the morning, and then begins to pray and make breakfast.

Facebook Chief Executive Mark Zuckerberg (Mark Zuckerberg) is the "night cat" among the 50 celebrities. He usually plays Facebook ("work") before going to bed, and does not go to bed until two or three in the morning.

Cristiano in sportsRonaldo (Cristiano Ronaldo) and Kobe Bryant (Kobe Bryant) are the most unusual of the 50 celebrities. After they go to bed at night, they will get up to train or relax before going back to sleep.

Among these 50 celebrities, the one who sleeps the longest every day is the Swedish environmental girl Greta Thunberg (Greta Thunberg). She sleeps about 9 hours a day, which is also in line with the sleep of people her age.
50 celebrities' sleep patterns infographic
Business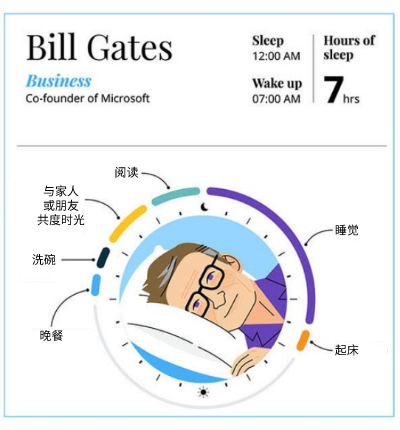 Bill Gates

Co-founder of Microsoft Corporation
Sleep time: 7 hours (12:00AM-07:00AM)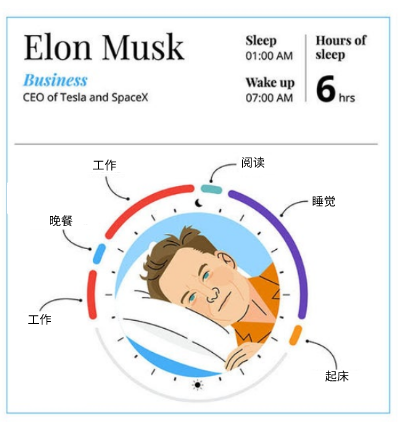 Elon Musk
CEO of Tesla and SpaceX
Sleep time: 6 hours (01:00AM-07:00AM)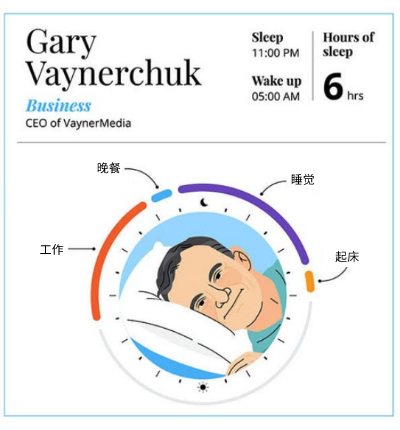 Gary Vaynerchuk (Gary Vaynerchuk)
CEO of VaynerMedia, a digital media company
Sleep time: 6 hours (11:00PM-05:00AM)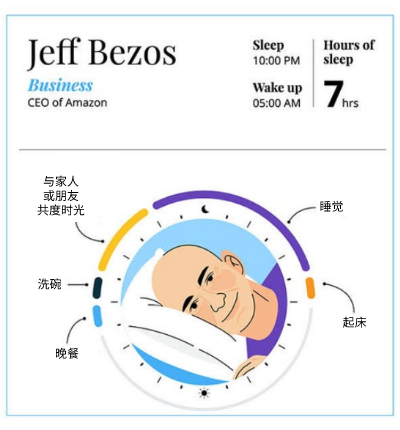 Jeff Bezos
CEO of Amazon
Sleep time: 7 hours (10:00PM-5:00AM)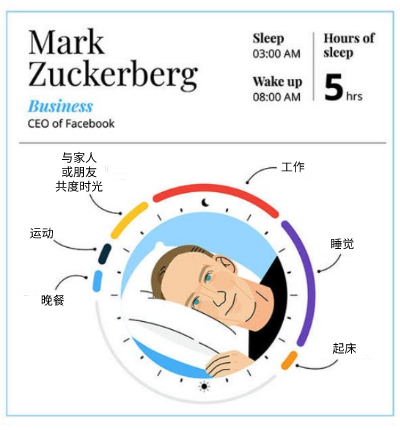 Mark Zuckerberg (Mark Zuckerberg)
Facebook CEO
Sleep time: 5 hours (03:00AM-08:00AM)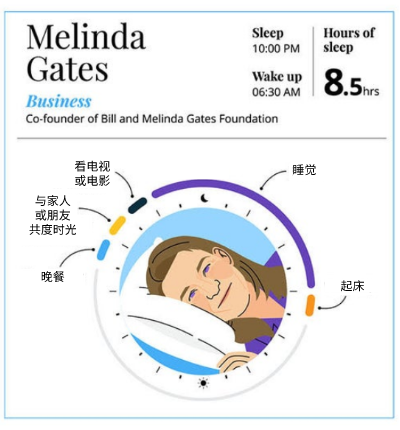 Melinda Gates (Melinda Gates)
Co-founder of the Bill and Melinda Gates Foundation
Sleep time: 8.5 hours (10:00PM-06:30AM)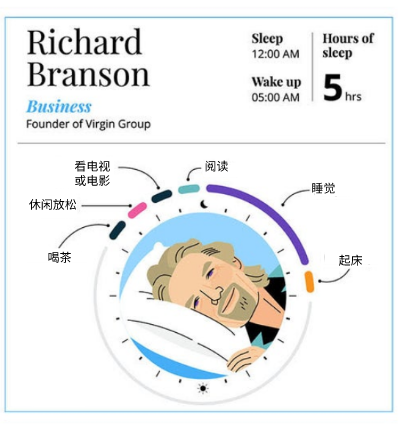 Richard Branson (Richard Branson)
Founder of Virgin Group
Sleep time: 5 hours (12:00AM-05:00AM)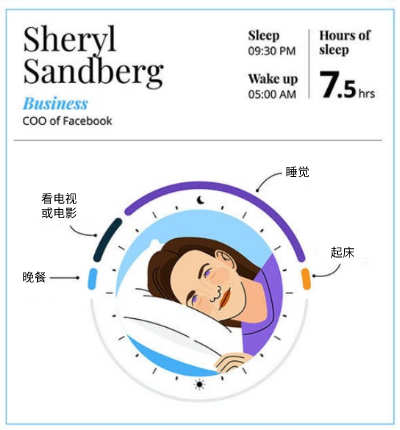 Sheryl Sandberg (Sheryl Sandberg)
Facebook Chief Operating Officer
Sleep time: 7.5 hours (09:30PM-05:00AM)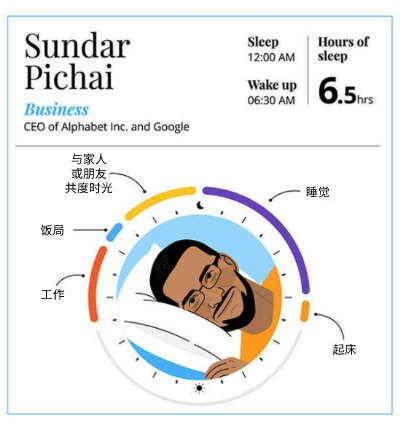 Sundar Pichai
CEO of Aphabet and Google
Sleep time: 6.5 hours (12:00AM-06:30AM)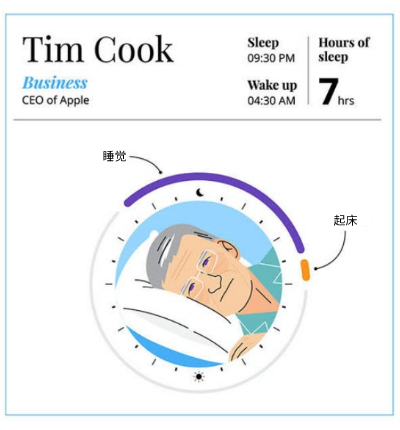 Tim Cook (Tim Cook)
Apple CEO
Sleep time: 7 hours (09:30PM-04:30AM)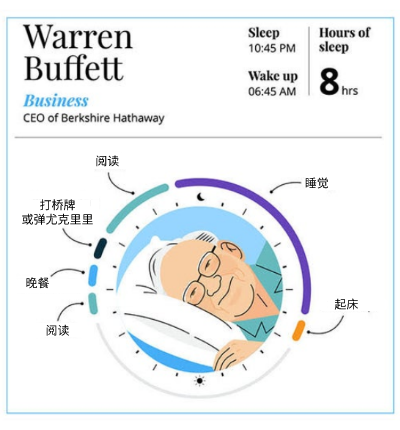 Warren Buffett (Warren Buffett)
Berkshire Hathaway CEO
Sleep time: 8 hours (10:45PM-06:45AM)
Politics
Barack Obama (Barack Obama)
The 44th President of the United States
Sleep time: 6 hours (01:00AM-07:00AM)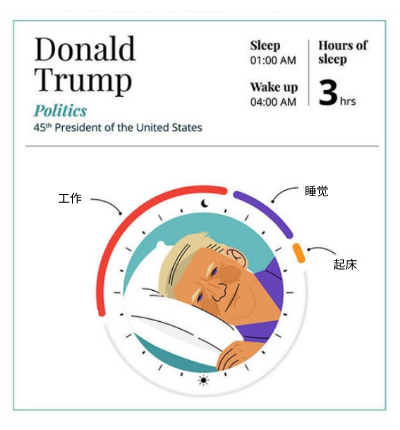 Donald Trump (Donald Trump)
The 45th President of the United States
Sleep time: 3 hours (01:00AM-04:00AM)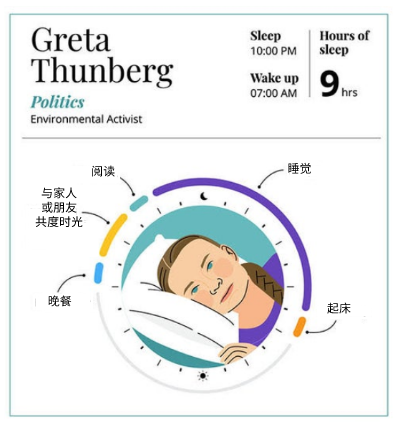 Greta Thunberg
Environmental activists
Sleep time: 9 hours (10:00PM-07:00AM)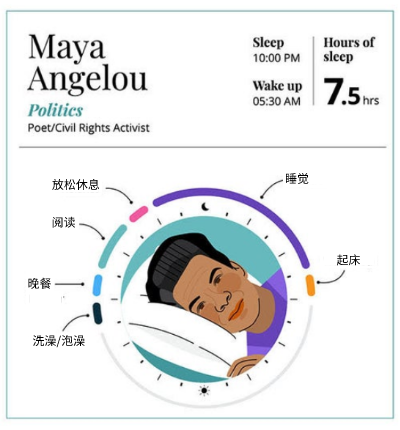 Maya Angelo (Maya Angelo)
Poet, civil rights activist
Sleep time: 7.5 hours (10:00PM-05:30AM)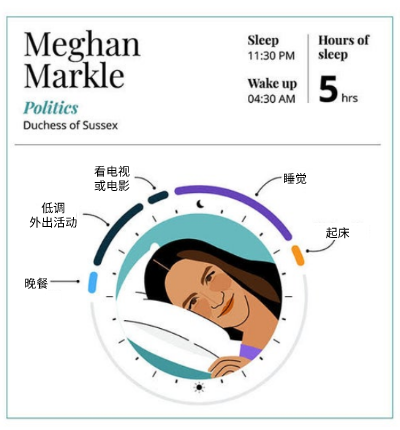 Meghan Markle (Meghan Markle)
The Duchess of Sussex, England
Sleep time: 5 hours (11:30PM-04:30AM)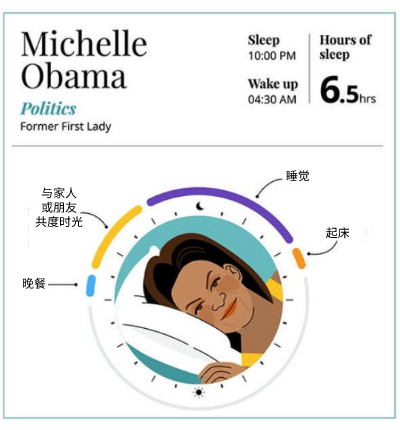 Michelle Obama (Michelle Obama)
Former First Lady of the United States
Sleep time: 6.5 hours (10:00PM-04:30AM)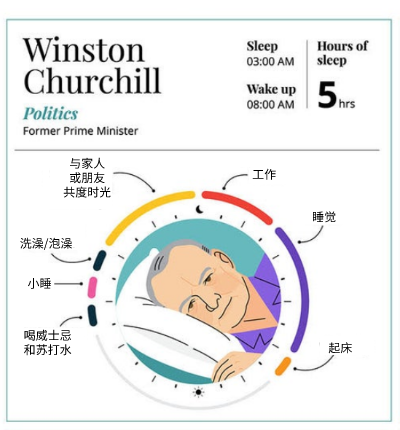 Winston Churchill (Winston Churchill)
Former British Prime Minister
Sleep time: 5 hours (03:00AM-08:00AM)
Entertainment Circle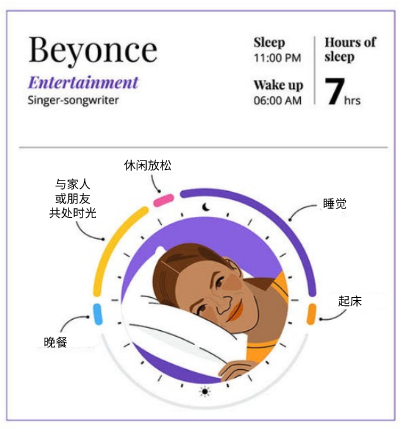 Beyonce
Singer, music producer
Sleep time: 7 hours (11:00PM-06:00AM)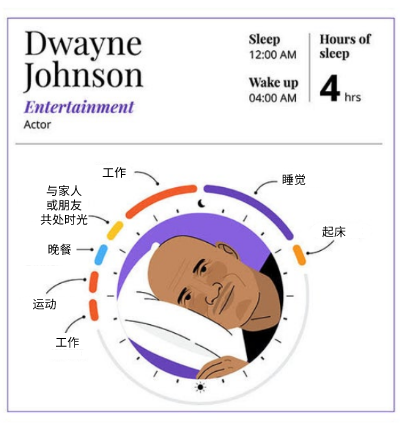 Dwayne Johnson (Dwayne Johnson)
Actors
Sleep time: 4 hours (12:00AM-04:00AM)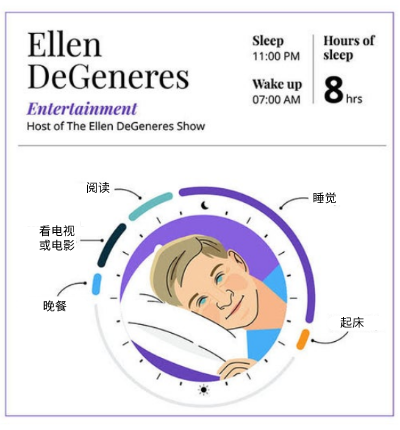 Ellen Degeneres
Host of "Allen Show"
Sleep time: 8 hours (11:00PM-07:00AM)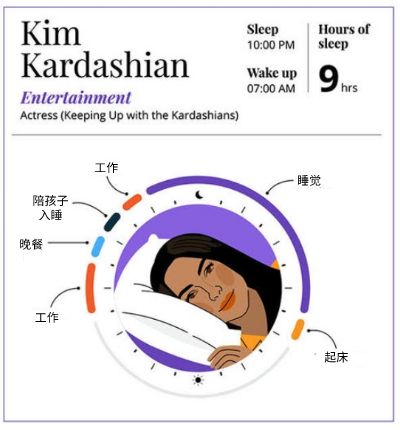 Kim Kardaishian
Actors
Sleep time: 9 hours (10:00PM-07:00AM)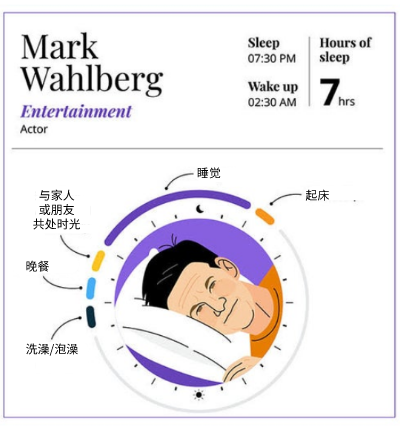 Mark Wahlberg
Actors
Sleep time: 7 hours (07:30PM-02:30AM)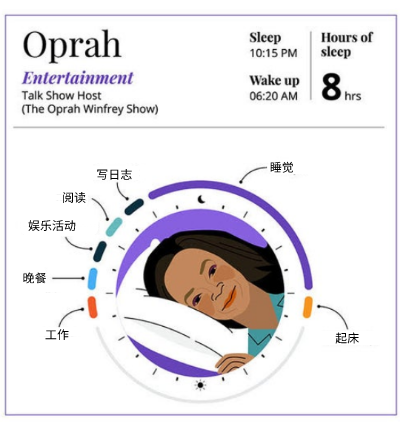 Oprah Winfrey (Oprah Winfrey)
Host of "Oprah Talk Show"
Sleep time: 8 hours (10:15PM-06:20AM)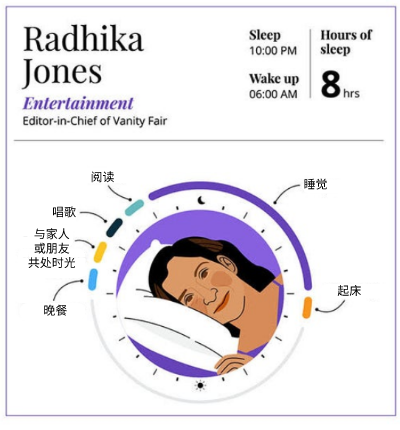 Radhika jones)
The editor-in-chief of the well-known American entertainment magazine "Vanity Fair"

Sleep time: 8 hours (10:00PM-06:00AM)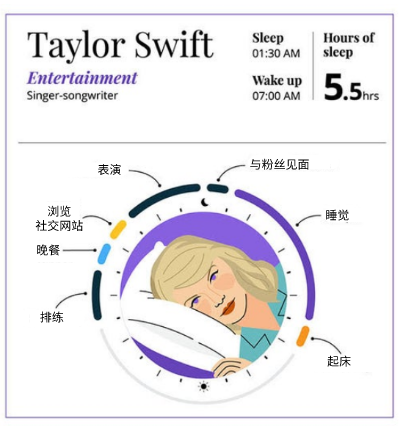 Taylor Swift
< /p>
Singer, music producer
Sleep time: 5.5 hours (01:30AM-07:00AM)
Fashion Circle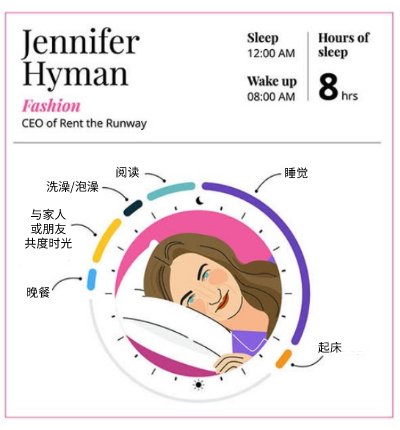 Jennifer Hyman (Jennifer Hyman)
Co-founder and CEO of Rent The Runway, a clothing rental website
Sleep time: 8 hours (12:00AM-08:00AM)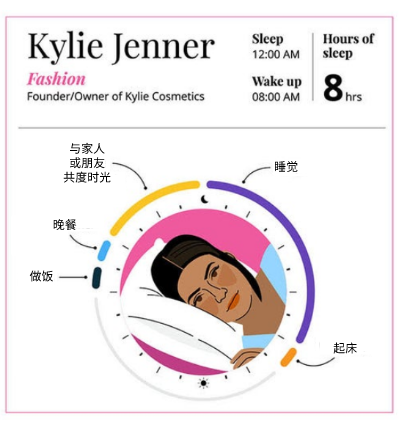 Kylie Jenner (Kylie Jenner)
The founder of beauty brand Kylie Cosmetics
Sleep time: 8 hours (12:00AM-08:00AM)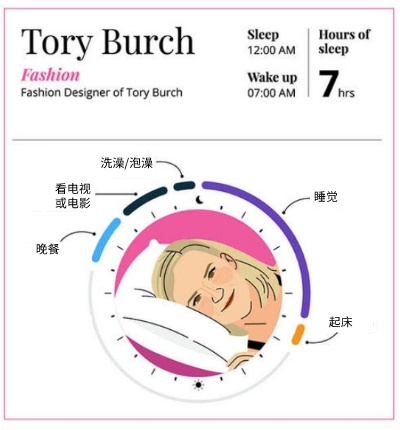 Tory Burch (Tory Burch)
Fashion lifestyle brand Tory Burch designer of the same name
Sleep time: 7 hours (12:00AM-07:00AM)