Hongmeng is saddened by the ecological barrier.
Editor's note: This article is from the WeChat official account" Tech planet "(ID: tech618) , author: Zhou Xiaoqi.
"No one can extinguish the sky full of stars. Every developer is a spark that Huawei wants to converge." Huawei Consumer Business CEO Yu Chengdong is giving a speech At the end, he said that in the current situation facing Huawei, these remarks seem to have no deep meaning.
On September 10th, Huawei held a developer conference. 6 Huawei executives took turns to give speeches. The originally planned two-hour speech time was extended by one hour. During this period, Huawei successively announced Hongmeng 2.0 and HMS Core 5.0 version, EMUI 11 and other heavy content.
from Beginning in May last year, after Huawei was included in the list of entities by the US government, its terminal business was severely hit. Although Huawei's mobile phone market share currently ranks first in the world, its share in core overseas markets such as Europe has continued to decline.
After September 15th, Huawei's flagship chip, Kirin 9000, will not be able to be produced. At present, Huawei has not thought of a better solution on the chip. It can only watch 10 million stock chips run out and flagship phones cannot Mass production.
The United States not only sanctions Huawei on chips, but also imposes many restrictions on Huawei on operating systems. It was after the chip and operating system were restricted that Huawei had to start the "spare tire plan". The "spare tires" such as HiSilicon chip and Hongmeng system "turned positive" ahead of schedule and became Huawei's important strategic products.
Now, with the release of Hongmeng 2.0, Huawei also revealed that next year's Huawei mobile phones will be fully upgraded to support the Hongmeng system. However, with the Android and iOS systems occupying almost all market shares, the road to Hongmeng's breakthrough is destined to be difficult.
"We see that there are many choices in the global open ecosystem, and the developers also asked me why their open applications have been released on iOS and Google, and the applications based on the Huawei Hongmeng ecosystem have to be re-developed? What can Huawei give developers Unique value?" said Wang Yanmin, President of Global Ecological Development Department of Huawei Consumer Business.
He said that after this year of independent development, Huawei can provide developers with a trustworthy, fair and open mobile ecosystem.
It is true that Huawei has encountered many unfairness and non-openness, but it is not so easy for it to establish an ecosystem belonging to Huawei in the current situation. However, Huawei can only fight back, otherwise the situation will be even more precarious.
Huawei madly fixes the loopholes
Without much greeting, Yu Chengdong started by talking about the current situation of Huawei's consumer business.
He said that in the first half of this year, Huawei's consumer business mobile phones shipped 105 million globally and consumer business sales revenue was 255.8 billion yuan.
After many rounds of sanctions, Huawei has been able to maintain growth thanks to the increase in domestic market share. Yu Chengdong said that in recent months, Huawei's domestic market share has exceeded 51%.
Although Huawei still maintains a good momentum of development, it is clear that Huawei still wants to maintain a high growth rate this year, and Huawei is bound to face more difficulties. "Last year beautifulAfter China's sanctions, Huawei has stepped up its efforts to develop the application ecosystem," Yu Chengdong said bluntly.
At this Huawei Developer Conference, Huawei launched Hongmeng 2.0 and officially released test versions for large screens, watches, and cars for application developers. The test version for mobile phones will be released in December this year. Huawei next year Smart phones will be fully upgraded to support Hongmeng 2.0.
Since the release of Hongmeng 1.0 last year, the market has been looking forward to Hongmeng system phones, because this is an important milestone for Huawei's independence.
Before the press conference, Yu Chengdong also revealed the status of Hongmeng OS, "We have begun to build our own ecology and work on the ecology. Hongmeng OS has invested hundreds of millions of dollars, and the experience has been improving. Now it can reach Android 70. The level of %-80% is improving every day, week, and month."
It is worth noting that Huawei will also fully open the core technology and software and hardware capabilities of Harmony 2.0 to developers and ecological partners, including AI capabilities, distributed capabilities, communication capabilities, etc., to facilitate developers to open more Competitive application.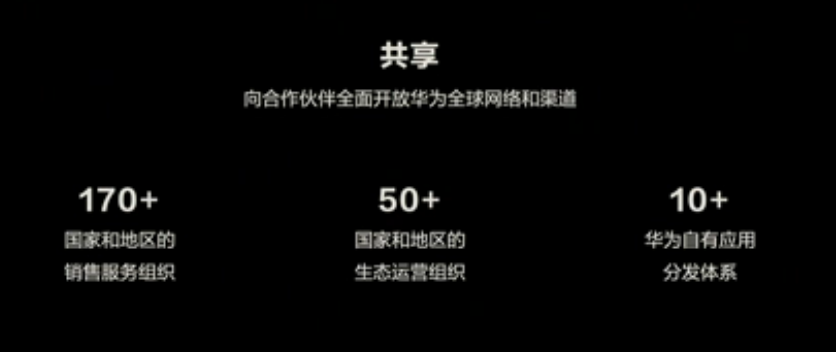 At the same time In order to promote the Hongmeng system, Huawei will also share Huawei's global network and channels with partners, including Huawei's sales and service organizations covering more than 170 countries and regions, ecological operation organizations in more than 50 countries and regions, and more than 10 Huawei Own application distribution system.
It can be said that Huawei is attracting global developers at all costs. This is also the only way for Hongmeng System to open the situation. Only when enough developers gather in the operating system can users have enough applications to use, and Hongmeng system can develop.
This time, Huawei also upgraded HMS Core to version 5.0 and opened up 7 major areas, including graphics, AI, media, and security.
HMS means HUAWEI Mobile Services (Huawei Mobile Services), which is Huawei's own service framework used to replace Google's GMS service.
Now, after a year of development, HMS Core has also integrated 56 Kits capabilities, which can provide developers with 12,981 scenario-based APIs.

according to According to data released by Huawei, HMS has more than 700 million active users worldwide, covering more than 170 countries and regions around the world. Huawei's App Store has more than 460 million monthly active users worldwide and has more than 261 billion downloads, making it the third largest app store in the world.
"Today, our mobile phones are divided into two types, one is GMS mobile phones and the other is HMS mobile phones. As you all know, we used to install Google software overseas, and now mobile phones that support HMS are more and more popular among overseas consumers. ", said Zhang Pingan, President of Huawei Consumer Business Cloud Services.
Since Google restricted Huawei's use of its GMS service last year, Huawei can only speed up its self-developed HMS service. In the future, its cooperation with Hongmeng system may further increase Huawei's freedom in overseas markets.
"Due to the cut-off of Google's GMS Android system, there are indeed loopholes in the consumer business based on Huawei mobile phones," Yu Chengdong once said.
Now, Huawei is working hard to make up for its own loopholes, and the extent of these loopholes may affect the future expansion of Huawei's overseas markets.
Hongmeng's "spare tire righting" is difficult to break the Android ecosystem
This time, Hongmeng OS has expanded its ecosystem and applied it to large screens, watches, car machines and other products. However, it will not be possible to use Hongmeng OS until 2021 for mobile phone products.
"Huawei still dare not launch Hongmeng system phones, because in addition to the operating system, mobile phones also need a wealth of applications to provide services to users. Currently, Hongmeng has not established its own ecosystem", a communications industry analyst Ma Sincerely express to Tech Planet (WeChat ID: tech618).
In other words, if Hongmeng OS wants to become a mainstream operating system, the key thing that needs to be solved is to build its own ecosystem, but this is not easy.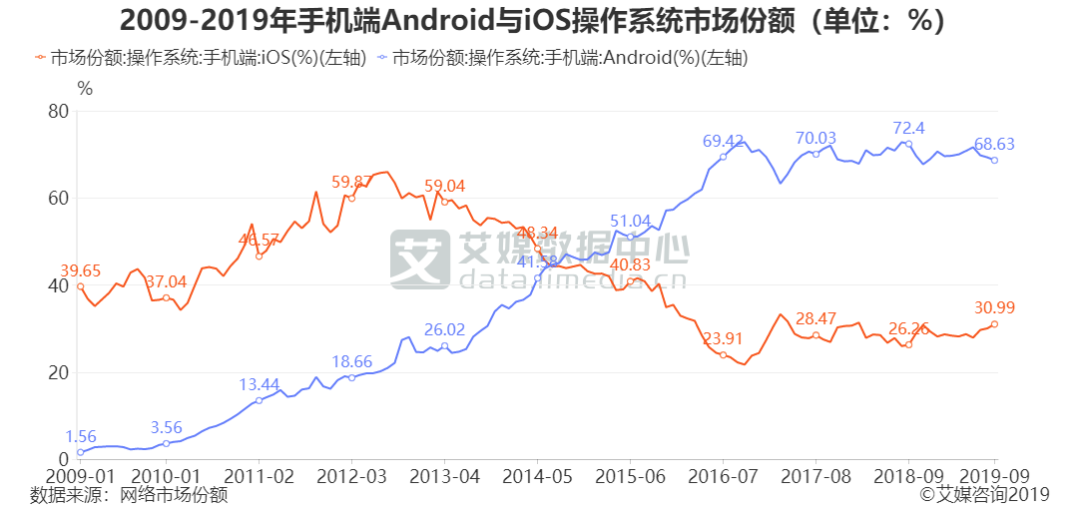 Tuyuan iiMedia Data Center
According to data from iiMedia Consulting, the market share of the Android operating system on mobile phones reached 68.63% in 2019, while the market share of the iOS operating system in the same period was 30.99%. In terms of total amount, the mobile phone Android and iOS operating systems accounted for 99.62% of the market share in 2019.
This means that as a brand new operating system, Hongmeng not only needs to break out of its own market space when the global market share is almost dominated by Android and iOS, but also needs to ensure that its ecosystem is sufficiently complete and the experience is sufficiently comfortable. Otherwise users will still switch to Android or iOS systems.
"Android and iOS systems also have competition. The two systems are very different in terms of memory management and scheduling strategies. The performance on the mobile phone is that the mobile phone equipped with the Android system will become very stuck in two or three years. Users can only change their mobile phones. Can Hongmeng do better in these details? We don't know yet." Ma Cheng said.
It is worth noting that overseas giants have also developed independent operating systems, such as Samsung's Tizen, Microsoft's Windows Phone, and BlackBerry's BlackBerry OS. Although companies with sufficient weight stand behind these systems, they failed to break the ecological barriers built by Android and iOS.
From the developer's point of view, the same application is developed and released on Android or iOS. If it is operated properly, it will be able to form a scale and earn revenue soon. However, the currently installed amount of Hongmeng OS is not enough, and the developed application The program is not used by users, and it is difficult to earn revenue.
Huawei has actually thought of building an application software ecosystem for a long time. It released HMS2.0 in 2016, but only has three basic functions: account, payment and push.

now , HMS has developed to version 5.0, the number of registered developers worldwide has reached 1.8 million, the number of applications integrating HMS Core globally has exceeded 96,000, and the number of active users has reached 490 million.
Previously, Huawei was banned from Google GMS (Google Mobile Services), which caused it to lose a large number of overseas market users. Huawei launched HMS service to replace Google GMS service.
"Now, we are basically usable without Google's GMS service," Wang Yanmin said in his speech.
At the same time, Huawei also launched the Glory Star Program, which spent $1 billion to attract more developers to develop applications for the HMS ecosystem.
Wang Yanmin said that the Yaoxing Program has accumulatively motivated more than 10,000 applications, and more special incentive programs will be held this year.
"To be honest, 1 billion US dollars in such a large ecosystem is a drop in the bucket. It is currently incomparable with the ecological value of Android and iOS," Ma Cheng said.
Ma Cheng also said that when Android and iOS were born, it was the time when feature phones turned to smart phones. Although Nokia's Symbian system dominated the market at that time, Android and iOS saw the opportunity of the change of the times and developed rapidly. .
"The Android and iOS systems are now mature and the ecosystem is sound. Pushing a new system out of thin air is like challenging the Symbian system ten years ago, but now there is no opportunity for the times." Ma Cheng said to Hongmeng The outlook is not optimistic.
Of course, Hongmeng also has a latecomer advantage. Huawei did not want to become the second Android. When the Hongmeng system was launched, it focused on IoT devices and wanted to realize a full-scenario smart ecology.
However, the current development of the Internet of Things is not so rapid. Although Huawei stated at the 2020 Developer Conference that it has cooperated with home appliance manufacturers such as Midea and Joyoung, the reality is that traditional home appliances are still mainstream in the market.
"If the Internet of Things fails to develop, then the Hongmeng system is passive water, which means it will take time to wait," Ma Cheng said.
Huawei's Last Stand
The US sanctions against Huawei continue.
On August 17, the US Department of Commerce announced a new round of sanctions against Huawei. This is already the third round of sanctions against Huawei by the United States.
The sanctions focused on restricting chips designed by companies outside the United States using American software. At the same time, 38 Huawei subsidiaries have been added to the physical list, mainly involving Huawei Cloud. So far, 152 Huawei affiliates have been included in the blacklist.
There is no doubt that the US sanctions have dealt a major blow to Huawei and its suppliers.
According to Reuters, due to US restrictions, Samsung and LG Display will stop supplying high-end smart phone panels to Huawei from September 15 when the restrictions take effect.
September 15 is also the date when the US ban on the supply of Huawei chips takes effect. After this day, major manufacturers such as TSMC, Intel, and Qualcomm will no longer be able to supply related products to Huawei.
Affected by this, Yu Chengdong said at the China Information Technology Hundreds Summit 2020 (hereinafter referred to as the Hundreds Summit), "Due to U.S. sanctions, chips cannot be produced and are currently out of stock. This may be Kirin's high-end chips. Out of print, the last generation".
"For Huawei, the current operating system can still use Android, and even if it doesn't help, there is Hongmeng as a backup. But if the chip is used up, there is really no way. This is not something that can be made in a short time by throwing money or people." , Ma Cheng analyzed to Tech Planet (WeChat ID: tech618).
He said that chips need to be formed through a series of operations such as design, manufacturing, and packaging. At present, all the core technologies are not in the country. To fully localize, it will take 10 or even 20 years to sharpen the sword.
"Huawei has been pioneering in the field of chip design for more than ten years. From serious backwardness, to a little backwardness, to catch up, and then to lead, the research and development investment is huge, and the process is also very difficult. But in the field of heavy assets like chip manufacturing, Huawei did not participate", Yu Chengdong once said bluntly at the Summit of the Hundreds.
At today's Huawei Developer Conference, Yu Chengdong also revealed that the chip is very out of stock recently. In this case, it has affected the growth of Huawei's terminal business.
At the same time, after the entity list incident in 2019, Huawei was unable to use Google's Android GMS service, which caused its overseas markets to suffer a heavy blow.
Originally, Europe was Huawei's core market, but because Huawei was banned from using Android GMS services, it directly led to a rapid decline in its European market share.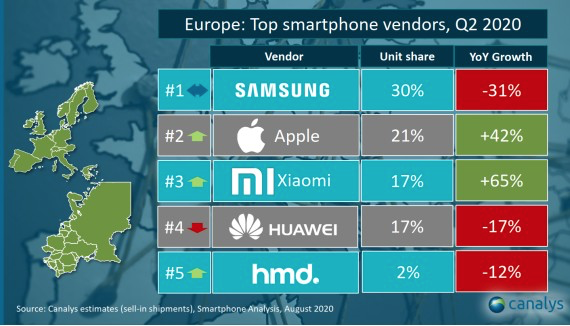 2020Q2 European smartphone market situation, picture source Canalys
Based on market researchAccording to the second quarter smartphone market report in the European market released by Canalys, Huawei's market share in the quarter fell by 17% year-on-year, with only 17%, ranking fourth.
An overseas market employee of a domestic mobile phone manufacturer told Tech Planet (WeChat ID: tech618) that the overseas market that the company will focus on this year is Europe, and the goal is to eat Huawei's lost market share.
In order to regain the European market, Huawei is recovering its lost market share in various ways.
At this developer conference, Wang Yanmin, President of Huawei's Consumer Business Global Ecological Development Department, said, "In the future, Huawei will open three ecological cooperation laboratories. Since Europe is an ecological highland, all three laboratories in the first phase will be Put it in Europe."
Under multiple pressures, Huawei has to fight back. Only by working hard can it be possible for Huawei to seize the slightest opportunity, otherwise it can only be slaughtered.
(At the request of the interviewee, Ma Cheng is a pseudonym.)