The perfect young diary should mature.
Audi, Chanel, IWC and other international first-line brand spokesperson Zhou Xun, now a cutting-edge domestic beauty brand Perfect Diary a> endorsement.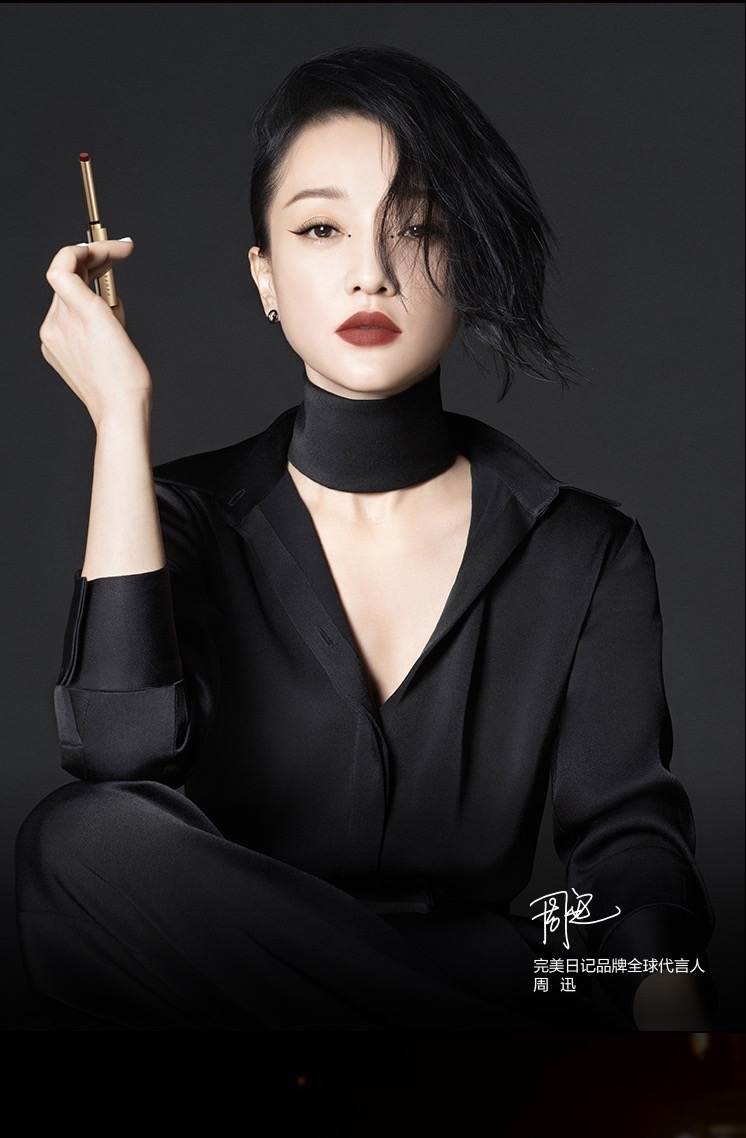 The picture is from PerfectDiary.
On October 20th, Perfect Diary announced Zhou Xun as the brand's first global spokesperson. In the promotional video, Zhou Gongzi put on the perfect diary's new "small thin heel" lipstick, "beautiful, unlimited" became the new slogan of the perfect diary brand. It is reported that this is not only the second domestic beauty skin care brand endorsement of the Chinese film "Three Golden Vision" Zhou Xun since Maru Mei Eye Cream, and the first global spokesperson officially announced by Perfect Diary since its establishment three years ago.
In order to match the brand's youthful characteristics, the celebrity endorsements that Perfect Diary previously selected were all young and traffic routes. For example, lip makeup spokesperson Zhu Zhengting; base makeup spokesperson Lai Guanlin; color spokesperson Luo Yunxi; in addition there are Shen Yue, Wen Qi, Wu Qingfeng a>Wait for manyLine product promotion ambassador.
In the eyes of many young people, cost-effective and domestic products are synonymous with the perfect diary of the "net celebrity" brand. In particular, its various cosmetic products co-branded with the British Museum, Metropolitan Museum, National Geographic, Discovery and other major IPs have repeatedly used Weibo, station b, Xiaohongshu and other social media's word-of-mouth marketing quickly Become a hot product, and achieved a lot of sales performance and wide recognition.
During Double Eleven last year, the sales of Perfect Diary surpassed European and American brands for the first time, becoming the No. 1 on Tmall cosmetics sales list. In 2019, the sales of Perfect Diary exceeded 3 billion. In September of this year, the number of offline stores of Perfect Diary has reached 200. At the same time, relevant news has confirmed that Perfect Diary has completed a new round of US$140 million in financing and is preparing for an IPO in the United States.
But in fact, according to media reports, many investors have stated that Perfect Diary did not make a profit in 2019. Affected by the previous high-intensity marketing strategy, Perfect Diary's all low-priced products make the company's gross profit margin far below the average level of the beauty industry. In addition to a few explosive products that have brought huge sales, the perfect diary lacking core R&D technology is not perfect in the product line structure, and this is also a common problem for many domestic beauty brands with a "splendid" appearance.
Therefore, since the beginning of this year, Perfect Diary has increased its technological innovation. In addition to investing 700 million yuan and the world's largest cosmetics OEM companyCOSMI In addition to the cooperative construction of R&D and production bases, Poetry also set up independent R&D laboratories in the factory.
For Perfect Diary, the announcement of Zhou Xun as the brand's first global spokesperson before Double 11 is actually announcing Perfect Diary's determination to break the inherent label of "net celebrity" beauty products. After all, if the sales scale is to reach a new level, Perfect Diary also needs to make its target audience more mainstream, and all of this needs to start with a more mainstream spokesperson.