Realizing a dual-engine growth strategy through application platforms and data platforms
It is learned that "Science Cloud" has officially announced that it has received a C1 round of financing led by Huatai Industrial Fund. The amount of financing has not been disclosed. CEO Huang Qigong said that this round of financing will be mainly used to increase investment in product research and development, market expansion, ecological chain construction, and personnel recruitment.
At the same time, at the Shisu Cloud brand strategy upgrade and new product online press conference held today, Shisu Cloud also released a dual product strategy of cloud-native application platform plus cloud-native data platform to further strengthen cloud-native technology service capabilities.
Since its establishment at the end of 2014, it has been reported many times. With the rapid development of cloud computing vendors and market demand, Shisu Cloud has gradually expanded from the initial container cloud PaaS platform to the microservice management platform, and then focused on the current cloud-native applications and data platforms.
At the end of last year, Shisuyun released a new product system and PaaS 4.1 version, which became Full stack cloud a>Native technology service provider, and start the speed cloud ecosystem partner strategy. After nearly a year of development, what is the latest update and progress of the company?
CEO Huang Qigong introduced that since the strategic upgrade to a full-stack cloud native technology service provider at the end of last year, at today's press conference, the TenxCloud Cloud Native Application Platform (TCAP, TenxCloud Cloud Native Application Platform) series of products also released a new version 5.1 , Integrating product modules such as container cloud PaaS, DevOps, microservice governance, ServiceMesh, and API gateway:
The new version of the container cloud PaaS has improved cluster federation and application federation scheduling capabilities, which can be adapted to multi-domain and multi-state business scenarios. At the same time, add IPv6 dual stack, topology awareness function, support for CephFS and OpenEBS storage, and unified operation and maintenance center.

Microservice governance TMF products are improved in performance and flexibilityIt has been greatly optimized and seamlessly supports multiple frameworks. Dubbo and Spring Cloud are registered in a unified manner to ensure unified management of services of different frameworks; in the call tracking dimension, the monitoring capabilities of the middleware in the enterprise are improved to ensure a comprehensive positioning and analysis of problems.

The service grid TDSF product realizes one-stop management of services from development, deployment, operation to governance. Compared with the industry's most widely used open source service grid solution Istio, the self-developed service grid product of Shisuyun has unified management of multi-microservice framework services, custom communication protocol support, transparent access to existing services, and national secret security There has also been great progress.

The API gateway TAMP improves and enhances the comprehensive capabilities of the API gateway from multi-protocol service access, API management, API monitoring and alerting, and API log management.
In addition, a more significant business development lies in the newly launched cloud-native data platform KubeData. Huang Qigong said that this is equivalent to providing data construction and data development capabilities on a cloud-native application platform-from the perspective of service content, it is from the application dimension to the data dimension.
"The original product system of Shisuyun is still more at the PaaS level of the container cloud. When customers deploy more and more applications on the cloud, the application operation generates a large amount of business data, which also generates Dealing with demand, this is our core reason for launching the KubeData platform." Huang Qigong said.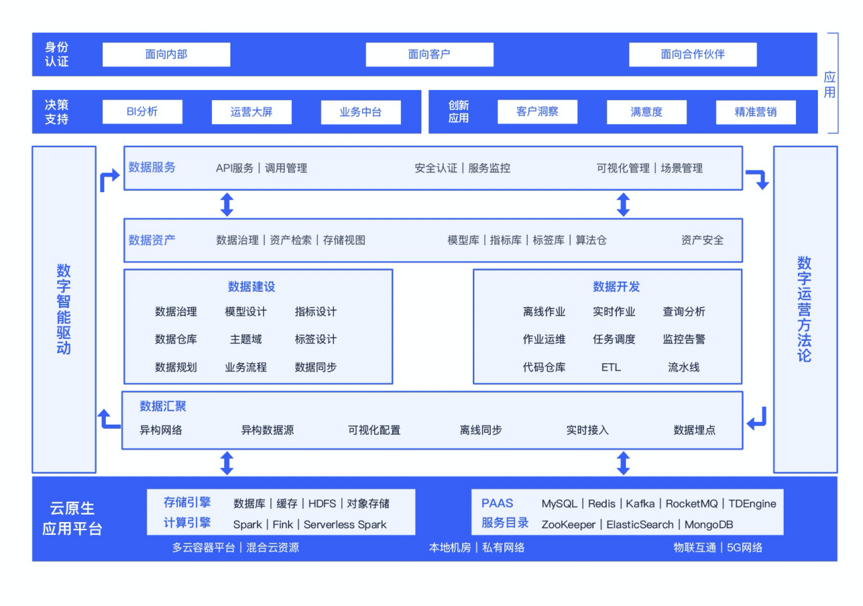 KubeData cloud native data platform architecture diagram
The cloud native data platform KubeData released this time is a visual data construction and data development platform based on cloud native technology. In terms of specific functions, the KubeData platform includes many functions such as containers, PAAS, data aggregation, data planning, data development, data intelligence, data assets, data services, etc., which can structure and apply business data to improve business operation efficiency. Reduce development and deployment costs. In addition, the KubeData platform can fully support localization and is based on a high-availability architecture design to meet the enterprise's multi-center disaster recovery and multi-activity requirements, thereby ensuring business continuity.
From the perspective of market entry point, the KubeData platform first opened up data development, algorithm development, data construction and dataAccording to the four major product functional modules of the service, it supports data processing in multiple business areas. Developers can develop and integrate data through simple and visual push-pull methods.
The first stage of enterprise cloudification focuses on the virtualization of physical resources, and the next step to consider is how to better utilize the capabilities of cloud computing-applications under the traditional IT architecture are not designed for the cloud. Therefore, the demand for building cloud-native application systems has increased rapidly in recent years.
Currently, there are also many digital transformation service providers in the market such as China and Taiwan that also involve cloud-native services. There are also multiple players on the container cloud track where Shisu Cloud is located. Where is the difference? Huang Qigong said that at the technical level, Shisu Cloud is based on the cloud-native application platform and provides the necessary computing, storage engines, and various reliable middleware services for the data platform. Through powerful storage, computing services and multi-tenant-based The system builds a secure infrastructure base to provide solid support for upper-level data development and construction modules.
At the business level, Shisuyun's industry approach is different from the retail, real estate and other industries that other companies have concentrated on. The current KubeData cloud native data platform starts with the transportation and government fields, and has served several government and enterprise units. , The next industry expansion will also look for more digital transformation opportunities in traditional industries. At the same time, for old customers, Hourly Cloud will also explore new needs through consulting + services.
Currently, Hourly Cloud has served more than 300 large customers. Huang Qigong said that after the release of the KubeData platform, it is expected that the customer unit price will increase by about 30% to 50%, and it will become the company's second growth engine. After the completion of the new round of financing, Shisu Cloud will continue to enhance its technological innovation capabilities and expand its market share, realize a dual-engine-driven growth strategy through the cloud-native application platform and cloud-native data platform, and further penetrate the cloud-native market.