Every year, many people travel to Japan. The natural geographical advantage and friendly and welcoming service attitude make Japan very popular among the young people's overseas travel choices.
But I know that a one-size-fits-all trip is not for you, and it is not enough to satisfy your curious eyes, the heart of exploration. What you want is to communicate with the locals in an unobstructed way, and enjoy a trip to Japan that is as original and as usual. So before you leave for Japan, you will definitely learn Japanese skills silently.
Now, learning languages ​​has become easier and simpler, and our opportunities to reach other languages ​​are much more than ever, and Japanese is no exception. Today, the Know Program (zxcx0101) will recommend two Japanese learning applets to help you learn Japanese easily before the holidays.
"Japanese Assistant"
"Japanese Assistant" is a small program that helps beginners to get started with Japanese. In addition to basic Japanese syllabary learning and word accumulation, it also includes Chinese-Japanese translation, kana conversion, Japanese news listening, and specific scene dialogue. Japanese reading and reading functions, listening, reading and writing, everything.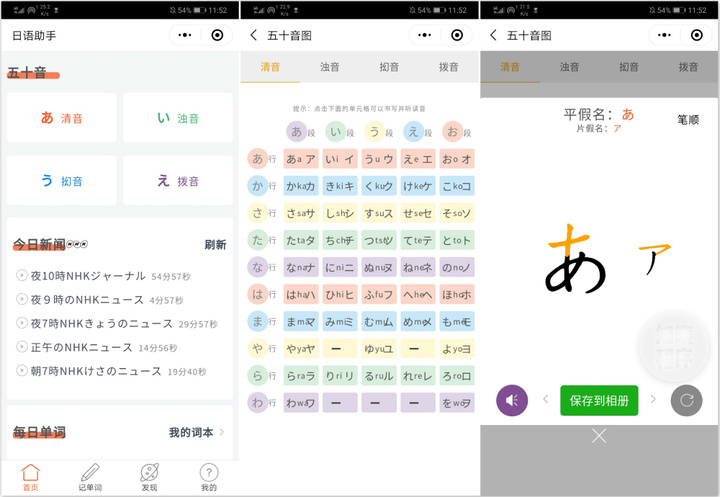 In the learning arrangement of the syllabary, it is subdivided into unvoiced, voiced, arpeggio and dialed. Open any part, you will see the familiar Japanese five-segment ten-line chart, click on the corresponding cell to be able to write and read the corresponding pronunciation on the screen of the mobile phone, if you like, you can save your own written words to In the phone photo album.
After passing the first Japanese fifty-tone learning level, we can learn some common vocabulary and dialogues in this small program according to our own interests and travel purposes.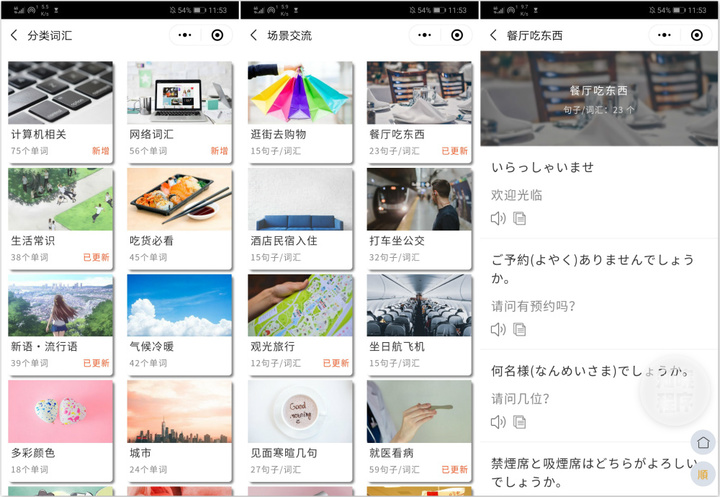 In the "classification vocabulary" and "scene communication" of the applet, there are enough knowledge points, such as restaurants to eat, supermarkets to buy things and other scenes have more common sentence patterns to learn.
In general, this "Japanese Assistant" applet is suitable for beginners to learn Japanese, but it is slightly lacking in interaction and fun. Therefore, it is recommended to match this "Japanese short video" below. Small programs come together to makeIt will be better.
"Japanese Short Video"
Open this "Japanese Short Video" applet, which is rich in fun Japanese videos, easy to learn word learning and meet the interactive pronunciation challenge, is its three characteristics.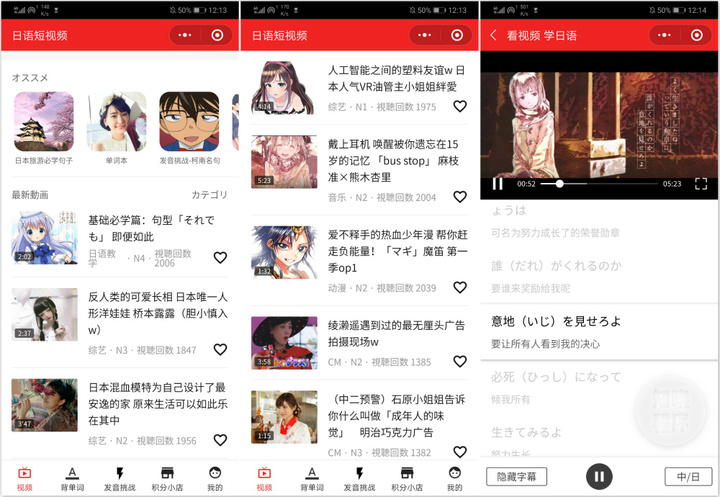 It is worth mentioning that the Japanese video here is not only a teaching video, but also contains many fresh and interesting Japanese variety, anime, music videos, and under each video there are pseudonyms that can be turned on or off at their own discretion. It is also possible to conduct audio-visual learning for a single sentence and break through one by one.
Click on the "back word" tab bar to see different wordbooks. The common store name reading method, Japanese drugstore word, Japanese food introduction, etc. are all normal operations that we will not miss this trip.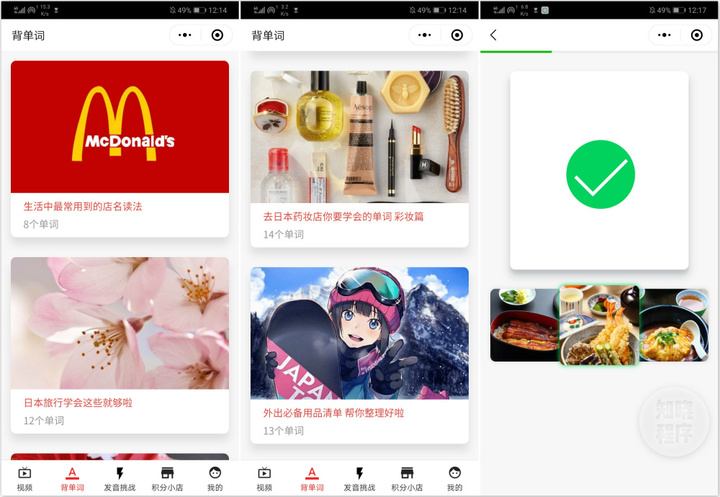 "Back Words" is a special exercise that provides a quiz for wordbooks to help you remember that remembering words is not afraid of forgetting words.
The pronunciation challenge is another interesting feature that lets you speak Japanese in a relaxed and pleasant atmosphere.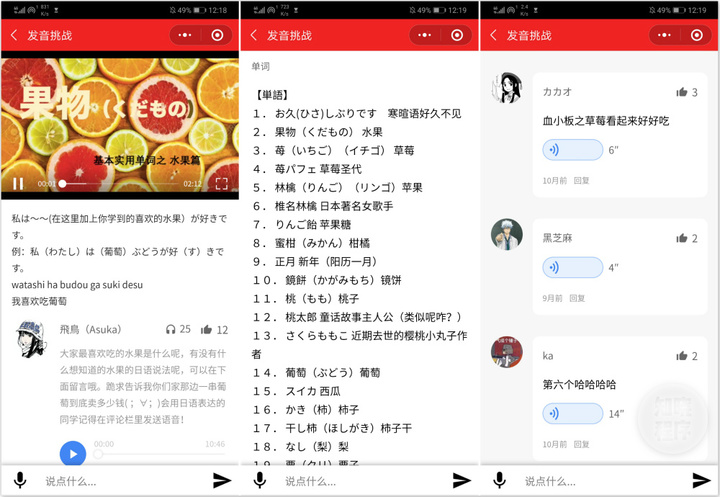 The "speech challenge" of each issue will be explained by audio explanations and grammar words. The interactions of the friends in the comment area are also very active. You may be able to make friends during the process of learning each other.
Looking at the summer vacation, take these two small programs and learn Japanese well, and come to a different Japanese travel experience.