As the behind-the-scenes hero of the rise of smartphones, mobile SoC chips have achieved leapfrog development in the past decade. Product performance has also gained exponential growth.
Editor's note: This article is from WeChat public account "Semiconductor Industry Watch" (ID:icbank) a>, the author Mu Wei.
As the behind-the-scenes hero of the rise of smartphones, mobile SoC chips have developed by leaps and bounds over the past decade. Product performance has also gained exponential growth. Take Apple as an example. The first iPhone they released in 2007 was equipped with a processor clocked at 416Mhz. The A12 processor that they released in September last year was up to 2.49 GHz, and the number of transistors reached an astonishing 6.9 billion.
But in the last two years, mobile phone chips have become less and less bright, especially under the influence of the slowdown in performance caused by the evolution of process technology, the homogenization problem faced by mobile phone SoC vendors is coming. The more serious, especially on high-end chips, this phenomenon is even more obvious. To this end, major mobile phone chip manufacturers began to look for new selling points, such as adding AI function is one of the most representative ways.
But this is only a situation faced by mobile phone chip makers. In fact, in the past period of time, mobile phone chip manufacturers have ushered in a variety of changes, a new change seems to be brewing. This is mainly from three new trends in smartphone chips:
Trend 1: Integrated Integration and Reintegration
Readers familiar with mobile phone processors should know that in addition to Apple, almost all mobile phone manufacturers use integrated SoC solutions. However, after Apple acquired Intel's baseband-related business, it is believed that in the near future, the smartphone giant will also launch its own SoC solution integrating "AP+BB". For Apple, integration is to save more money.
In addition, SoC vendors have begun to "integrate" from another level, that is, they have developed more RF products themselves, and this wave of trends began as early as Qualcomm. Their purpose in doing RF is to break the single dilemma of their product line.
As we all know, mobile SoC related products and patent licensing revenues constitute most of Qualcomm's revenue. However, over the years, Qualcomm has faced unprecedented challenges due to the slowdown in the growth of the smartphone market and litigation disputes with Huawei Apple. Furthermore, the EU and US government's investigation of Qualcomm also makes mobileThe chip giant is struggling. I believe this is an important factor driving Qualcomm to the RF business. Of course, the bullish RF market is another reason to attract Qualcomm.
According to the semiconductor industry observation, Qualcomm first entered the RF market from CMOS PA, but they did not succeed in it, and finally turned back to the traditional GaAS PA market. According to industry experts, Qualcomm may find in the process of RF research and development that it is difficult to set up a storm in the RF market. For this reason, they have cooperated with TDK to make a filter and complete the RF. product line.
For Qualcomm, it is not a good choice to sell RF products while selling their SoCs. Especially in the process of transition from 4G to 5G, Qualcomm has a greater advantage in tying, which can also help terminal developers save a lot of things. At the same time, Qualcomm can also sell RF to other vendors separately, which will also give them performance incentives. According to previous reports from the Taiwan media, this is really happening.
SoC vendors with the same idea also include MediaTek. Whether it was the previous acquisition of the company or the recent acquisition of Vanchip, every step taken by MediaTek has a continual feeling with Qualcomm.
When coming to Huawei, according to people familiar with the industry, Huawei has now organized a large RF team, and they have begun to try their own PA products on their low-end products. Considering Huawei's situation this year, it is believed that Huawei is doing more radio frequency to avoid the risk of breach of supply.
Trend 2: Game Chips Become Targets
As mentioned above, mobile phone chip manufacturers have not found more selling points on the chip, but the method is always more difficult. This year, both Qualcomm and MediaTek have developed a line of mobile phone chips specifically developed for mobile games. From the data point of view, this seems to be really a gold mine to be excavated.
Data statistics agency Newzoo disclosed in a report released earlier this year that mobile game consumption is expected to reach $68.5 billion in 2019, up 10.2% year-on-year, accounting for 45% of global game spending. By 2022, the market size of mobile games will be close to 100 billion US dollars, accounting for 50% of the global game market.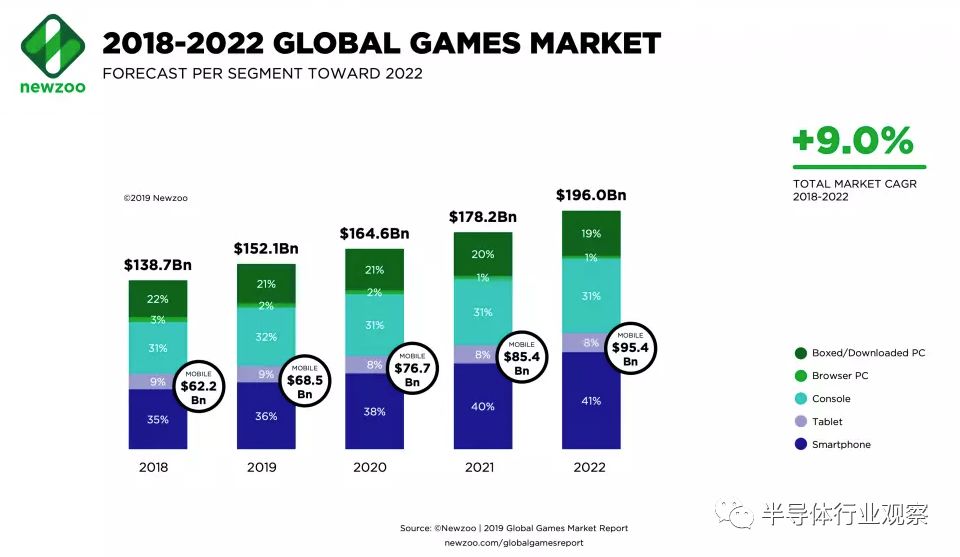 Behind this, for a better user experience,Creating a highly targeted game chip has become a demand, and Qualcomm is also the first to make a move. AIDay, which they held in the United States in April this year, disclosed their chip 730G for mobile games, and released the game performance of high-end chips to the mid-end chip. It is understood that this chip uses an enhanced version of the Adreno 618 GPU, which is 15% faster than the regular version of the Opteron 730. At the same time, it also supports the Qualcomm Elite Gaming platform to bring a better gaming experience to gamers.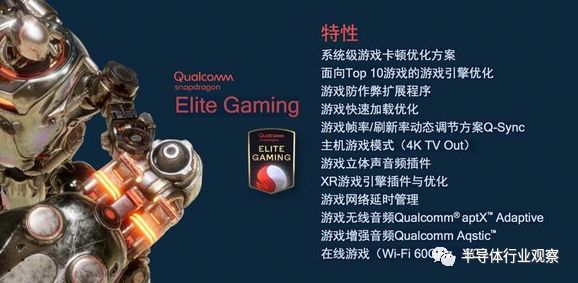 and MediaTek's G90 is also the pioneering work of Taiwan's fabless design makers in the field of gaming chips.
This chip with high-performance CPU and GPU also gives superior performance in performance. In addition, their game optimization engine technology, MediaTek HyperEngine, which is based on the four engines of network, control, image quality and intelligent load, is also developed for the problems encountered in the game. It is also designed to enhance the user's gaming experience.
According to MediaTek, under this engine, it takes only 13 milliseconds to intelligently start Wi-Fi/LTE concurrency, GPU image rendering and screen display can also speed up 60%, and improve game chirality with millisecond response. . It also intelligently adjusts the CPU, GPU and memory resources to provide a smooth gaming experience.
At present, there are also a number of mobile phone manufacturers that have launched game mobile phone brands and products. But is this really able to gain some living space between high-end machines and mid-range machines? The author is reserved.
Trend 3: A new breakthrough in the low-end market
Looking at the current mobile phone market, we will find that low-end and mid-range mobile phones play an important role. Whether it is Huawei's glory, Maimang or Xiaomi's red rice, they play an important role in the composition of their products.
  But industry experts say users in this market have not had a good enough experience, especially on low-end phones.
  This is mainly related to the fact that most of them use four small core chips.
  In the final analysis, this is related to the strategy of the current head manufacturer.
Industry experts told reporters that the cost of a large core of a mobile phone chip will be about three times the cost of a small core, which makes the planning of mobile chip manufacturers on the low-end chip more cautious;In order to maintain their position as a high-end chip, they will not easily put the big core on the low-end chips. This double reason makes the current low-end mobile phone experience relatively poor.
Under the premise that the head chip manufacturers are not willing to break the existing pattern, Ziguang Zhanrui will launch a medium- and low-end chip with a large core to stir the current situation and wait for the market of Qualcomm and MediaTek.
Zhong Chen, vice president of Ziguang Zhanrui Market, said in an interview with the media industry observation and other media in the morning, that in the actual use of smartphones, there is a high demand for performance in a few scenarios such as triggering and sliding screens. This is a small core that cannot be solved anyway. Only the introduction of a large nuclear is the right way to enhance this experience. Zhou Chen stressed that this is a brand new opportunity for them to focus on the low-end market.
The decision of the domestic mobile phone factory may become the X factor
In fact, in addition to the above-mentioned manufacturers, according to the semiconductor industry observation, one of the top mobile phone manufacturers in China is planning to build a mobile phone processor, which may become the key to affect the entire mobile phone market.
In the past, this vendor has been tightly tied to Qualcomm, but people familiar with the matter said that the manufacturer has already developed the idea of ​​building its own mobile phone chip. Earlier in the market, there were rumors that they had already gathered many talents from the Intel Xi'an baseband department. This will reveal their ambitions.
If they really follow Huawei, the mobile phone chip market may usher in a new change.
From the current Android phone market, Huawei, which relies on the rapid kirin chip, has firmly occupied the market of more than 4,000 mobile phones. OV and Xiaomi, which build Qualcomm's flagship chip, can only compete for more than 3,000. From this perspective, Huawei has already pressed Qualcomm. Once OV and Xiaomi have another company with the performance of Huawei Unicorn, for Qualcomm, it will usher in unprecedented challenges. Apple's baseband integration will further expand this impact. MediaTek and Zhan Rui naturally cannot stay out of the game.
Of course, this doesn't happen overnight.
But what is certain is that the mobile phone chip market is no longer a monolithic piece, especially under the current international trade conditions.
*Disclaimer: This article was originally created by the author. The content of the article is the author's personal point of view. The semiconductor industry observation reprint is only to convey a different point of view. It does not mean that the semiconductor industry observes the endorsement or support of this view. If there is any objection, please contact the semiconductor industry for observation.