Are you affected?
Editor's note: This article is from the micro-channel public number "Magic City fiscal outlook" (ID: moducaiguan), Author: Ji strong Roger.
The boots finally landed!
Last night, Shanghai's eight departments jointly issued the "Opinions on Promoting the Stable and Healthy Development of the City's Real Estate Market", which carried out a "surgical level" regulation on the property market, which was officially implemented today, January 22.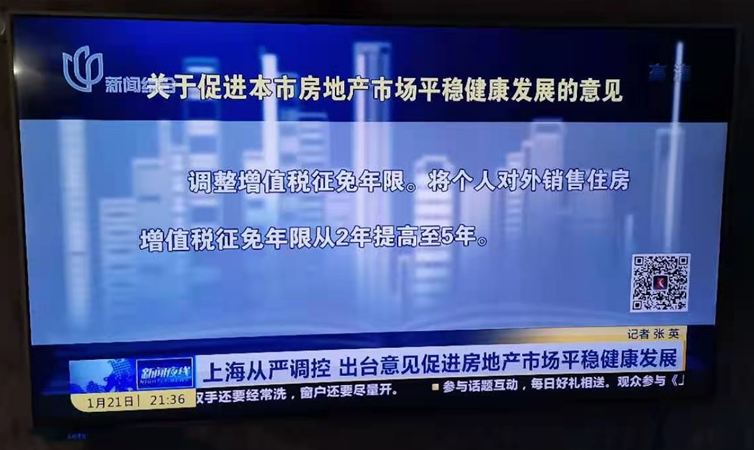 The background of this policy is just in time for the hot property market. In December 2020, the transaction volume of second-hand housing in Shanghai was 38,900, a record high in the past three years. The timely administration of the government is worthy of praise for helping the masses of home buyers.
Don't talk nonsense, just focus on it!
(All interpretation parts below are my personal understanding, subject to official rules)
1
Limited purchase upgrade! The divorce goes back 3 years.
The "Opinions" clearly and strictly implement the housing purchase restriction policy: For couples who purchase commercial housing within 3 years of their divorce, the number of housing units they own is calculated based on the total number of households before the divorce.
In my personal understanding, this means that you who have a Shanghai household registration, a single person, and originally had a room ticket, if you divorce within three years and have 2 sets of Shanghai real estate before your marriage, then you have been restricted from purchasing from today !
This measure mainly targeted Shanghai households, who originally had two sets of home purchase qualifications. Some families used renames within marriage + divorce to free up a room ticket, and the person who left the house could not only buy it again. One set, and some even have the first mortgage qualification.
After this adjustment, those who temporarily decided to buy a house in a divorce, and those who have not bought a house after the divorce within three years, will be restricted from buying.
According to the previous experience in Guangzhou and Shenzhen, Shanghai's divorce may be retroactive in the future: if there is more than one divorce record within 3 years before the purchase date, the number of housing units owned by the household will be based on the total number of households at the time of divorce in the 3 years prior to the purchase date. The sum of the number of sets is calculated, that is, all divorce records are traced back within 3 years.
In other words, it may not be possible to clear the previous housing records through multiple divorces and marriages. As long as there are two sets in three years, the purchase will still be restricted.
2
Tax and fee upgrade! The VAT exemption period has changed from 2 years to five years.
The "Opinions" provide for the adjustment of the VAT exemption period. If an individual purchases less than 5 years of housing for external sales, the full amountValue-added tax is levied; if an individual purchases a non-ordinary house for more than 5 years (including 5 years) for external sales, the value-added tax shall be levied on the difference between the sales income minus the purchase price of the house; an individual will purchase more than 5 years (including 5 years) ) Ordinary houses are exempt from value-added tax for external sales.
Yes, you read that right. For any set of second-hand housing, as long as there is a transaction within 5 years, whether it is an ordinary or non-ordinary residence, full value-added tax is levied.
VAT 2 changed to 5, which is a bit more lethal.
Previously, only houses under two years old were levied full value-added tax, and non-ordinary houses were levied on the difference VAT. Now, regardless of whether they are general houses or not, the difference is not calculated. As long as they are less than five years old, the total value is directly charged. .

(Click to open to enlarge)
In other words, for a house less than five years old, the value-added tax amount = the online signing price ÷ 1.05×5.3%, which means that a general house of 4.5 million in the inner ring does not need to pay VAT. Now Need to pay more than 227,000 yuan in taxes.
The taxes and fees are a bit painful.
3
Priority lottery is just needed! New houses give priority to satisfying the demand for self-occupied home purchases of "houseless families".
The "Opinions" emphasize strict management of commercial housing sales. Strictly manage the filing and management of new commercial housing sales plans. Strictly implement various management systems such as the "one price clear" and "real name system" for commercial housing sales. Improve the housing selection system of newly-built commercial housing by notarization lottery, and give priority to satisfying the self-occupied housing needs of "family without housing". Strengthen the supervision of pre-sale funds to protect the legitimate rights and interests of buyers.
This is the same as the article "Shanghai New House Lottery Rules Has Changed?" published on January 12 by our matrix account Magic Capital Caiguan. The feast just needed is here! "The predictions in "are exactly the same, the new house will give out a part of the listings to just need priority lottery
According to the past experience of other cities, every time the major new markets are launched, a part of the listings will be given priority to those without houses. After shaking it once, those without houses who have not been shaken will be rejoined with those with houses. Shake it once to increase the probability of just buying.
Let's take a practical example and give you a deduction:
For example, if there are 100 sets of new houses, 50 households without houses and 150 households with houses are recognized. The original recognition rate is 100/200=50%, and the probability of having houses and no houses is the same.
Now, first 40 sets are given to 50 non-housed households, and the winning rate is 80%. After shaking, the remaining 10 households without houses who have not bought it will be shaken with 150 households with houses.For the 60 sets, the winning rate=60/(10+150)=37.5%.
In this way, the rate of winning the lottery without housing just needs has been greatly increased.
As for the detailed rules for the determination of "family without a house", it has not yet been published. Whether it is necessary to get married, whether there is an age limit, we can wait for our interpretation.
4
In addition, there are some supporting adjustment measures.
For example, check the source of down payment to prevent illegal funds from flowing into real estate:
Guide commercial banks to further strengthen the management of loan review, and intensify the verification of the source of down payment funds and debt-to-income ratio of home buyers. Strictly prevent credit loans, consumer loans, business loans and other funds from flowing into the real estate market in violation of regulations.
For example, regulate real estate developers and intermediaries, real estate media, etc. Don't over-exaggerate, don't violate prescribed prices, transactions, etc.
Strengthen the supervision of real estate development companies, sales agency companies and real estate brokerage agencies, and carry out special rectification of the real estate market order. Strengthen joint rectification and law enforcement, form a joint law enforcement force, and seriously investigate and deal with illegal activities such as cover-up and reluctance to sell, price violations, false advertisements, artificially creating market tensions, and inducing evasion of regulatory policies.
For example, increase land supply, stabilize land prices, and stabilize housing prices.
Especially in the suburban rail transit stations, the five major new cities (Nanhui, Songjiang, Jiading, Qingpu, Fengxian New City) increase supply; adhere to the real estate linkage mechanism, guide enterprises to rationally acquire land, and stabilize land prices.
5
Generally speaking, Shanghai's determination to stabilize the property market this time is still quite strong. A document will be issued on the evening of January 21, and it will be implemented on January 22, without giving any temporary chances to hold back.
VAT 2 to 5 is the most lethal. Those general and non-general homes that are less than five years old will face high VAT fees, and the confidence of both buyers and sellers in the transaction will decline.
Not being able to buy a house within 3 years of divorce is second, which is equivalent to limiting part of the purchasing power in the market. But after all, not many families rely on this to buy a third set, and the impact is limited.
The new houses are inclined to the rigid demand, which will greatly increase the winning rate of families without houses to buy new houses. Congratulations in advance!
The recent real estate market in Shanghai is indeed a bit too hot. Thousands of new houses are shaking the number of new houses and second-hand landlords have jumped in prices everywhere, which is a serious departure from the spirit of housing and non-speculation.
Therefore, we are also publishing three articles on January 8, 12, and 13 to remind everyone to pay attention to the recent property market policies and to prepare well in advance.
If you have signed online, you can breathe a sigh of relief and it will not be affected.
If you haven't signed an online sign, or are still looking at the house, you can just calm down, re-evaluate the eligibility of buying a house, taxes and future market trends, and do it well.Decided.
The government's policy this time around is still what the people want. Using heavy codes to suppress short-term stir-frying will serve as a good example.
Recently, the overheating phenomenon of the Shanghai property market will gradually return to rationality. From a long-term perspective, the fundamentals of the great city of Shanghai have not changed, with the continuous influx of high-quality talents and continuous breakthroughs in high-tech industries. We believe that the long-term healthy development of Shanghai's property market will remain unchanged.
Shanghai, never built!
Others, please leave a message for questions and exchanges!