Unlike gasoline vehicles that use 30,000 components, pure electric vehicles use batteries and motors as the core, and the use of components is reduced by about 40%.
Editor's note: This article is from the micro-channel public number "Nikkei Chinese net" (ID: rijingzhongwenwang), Author: Nikkei Chinese network.
High-tech companies such as Apple in the US and Baidu in China may increase their presence in the pure electric vehicle (EV) market. Some analysts believe that Apple, which is more likely to build cars, will focus on development, and external companies, including automakers, will serve as production contractors. If competition in car-making reduces costs, the auto industry will have a new business model based on fixed fees. The possibility of emerging companies disrupting the existing auto industry order has emerged.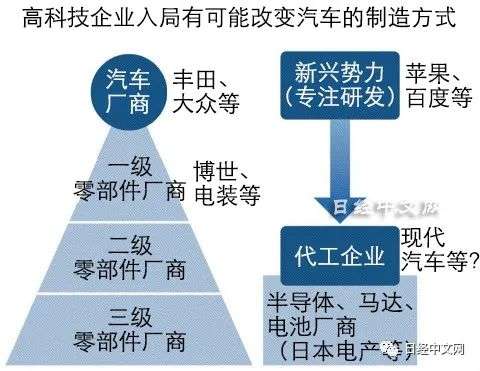 "Apple will extensively listen to the suggestions of component companies," the head of a European car body contract manufacturing company said when talking about the negotiations with Apple. Apple began to explore autonomous driving technology around 2014. Through the internal project team named "Titan", we have been in contact with related companies. There was a speculation that the team was shrinking, but on January 8, Hyundai Motor of South Korea admitted to the cooperation negotiations with Apple, and the fact that Apple is also interested in pure electric vehicles emerged.
Different from gasoline vehicles that use 30,000 components, pure electric vehicles use batteries and motors as the core, and the use of components is reduced by about 40%. Due to the decarbonization trend, the electric vehicle market is expected to expand, and Internet companies with financial strength have stepped in.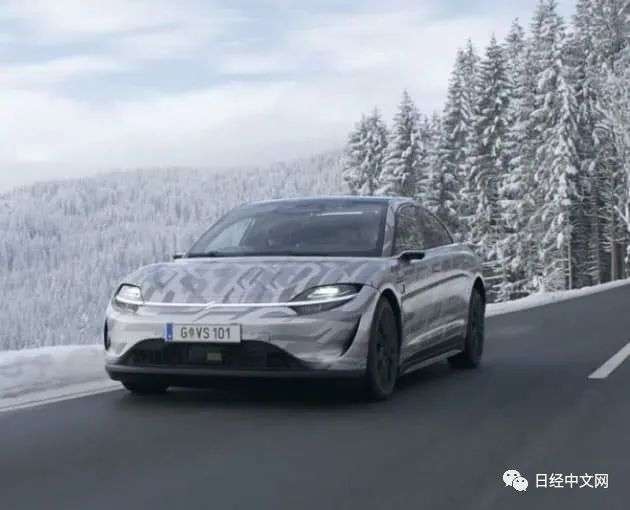 Sony has started a road test of pure electric vehicles
On January 12, Sony President and President Kenichiro Yoshida announced the road test of the pure electric concept car "VISION-S" in Austria. Sony has manufactured several prototype cars and plans to conduct road tests in Japan and the United States in the future. China's Baidu also announced on January 11 that it has launched a strategic cooperation with Zhejiang Geely Holding Group to start the manufacturing and sales of self-driving pure electric vehicles.
With the rise of emerging forces, the automotive industry must be prepared to respond to industryBig change. Apple handed over the production of the iPhone to Taiwan's Hon Hai Precision Industry and other foundry companies. It has focused on development in Silicon Valley and adopted a division of labor system for R&D and manufacturing. Kazuichi Yamamoto of Roland Berger, a German consulting company, said, "The structure of vehicle companies standing at the top and suppliers behind will change. Companies in the industry with high planning capabilities will take the lead."
The backbone enterprises will receive attention. Deloitte Tohmatsu Group's senior manager Korahana Hiromitsu pointed out that "factories with sluggish operating rates will be used, and automakers' in turn responsible for foundry models may increase."
A wave of price destruction will hit
If the tide of pure electric vehicles lowers the barriers to entry in the automotive industry, the expected state of sales will also change. In the automotive industry, manufacturers usually have the power to maintain the price system through a network of specialty stores. However, as more and more companies participate in car manufacturing, it is possible that a low-price trend will appear like the home appliance industry.
The wave of price destruction has arrived. In July 2020, SAIC-GM-Wuling Automobile, funded by General Motors (GM) and Shanghai Automotive Group, launched an ultra-low-priced small pure electric vehicle with a minimum of 28,800 yuan. It has gained explosive popularity centered on rural China. In markets outside of China, French Citroen launched the small pure electric car "Ami" for 6,900 euros.
Batteries account for about 30% of the body cost of pure electric vehicles. There are also limits to lowering prices based on the current state of lithium battery technology.
Toyota is working with Panasonic to develop a new generation of all-solid-state batteries. If this technology gets on track, the price system will change significantly. Nagamoru Shigenobu, chairman of the motor manufacturer Nidec, stated that "by 2030, pure electric vehicles will account for 50% of the new car market, and the price will drop to about one-fifth."
If pure electric vehicles become popular, high-tech companies such as Apple are thought to turn the car into a smartphone-like platform and obtain revenue through additional services such as apps. Not only selling cars, but also the business model that provides diversified services through the membership system after the sale is also expected to expand.