Buying shoes and returning shoes is becoming a possibility.
Editor's note: This article is from the micro-channel public number "Lazy Bear Sports" (ID: lanxiongsports), Author: Xin Xiaotong.
I don't know if sneaker enthusiasts have this feeling-the number of special edition shoe boxes has increased significantly in the past two years. Major brands have come up with their killers, design and creativity, so that this sneaker derivative has become as popular as the protagonist itself.
The "shoe-speculation party" is waiting for an opportunity. For example, a shoe box of Travis Scott's joint shoes has been sold for RMB 20,000-30,000.
On the surface, sports brands spend a lot of time on shoe boxes, but secretly, the war of shoe box business has spread.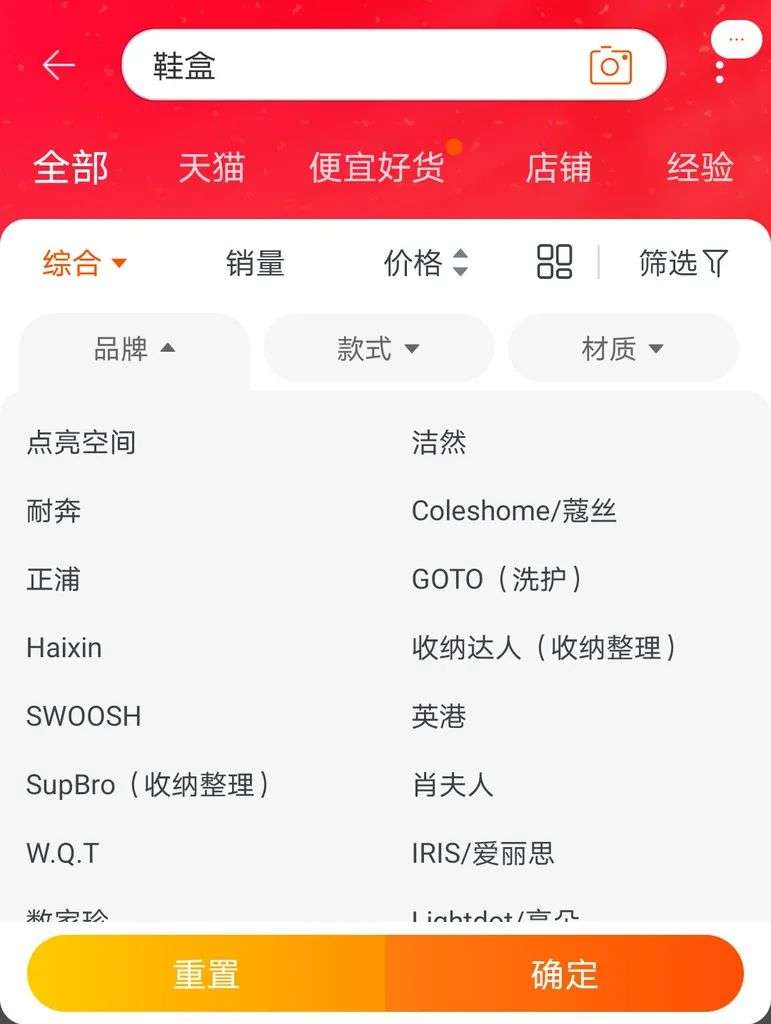 ▲Taobao search for "shoe box", you can see a lot of independent brands.
The rise of shoe boxes is actually not unrelated to sneaker bloggers. In recent years, many bloggers have chosen to use transparent shoe boxes to form a "shoe wall" as a video background, which has attracted the attention of many sneaker lovers. I also want to have such a wall to store my own collections, and at the same time assume the function of external display, and shoebox trading begins.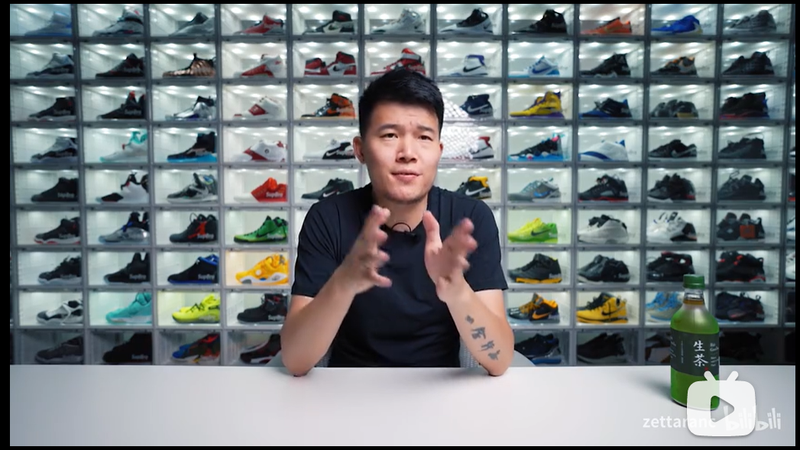 ▲ A screenshot of the video of the sneaker blogger "Z Talking Shoes", with a full shoe wall behind it.
"I bought 16 of them before and made a'shoepost'." NBA commentator Ke Fan told Sloth Bear Sports, "In sneakerheads, it is in high demand."
Ke Fan called the shoe box "net celebrity product", which is actually the "dongfeng" of trend culture and short videos.
The transparent shoe box itself is not "new". A few years ago, home furnishing brands such as MUJI launched similar products, but the main function at that time was storage, which was similar to the shoe cabinet.
It's only in the past two years. Because of the booming sneaker business, sneaker enthusiasts have spontaneously promotedThe shoebox became an independent business.
Shoebox brands have already had a lot of entrants. SupBro and GOTO are considered brands that have entered the industry relatively early and have high market awareness. Dewu and Hupu have also launched original brand shoe boxes, many trendy toys and clothing Brands are also launching shoe box designs. Of course, there are also some factory-operated stores and small brands.
The function of the shoe box is also shifting from "storage" to "display". Many indicators are being quantified, such as the transparency of the material, the degree of sealing, the ability to resist pressure, the ability to resist moisture, and whether the joints of the six boards are suitable… …The size of the shoe box is gradually standardizing. Many shoe boxes will also be equipped with additional functions, such as voice control, lighting, etc.
But from a business perspective, the shoe box as a product currently has its own flaws. The production threshold is not high, and the technical ceiling is visible to the naked eye. From factory production to market launch, the brand itself does not have much room for premium, and it is even difficult to differentiate itself from competing products.
In order to cope with the above-mentioned problems, shoebox brands choose to do fashion business and enter the minds of young consumers.
The advantage of the shoe box is that it has ample design space. This year, Rilakkuma and Xtep Jeremy Lin's generation of joint basketball shoes "Xiong Feng Zhishi", invited GOTO to become the partner of the shoe box. Due to the limited display space of sneakers, the designer's creative elements are completely reflected in the shoe box, which also makes it a natural extension of sneakers.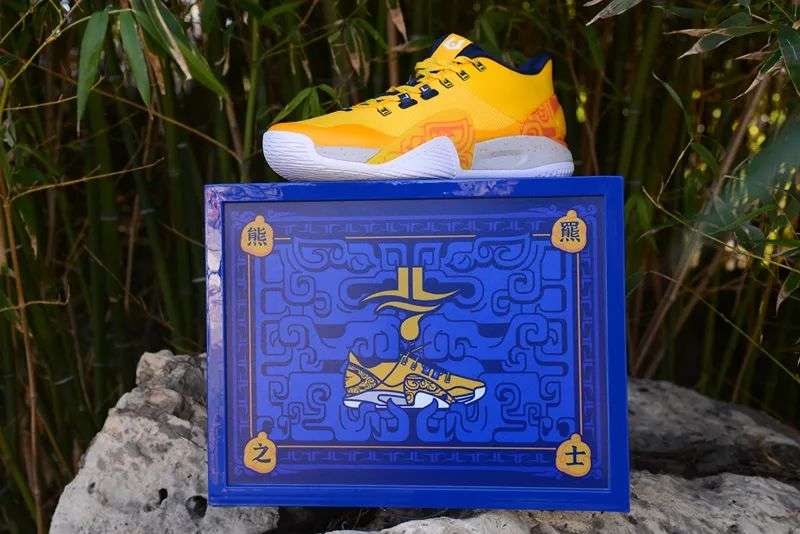 ▲"Xiong Fengzhishi" and GOTO joint shoe box.
It can be said that as long as the sneakers have had marketing cooperation, almost no shoe box is absent.
1. Brand cooperation. Take SupBro as an example. This year, SupBro and Li Ning's anti-five generation "Disney Joint Series", Yushuai 13Three Rose City, and Xtep Jeremy Lin's generation have cooperated with a limited edition shoe box as a lucky draw bonus to fans.
2. IP joint name. Co-branded models are a routine operation in the field of fashion consumption, which involves animation, art, designers, other fashion brands, and so on. SupBro has launched Van Gogh, "This Is Slam Dunk", HUNTSOUL and other joint models, GOTO also has Dragon Ball, Transformers joint models.
3. Design by the player. Earlier, a popular "custom shoe box" appeared in Xiaohongshu. The lines of the pattern are fixed and the color can be determined by the player. A series of painting tools will be included with the shoe box for fans to create themselves.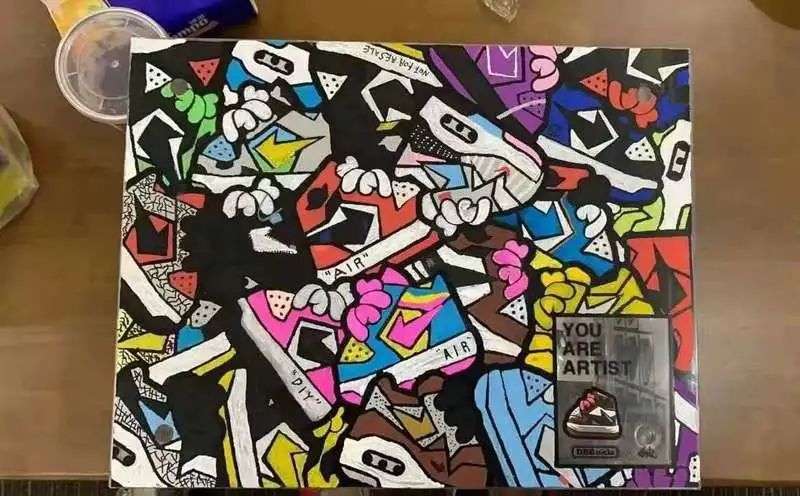 ▲This is the joint shoe box of artist Zhang Hahe and DBRukia. The creator is a Weibo user @This-is-Sun.
The above marketing practices have achieved initial results, and now Xianyu has been able to find limited-edition shoeboxes sold at increased prices.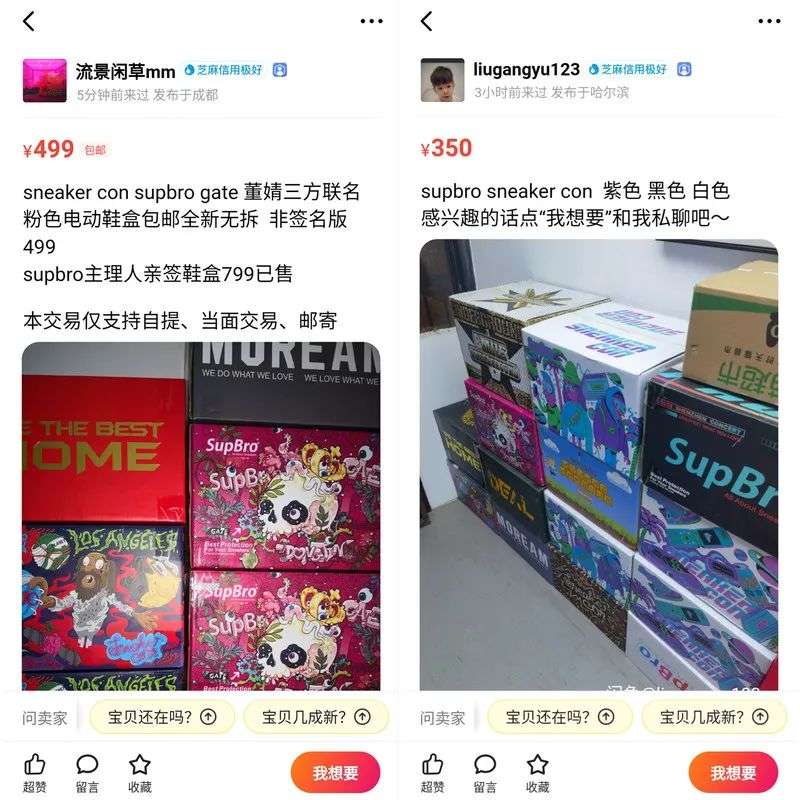 ▲The two SupBro shoeboxes in the picture above are co-branded models given to fans by Sneaker Con and are not for sale.
With the deepening of the trend business, shoe box brands are also expanding their basic disks. In addition to sneakers, they have also launched some trendy toy display boxes.
However, the co-branded models and limited editions only play a role in brand building, and it is the transparent shoe box with unified standards that really carries the sales.
SupBro founder Cody told Rilakkuma that the global sales volume of shoeboxes has been around 1.1 million in the past two years. In addition to C-end consumers, SupBro will also cooperate with Nike, AJ, Adidas, NewBalance and other authorized stores and stores. Buyer stores cooperated and entered Sanlitun in Beijing, Jing'an Temple in Shanghai, and trendy centers in European and American cities.
"As long as consumers who can use e-commerce apps can easily buy shoe boxes," Cody also admitted that the market entry barriers in this industry are very low. "If you simply sell products, there is almost no repurchase rate. Only by starting a brand can it increase its influence in the field and the brand will have continuity."
According to SupBro's official Tmall brand store, the price range of transparent shoe boxes is 110 yuan-178 yuan for two shoe boxes (the lowest two are sold at least two), and the best selling price is 135 yuan and 110 yuan. One. One of the most expensive LED lights + voice-activated shoe box is 158 yuan (this is still a discount on the New Year's Day). And GOTO's Tmall flagship store, the price range is about 88-134 yuan for two shoe boxes (there are also discounts on the New Year Festival), the most expensive is also 158 yuanOne.
If it is a brand cooperation model or a joint model, the price will more than double, and some can even reach three or four times.
Lazy Bear Sports searched Taobao 1688 Supply Wholesale Network. A single shoe box is basically concentrated below 40 yuan, with more than 10-30 yuan, and very few shoe boxes above 40 yuan. To some extent, this reflects the cost price of a general shoe box.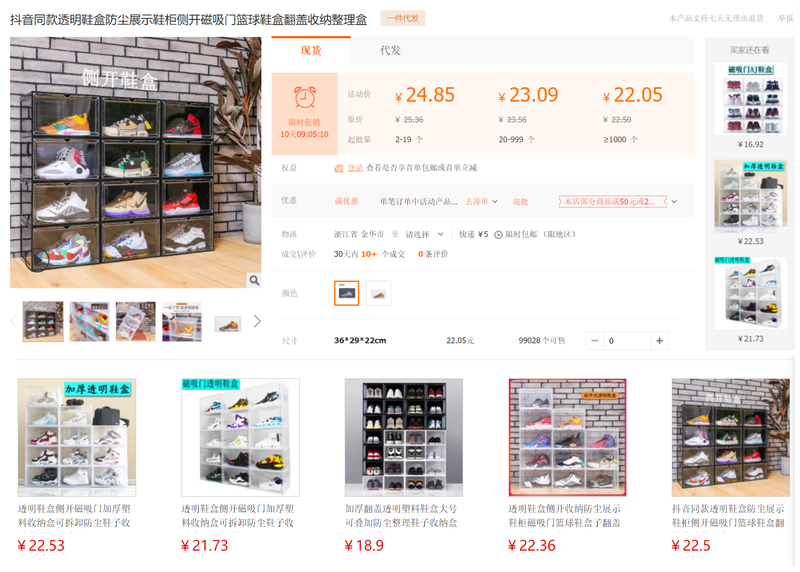 ▲Prices of some products on Taobao 1688.
SupBro also has a wired flagship store on Amazon. The most expensive transparent shoe box can be sold for two US$128 (including shipping).
Although the United States is known as the birthplace of trendy shoes, when it comes to the industrial chain of shoe boxes, the United States is not more complete than domestic ones. Searching for shoe box or shoestorage on Amazon and eBay will not get too many results. Follow the search results and enter the brand shop page, you will find that most of them are home storage brands, not trendy brands.
What's more interesting is that many of the businesses behind the Amazon search for shoeboxes are from China.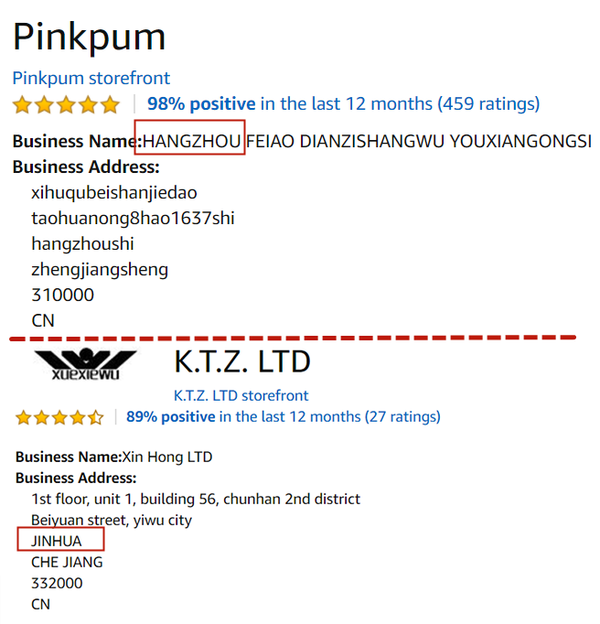 ▲When Rilakkuma is searching, write the delivery address in New York, USA.
The advertisement article "BestShoe Storage Boxes" recommended on the Amazon search page, with three links, two of which are self-operated products, and the other one comes from a Chinese factory.
However, Cody believes that the foreign market is more mature than the domestic market, with higher acceptance and greater demand, while the domestic market is still developing.
In general, there is not a big brand in the industry that is betting on the shoe box business, even SupBro and GOTO, both of which started as shoe care products. The investment of other players in the shoe box is basically a throwaway.
As for the consumer side, most sneaker players still have a simple ideaMethod: "If you want to show too many shoes, then buy; if not, the original shoe box is enough."
However, as the collection value of sneakers continues to increase in the future, players may no longer be satisfied with a simple paper box, but a "well-known brand shoe box" that is worthy of sneakers. Perhaps sports brands will also be transparent in the future. The business of shoeboxes, and the technological attributes of shoeboxes may become the direction for brands to conquer.
Currently, Xianyu has been sold at a price increase. Maybe there will be a rise in the phenomenon of "fried shoe boxes" in the future?
Of course, it's not just sneakers that are involved in the "collection economy" and "display economy." Bubble Mart's blind box business has exceeded 100 billion in market value. The blind box toy market is fighting fiercely, and the source attribute of the shoe box is still " "Box", there is no violation in other areas, in fact, there are already brands doing this.
From another perspective, when the "shoe wall" of young people is established, perhaps sports brands and trendy brands will also plan to enter a "pit", and new products and forms of cooperation will appear in the future.