Games, education, driverless or chips?
Editor's note: This article is from the micro-channel public number "all-weather technology" (ID: iawtmt), Author: all-weather technology.
Author | Xu Manfei Editor | An Xin
The latest valuation is nearly 400 billion U.S. dollars, with 100,000 employees. Bytedance is becoming the third largest Internet company after Ali and Tencent.
From the outside world, Bytedance seems to be a super giant. If you look at the split, this giant is mainly composed of six major business segments, including Toutiao, Douyin, gaming, ZERO (education and new business), commercialization, and e-commerce. They are the first-level business department of Bytedance.
According to previous reports by Tech Planet, Bytedance's 2020 revenue will be nearly 240 billion yuan, of which advertising revenue will be 175 billion yuan, e-commerce revenue will be 6 billion yuan, live streaming will be 45-50 billion yuan, and the gaming sector will be 40 billion yuan. -5 billion yuan, 2 to 3 billion yuan in education.
Behind the ultra-high flow, apart from the mature Toutiao and Douyin, it is difficult for ByteDance to find the third major product. The user growth of Toutiao is also approaching the ceiling.
How to find the third competitive product to widen the moat? This anxiety is reflected in Bytedance's foreign investment.
According to the company's data, ByteDance has invested in 114 companies in the past. All-weather Technology has sorted out the investment ideas of BYTE. Generally speaking, it is mainly divided into two parts: first, investment related to the main business, such as the layout of content information and social networking; second, the main business Outside of the camp, expand potential businesses, such as online education, hardware, games and other fields that have been active recently.
Last month, ByteDance was not only exposed to investing in autonomous driving and chips, but even invested in an oral care company.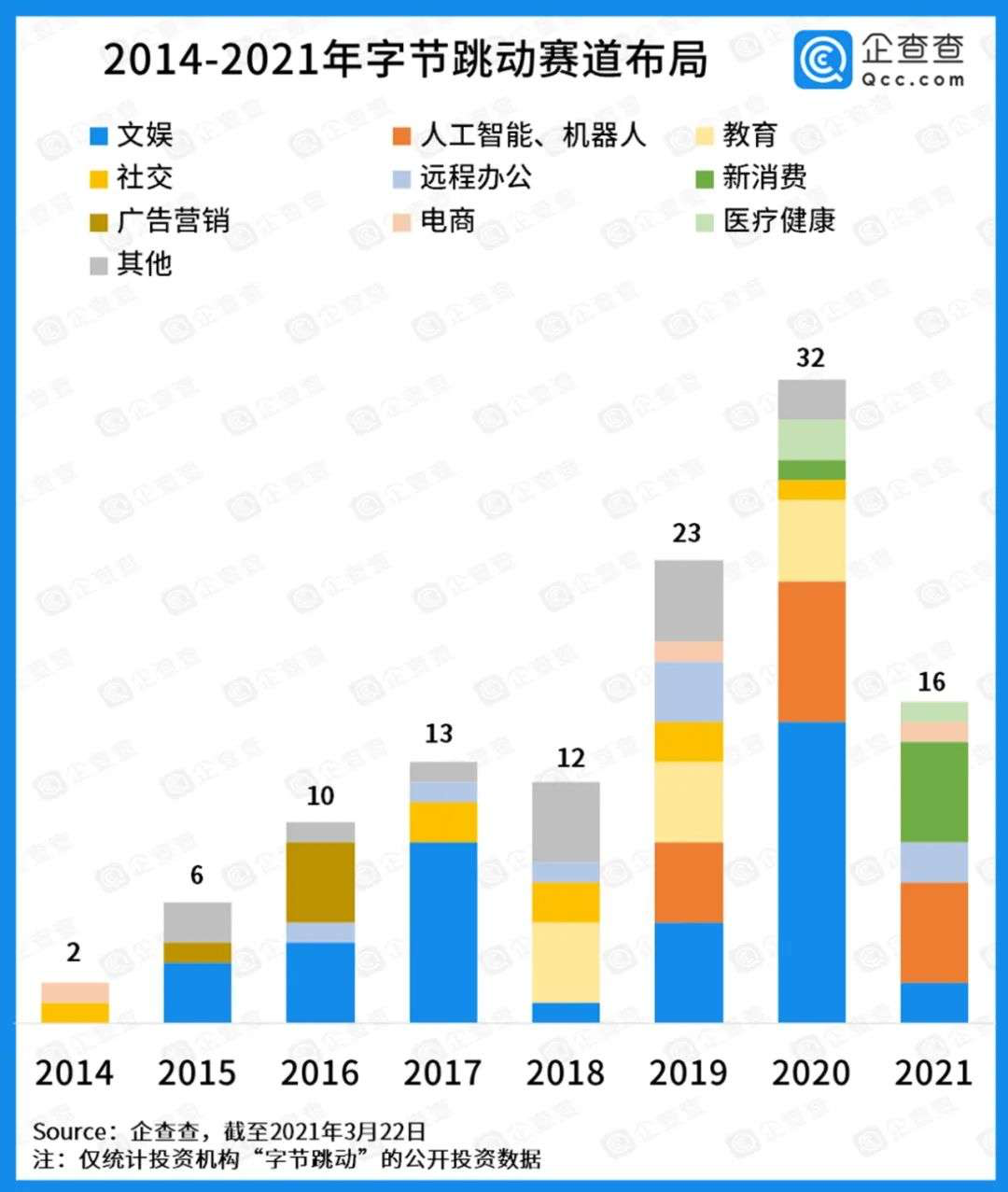 Picture source / Enterprise search
These layouts seem to be farther and farther away from Bytedance's main business. People can't help but wonder: What is the boundary of byte beating, and where is the goal?
In the internal speech on the 9th anniversary, Zhang Yiming said that we must maintain a normal mind, do extraordinary things, and don't talk about ALL IN lightly. The ByteDance, which has always been a vigorous image, seems to be the core of the Buddhist system, at least the combination of rigidity and softness. The low-key Zhang Yiming has rarely appeared in public in recent years. This internal speech is also a way for him to export his values ​​inside and outside the company.
Values ​​determine the course. Where will the giant ship of ByteDance go next?Listing expectations are soaring, what kind of growth story can it tell the capital market?
1
The growth anxiety of Toutiao and Douyin
Today's Toutiao, and even Douyin, have assumed the first and second growth curves of byte beating. But it is obvious that these two major products are now facing growth anxiety.
Especially in today's headlines, it's hard to tell a new story for this information product based on graphics and text, from being reported in the media to gradually eclipsing it.
A slightly eye-catching change is that in November last year, ByteDance launched search ads, integrated Toutiao, Douyin and Watermelon video, and started to sell search advertising services in the commercialization centers of huge numbers of engines in various regions. This means that Bytedance is continuing to challenge Baidu's traditional business.
According to Reuters, Bytedance's domestic advertising revenue is expected to reach about 180 billion yuan in 2020, of which Toutiao's share of 20% is about 36 billion yuan. But this result is far less than Douyin.
As "Bytedance's second leading product", Douyin is currently the largest source of revenue for Bytedance. The advertising part alone contributes 60% of the company's overall advertising revenue.
The crazy ability to monetize is inseparable from the huge user base of Douyin. In 2020, the number of daily active users of Douyin will exceed 600 million, accounting for 60% of China's 1 billion Internet users. This also shows that it will be more and more difficult for Douyin to achieve further user growth in the short video track.
User growth is about to peak, and Douyin is being hoped to become a "super APP" that takes into account multiple functions such as e-commerce, payment, and social networking. In 2020, Douyin is committed to creating a "closed loop" of e-commerce, requiring that the products in the live broadcast room must come from Douyin stores, and it has proposed an ultra-high growth target of 250 billion GMV (total merchandise turnover).
Multi-party sources show that last year Douyin e-commerce GMV exceeded 500 billion yuan, but the transaction volume completed in Douyin stores was only more than 100 billion, which is far from reaching the previously set goal. According to "LatePost" report, the GMV target of Douyin e-commerce in 2021 is 100 billion yuan, of which the self-owned e-commerce GMV target is 400 billion yuan.
The promotion effect of e-commerce business last year was not as good as expected, and the overseas development of TikTok was blocked last year, Douyin also needs a new growth story.
Douyin is indeed trying to walk on multiple legs, dabbled in payment and local life, trying to get a share of the field of Ali and Meituan.
In January 2021, Douyin payment was launched, and the follow-up Douyin became the exclusive red envelope interactive partner of the 2021 Spring Festival Gala, which has a significant effect on the promotion of Douyin payment. According to a report by AI Finance and Economics, in this project, "the number of bound bank cards is in the tens of millions". Later, Douyin launched the consumer credit product "Dou Installment" again, and continued its aggressive attack in the Internet finance field.
In terms of local life, although Douyin tested the water in 2018, it has not been able to get through. Recently, Douyin has launched "Preferential Group Purchase" in Beijing, Shanghai, Hangzhou, Chengdu and other cities, covering two major sectors: gourmet food and catering and hotels.
2
Looking for the third competitive product
While the growth rate of short videos has slowed down, station B, which belongs to China Video Track, has also begun to make efforts. According to the 2020 Q4 financial report of station B, its monthly active users have reached 202 million, of which more than 85% are monthly active users. Users are younger than 35 years old.
The boom in video in China has brought traffic pressure to Douyin and graphics to a certain extent. According to data provided by Bida Consulting, the per capita consumption time of Chinese video platform users in China will increase in 2020, and the growth rate of user demand for 10-20 minutes of video will increase, reaching 10.7%. This forced Byte to launch a supplementary product in addition to Douyin to compete for the user market.
Watermelon Video took on the task of fighting for traffic.
In October last year, Ren Lifeng, the president of Watermelon Video, spent a lot of time explaining what Chinese Video is at the Curiosity Conference and positioned Watermelon on this track. ByteDance has started a consistent "money-making mode" on Watermelon Video, claiming to spend 2 billion to support high-quality Chinese video creators. Ren Lifeng said, "2 billion is a guaranteed number, and there is no ceiling."
Corresponding to smashing money, is the digging strategy of Watermelon Video. Since 2018, many head UP owners, including Director Ao, Yongle Li, and Wizard Finance, have left station B one after another and settled in Watermelon Video; Chinese boy, a certain fantasy king, Jing Hanqing, Xu Dasao and other B station heads The owner of the department UP has also set up an account on Watermelon Video.
But the "unacceptable" that followed immediately made these transferred UP masters feel grudged.
Compared with the high stickiness and interactive community atmosphere of Station B, the traffic distribution of Watermelon Video is unstable. This stems from Byte's consistent centralized traffic distribution method. The amount of watermelon video played mostly comes from users recommended by the algorithm, not from the fans themselves. This means that for a video blogger with millions of fans, a video may only have tens of thousands of views, and the number of comments may even be less than a hundred.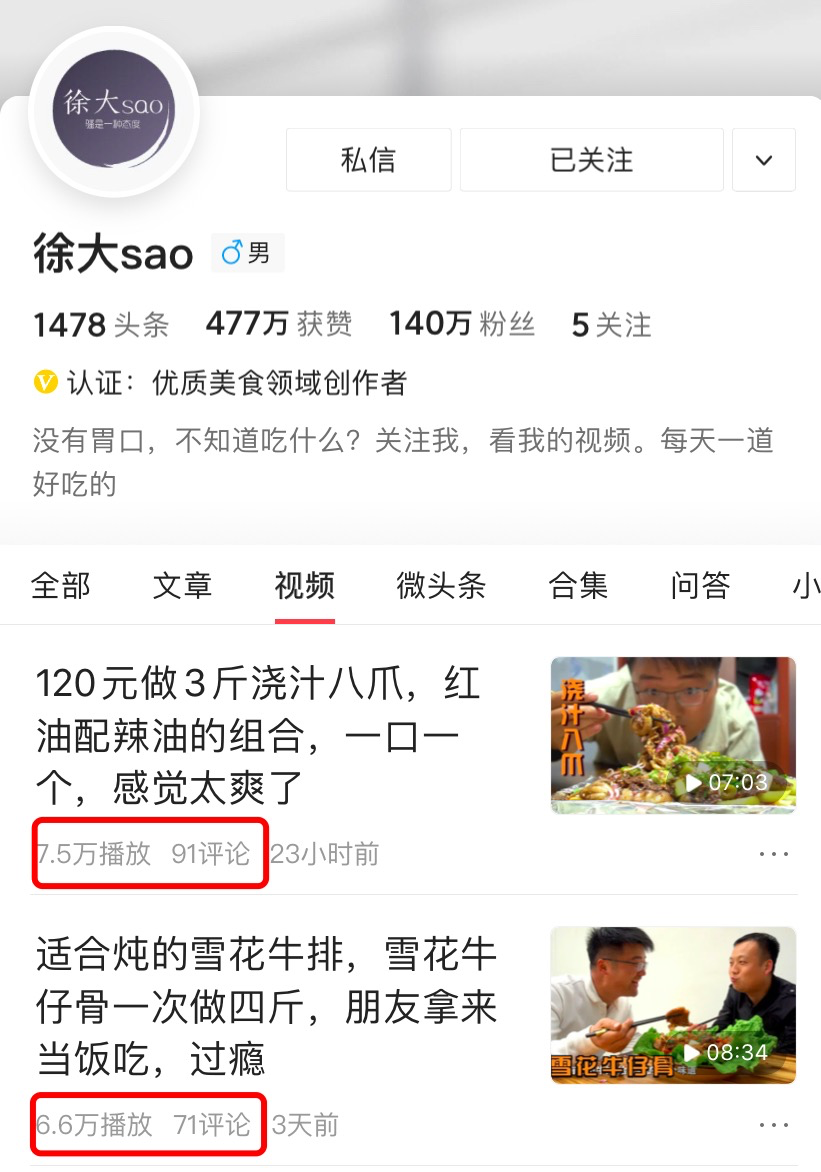 Playing situation of watermelon video "Xudasao"
According to the report released by Huachuang Securities, even though Watermelon Video is digging people heavily, station B is still irreplaceable for UP owners. This is mainly manifested in the different ratios of "number of fans/number of likes" on the two platforms. Take the top 100 UP masters in 2020 as an example, theseThe average number of fans/likes of a person at station B is 3.56 million/18.6 million, while that of watermelon is 1.55 million/920,000. Whether it is the number of fans or the degree of praise, the community activity of station B is irreplaceable.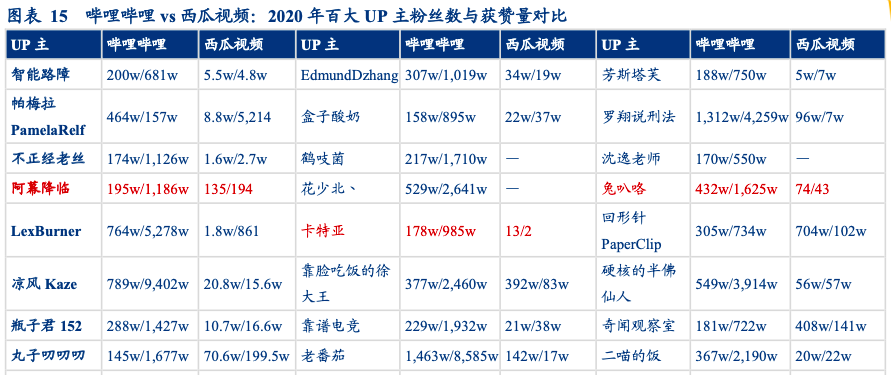 Image source: Huachuang Securities
The lack of sticky operation methods also makes it difficult for the business value and user attributes of Watermelon Video to shake the position of the "China Video One Brother" at station B.
Related analysis mentioned that the watermelon video lacks the early community atmosphere precipitation similar to that of station B. Relying on the way of diversion of today's headlines, users are not sticky to the content.
According to the "Watermelon Video User Portrait Report" released by the Business Arithmetic Center of ByteDance's giant engine, the user overlap rate of Watermelon Video and Toutiao reached 35.6%. In terms of user penetration, the third-tier and lower cities, 41-45 The penetration rate of users at the age of is higher.
This has resulted in a higher volume of content such as going out to sea and agriculture, rural areas, and farmers on watermelon videos. However, some MCN agencies said that the current commercial prospects of Watermelon Video are still unclear, the brand recognition is not high, and it is difficult to survive purely by splitting.
Although the current MAU of Watermelon Video has exceeded 100 million, and together with "search" and "e-commerce", it will become one of the three S-level businesses of Bytedance in 2021. However, the existence of the above shortcomings is still difficult to support the dream of byte third growth curve.
3
Strategy for Siege
Compared to starting from scratch in an unfamiliar area, Bytedance is better at invading opponents' positions.
Toutiao and Douyin both invaded the hinterland of Baidu and Kuaishou. According to Bytedance's latest valuation of US$400 billion, this figure has exceeded the combined market value of Baidu and Kuaishou. From this perspective, it has successfully achieved the success of the latecomers.
Imitate and then surpass. This also means that there is a strong opponent in front of every track in Byte Siege: There is Zhihu before Wukong Q&A, WeChat before Feichao, and Watermelon Video corresponds to station B. , Feishu corresponds to the graphite document, and Guagualong corresponds to the Zebra AI… ByteDance is looking for the next product that can be invaded on the way.
Throwing money has become the preferred strategy for Bytedance.
On March 22, ByteDance's game brand Chaoxi Guangnian acquired the game company Mutong Technology. It is reported that the purchase amount is as high as 4 billion U.S. dollars (about 26.1 billion yuan). This price is close to the size of the listed game company Perfect World and Giant Network. It seems that the byte beating seems to be a loss.
But in light of the current over-centralization of the game industry, this acquisition is also considered a necessary battle for Bytedance to challenge Tencent. In the past, due to the long-term dominance of the domestic game market by Tencent and Netease players, it also raised the barriers for other players to enter the game. As tenacious as Mihayou, it was only after years of precipitation that it was able to emerge suddenly, choosing non-Tencent third-party channels (Station B, ByteDance's media matrix, etc.) to open the market.
It is said that during this acquisition process, Tencent also participated in the bidding, but the intention was to raise the price. Earlier, a strategic analyst from a game developer told All-weather Technology that although the price of 4 billion US dollars seemed to be "somewhat at a loss," it was considered to be an acquisition of a reliable game company for Byte.
Heavily invested in research and development, supplemented by ByteDance's own traffic pool, ByteDance may be able to beat Tencent in the game field in the future. According to "LatePost" report, Bytedance's 2020 non-advertising game revenue (intermodal plus self-research, etc.) is estimated to be around 2 billion to 3 billion, and the game business itself is also one of Bytedance's primary businesses.
At the same time as the capital injection, Byte is also trying to find the talents it needs.
Take games as an example. Bytedance's core game teams in Beijing, Shanghai, Shenzhen, and Hangzhou have a considerable part of their talents from acquired companies and external digging.
According to a late post report, Wang Kuiwu, head of the Bytedance Beijing team, was formerly the former senior director of Perfect World; the Shanghai team was mainly from Shanghai Mokun, which was acquired from Sanqi Interactive Entertainment; the Hangzhou team was mostly from NetEase. Digging corners at the game Pangu studio. ByteDance also considered digging people from Tencent Games and successfully digging a middle-level person responsible for heavy game publishing.
On the road of rapid expansion, Bytedance has grown rapidly from 60,000 employees to 100,000 in the past year. In addition to serving two mature apps such as Toutiao and Douyin, the vast majority of employees are arranged to develop new product businesses.
Usually in ByteDance, multiple teams are formed in each field to do it. This rapid test, iteration, and elimination method makes people in it feel stressful.
In the article "People Leaving ByteDance" published by Quan Now, a former employee of ByteDance mentioned, "Sometimes, the person you interview may actually be replacing you. They may be replaced at any time. The feeling of transplantation is really not very good."
4
Traffic is king
Observing the expansion map of ByteDance, it is found that its business model almost revolves around a core weapon-traffic.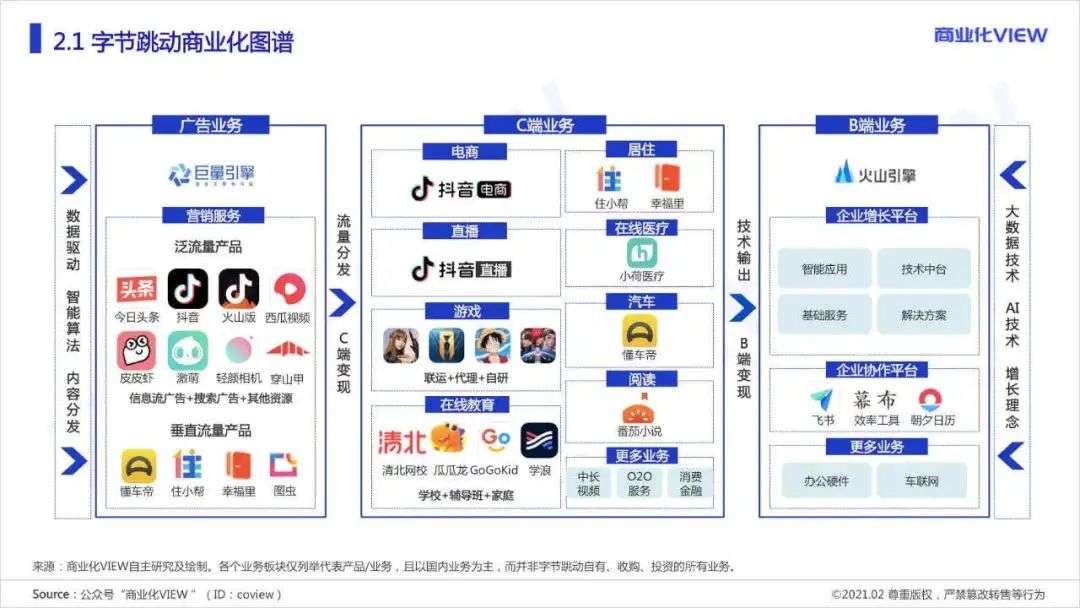 List of ByteDance products Image source: Commercial VIEW
Typical examples include live streaming. Following the goal of 250 billion GMV last year, Douyin once again proposed a "small goal" of 100 billion GMV in 2021. With Douyin's ambition to build a "closed loop" of e-commerce, 400 billion of the above-mentioned "small targets" need to come from Douyin stores, and the proportion of total GMV will increase from 10% in the previous year to 40%.
Some people in the e-commerce industry believe that this goal can basically be achieved. "This year, the major brands have fully deployed the Douyin store broadcasting matrix. With the expansion of the base, and with the flow of traffic, it is not difficult to complete the 400 billion target."
The specific progress depends on whether Douyin releases its own traffic pool. In the past, due to insufficient private domain traffic, Douyin has been criticized by the outside world. The above-mentioned person told All Weather Technology, "Currently, the traffic provided by Douyin is still relatively limited in terms of live broadcast delivery. Because the platform is still being tested, the traffic will be released a little bit because it is not prepared."
Another business that ByteDance has invested heavily in is online education. Compared with e-commerce, education is relatively less dependent on traffic. However, in the context of the rising cost of acquiring customers and the value of traffic today, the byte beating with a high traffic pool still has the advantage to make some achievements in this field.
In the past, relying on marketing and promotion, educational institutions including Yuanjiao, Xueersi Online School, Homework Gang, and GSX have invested billions in soliciting customers, among which a large amount of money went to Douyin. This also means that ByteDance has a natural advantage over external educational institutions in terms of attracting new customers.
Since 2018, ByteDance Education has successively launched GOGOKID, Qingbei Online School, Guagualong Enlightenment, Kaiyan English, Extreme Class Big Data, AI Learning, Educational Hardware and many other products and businesses. Compared with the push-type growth of the traditional education industry, ByteDance pays more attention to product thinking and traffic play.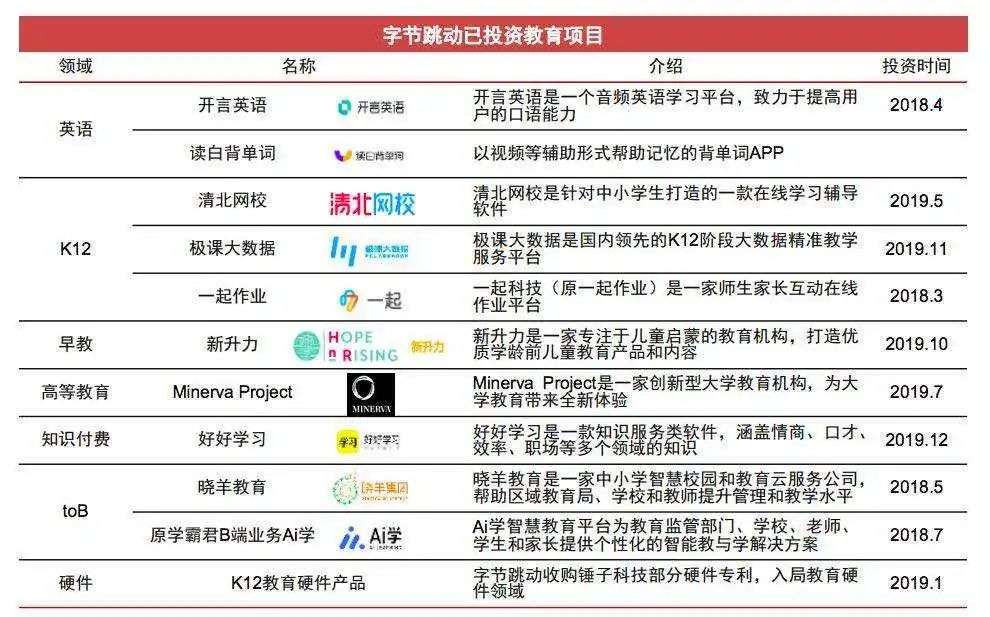 Bytedance Education Layout Picture Source/ CITIC Securities
In June 2019, during the adjustment of Bytedance's internal structure, Chen Lin, the former head of Toutiao, was transferred to be responsible for education. The purpose was to bring the third product with a DAU of over 100 million to BYTE. Chen Lin said that the education business will not consider profitability in the next three years. Now that the three-year period is about to expire, Byte Education still does not have a particularly eye-catching product.
Some people close to Bytedance said that the idea of ​​Bytedance is to "try", including Douyin.Although Douyin has completely matured today, no one knew it would succeed at the beginning of the product.
The significance of education to ByteDance may not be limited to the commercial level. For a long time, Bytedance has been regarded as a "socially weak" company. Education, as an area closely related to the national economy and people's livelihood, may help to improve the brand image of Bytedance.
5
From fast to slow
ByteDance is going further and further in areas outside of its main business.
In March of this year, ByteDance was revealed to have invested in an autonomous driving company. The investment amount is 25 million U.S. dollars, and the tender is Qingzhou Zhihang. This is not the first time ByteDance has invested in the automotive field. As early as 2017, "Understanding Car Emperor" was officially launched as a subsidiary of BYTE's automotive media. In the follow-up, including the C-round financing of Ideal Auto, the establishment of "Internet of Vehicles", etc., BYTE will further increase its weight in the automotive field.
It is reported that the "Internet of Vehicles" team is mainly in charge of the "Hammer Technology" team, which was acquired by ByteDance in 2019. Relevant reports show that this team mainly exists to create byte car infotainment system solutions.
If online education, games, e-commerce, etc. are all driven by byte's existing traffic and marketing, it is difficult for the hardware field to take advantage of byte. Compared with the early asset-light and fast-moving model, ByteDance today seems to want to try some businesses with long cycles and slow returns.
For example, on March 16, foreign media revealed that Bytedance is marching toward the chip field. According to the analysis of the Reuters report, according to the 12 newly opened recruitment content on the company's official website, Bytedance is developing its own cloud AI chip and Arm server chip. However, this plan is still in its early stages.
Invest in these difficult and slow-to-effect fields, the purpose of byte beating or for a longer-term layout, such as competing for the "next decade." Especially in terms of technology going overseas, chip research and development will also help these Internet companies maintain their global competitiveness.
It is not a day's work to achieve certain breakthroughs in these areas. In fact, ByteDance has not yet brought surprises to the heavy investment fields including e-commerce, game research and development, education, chips, and car building.
Bytedance is constantly chasing the outlet, and check out its 16 public investments in 2021, all of which took place on popular tracks.
In addition to the above-mentioned autonomous driving and chips, Byte has also bet on new consumer areas, investing in oral care brand "half and half", hot pot chain "Lailao Hot Pot", healthy fast food brand "Shark Fett", etc.; in terms of e-commerce , Bytedance invested in the cross-border e-commerce platform "Starlink" and the clothing flexible supply chain platform "Feiliu Technology"; in the To B direction, Bytedance also invested in the video conferencing company "Human Effect Online" and the visual computing company "Moore thread", big data "singularity cloud", etc.
From soon toAs the slow field extends, Zhang Yiming's mentality seems to have slowed down. He said in a speech on the 9th anniversary of Bytedance:
"This year, I hope that the company will slow down to a certain extent. On the one hand, it can avoid the burden of short-term business anxiety. On the other hand, it will have a broad vision for the future without fixed expectations and a longer-term goal. "
Does this mean that Bytedance's third major product requires slow work in order to do fine work?