Is it a business restructuring, or is it a cold winter signal?
Editor's note: This article is from WeChat public account "Silicon Valley Insight" (ID: guigudiyixian ).
Xiaoyan heard that Cisco China has laid off a large number of employees?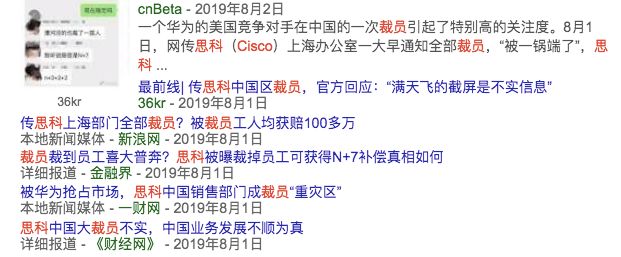 (screenshot From the network)
However, just when the news was swiped and the truth was unclear, the only thing that could be confirmed was that Cisco has filed a document with California regulators, which has cut nearly 500 jobs in Silicon Valley.
In fact, in addition to the veteran giant Cisco, IBM, Oracle and other companies, the previous layoffs news continues to emerge:
"In June of this year, I was cut by IBM… I have been working at IBM since 2010. This company was a company they acquired in 1987."
"I always get a good evaluation, I got a monthly severance payment, I suspect my dismissal is related to age…"
At thelayoff.com ( layoffs), IBM layoffs can be seen everywhere in the 61-year-old, 60-year-old, and 57-year-old employees who were laid off. The performance of these employees is not a "poor student."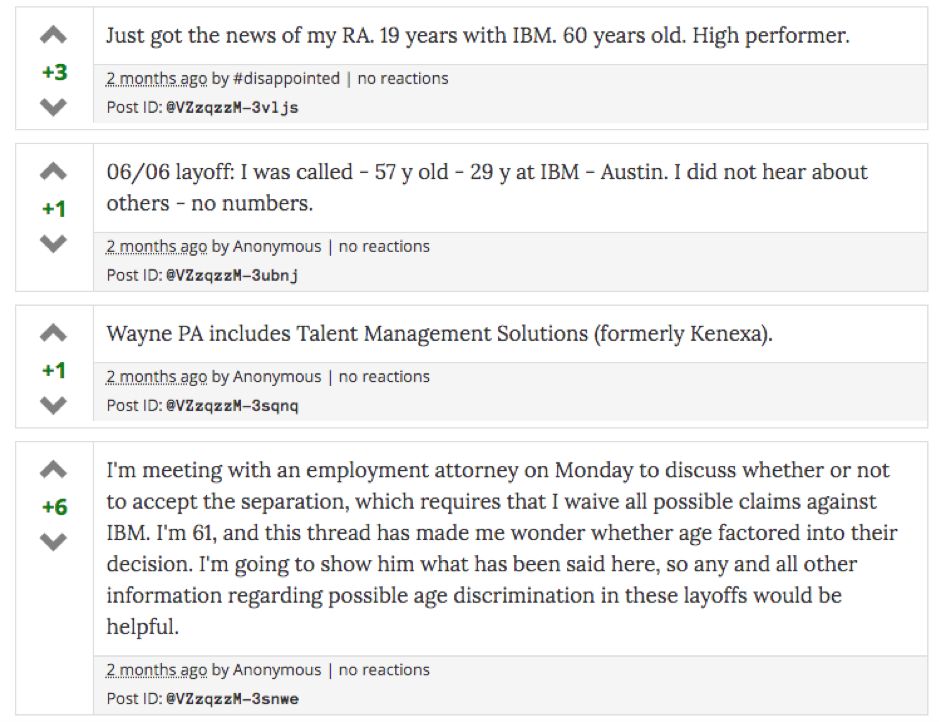 The well-known technology media The Information released this month It is said that so far this year, the number of layoffs of US technology and media companies far exceeds the same period in 2018. From IBM's 1,700, to Oracle's 900, and even to the newly-launched Uber, 400 people were laid off. Of the 10 companies with the most layoffs in June, 7 are technology companies. Could it be that the Internet is going to encounter the next winter? Today, Silicon Valley Insights says what the reasons behind the layoffs of these companies are.
(June in Ten companies with the largest number of layoffs in the technology and media industries, Source: The Information)
IBM:Reorganizing cloud business to impact layoffs

From the total number of layoffs, it is undoubted that IBM's blue giant has the largest number of layoffs. In June this year, the total number of layoffs was 1,700. According to sources, the number of layoffs of 1,700 will account for 0.5% of the total number of employees, which means that the total number of employees in IBM has reached 340,000.
What is the reason for IBM's widespread layoffs? There are different opinions, but from the point of view of anonymous employees and company officials, is undoubtedly related to the restructuring of cloud business.
"Because IBM did not invest in its own cloud technology, it did not listen to or pay attention to the market demand for cloud consumption patterns. This is to reduce costs to achieve return targets." This is an anonymous employee under the IBM related layoffs post, The reason for IBM's layoffs was speculated. This refers to the acquisition of the Red Hat cloud business by IBM a while ago.

From the IBM Developer website, the copyright belongs to the original author)
On July 9 this year, IBM completed an acquisition of all issued and outstanding common stock of Red Hat at a cash cost of $190 per share, with a total share capital value of approximately $34 billion. In fact, in October last year, IBM announced that it would acquire the Linux giant Red Hat.
What does this acquisition mean? A comment has pointed out that it is "healing each other and living in groups."
For IBM, the Linux and other software assets behind Red Hat represent opportunities to sell products to enterprise software developers and the ability to bring hybrid cloud integration capabilities to IBM. These developers may be primarily at IBM.Older rivals such as AWS and Azure cloud computing platforms and build applications on internal data centers. Therefore, the acquisition of Red Hat is expected to open up new market opportunities for IBM in the field of cloud computing.
In a recent conference call, IBM Chief Financial Officer Jim Kavanaugh stated that "the company is divesting its unprofitable line of business and 'remixing' its workforce, focusing on high-growth areas."
Many foreign media media speculate that this high-growth area is:Cloud. After all, IBM is already lagging behind other competitors. Gartner's latest report in July showed that IBM's market share in the cloud in 2018 was only 1.8%, far behind Amazon, Microsoft and even Google.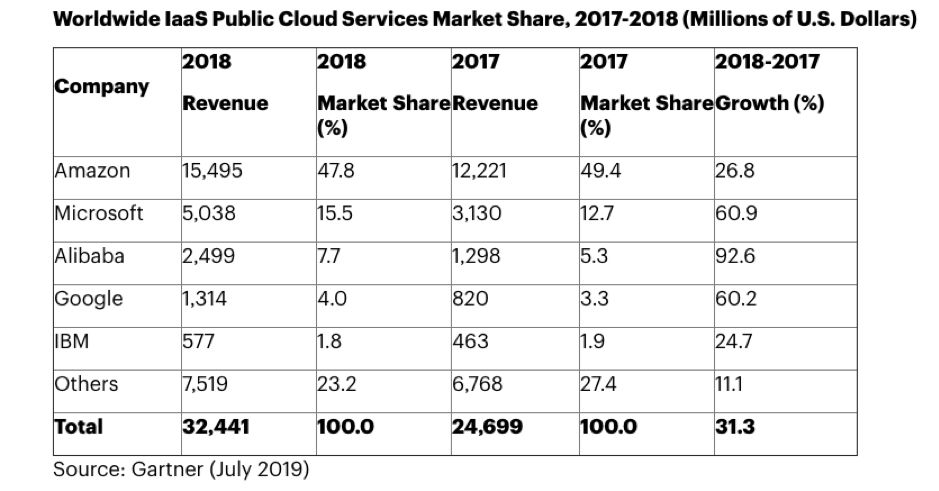 (data Source: Gartner)
Oracle China layoffs:Business transfer to Southeast Asia?

"Since March 2019, there have been small layoffs every month, and you should understand that this will continue into the foreseeable future."
"Oracle is very fair and generous in dismissing employees. You have 30 days to find a new position plus a generous severance payment."
There is a lot of news about Oracle (Oracle) layoffs on the layoffs.com layoffs. But Silicon Valley Insights found that there is no specific reason for analysis.
Oracle's layoffs in the US started a real wave in March of this year. "At the time, the entire company's cuts occurred in Oracle's cloud business." (As can be seen from Gartner's data above, Oracle's cloud business has even a smaller market share than IBM, so it doesn't appear on the list.) Business Insider quoted an anonymous source as saying: Oracle Cloud Management team laid off 43 people at Oracle's Silicon Valley headquarters.
However, this cloud business specifically refers to IaaS (Infrastructure as a Service), which belongs to the infrastructure cloud computing business, which is also Oracle hopes to cooperate with AWS, Microsoft Azure and Google.Cloud and other competitive businesses. But as GeekWire pointed out, Oracle does not seem to have made any significant progress in achieving this goal.
If it is compared to layoffs in foreign countries, Oracle's layoffs in China are previously hot.
In May of this year, Oracle announced the complete closure of the Beijing R&D Center. By cutting the staff of the Beijing office and layoffs of employees in Nanjing, Dalian, Shenzhen and other places, Oracle plans to be cut in 1600 jobs in China. Of course, this is not a one-time reduction. The second round of layoffs is completed in July (so are there any affected partners in the readers?).
Re: Reasons for layoffs in China According to several domestic media reports, Oracle's business performance is not satisfactory, and related business may be transferred to Southeast Asia. The official statement from Oracle China is: It is an adjustment to the existing R&D model to "provide the best cloud service for Chinese customers". However, in the eyes of many employees, the reasons for layoffs are not clear, and the notice time is too short, so it has also triggered protests.
According to Garner's 2018 ranking of cloud computing market share in the Asia-Pacific region, the top three are Aliyun, Amazon and Microsoft, and Oracle is not on the list.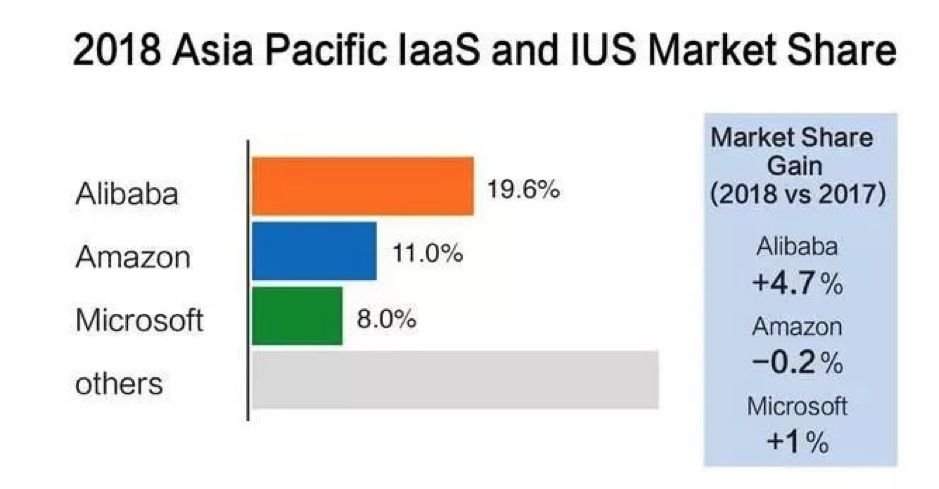 However, it should be noted that Oracle It's not the only traditional technology company that reinvents its image in the cloud and cuts its employees. For example, Oracle's old rival SAP has also recently laid off staff, and IBM mentioned above is also laying off employees.
So, will Oracle continue to lay off employees? Earlier, Oracle's co-founder and CTO Larry Ellison has made it very clear that some parts of Oracle's business will disappear, as some internal and traditional products will continue to be supported, but there will be no major layoffs, just Slowly decline over time.
Interestingly, on the Oracle layoffs, an anonymous person updated weekly unofficial layoffs from 2016, but from 2016, Oracle's total workforce has barely fluctuated.

However, although the news of Cisco China's layoffs has not been confirmed, it can be confirmed that its latest quarterly financial data shows that its sales in Asia Pacific, Japan and Greater China fell by 4 %, undoubtedly such a veteran giant, whether the business development in any part of the world is going well, will affect its staffing arrangements.
Uber layoffs:Task overlaps, no quick action

After reading these veteran giants, let's take a look at Uber, the newly listed giant that has received much attention.
If Uber's biggest loss in the second quarter of this year is shocking, the news of one-third of the marketing team was cut a bit. Because Uber's entire marketing team had about 1,200 employees before the attrition, more than 400 people were laid off.
Of course, this is not just in the US, but globally, and 75 offices around the world may involve dismissal (although the Chinese office should not be involved…) Uber has the latest statistics in March this year. It shows that the total number of employees worldwide is 24,494, nearly half of which are in the United States.
"I have always heard that we have too many people overlapping tasks", Jill Hazelbaker, who is preparing to lead Uber's new marketing team, wrote in an internal email from the company, "This means We don't have the quick results or the results we need to deliver our business." According to Forbes China, Jill Hazelbaker was senior vice president of policy and communications within Uber and will now lead the marketing team.
In addition to Hazelbaker, Uber CEO Dara Khosrowshahi also said in an email to employees that layoffs are aimed at centralizing the company's marketing efforts. This means that the official has said that the company will announce a reorganization of the marketing team internally.
Not just high-level, even in Uber's internal staff, expressed dissatisfaction with the marketing team: In a Marketing's Survey, the marketing team scored the lowest in any team in the company.
However, layoffs are no longer the most worrying thing for Uber, because Uber's bigger test has been nailed to it on August 8. When Uber announced its first-quarter results, it's found that the company's growth rate has reached At the lowest point in many years, the loss exceeded $1 billion, but I did not know the loss in the second quarter, and the total amount was as high as $5.2 billion! Even after deducting the IPO-related compensation costs (stock-basedIn addition to the compensation expense, the loss in the quarter also exceeded $1.3 billion.
Overview of Uber's listing process, Uber has always faced Wall Street's many questions about its profitability. It's no wonder that many anonymous answers on the layoff website are "Uber wants to please Wall Street too much." But its CEO is undoubtedly His team has full information. In the investor conference call, he pointed out: Uber's car business and food delivery business have the potential to become a spectacular business in the long run.
So, will the layoffs of the Uber marketing team affect the engineering team? After hearing Uber layoffs, is the engineer still willing to join Uber?
As for the workplace anonymous software Blind, the answer to the previous question is almost no, the answer to the latter is almost certain. An engineer inside Uber even jumped out and said, "Even if a team is shut down, no engineers have been seen being laid off because engineers are easily reassigned (to other groups)." (This year, there are still techniques that are good…)
The employment data for Silicon Valley is still good
When everyone cares about the layoffs from the old giants to the new listed giants, does it mean that the winter of the Internet is getting closer? Silicon Valley Insight specifically found unemployment data from the US Department of Labor. The data shows that the number of unemployment rates is better than last year, both in the US and in the Silicon Valley region of San Francisco.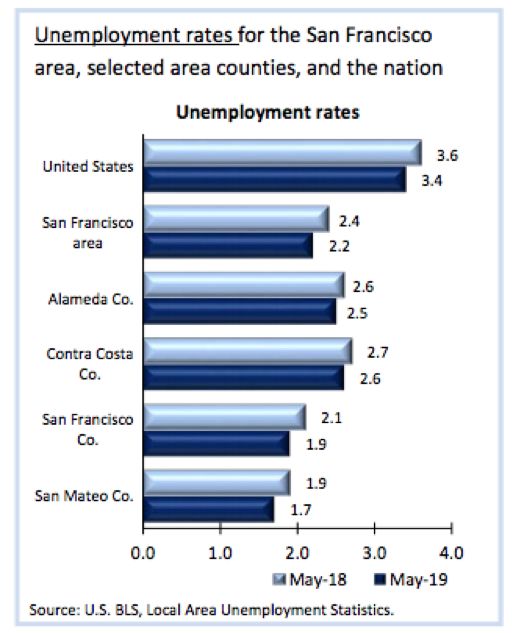 As can be seen from the above picture In San Mateo County, where many technology giants are located, the unemployment rate fell to a new low of 1.7, down from 1.9 in the same period last year. This means that of the 100 working people in the age-appropriate workforce, only 1.7 people may not find a job. At the same time, the unemployment rate in the United States was 3.4, which is double that of San Mateo County, but it is also a new low for the US calendar data.
If you look at the entire San Francisco area, the unemployment rate is 2.2, which is also lower than the same period last year.
Moreover, according to US Bureau of Labor statistics, about 160,000 jobs will be created in July this year, and the national unemployment rate is expected to remain at 3.7%. Industries that primarily increase jobs include: professional and technical servicesProfessional and technical services are the first, followed by health care, social assistance and finance.
Analysis of three companies with more recent layoffs can also find that more is in the scope of business restructuring, and hope to make more efforts to more profitable business units. So, what about the typical technology giants like Apple, Google, Facebook, etc?
Silicon Valley Insights found that on thelayoff.com, the latest news about Google has been 2 months ago, but did not mention layoffs, but mentioned that the salary of Google Cloud Department seems to have decreased, the main reduction is In sales and customer engineers (customerengineer).
Facebook's latest layoffs were also sent out a few months ago, but it's about the collective departure of 11 executives in March this year, which is even more eye-catching. The executives who left Facebook include WhatsApp CEO Chris Daniels, Instagram co-founders Kevin Systrom and Mike Krieger, and chief security officer Alex Stamos. Of course, this is another topic worth studying.
So, what do you think about the wave of layoffs in Silicon Valley? If you really want to lay off, what do you care more about? Welcome everyone to fill out the following survey and share your thoughts!