The impact is not as severe as expected.
Editor's note: This article is from the WeChat public account "Noise GlitchTech" (ID: timetech2020), author: Xu Dan, editor: Shi Chengchao.
According to Times Finance interviews with virtual currency investors, "miners", major "miners" and other relevant personnel, it is found that compared to the shocks displayed by the market, the people in them are rather "calm".
Recently, the virtual currency market ushered in a big shock.
At 7 pm on May 19th, virtual currencies plummeted across the board. According to Coindesk data, the price of Bitcoin fell from US$34,000 to US$31,000 within 16 minutes, a drop of nearly 30% throughout the day; Ethereum fell below US$2,000, down more than 40%; Dogecoin fell to US$0.3 per coin, It fell more than 40% in the day. The sharp drop is regarded as a historical repetition of the seven ministries and commissions warning of the risks of virtual currency transactions on September 4, 2017.
The policy is also tightening the regulation of Bitcoin. On May 21, the Financial Stability and Development Committee of the State Council held its 51st meeting to study and deploy key tasks in the financial sector in the next phase. The meeting clearly pointed out that cracking down on Bitcoin mining and trading activities, and "resolutely prevent individual risks from being transmitted to the social field." This is the first time that the State Council has clearly stated crackdown requirements on Bitcoin mining and trading.
The news broke that Bitcoin instantly fell below 38,000 US dollars, a 24-hour decline of 9.05%. The top ten cryptocurrencies by market value experienced a decline ranging from 14% to 21% within 24 hours.
Is the virtual currency going to crash? Times Finance interviewed virtual currency investors, "miners", major "miners" and other relevant personnel and found that compared to the shocks displayed by the market, the people in them were rather calm.
"Everyone is accustomed to this kind of change. Next, I will regularly invest in virtual currency for a long time. I believe that virtual currency will always exist as long as there are speculators." Chen Ting, who has invested in cryptocurrency for a long time, told Times Finance.
On the morning of May 25th, the price of virtual currency has begun to rise. Bitcoin has rebounded by 12.53% in 24 hours. Most of the top ten currencies have risen between 20% and 40%.
The speculator: Lost 1 million in a few days, "will continue to buy"
Chen Ting has been buying cryptocurrencies since the beginning of 2018, involving multiple currencies such as BTC (Bitcoin), FAL (Flatcoin), ETH (Ethereum), etc. After all the sales in November 2020, I made a little money and reinvested it a month later. A few days ago, when Bitcoin crashed, Chen Ting took the opportunity to buy bottoms. "Overall, I have made about 80,000 yuan now, but most of the money earned is used to continue investing. In my opinion, the currency circle is like this. Volatility is normal, and it will reach new heights in one or two months," Chen Ting said.
Even those who entered the market just before the crash maintained confidence in the market. An investor who started investing in cryptocurrency in early May told Times Finance that after the crash, he had lost nearly half of the money he invested, but he still has a plan to continue investing. "Recently, there is not enough funds on hand, otherwise he will still take it. Spend part of the money to buy coins."
Even so, Chen Ting and others are already prudent investors in the currency circle. The existence of "zoo coin" and leverage has made some young people in the currency circle have a "gambler" mentality, and this group of people is shaking in the market. These days, the losses are relatively large, but they continue to increase.
Leveraged trading is the use of a small amount of funds to invest several times the original amount, and the fluctuations in gains and losses also increase exponentially. For example, if the principal of 10,000 yuan is used to make more bitcoins with 100 times leverage, then the price of bitcoin increases by 1%, and the assets can be doubled and a profit of 10,000 yuan can be realized.
Senior virtual currency player Zhao Ming told Times Finance that he lost more than 10,000 yuan in the Ethereum he bought a few days ago. Yesterday he opened the leverage, and the price of Ethereum rose in one day.
Zoo coins specifically refer to similar currencies that appeared after Dogecoin's popularity, including Shiba Inu coins, cat coins, pig coins, etc. These coins often rise and fall sharply. Shiba Inu coins skyrocketed by 236% one day, and Dogecoin this year By the beginning of the month, it had risen by 12,000%. An investor who bought Zoocoin said that he made a lot of money when the price of the currency rose. The price fell a few days ago and lost 1 million yuan, and all profits were emptied. But he said that he will continue to buy coins in the future, because he has made a lot of money before, "this time I haven't lost my principal."
In addition to directly trading Bitcoin, there are many people who buy mining machines to "mining" themselves. This group of people is commonly known as "miners". Miners are also a group of people who are less affected by the shock of the currency circle.
"Dig it, this coin is yours. Just don't sell it if the price is low. You can sell it when the price rises." Zhao Ming had previously bought three mining machines to mine Ethereum at home. He said that the short-term price rise and fall of cryptocurrencies has little to do with miners. Now he is still optimistic about the prospects of virtual currency. The coins he dug up are basically used for reinvestment and have not been converted into cash.
The biggest factor affecting the income of miners is the price of hardware equipment. Mining is not an "empty glove white wolf", and the initial investment in the purchase of equipment is very large. For mining, Zhao Ming has invested about 70,000 yuan, and the current profit of mining coins cannot cover the cost, but he said that if you sell hardware equipment such as graphics cards, you can still make money.
Due to the high investment, many entry-level miners have been unable to pay back for a long time. A miner who started mining chia coins a month ago showed his hardware purchase list to Times Finance: a 2T NVME solid-state drive, five 4T enterprise-class mechanical hard drives, a hard drive box disk array, and a conversion card. The total cost is Nearly 10,000 yuan.
He said that his investment is very small, "it can only be said to be a little trouble", but after a month of digging, it is currently only 0.2 coins. "I don't want to make money anymore. The goal now is to pay back. If you pay back, you won't be in vain." Regarding the decline in the price of virtual currency, he said that it doesn't matter, "it doesn't matter much."
Graphics cards and hard disks are still monopolized. "The hands of speculating graphics cards are hoarding tens of millions of millions of goods"
Under the influence of miners, mining equipment such as hard disks and graphics cards has risen, and many people have used this to hoard and drive up prices. After the turbulence in the currency circle, Times Finance found that the prices of hard drives and graphics cards are still at a high level because the number of mining people has not decreased.
"It is impossible for the price of a graphics card to be lowered. As soon as the price is reduced, our group will definitely buy it." Zhao Ming said that there is a market where there is demand. As long as the miners still need the graphics card, there will always be people hoarding the graphics card.
"The graphics card is upstream, it is directly stuck, and the goods are in the hands of a small number of people. You don't know how much graphics cards are hoarded, each of them has tens of millions of billions of goods." A dedicated discussion Someone in the mining WeChat group "hard drive procurement channel" said. Immediately someone posted a picture of stocking graphics cards, with boxes of graphics cards piled up in the huge warehouse, "My boss's graphics card warehouse".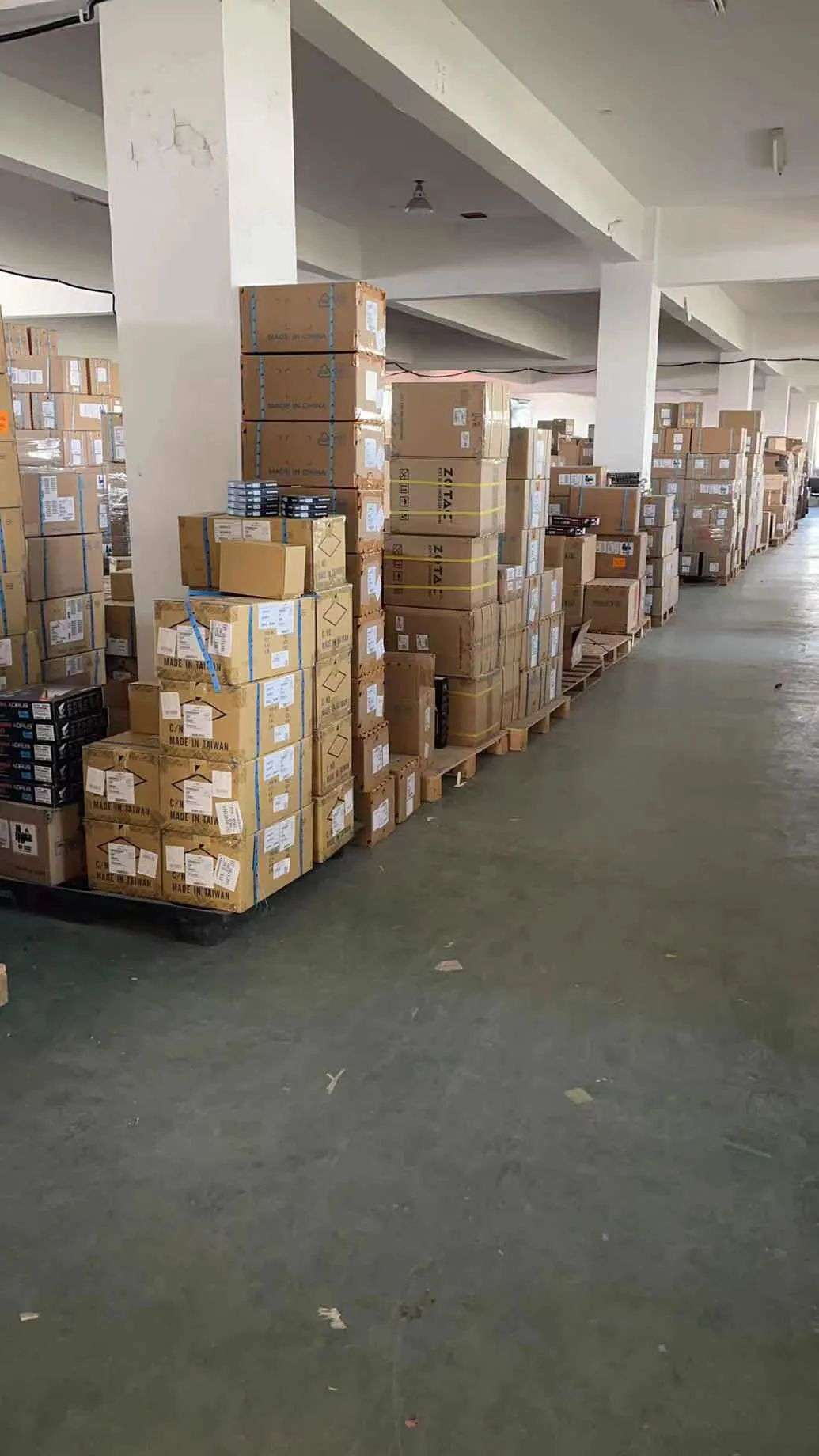 Picture source: hard drive channel purchasing group
The price of hard drives has dropped slightly from when the stock was first stocked, but it is still at a high level. Times Finance reported on April 20 that the price of large-capacity mechanical hard disks increased hourly on that day, the price of enterprise-level 8T hard disks was 2,900 yuan, and the price of 16T was 3,200 yuan. Times Finance recently made another inquiry in the hard disk trading group. Enterprise-level 8T hard disks cost 2,350 yuan, and 16T hard disks are 3200 yuan. The quotations of hard disks are different every day, but there is little fluctuation.
When Times Finance asked hard disk sellers about the impact of recent changes in the virtual currency market, many sellers said that the policy has been implemented every year, and the short-term decline in currency prices will not affect the selling of hard disks. "There are risks in doing business. How can you make money but not lose money", a person who made money to build a WeChat group to sell hard drives while prices rose earlier told Times Finance and Economics that because they are too busy, they no longer sell hard drives. Regarding the price of hard drives, he said, "It's too early for the hard drive to fall, and mining is not losing money."
Even when the currency price fell the most, many people tried to buy hard drives and graphics cards at low prices. Around May 19, a large number of sellers posted closing copy in the group, "The mine is ruthless, there is love in the world, I will pay for your anxiety. A large number of hard drives: 18T 1800 yuan, 16T 1600 yuan, 12T 1200 yuan, 10T 1000 yuan, 80 yuan 1T below 10T. A large number of graphics cards: RTX3090 3090 yuan, RTX3080 3080 yuan. "
However, due to the short-term decline in the price of hard drives, the buyers who took the orders at high prices lost a lot. "I have a friend who just entered the market at the beginning and bought the order at the original price. He digs a head to dig dozens of XCH (chia project tokens). ), and then sold the offer, earning a small profit of 1 million yuan. After the first ore was earned, I stopped selling the offer on the same day. When I started to consider entering the market, I received the offer at a high price. As a result, the computing power could not catch up, and I lost a lot. "A chia coin digger murmured.
Miner: The policy has not yet affected him, and the mine is preparing to expand
In the currency circle, there are many large-scale mining people who will buy bitcoin mining machines in large quantities, build "mining factories" in remote areas with cheap electricity prices, and gradually form industrial chains such as mining, trading, and project financing. .
This kind of large-scale mining will consume a lot of electricity. According to the latest calculation of the Bitcoin Power Consumption Index of the University of Cambridge, Bitcoin mining consumes about 133.68 terawatt hours of electricity each year. Compared with the electricity consumption of countries around the world in 2020, this value lies between Sweden (131.8 TWh) and Malaysia (147.21 TWh).
For this reason, mining has been under the supervision of national policies in recent years. As early as April 2019, the National Development and Reform Commission issued the "Industrial Structure Adjustment Guidance Catalog (Draft for Comment)", which included virtual currency "mining" activities in the "elimination category". The Financial Stability and Development Committee of the State Council is even more direct. Pointed out, "combat Bitcoin mining and trading behavior."
However, Times Finance has discovered that there are still many mines in operation.
On May 24, Times Finance consulted a company that integrates mining machine sales and trusteeship on the grounds of mining machine trusteeship. The other party stated that their mining plant is in Wusu, Xinjiang. It is currently operating normally and plans to expand. "We use the electricity from the Xinjiang State Grid. The mining machine is managed for a kilowatt-hour of electricity of RMB 6 per kilowatt-hour, including operation and maintenance. The machines are all second-hand phones, but the warranty is still for half a year. Our mining plant is still expanding, and plans to expand to 60 Ten thousand load." The other party said that the business of the mine is now very hot, and the total number of machines sold from New Year's Day to now is close to 200 million.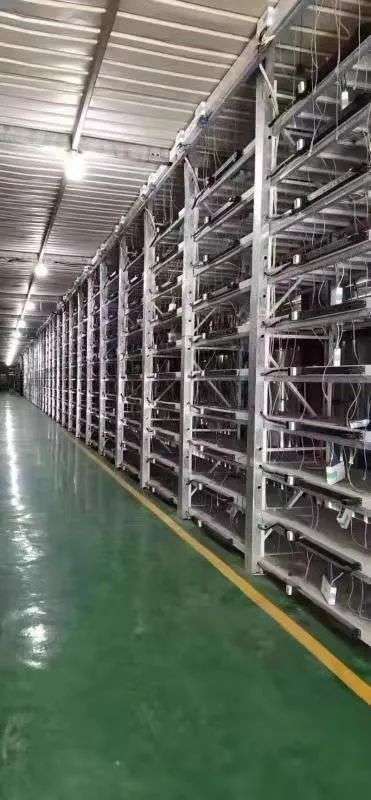 Image source of the inside of the mine in Wusu, Xinjiang: Interviewee
When asked about the impact of the current regulatory policy on them, the other party said that they have an agreement with the Wusu Power Supply Bureau.Formal procedures, "Recently, some customers called me to ask me, but let me be honest with you, even if the policy really does not allow mining, we are the last batch to withdraw."
He explained that the sources of electricity for mines include the State Grid and privately built hydropower stations. "Many people will build power stations privately. There is no formalities for electricity consumption, and they are directly supplied to mining without going through the State Grid. The environmental impact is relatively large and easy to be restricted. There are many private hydropower stations in Panzhihua, Leshan, and Sheep in Sichuan. In addition, Xinjiang is rich in coal resources, and coal-fired power generation will also be regulated. Many of these mines in Shihezi have stopped." p>
Subsequently, the respondent sent a company business license and electricity bill to Times Finance. According to the business license, the company's business scope includes Internet information services, Internet data services, information processing and storage support services, database management, and so on.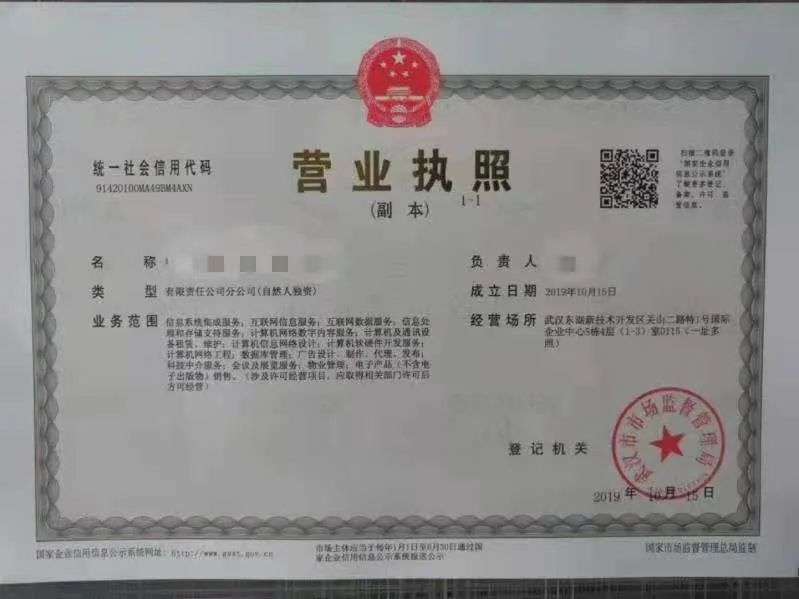 Image source: interviewee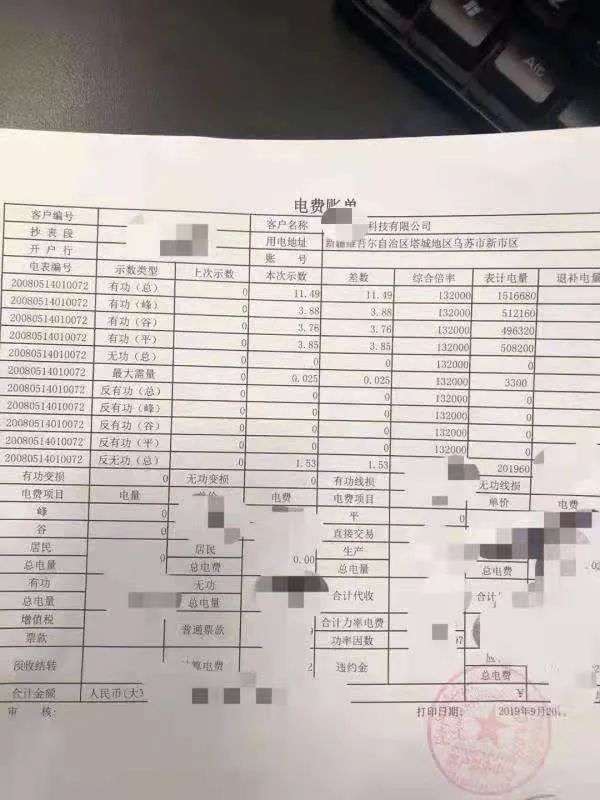 A mine owner with mines located in Hailuogou and Shimian, Sichuan also said that the mine is currently operating normally, using the formal national grid. He said that the electricity bill here is only 2.4 cents. Take the "big order", "all are mines with a load of 30,000 to 50,000, and the hosting mining machine starts from 50 units of large computing power and 200 units of small computing power." Picture source: interviewee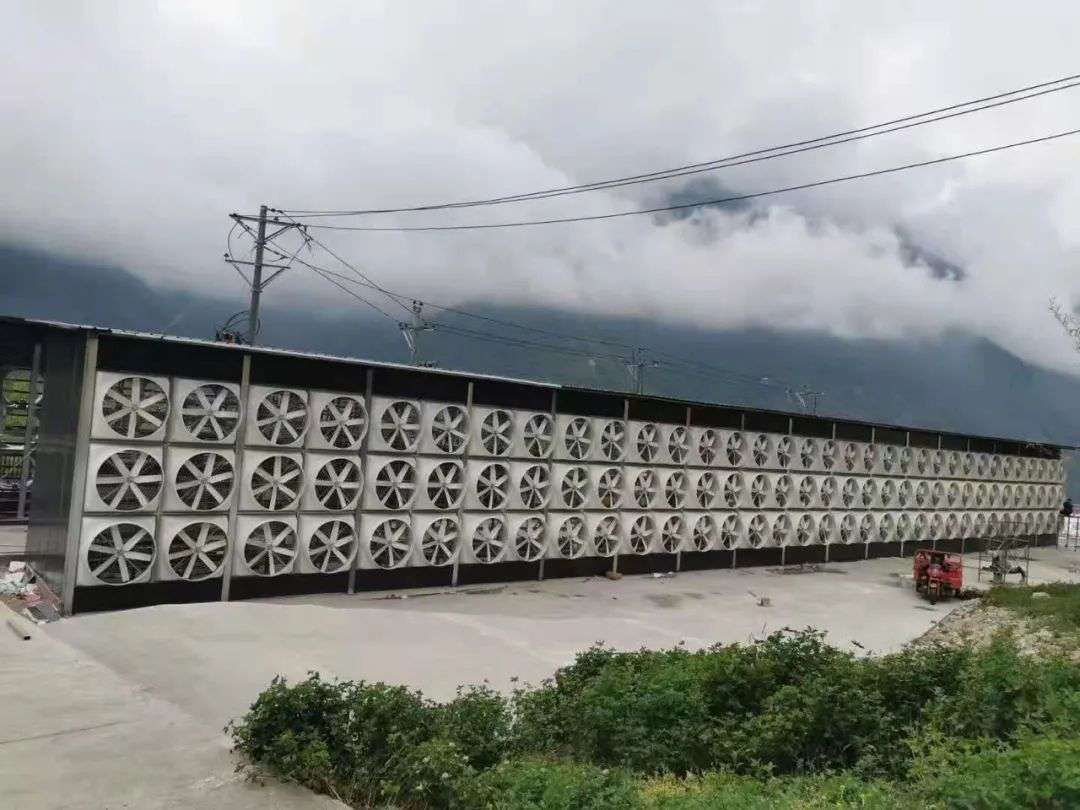 Mining factory in Sichuan Image source: interviewee
In addition, some mining companies maintain daily operations through private power stations. Zhao Ming told Times Finance that a friend of his had privately built a power station in Hubei in 2017.Electricity is directly supplied to the mining plant, and the mining plant does not provide mining machine custody and other services, but only for mining coins. Due to the early admission, the other party only invested about 200,000 yuan at the time, and now the mine can generate nearly 10,000 yuan in income every day. "Now that the mine is also open, no one will be in charge of such a small mine." Zhao Ming said.
Another mine owner of the Hubei Xiangyang Mining Plant said that if you don't mine Bitcoin, you won't be affected. "We don't allow Bitcoin to be mined now. We are storage coins. Although the price of the coin has fallen, we can't sell it without mining. That's it."
However, the recent regulatory effects on mining behavior have gradually emerged. In March of this year, the Inner Mongolia Development and Reform Commission issued the "Several Safeguard Measures for Ensuring the Completion of the Energy Consumption Dual Control Targets during the Fourteenth Five-Year Plan Period (Draft for Comment)," and planned to shut down virtual currency mining before the end of April. In the announcement, the establishment of a virtual currency "mining" enterprise reporting platform will fully accept complaints and reports about virtual currency "mining" enterprises. Many practitioners told Times Finance that the current mines in Inner Mongolia have been cleared and retired.