Want to invigorate group chat and social networking
How to break away from acquaintances in multi-person social networking and achieve efficient "group division of people" has always been a problem that stranger social products want to solve. There is no shortage of beeping on the track of interest and vertical. Li, Douban and other communities. The recently learned group social app "Little Rongzhu" was founded by Li Huai, founder of Xianyu, and received investment from one of the early 18 co-founders of Ali.
Founder Li Huai said that although Xianyu is a trading platform for idle items, the diversity of trading categories and the complexity of trading links extend the vitality of the community, allowing the team to see the community possibilities of the platform outside of the trading attributes. . Aiming at the economic direction of the community, Xiaorong Zhu wants to build a group social platform by operating the community.
Enter the "Little Velvet Pig", users can choose to create a normal group, an anonymous group or a faction group. Each group has an independent IM and community entrance. The operator can publish content to the group members, initiate PK, vote, etc. How to play. Anonymous group and faction group have added anonymity and script gameplay respectively.
Currently, there are about 30,000 users of Xiaorongzhu, and most of the early seed users are "successors" and students and white-collar workers. Li Huai said that "out of office" is actually a rigid demand in the O2O trading market. Industries such as food delivery and e-commerce need welfare groups to operate private domain traffic. But for office leaders, WeChat is only a communication tool, which is inconvenient in operation and management.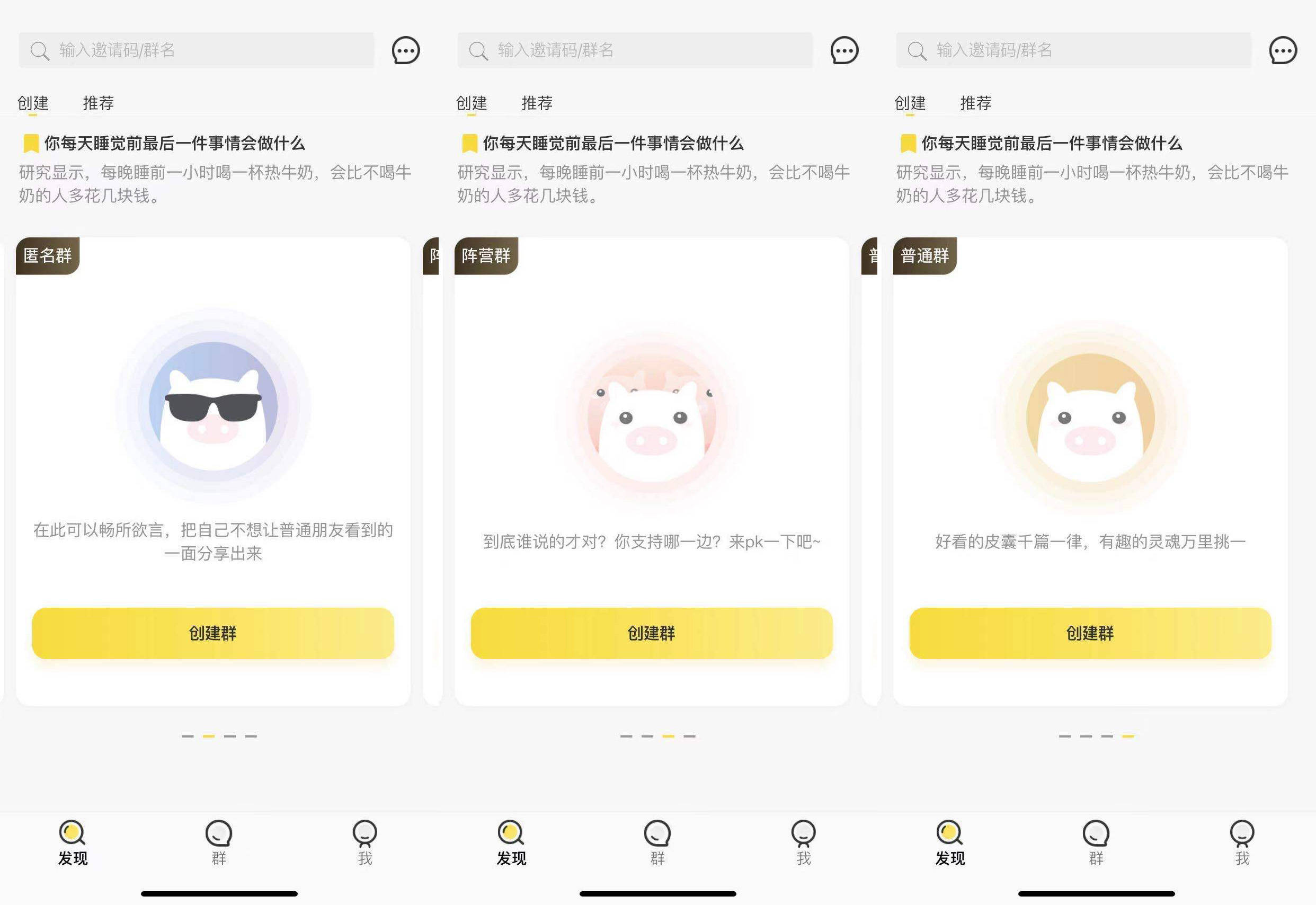 Little cashmere pig
The ordinary group of small wool pigs can help the "head" to run their own business: the number of people in the group can rise to 2,000, and small and medium-sized businesses can publish announcements, articles, etc. to all group members in a single group, and each A group has an independent community, which is visible only to group members, which is equivalent to a private circle of friends, and can reach people who are willing to consume more efficiently.
Currently, the content of the small wool pig herd covers leisure, entertainment, work, life, etc. In Li Bai's view, social groups are in great need of leisure time outside of work, such as watching dramas, reading books, casual games or light social activities can satisfy their needs for relaxation and pleasure, and the vitality of the community is also driven by this. Furthermore, in addition to the "bureau head" who can use the small cashmere pigs for accidents, UP owners and Kol groups can also use the group to establish their own private domains, and other group owners can also use the small cashmere pigs to socialize and satisfy social fun.
Li Huai said that Little Velvet Pig 2.0 version iteration has added anonymous, camp social gameplay, but the future direction of Little Velvet Pig will be SNS games, through the "game + social" model, to meet the social pursuit of young peopleThe fun and active community atmosphere.
Under the big social circuit, there is no shortage of social products for strangers such as Momo and Soul that have reached 100 million users. What kind of differentiation should be established for start-up social products? Li Badi said that social products actually have a very large market, which comes from the satisfaction of different human needs. Social products for strangers can meet the needs of both sides for appearance and three-view matching. There should also be other possibilities worth exploring. Xiaorong Zhu hopes to build a diversified rather than vertical community. It does not define the scope of people, interests, industries and other dimensions in breadth, but in depth, different groups can find their own interest groups and group friends.
Currently, Little Velvet Pig is seeking a new round of financing.