The overall sales target this year will reach 1.5 billion yuan.
It is learned that the health and nutrition brand "Menthol Health" has completed the D round of financing. This round is led by Mingyao Capital, and the C round investor Fosun Group continues to follow up the investment. The post-investment valuation exceeds 2 billion yuan. Before this round of financing, Mint Health had received multiple rounds of investment, including Morningside Ventures (now Wuyuan Capital), SIG, DCM, Qualcomm and Fosun Group.
Mint Health was established in Shanghai in 2008. It first started with Internet food databases and weight management tools, and launched "Mint Health", "Mint Food Database" and other tool-type products, which provide nutrition based on APP, WeChat/Alipay applets, etc. Enquiry and health management services. Ma Haihua, the founder of Mint Health, told that, including APP and mini programs, the Mint Health application platform accumulates over 120 million registered users, and the average daily active user number reaches 2 million, with an average monthly average. The active number reached 10 million.
On the basis of this user precipitation, Mint Health has gradually carried out commercial exploration, and successively developed a series of nutritious food products represented by the four major sub-brand matrix, including the functional positioning "Mint Heart strong>", "Mint on top" for healthy snacks, "Mint with ingredients" for healthy fast foods, and "Mint of Mint" which focuses on children's nutrition ", The overall number of SKUs exceeds 200, iterates from providing daily health management tools to health nutrition system solutions.
It is understood that the funds from the latest round of financing will be mainly used to supplement the working capital of Mint Health. This background is that Mint Health's revenue has grown rapidly in recent years. Ma Haihua revealed that Mint Health's revenue has maintained a growth rate of about 100% in the past three years. As of now, the monthly sales of Mint Health have exceeded 100 million yuan, and the overall sales target this year has reached 1.5 billion yuan.
Represented by high quality, health and beauty, China is ushering in a new wave of consumption upgrades. More and more consumers are investing more in daily diet, exercise and fitness, nutritional supplements, and home furnishings. Energy and money. Especially since 2020, product concepts such as 0 (low) sugar/0 (low) fat, plant meat, meal replacement, plant milk, fitness mirrors, probiotics, and rimless sports have been all the rage, and have become popular like the forest of vitality. A large number of new and old consumer brands such as, OTALY, Weekly Zero, WonderLab, FITURE and so on. According to media reports a few days ago, the sports social platform Keep has planned an IPO process in the United States, raising US$500 million.
A new step in the epidemic has accelerated the progress of health. Ma HaihuaXiang said that since the epidemic, not only consumer life and work styles have changed, but health awareness has also been significantly strengthened. "In addition to the trend of glycation-free, there is another example that we have noticed that young people are not only concerned about weight loss and fat loss. Attention to more health issues such as insomnia, hair loss, and chronic diseases has also increased significantly." Ma Haihua said that the six-month life cycle value of mint health users has also increased from RMB 50-60 in 2019 to nearly RMB 300 this year. yuan.
The typical users of Peppermint Health are young urban women between the ages of 25-35, accounting for more than 80%, and young families with women as the center of consumer decision-making. Ma Haihua told that young women's health needs are mainly reflected in two aspects. One is the need for "beauty", that is, weight loss and fat reduction; the other is the need for health and the pursuit of a healthier lifestyle. Mint Health focuses on the latter, that is, focusing on the field of nutrition, providing consumers with healthy lifestyle solutions through comprehensive and balanced nutrition management and calorie control.
For category planning and operation, Peppermint Health has its own methodology. The basic logic is to use the nutrition and dietary experience data accumulated on the platform in the past ten years to discover insights into various nutritional needs; the data shows that the current mint food database covers 630,000 kinds of food materials, dishes and packaged food data, and more than 150 kinds of nutrients Data, the average daily query volume reaches tens of millions. At the same time, with reference to the healthy eating concept in Europe, America, Japan, Korea and other regions, combined with the daily high-frequency scenes of the target users, we have made targeted category and product planning. Now we have achieved full coverage of basic products such as healthy staple foods, healthy snacks, and functional supplements. .
In the fourth quarter of 2020, Peppermint Health launched a new series of "Drinks Before Bedtime", with effects including sleep aid and fat burning, beautification, anti-aging, and bowel improvement. Ma Haihua told that the birth of this series of products stems from the discovery that typical users' daily fitness time is relatively late, and the physical excitement after exercise leads to low sleep quality and affects the effect of weight loss and muscle growth. For this type of fitness exercise group, a complete product line of sleep nutrition management has been developed; in addition, Mint Health has also launched a series of healthy meals for 21 days/7 days/3 days.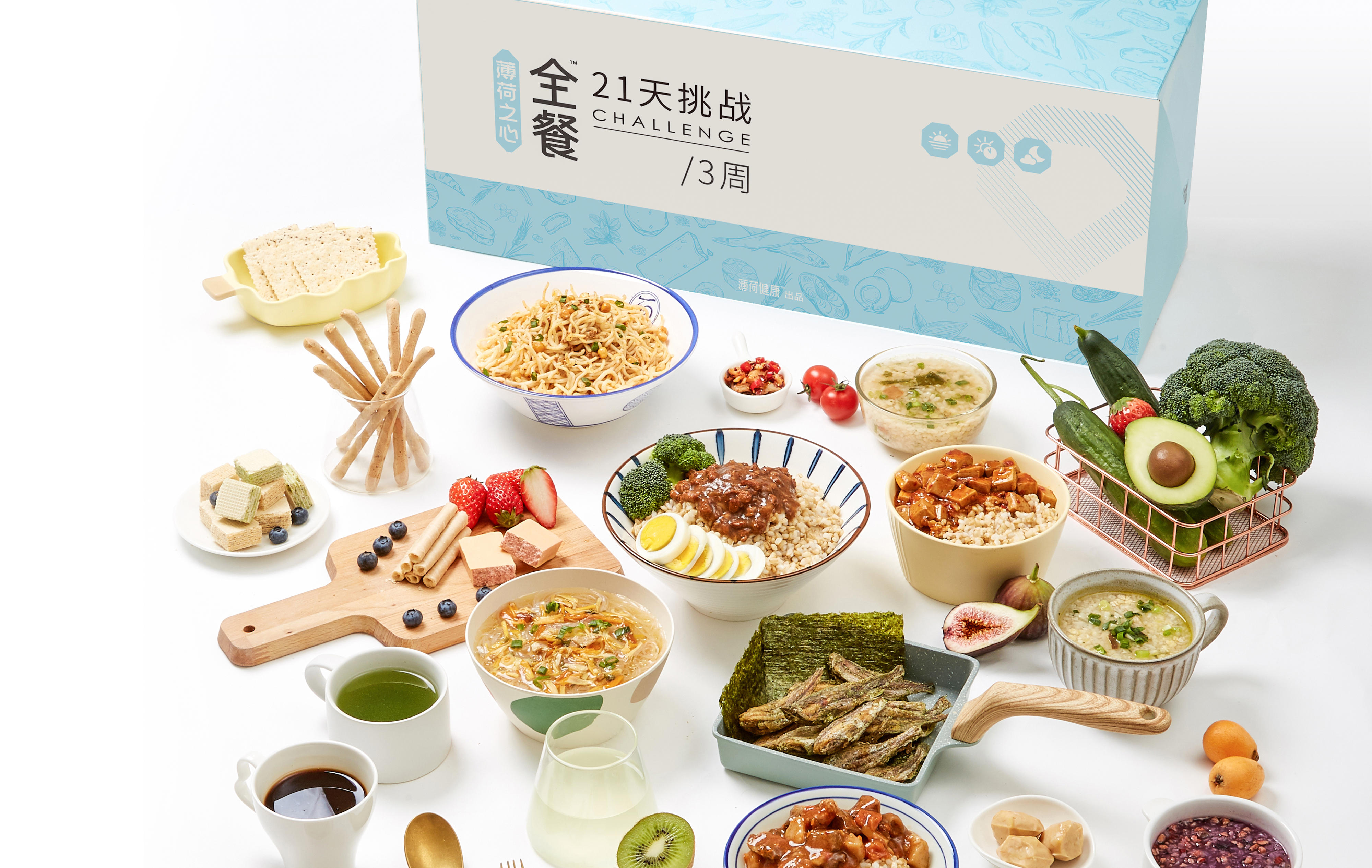 Mint Heart 21-day full meal products, according to interviewees
In fact, the consumer venture capital market in the past year has been very lively. In addition to mint health, in many vertical fields such as healthy food, healthy drinks, healthy and convenient fast food, there are also a large number of cutting-edge brands through single point, single product, Single channel penetration, fast realizationRise quickly. Regarding the differentiated competition with many subdivided track head brands. In Ma Haihua's view, vertical brands have certain advantages in category and brand marketing, while Mint Health is a completely different way of playing. "Our focus is on the customer side, amplifying the advantages of nutrition technology and accumulating advantages, and constantly introducing solutions to health problems for users. Products and categories, and seek to become a national nutrition brand."
From a specific category point of view, at present, the function-oriented "Mint Heart" contributes 60% of revenue, and healthy snacks account for about 30% of revenue. In addition, the new The two major categories of healthy and convenient fast food and children's nutrition launched are still in the market cultivation period. The follow-up plan will continue to expand the categories and launch nutritional products for middle-aged and elderly people. It is reported that Mint Health's own platform is also undergoing functional upgrades, including the development of a family's intelligent nutrition prescription system and family health data center, to provide young families with personalized and customized nutrition solutions.
In terms of channels, Mint Health is still dominated by its own channels, including APP, WeChat private domains and other self-owned platforms that contribute more than 50% of sales; In addition, Mint Health will also be working on Tmall from 2020. The latter has grown significantly since the epidemic. It is expected that Tmall's channel revenue will reach 300-400 million yuan this year. In addition, Mint Health is also developing e-commerce channels such as JD.com, Douyin, Kuaishou, and Pinduoduo, and is targeted for different channels. Launch channel featured products.
"In the future of China's food and beverage consumption, consumers' interest will change faster and faster, and it will be difficult for a single product to be sold for 20 years." Ma Haihua told that for peppermint health, this means the need Strengthen the operational capabilities of different channels, and be able to flexibly customize products and marketing according to the characteristics of different channels. In addition, as the supply chain support for front-end sales, Mint Health currently has established in-depth cooperative relationships with more than 80 suppliers to ensure production capacity and carry out digital management of the entire link.