Generation Z are just like the aborigines in the Internet age, and they are more receptive to fresher investment and financial management methods.
Editor's note: This article is from the WeChat public account "Silicon Rabbit Race" (ID: sv_race), author: Amelie, editor: Juni.
Have you met a 5-year-old entrepreneur?
No kidding, there was such a child in the United States 86 years ago. Now, at the age of 91, he is preparing to retire successfully and has just selected a successor to continue the grand financial investment career he built in his life.
He is the American billionaire Warren Buffett, who has the title of "Stock God" and is honored as "The Sage of Omaha."
Although the 5-year-old Buffett was just a kid who set up a small business at the time, his business ideas and entrepreneurial spirit had begun to grow. If you have read Buffett's biography "Snowball" and look at his growth process, you will find that the stock god has actually started to have an ignorant love for wealth since he was 5 years old. Since then, his entrepreneurial mind has been running non-stop, and his financial quotient has been formed as early as his boyhood. It can be seen that cultivating a love for money and developing one's own business acumen from an early age is an active preparation for becoming rich.
It has been 10 years since Buffett invested in the broadcast of the series of financial education cartoons "Secret Millionaires Club" specially designed for teenagers. When the cartoon officially launched its first season in 2011, Buffett himself also accepted an interview with CNBC to explain why he did this.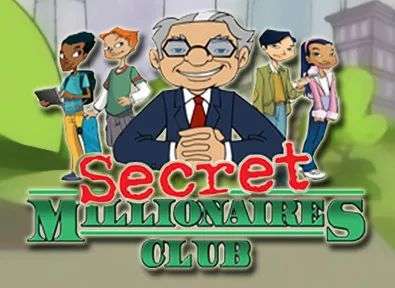 Picture source: safal niveshak
Buffett personally dubbed the entire English version of the film, and he also invited good friends Bill Gates and Charlie Munger to participate in the dubbing production. In it, he became the director of the mystery club and discussed how to invest and manage money with a few thoughtful and passionate children.
The idea of ​​this cartoon is simple. It teaches the children "value investment" and at the same time instills a principle of life, that is, not to see profits and forget the righteousness, to be greedy for petty gains, to listen to the gossip, to be "righteous." Obtain legitimate interests on the basis of
Interesting stories tell children to develop the habit of saving money, learn to be responsible for their own investment behavior, and more importantly-the best investment is to invest in yourself.
this 1In the past 0 years, countless young people have used this as a financial enlightenment and are gradually becoming the backbone of all walks of life in the United States. Nowadays, more Gen Z, who have been guided by Buffett, are coming on the waves in this fast iterative and updated era of flying.
With the convenience of smartphones, the physical concept of money has gradually weakened. The younger generation's concept of money has become weaker and weaker. The training of financial and quotient education has become more and more important. More people believe that inspiring the younger generation to The knowledge and understanding of money, and the formation of a correct view of money, can better understand what one has at present and choose the correct attitude towards life.
The radical fintech parties in the venture capital community are now looking at young people, vying to be the guardians of their financial business. At the end of April, two youth-oriented digital banks on the same track announced a new round of huge financing. The goal of competing for the next generation of customers is ready to take off, and they will compete in the new battlefield of the financial technology industry.
Needs for pocket money:
Greenlight big waves wash the sand see the real trick
Greenlight Financial Technology announced on April 27 that it had completed a US$260 million Series D financing. This new funding brought its total financing to more than US$550 million, and the company's valuation was increased from 12% within 6 months. 100 million U.S. dollars has doubled to 2.3 billion U.S. dollars.
Andreessen Horowitz is the lead investor in this new round of investment, with investors including TTV Capital and Canapi Ventures, Wells Fargo Strategic Capital, Fin VC, Owl Ventures and Liontree Partners.
Greenlight is a start-up fintech company that provides debit cards and investments for children and adolescents. Its original intention was to teach children the basics of personal financial management and allow them to build future wealth.
CEO Tim Sheehan is the father of 4 children. Since most of his daily consumption is done through credit or debit cards, when he needs to give his children pocket money, there is usually no extra cash, and cash shortages often give pocket money. Bring inconvenience. After completing the survey results for more than 1,000 American families, it was found that the problem of children's pocket money management is widespread, so a set of digital solutions is ready to come out.
"We are well aware of the importance of educating children to make correct financial decisions, to spend and save money wisely, and to make money,"
"Our vision at Greenlight is to create a world where every child can grow into a healthy and happy world. Today's financing will enable us toContinue to bring more value to people, because we will continue to introduce new and innovative products to bring more wealth to people. "Tim Sheehan said in an interview with the media.
Image source: Greenlight
Pay attention to money, start from the baby
Greenlight has been committed to promoting two new projects in 2020, and it seems that there are very hot topics at the moment.
In October last year, JPMorgan Chase announced that it had cooperated with it to incorporate functions such as allowance and expenditure management into its new checking account for children under 6 years of age; at the same time, it cooperated to launch a bank account for teenagers aged 6 and over-Chase First Banking. With Chase First Banking, parents can arrange housework, pay allowances, and observe their children's consumption activities.
In January of this year, Greenlight released its investment platform. For those who are too small to invest, it allows children to use the approved resources in the APP to research stocks and make investment recommendations to their parents, who can approve or reject the investment.
As a major product is a youth debit card, a financial technology company monitored and managed by parents. The business group is mainly for teenagers aged 8-22 and their parents. In addition to investment and consumption, features like housework tracking, automatic allowances and savings goals are also popular. Greenlight's mobile app is designed to inculcate good money consumption habits for teenagers. During the epidemic, charitable donations to children through the APP surged by 25% in just one month.
Considering various internal and external factors in the US financial market environment, Greenlight began to dig deeper into this market segment:
As a typical cashless payment society in the United States, the trend of cashlessness restricts the traditional way of distributing pocket money. Greenlight has established digital accounts for youths, changing the traditional way of distributing pocket money, and conforming to the trend of cashlessness;
p>
The epidemic has accelerated the soaring of the personal savings rate in the United States, and the Greenlight business with the concept of "family financial management" has more development opportunities;
The lack of awareness of personal financial management has always been a problem for teenagers.One of the long-term problems, Greenlight solves the pain points that parents cannot effectively supervise their children's financial status and provide children with good financial education;
Greenlight provides children with a certain amount of financial freedom, allowing them to make reasonable consumption and savings under the supervision of their parents, and help them to form good financial literacy and form a sense of financial quotient while promoting family financial management.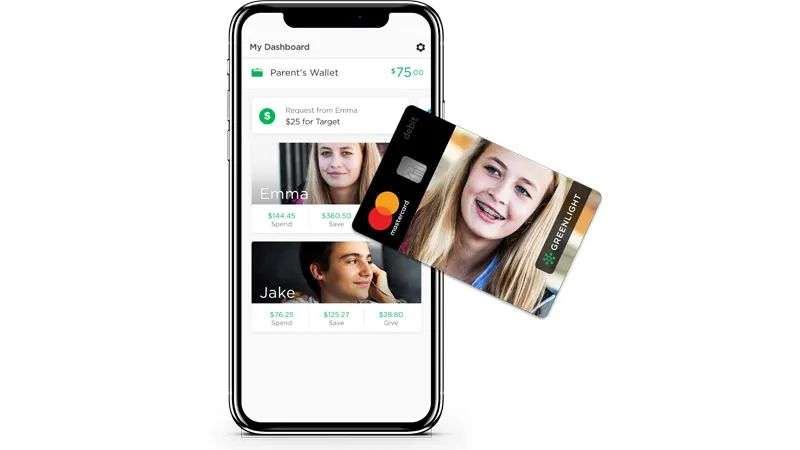 Image source: Greenlight
Precise privileges for parents
From the surface properties of the debit card, Greenlight Card is no different from the ordinary MasterCard. However, Greenlight provides parents with many additional tools that allow parents to have more control over their children's daily expenses.
The specific method of Greenlight Card is:
Each family account charges a subscription fee of US$4.99/month, and an account can provide up to 5 children with debit card services at the same time, and no ATM withdrawal fees are charged;
Parents can customize the card surface of the Greenlight Card, such as using the child's photo as the card base map;
Using the card as the carrier, parents can open payment, savings, donation and income accounts for their children through the Greenlight APP.
The model of Greenlight APP is:
Integrated with Apple Pay and Google Pay, children do not need to pass a physical card, and can complete consumption only through mobile phones;
An e-wallet is set up for parents, and is associated with their existing bank account. Parents can choose to inject funds into their children's card;
If the child accidentally loses the debit card, parents can choose to report the loss in the APP to prevent funds from being stolen.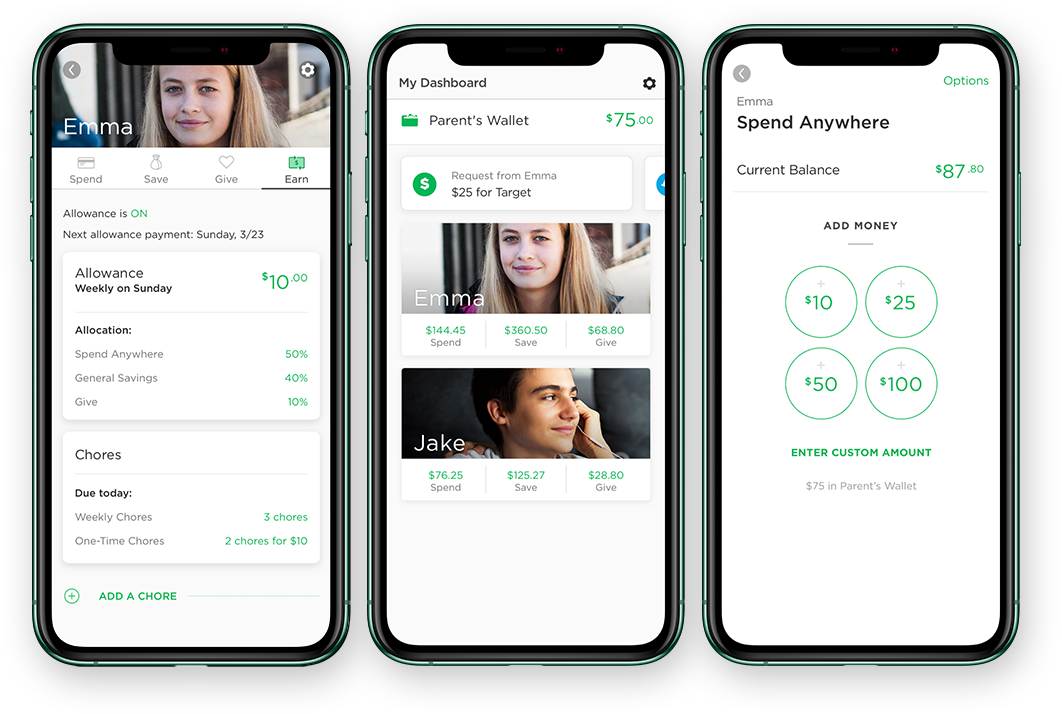 Image source: Tara Thueson
The highlights of the Greenlight savings account are:
Parents add funds to their children's savings account and set interest rates through the APP;
APP will automatically withdraw interest from the parent's account every month and transfer it to the child's account;
Parents can increase or decrease the funds in the savings account at any time;
Children can transfer funds from other accounts to savings accounts, but the transfer requires parental consent;
Children can intuitively see the accumulation of account funds and understand the long-term significance of savings.
In the United States, 8 is the starting age for most children to get pocket money. In 2020, the number of housework completed through the Greenlight platform will exceed 2 million.
In addition, in the income account, parents can set weekly/monthly housework allowance in Greenlight's income account.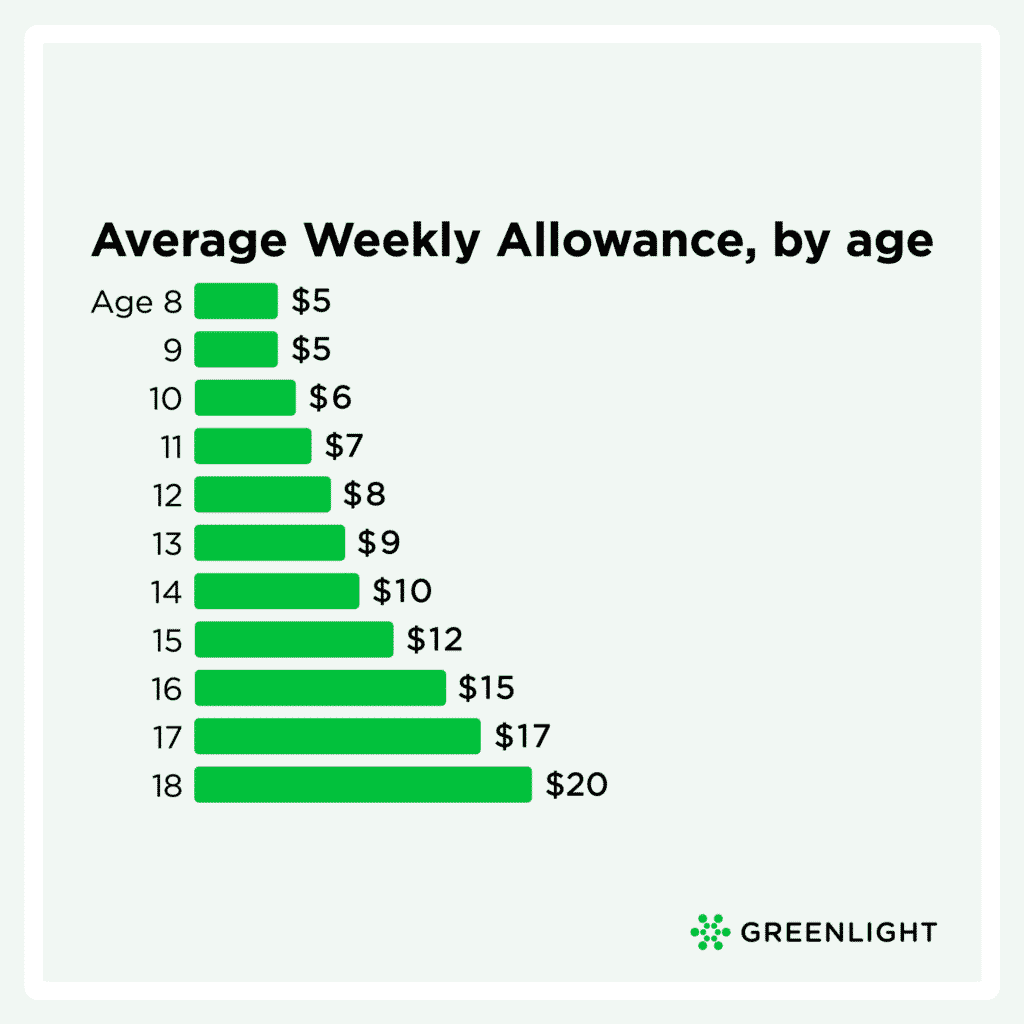 Image source: Greenlight
When it comes to competitive advantages on the same track, Greenlight is currently the world's only provider of youth debit cards that implement store-level controls. This technology is jointly protected by four independent patents. Competitors It's hard to imitate.
The store control mentioned here is used as a designated consumer account. The child's debit card can only be used in a specific type of store (such as a restaurant) or a specific store (such as Starbucks), which is subject to parental management. Precise consumption of children. There is also an arbitrary consumption account. Children can use the funds in the account to any place they like, without parental consent. Parents can adjust the fund allocation ratio of the two accounts according to each child's situation.
Energy-saving financial literacy education
The PISA (International Student Assessment Project) financial literacy test organized by the World Organization for Economic Cooperation and Development shows that more than 20% of American youths are seriously lacking in basic financial knowledge. Parents desperately hope that their children are making financialSufficient financial knowledge can be stocked before making a decision.
Behind the rapid growth of Greenlight users, it also implies the rigid demand of parents eager for their children to cultivate financially independent (financially intelligent).
As one of the pioneers to enter the vertical field of household finance for youth financial management, Greenlight, founded in Atlanta, USA in 2014, has reached its seventh year.
Today, it has provided services to 3 million parents and children, helping them learn healthy financial management habits, and has saved more than 120 million U.S. dollars so far.
Founder Tim Sheehan said that Greenlight, as a provider of comprehensive solutions for family financial management, is to help parents cultivate children with high financial quotient. On the basis of encouraging children to consume rationally, Greenlight users can obtain returns through savings, investment and other methods and understand financial-related concepts such as credit and budget.
Correspondingly, more and more innovative companies have begun to focus on such home digital financial solutions, which has set off a whirlwind of intelligence around the world.
Give the initiative to young people: Step after wave pushes forward wave
Coincidentally, on the same day on April 27, the American youth bank Step, headquartered in San Francisco, also announced that it had received a US$100 million Series C financing led by General Catalyst. The current cumulative financing amount is close to US$200 million. The company is valued. It has more than tripled in less than 5 months to nearly $1 billion.
And this is only half a year after Step launched and launched its application APP in September last year.
In early 2019, Step Company once received US$22.5 million in Series A financing led by Stripe, and Hollywood celebrity Will Smith participated in the investment through its Dreamers Fund.
In the U.S. market, digital payment applications (such as PayPal's Venmo and Square's N Cash, etc.) have become common payment methods for consumers, but these programs are not allowed by minors under the age of 18.
Under such circumstances, these emerging digital banking apps and youth debit card services have formed a huge attraction for these young people who are under 18 but have independent spending power.
The reality is that teenagers and children do not have much disposable income, but digital finance start-ups look at their growing spending power. The latest data from McKinsey show that the current consumption power of Generation Z in the United States between the ages of 8 and 23 is approximately US$150 billion.
Step's vision is to build a company for the next generationThe digital bank plans to obtain profit through card handling fees at the beginning, and then continue to provide more financial products to users as users grow up.
Celebrities participate in stocks, and user fission increases
Step Youth Banking Company, as one of Greenlight's competitors, mainly targets young users aged 13-18, not their parents, and does not charge monthly fees.
In the six months since its launch in September last year, more than 1.5 million teenagers have signed up for Step accounts.
The surge in users is partly thanks to the eye-catching Douyin marketing campaign involving Charli D'Amelio, Addison Rae, and other influential young people.
For example, Charli D'Amelio, the 16-year-old first TikTok internet celebrity with more than 100 million fans, as one of the investors of Step Company's B round, has the ability to bring goods on the North American network is comparable to Li Jiaqi, in Forbes last year Ranked second in the list of "TikTok's 7 Most Revenue Reds" released in August.
Although he is only 16 years old, Charli D'Amelio has a keen interest in banking. She said: "Step can properly manage users' property, and at the same time provide the educational resources that young people need. These resources are difficult to obtain in the current society… I am very happy to be able to use Step as a platform to help reduce the number of educational resources. By directly investing in the Step company, I can also help the company develop more useful products."
Of course, Charli is not the only celebrity who has invested in Step. Stars including Hollywood superstar Will Smith, the well-known band The Chainsmokers and singer Justin Timberlake have also invested in Step, as well as from Facebook, Square, Venmo and Visa. Executives of well-known financial technology have also joined the investment ranks, bringing widespread popularity to the start-up.
In the latest C round of financing in April, NBA star Stephen Curry, MLB Yankees baseball star and current Timberwolves owner Alex Rodriguez all participated in the investment.
Two times NBA MVP Stephen Curry mentioned this investment in an external interview:
"As a parent of 3 children, I know what the key life skills money management is, but it's hard to know when and how to start talking to them about finances. Step helps promote conversations about money, and through the built-in The safety net and many teachable moments make it easy for parents to let their children experience financial freedom."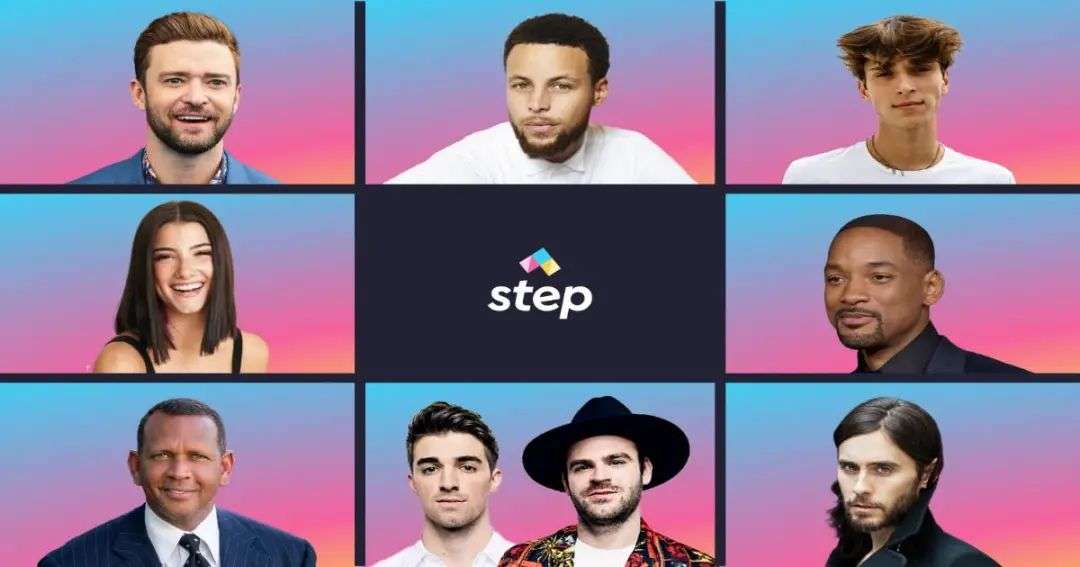 Image source: American Entrepreneurship
In the plan of Step company, the use of celebrity effect can make it faster for fame and fortune. The company is planning to cooperate with more celebrities and KOLs in the future, and also plans to provide a series of financial services in the long-term. To help young clients, including student loans and establishing credit files.
Tenth-centered
Step CEO CJ MacDonald said in an interview that 75 million children and young people under 21 in the United States do not have their own bank accounts. Therefore, he believes that Step's competitors are not traditional digital banking services such as Chime, Monzo, Simple, and Revolut, but child-specific debit cards such as Current and Greelight.
Since the Step APP was officially launched in September last year, teenagers under the age of 18 can apply for a bank account in the app and get a debit card. At the same time, the app also provides a peer-to-peer payment system through which users can complete Transfer transactions.
Service highlights are:
1) Abandon the intermediate fee: users do not need to pay monthly fees, overdraft fees, ATM withdrawal fees, late fees, and the account will not set a minimum balance;
2) Cultivate good consumption habits: provide users with account balance tracking at any time, and help the service understand the expenditure of teenagers, so that parents can provide necessary financial guidance;
3) Establish early credit records: help young people reduce the cost of auto insurance and student loans by establishing their credit history;
4) Instant funding platform: Through the P2P payment platform, it helps users complete the transfer of funds between parents and teenagers in a few seconds.
On Step, 88% of users said this is their first bank account. Users can access free, FDIC-supported bank accounts, consumer cards and P2P payment platforms, fast collection and transfer, etc.
In the words of CJ MacDonald, this is:
"For the understanding of money, I think the sooner you receive good education and guidance, the better you can make in the future.Decided. "
"And you can prevent yourself from making costly mistakes. I mean, ordinary Americans don't have an emergency savings of $400, and they have to pay a bank fee of $350 per year. If we can help the next generation Eventually become smarter and more educated on related issues, and I think all of us will have a better life."
Summary
After the "financial quotient" was first proposed in the book "Rich Dad, Poor Dad", the financial industry once aroused great repercussions and aroused discussions among all parties.
What exactly is a financial quotient?
In layman's terms, financial quotient can be understood as a person's financial management ability and financial wisdom, how to understand and manage money reasonably. These include two abilities: one is the ability to correctly understand money and the laws of money; the other is the ability to correctly apply money and the laws of money.
Many stories in social news happen almost every day: young people blindly borrow all kinds of consumer loans, middle-aged people invest and go bankrupt, old people are deceived by usury under the guise of P2P… This also shows that many people have been When I get old, financial businessmen fail, and the tragedies that this has caused are not too numerous to enumerate. I also applied for the sentence, "The money earned by luck can be paid back by strength."
Financial quotients have begun to be regarded by more and more people as the key to achieving a successful life. Children's financial quotient education has become more and more important.
In the market, young people, as low-income groups among low- and middle-income groups, are particularly concerned. Like the aborigines of the Internet age, Gen Z are more likely to accept newer investment and financial management methods, and as they grow older, they can later transform into affluent groups of the masses and even high-net-worth individuals, and they are a group of sustainable business customers.
Reference Materials:
1.With Debit Cards And Investing For Kids, Fintech Startup Greenlight Doubles Valuation To $2.3 Billion.(Forbes)
2.Atlanta unicorn Greenlight Financial Technology raises $260M, plans to hire 300. (THE BUSINESS JOURNALS)
3.Teen Banking Startup Step Takes In $100 Million In Series C Funding. (Pymnts)