On the evening of December 16, in response to the loss of the well-known venture capital "big man" Wang Chaoyong, his company Beijing Xinzhongli Investment Co., Ltd. (833858.NQ, referred to as "Xinzhongli") issued an announcement stating that it had not received A formal notice issued by the public security, judicial and other agencies or a request to assist in an investigation.
According to the announcement, Xin Zhongli has contacted Wang Chaoyong and his family through various channels many times since he learned of the relevant reports and before the disclosure of this announcement, but none of them Get effective contact. The company consulted the public security organs on the same day, but so far has not obtained effective information related to Mr. Wang Chaoyong.
Currently, Xinzhongli's daily operation and management work is running normally. Except for Wang Chaoyong, the management and employees of all departments are performing their duties normally.
Xin Zhongli stated that it will continue to verify the relevant reports, have actively communicated with relevant regulatory authorities to report the relevant situation, and has established a corresponding work reporting system. The company's general meeting of shareholders and board of directors will operate in accordance with the "Company Law", "Articles of Association" and other regulations.
During Wang Chaoyong's failure to perform his duties effectively, Xinzhongli will take corresponding measures to ensure the normal operation of the company's daily business activities.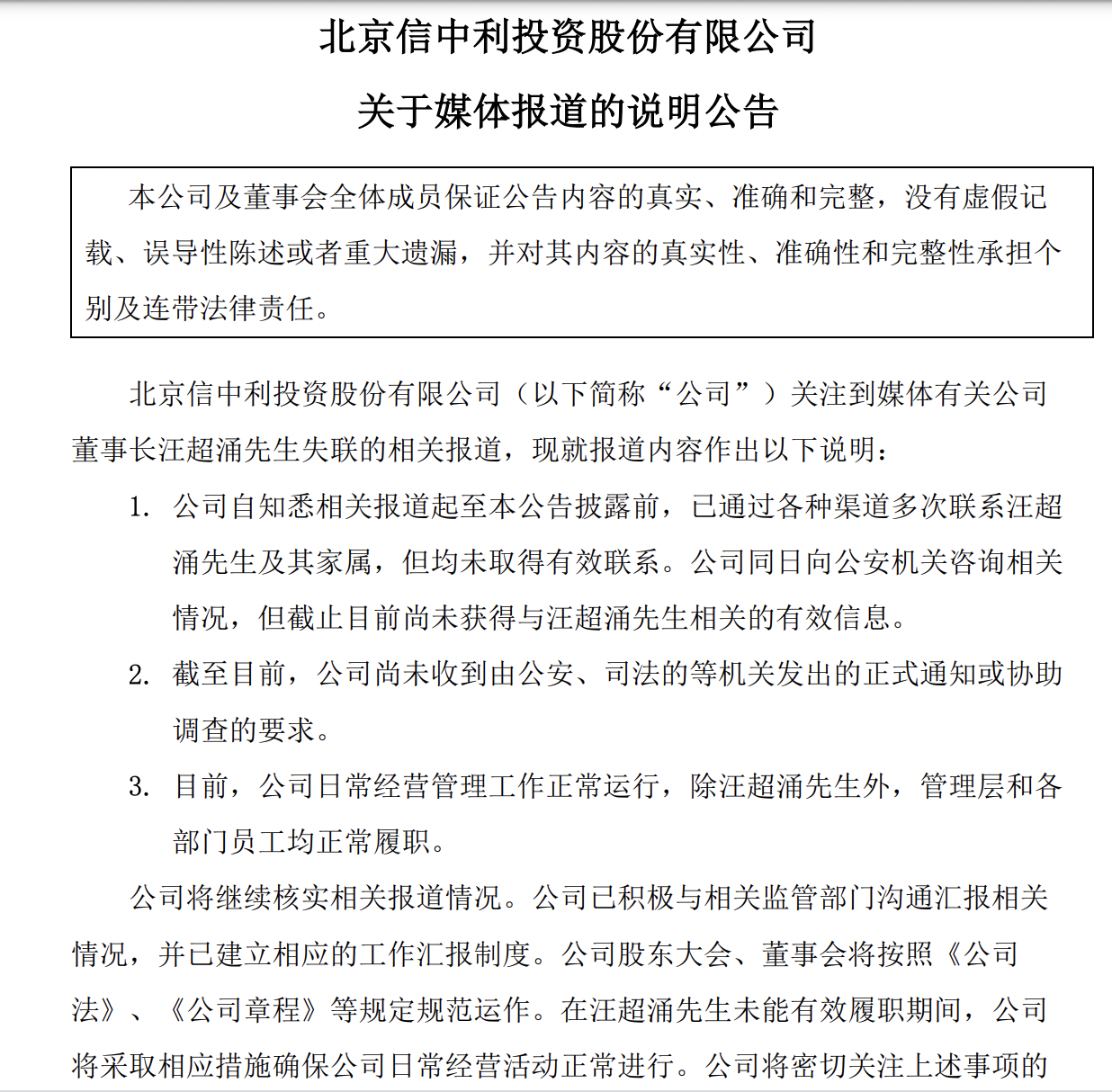 At noon on the same day, Xinzhongli has issued a trading suspension report , Claimed that the company's controller Wang Chaoyong had lost contact, and the relevant situation has yet to be confirmed. In order to ensure fair interest disclosure, safeguard the interests of investors, and avoid abnormal fluctuations in the company's stock price, in accordance with relevant regulations, apply for suspension of company stocks.
It is understood that Xinzhongli, established in 1999, is one of the earliest independent institutions engaged in venture capital and private equity investment in China. Wang Chaoyong, better known in the market as Wang Chaoyong, is the founder and chairman of Xinzhongli. He has 30 years of extensive experience in the international and domestic investment and financing industries. He has managed a fund of more than 30 billion yuan and has invested nearly 200 in total. Businesses.
Wang Chaoyong and his wife, Li Yifei, are also known as the "golden boys and girls" in the investment industry. Li Yifei graduated from China Foreign Affairs University majoring in international law in 1985. He was selected as one of Fortune's 50 International Business Women in the year. In 2011, he joined the world's largest listed hedge fund management company Insman Group as the chairman of China.
According toAccording to the information disclosed by the China Association of Funds Industry, Wang Chaoyong had previously worked in many well-known financial institutions such as JPMorgan Chase Bank, Standard & Poor's, Morgan Stanley, China Development Bank, etc. In June 2012, Beijing Xinzhongli Equity Investment Management Co., Ltd., a private equity firm with Wang Chaoyong as the actual controller, was formally established. The company subsequently completed its registration and filing with the China Fund Industry Association in May 2015.
Currently, Beijing Xinzhongli Equity Investment Management Co., Ltd. has a management scale of more than 10 billion yuan. However, this institution was once approved by the Beijing Securities Regulatory Commission on April 19, 2021. The Bureau has adopted administrative supervision measures to order corrections. At the same time, there are also problems such as low rate of investors' targeted disclosure of account openings, the existence of funds that have been in liquidation for a long time, and the existence of overdue funds that have not been liquidated.