On the evening of December 16, Muddy Waters Research published a report on its official website, stating that the agency shorted the first shell house search (NYSE:BEKE) of the residential service platform.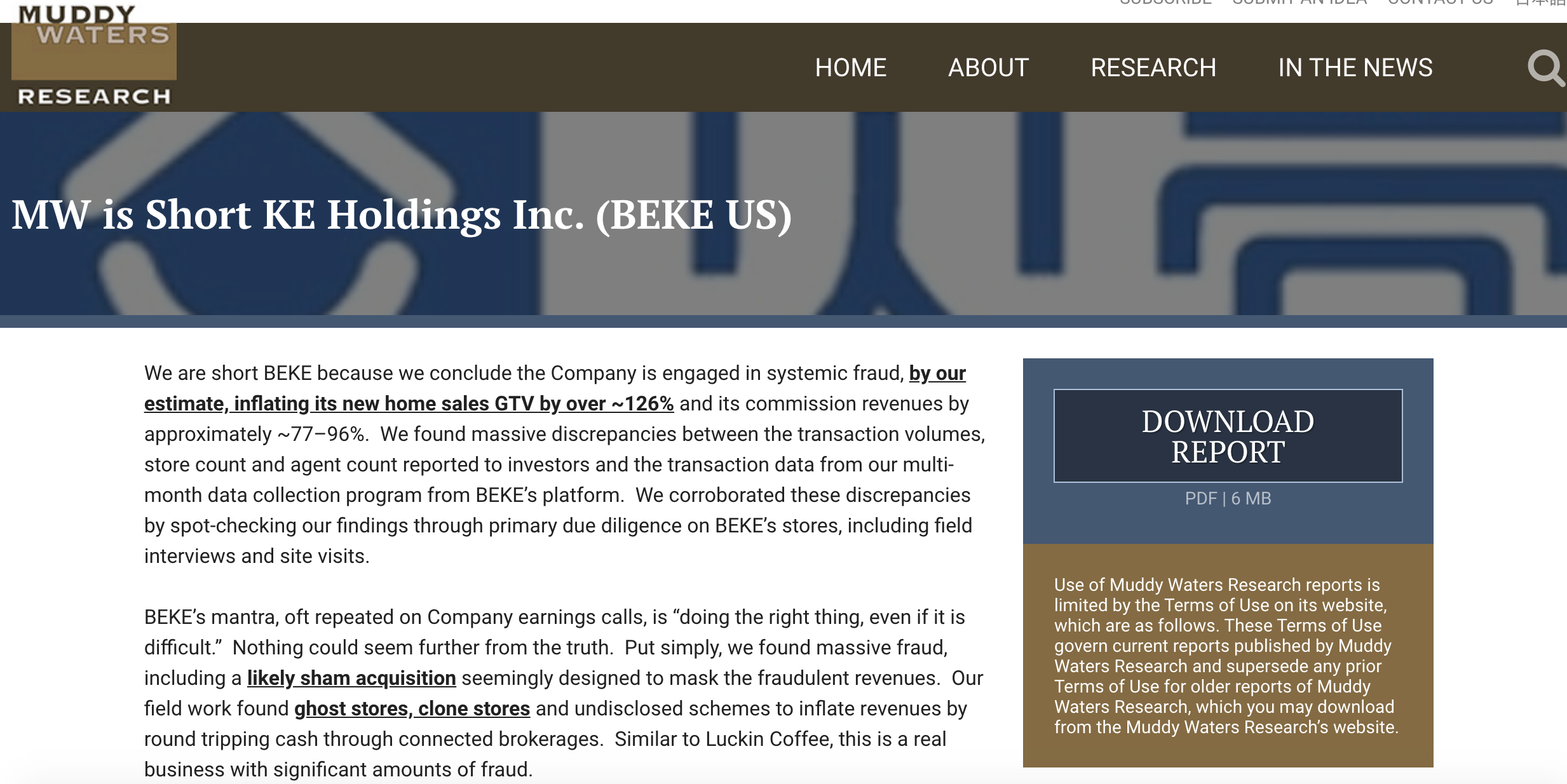 The Muddy Water Research Company pointed out in the report that according to It is estimated that the company has a huge scam, exaggerating its new home sales GTV by about 126%, and its commission income by about 77%-96%.
The Muddy Waters Agency stated that Shell's reported transaction volume, number of stores and agents to investors differed from the transaction data obtained from the Shell's multi-month data collection. There is a huge difference between. Muddy Water confirmed these discrepancies through preliminary due diligence (including on-site interviews and field visits) on the shell store.
The above report shows that Shell's mantra often repeated in the company's earnings conference call is "do the hard and right thing", but it is not the case.
Muddy Waters stated that it has discovered large-scale fraudulent activities in Shells, as well as false acquisitions. Actual investigations found many fake stores and cloned stores and undisclosed plans to increase revenue through affiliated brokers. Muddy Waters believes that Shell is similar to Ruixing Coffee, and this is a business with a lot of fraud.
According to the unaudited financial results disclosed by Shell Search for the third quarter ended September 30, 2021. The financial report shows that in the third quarter of 2021, shell house search revenue was 18.1 billion yuan, a decrease of 11.9% from the same period last year; the net loss was 1.766 billion yuan, and the adjusted net loss was 888 million yuan, compared with a net profit of 75 million yuan in the same period last year.
Overall, Shell's revenue in the first three quarters of this year reached 63 billion yuan, a year-on-year increase of 31.7%, and adjusted net profit was 2.25 billion yuan, a year-on-year increase of 33.9% .
In the third quarter of this year, the total transaction volume (GTV) of shell house search was 830.7 billion yuan, a year-on-year decrease of 20.9%. The total value of second-hand housing transactions was 378.2 billion yuan, a year-on-year decrease of 34.3%. The total value of new house transactions was 410.1 billion yuan, down 2.5% year-on-year. The GTV of emerging and other services was 42.3 billion yuan, a year-on-year decrease of 20.4%.
Data shows that the cumulative total transaction volume (GTV) in the third quarter reached 3.12 trillion yuan, a year-on-year increase of 31.2%.
According to the third quarter financial report, as of September 30, 2021, its number of stores was 53,946, an increase of 20.2% over a year ago, and the total number of brokers was 515,486.
In response to Muddy Waters' short-selling report, Shell's search for houses responded that Shells ensured the authenticity and standardization of the financial report data and welcomes various investigations, but resolutely resists any Malicious short selling by institutions. Muddy Water lacks a basic understanding of the shell business and a correct interpretation of the three reports because it does not understand the Chinese real estate market. In order to ensure the rights of investors and not be guided by misinformation, Shell will disassemble and reply to the contents of the report one by one within 24 hours.
As of press time, shellfish finds a house to report $19.48 per share, an increase of 3.8%.