Li Ka-shing wants to "kill back" again?
The sudden appearance of Li Ka-shing has made the first round of land auctions in Guangzhou in 2022 the focus of the market. Recently, Hutchison Whampoa, a subsidiary of Li Ka-shing, has eyed a piece of high-quality land in Baiyun New City, with a bid of 2.36 billion yuan, but failed to get the land.
As the richest man in real estate in the world, Li Ka-shing has always been one of the bellwethers for his investment. Although it failed to win the above-mentioned plots this time, its rare signal of appearing in the mainland land auction market made the market "imaginative". Has Li Ka-shing's exploratory auction smelled a signal that the mainland property market has bottomed out?
Li Ka-shing's test
Li Ka-shing's rare appearance, what did he smell?
The first round of land auctions in Guangzhou in 2022 has attracted market attention. One of the important reasons is that Hutchison Whampoa, which is owned by Hong Kong's richest man Li Ka-shing, rarely appears in it.
According to the final auction results, among the 18 parcels of land in this auction, 15 were sold at the reserve price, 2 were sold at a premium, and 1 was passed in, and the sale was successful. The rate is close to 95%, and the total revenue is 34.14 billion yuan.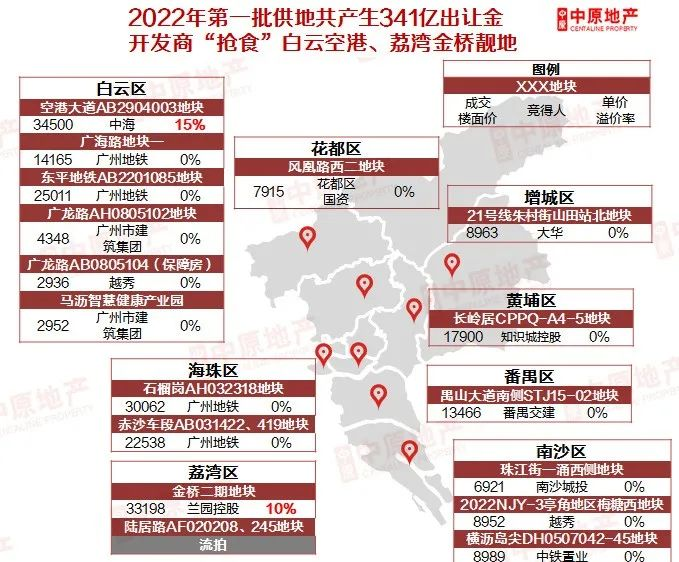 Image source: Guangzhou Zhongyuan Research and Development Department
Among them, the plot of Konggang Avenue in Baiyun New City is the most sought-after "fat meat" in this auction, which not only attracted Poly, Yuexiu, Zhonghai, Huafa , China Resources, Guangzhou Chengtou, Guangdong, Zhushi and other "national teams", and even Hutchison Whampoa Properties, a subsidiary of Li Ka-shing, which has "disappeared for a long time" in the mainland, also participated.
At the beginning of this auction, Hutchison Whampoa took the lead in bidding 2.36 billion yuan, but later, Hutchison Whampoa did not follow up to increase the price, so it did not in the bag.
After several days of fierce fighting, China Overseas Land won this hot land with 2.72 billion yuan + 9% residential ownership ratio, and the transaction floor price reached 34500 RMB/㎡, the premium rate is 15%.
Although Li Ka-shing did not succeed in winning the land, the signal that he rarely appeared in the mainland land auction market made the market "imaginative".
Some analysts believe that with Li Ka-shing's previous investment style, investment decisions are very cautious. This time participating in the Guangzhou soil auction may be a test, or it may be a test for the mainland There has been a shift in investment attitudes in the real estate market.
In addition, Xiao Wenxiao, chief analyst of Guangzhou Kerui, said that the sudden appearance of Hutchison Whampoa, which has been absent for a long time, should have seen some opportunities.
It is worth mentioning that recently, Li Ka-shing has also been testing the Vietnamese market. According to Vietnamese media reports, Li Ka-shing's Cheung Kong Industrial Group met with Ho Chi Minh City Mayor Phan Van Mai through Vietnam's leading local company Wanshengfa Group and Japan's ORIX Group to discuss investment matters.
In addition, according to public information, Cheung Kong Group has developed 6 projects in Singapore, including the famous Marina Bay Financial Center in Singapore and a commercial development project in the commercial center of Singapore. One Raffles Quay, luxury residence The Vision and more.
Behind the series of actions, does it indicate that Li Ka-shing is re-examining investment opportunities in Asia?
Li Ka-shing suddenly "changed"
Reviewing Li Ka-shing's investments in the past 10 years is not difficult to find that since 2013, he has continued to sell the mainland The representative assets are:
In 2013, Guangzhou Xicheng Metropolis Plaza and Shanghai Oriental Huijin Center were successively sold, with a return of more than 11.2 billion Hong Kong dollars. ;
In November 2014, Li Ka-shing sold the Chongqing Metropolis project at a price of 3.91 billion yuan;
In October 2016, Cheung Kong Real Estate Co., Ltd. announced that it sold the "Century Plaza" complex in Lujiazui, Shanghai for 20 billion yuan, becoming the largest asset sold by Li Ka-shing in the mainland;
In October 2019, Changshi Group sold the Dalian (real estate) Xigang project to Sunac China at a total transaction price of more than 4 billion yuan;
2021 In July, Cheung Kong Group, a subsidiary of Li Ka-shing, sold part of the equity in the Nancheng Duhui commercial and residential project in Chengdu, Sichuan, and is expected to gain HK$3.8 billion;
September 2021, the old brand Hong Kong businessman-Hysan Xingye (00014.HK) announced that it will acquire Century Plaza in Shanghai, which is owned by the Li Ka-shing family's Cheung Kong Holdings, for 3.5 billion yuan.
According to the 2021 annual report released by CK Hutchison and Cheung Kong Group, the land bank of Cheung Kong Group in Mainland China continued to decline, and it fell further compared with the previous fiscal year. 4 million square feet.
While selling mainland assets, Li Ka-shing continued to bet on Europe and "buying the bottom of the UK", with investment projects covering ports, power, energy, natural gas, medical and other industries. The outside world once felt that Li Ka-shing wanted to "buy the whole of the UK".
With continuous and large-scale investment, the Li Ka-shing family controls almost 30% of the UK's electricity, more than 7% of the UK population's drinking water, and 1/4 of the natural gas supply. In addition, Li Ka-shing is also a major shareholder of the largest telecom operator in the UK, and even the largest chain of bars in the UK is also included in his pocket.
But since 2022, Li Ka-shing seems to have "changed". The first is that in March this year, according to Bloomberg News, the Li Ka-shing family plans to sell its largest power distribution company in the UK, and the transaction valuation may be as high as 15 billion pounds (equivalent to about 126 billion yuan). CKH Holdings said in a joint filing with the Hong Kong stock exchange on March 4 that unnamed parties had expressed interest in acquiring some or all of its stake in UK Power Networks.
Then came the news that the Li Ka-shing family sold their office building in London. On March 11, Changshi announced that it would sell the UBS Group London headquarters building in the core area of ​​the City of London, UK, for a transaction price of 729 million pounds (about 6.033 billion yuan).
Analysts believe that behind Li Ka-shing's gradual retreat, he may have sensed potential risk signals. The first is the monetary policy of the Bank of England. On May 5, local time, the Bank of England raised interest rates by 25 basis points to 1%. Since December last year, the Bank of England has continuouslyRaising interest rates four times is bound to be bad for Li Ka-shing's massive real estate investment. In addition, the situation in Russia and Ukraine has led to bleak economic prospects in Europe, which may also be one of the important considerations for Li Ka-shing to withdraw some assets.
As a businessman, Li Ka-shing once said: It is normal to buy and sell in business, and it is all a decision made based on market and economic conditions.
Smell what?
In April this year, the "2022 Hurun Global Real Estate Entrepreneurs List" released by the Hurun Research Institute showed that the Li Ka-shing family has a net worth of 205 billion yuan, Once again topped the world's richest man in real estate, surpassing his old rival Lee Shau Kee.
As the richest man Li Ka-shing, his every move of investment has always been one of the weather vanes that the outside world is paying close attention to. At present, the market is more concerned about where will the huge amount of cash from selling European assets flow to?
In fact, in the past two years, China's real estate market has undergone a brutal reshuffle. The radical real estate companies with high leverage and high turnover rate once experienced a capital chain crisis. Many leading private real estate companies have disappeared in the land auction market for a long time, and their purchasing power in the land market is not as good as before.
Li Ka-shing, who quit in 2015 when the mainland property market was booming, avoided this wave of real estate cycle adjustments. At the same time, Li Ka-shing's Cheung Kong Group has abundant cash flow, and its leverage ratio has fallen to historically low levels.
According to a report released by UBS Group, after Changshi Group sold a number of assets in June last year, its net debt ratio may have increased from 13.3% in June last year. That's down sharply to 0.3% today. It has dropped sharply from double digits to less than 1%, which is rare in the history of Cheung Kong and even Hong Kong capital.
In addition, according to the latest annual report of CK Hutchison, as of the end of 2021, its consolidated cash and realizable investments totaled HK$161.36 billion, with a net gearing ratio of 20.3%.
Therefore, Li Ka-shing quietly appeared in the local auction market in Guangzhou and instantly became a hot topic in the market. Did he smell the signal of the bottom of the mainland property market?
It is worth mentioning that since April this year, favorable policies for the Chinese real estate market have been frequently implemented. On April 29, 2022, the Political Bureau of the Central Committee of the Communist Party of China held a meeting and emphasized that it is necessary to adhere to the positioning that houses are for living in, not for speculation, support localities to improve real estate policies based on local conditions, support rigid and improved housing needs, and optimize Supervision of pre-sale funds for commercial housing.
In addition, the two committees also voiced support for the reasonable financing needs of real estate companies. According to the news on the website of the China Securities Regulatory Commission on May 4, recently, the China Securities Regulatory Commission held a special meeting and pointed out that it will actively support the bond financing of real estate enterprises, study and expand the scope of pilot REITs for infrastructure, and introduce more policies and measures to support the development of real enterprises in due course.
According to incomplete statistics, since April 29, at least Luoyang in Henan, Dongguan in Guangdong, Zhuzhou in Hunan, Huizhou in Guangdong, Zhongshan in Guangdong, Huangshi in Hubei, Shangrao in Jiangxi and Sichuan 19 cities, including Leshan, Jiangsu Lianyungang, Guangdong Meizhou, Jiangsu Wuxi, Hubei Tianmen, Hunan Yueyang, Jiangxi Ganzhou, Jiangsu Xuzhou, Zhejiang Jiaxing, Jiangsu Zhenjiang, Anhui Ma'anshan, Hunan Changsha, etc., have released or begun to implement new property market policies such as cancellation of purchase restrictions and sales restrictions.
(Originally titled "Heavy Signal?! Li Ka-shing returned to the mainland and appeared in Guangzhou soil auctions again, smelling new business opportunities? Selling European assets to cash out more than 100 billion, and the next Where are you going?")