The interest of the investment community in the music copyright market has remained high, and the resulting alternative investment, such as royalties, has gradually entered the public eye.
Editor's note: This article from the micro-channel public number "Music Finance" (ID: musicbusiness), author of Little Deer College.
The music industry has three troikas – copyright, live performances and artist brokers. The interest of the investment community in the music copyright market has remained high, and the resulting alternative investment, such as royalties, has gradually entered the public eye. So what is the risk of such an investment? How is the attitude of relevant experts?? What are the foreign investment platforms? What issues should I pay attention to when investing? This article has done a corresponding analysis.
This article was compiled from Forbes Entertainment Business Review "Is Now Really The Best Time To Invest In Music Royalties? 》.
There is an investment called "Vanity Investment." The so-called vanity investment means that the investor's first purpose or main purpose is not to profit, but to satisfy one's own vanity, and not to consider the economic stability of the investment object as the main consideration. "Vanity Investor" is not uncommon in the music industry market. It is so small that ordinary music lovers buy an idol-like T-shirt, and big fans can buy a limited edition vinyl, even many people. The subscription fee for the one-year streaming media platform and the entrance fee for the live performance can be counted as "vanity investment" to a certain extent. All of these behaviors are aimed at achieving a goal of binding their "personality" to a particular brand, scene or aesthetic. Spotify, Coachella, Fuji Rock, popular Rapper, and Broadway musicals… When people talk about the time and money invested in these brands, symbols, and musicians, people inevitably strengthen themselves in addition to their own preferences. His own taste of aesthetics and vanity.
However, if your spending on music becomes a traditional investment – ​​extending the timeline and putting money into the artist's entire career, deliberately getting from their royalty stream and other income streams. Return, what will happen? After all, the record company has established a complete business model with this idea, but as a general fan and fans, how much is it feasible? Will this be a "vanity investment"? The most important thing is, can you really make money?
Experience tells us that the music industry and the financial community have always been a less than satisfactory partner. The music industry is backed by creativity and creativity, and creativity has no strict rules and time to follow, which is doomed to be inconsistent with a system that expects sustained returns. However, people's views are changing, and more and more financial companies are forming alternative investment funds, listing independent and emerging artists as the next lucrative asset class, such as BlackRock's Alignment Artist Capital and AGI Partners' Unison Fund.
The continued growth of streaming subscribers is driving the growth of recorded music revenues. The realization of publicly performing royalties has also become a major part of the income of songwriters. Every time a songwriter's work is broadcast to the public in public, the songwriter Will receive the corresponding royalty payment,This also includes royalties from streaming media platforms. The copyright agents such as Concord Music Group and Round Hill Music are acquiring traditional music catalogs for millions of dollars at an unprecedented price. According to BillBoard, the price of a songwriter's work catalog is usually 10 times that of the net song copyright he can get. In recent years, in the seller's market, this multiple has increased to 12 or even 16 times.
Some companies that are doing a royalty investment business are even preparing for the company's listing. Hipgnosis Songs Fund is a music intellectual property investment company founded by senior artist manager Merck Mercuriadis (former clients including Iron Maiden, Elton John, Macy Gray and Mary J. Blige) as co-founder. It is now listed on the London Stock Exchange and is £200 million. F.B.T. Production has a 25% royalty share from Eminem's 2013 music library, while the Royal Exchange on the online royalty market plans to raise $11 million to $50 million to stream the revenue stream directly to Nasdaq.
But it's interesting to note that Hipgnosis and the Royal Exchange offer fundamentally contradictory arguments about why you should invest in music royalty. Hipgnosis submitted an "intention-to-float" application to the London Stock Exchange (LSE), claiming that royalties generate attractive returns because they are driven by "consumer spending and listening habits and have nothing to do with capital markets. ". In other words, investing in songs is a long-term investment, especially with the development of streaming media, and their profit potential can be extended to decades instead of years.
In contrast, the Royal Exchange relies heavily on capital market trends to validate and consolidate the company's business. The company's investor profile and Facebook ads both cited Goldman's recent report, which showed that paid music streaming revenues will grow by 833% by 2030 (the industry's already responsible responsibilities are inaccurate and self-serviced) tendency). Royalty Exchange wrote in an advertisement: "After 15 years of downturn, the development of streaming media has brought new life to the music industry and directly benefited the royalty owners." Another ad wrote: "We believe that the music industry is on the verge of a huge bull market – start investing in royalty today!"
The position of the Royal Exchange is justified. With the launch of Spotify, Amazon Echo and other smart audio equipment in the music collarThe role of the domain is growing, and the music business will be closely linked to technology stocks. In addition, two of the top three record companies are subsidiaries of listed companies (Universal Music Group under Vivendi and Sony Music Entertainment under Sony); Warner Music Group is a privately held company.
But there is a confusing concept here: Buying Spotify stocks is not the same as buying stocks of songs that Spotify happens to buy. Although streaming media is the main form of music consumption, music is ultimately a copyright-related business. To profit from it depends on the active search for licensing opportunities, rather than passive observation of the public market.
In addition, Hipgnosis and Royalty Exchange are completely transparent and honest about the risks of investing in music IP. Hipgnosis claims in the prospectus that songs are difficult to price because "in a fast-changing industry, valuation methods are inherently traceable, but it is still difficult to produce a fixed pattern." Royalty Exchange also issued a warning on its website. It is said that the investment in the Royal Flow public offering is only suitable for those who can afford the full investment loss.
All this information deserves all investors to be vigilant.
Technology has democratized music investment opportunities
In addition to music, entrepreneurs from sports to food to precious metals are trying to launch their own "royalty-related" trading markets and public offerings, all of which are advocating the same benefits, such as making investments more diversified. For example, let fans have the opportunity to own shares of their favorite brands or athletes. However, most of these projects failed to deliver on their initial commitments. In fact, one of the most funded projects, the athlete stock exchange Fantex, was shut down in April 2017 due to low trading volume. (Fantex raised more than $70 million from multiple rounds of investors including former New York Stock Exchange president Duncan Niederauer).
But this did not prevent similar founders from getting involved in the industry. Most of these founders tried to turn the enthusiasm for music into cryptocurrencies, such as vezt, and published the royalties of Drake's song "Jodeci Freestyle" on the blockchain with the idea of ​​IPO (ISO—Initial Song Offering); Choon, The goal is to tokenize the entire music streaming and music discovery experience; startups like UJO Music, Fanmob and Singular DTV are translating the artists themselves.
Royalty Exchange does not integrate any cryptocurrency functionality into its platform, but focuses on simplifying the royalty sales process for investors and artists alike. RoyaltyExchange Smith, the CEO of Exchange, said that most of the artists we work with are the power behind the superstar musicians. There are countless creators in this industry who support top artists, but the former is far less than the latter. Opportunities for economic and capital accumulation.
However, if royalties are so valuable as these companies claim, why should copyright owners sell them? The reality is that many independent musicians and artists need money to buy new equipment or software, plan tours, record MVs, or launch other projects to drive careers. One of the goals of Royalty Exchange is to help these artists use their old work to develop new projects through a more flexible approach to cooperation than traditional copyright agents or brand contracts.
Smith said: "Having great value doesn't mean you can't get cash flow that has a major impact on your current life, even if it seems to be out of proportion to the overall value. If you have $500,000 today, This may allow you to avoid a bad reluctant copyright agency transaction that may put you under pressure to hand over your work within the specified time. But we don't do these transactions, we only focus on existing works. , not future copyright."
What kind of song royalty has investment value in the streaming media era?
For artists, it is undoubtedly the perfect time to get royalties without conditions attached, but is it profitable for investors to trade in royalties?
Hipgnosis founder Mercuriadis believes the answer is yes – today's financial industry's financial turning point is irreversible, and those who invest in royalties today will see unparalleled returns. These assets will always be great investments, and they will continue to generate reliable income, but you will never have the opportunity to buy them at this price.
However, in the streaming age, not all music libraries are recognized by the market—the Royal Exchange has a lot of data to prove this. Every auction on the platform will have a historical, detailed earnings report. Through these reports, we can know what kind of music library can generate more stable income in the streaming media era.
For example, songwriter Anthony Keith Lawson recently sold all his public performance royalties in the Akon 2006 hot list "Don't Matter" at the Royal Exchange. Lawson's royalty has been divided over the past 12 months, resulting in a royalty of $2302. The final transaction price is $28,000, which is 12 times the bullish price. However, Lawson's royalty share has generated revenues over the past few years.Far from reaching the steady, stable picture that investors want to see: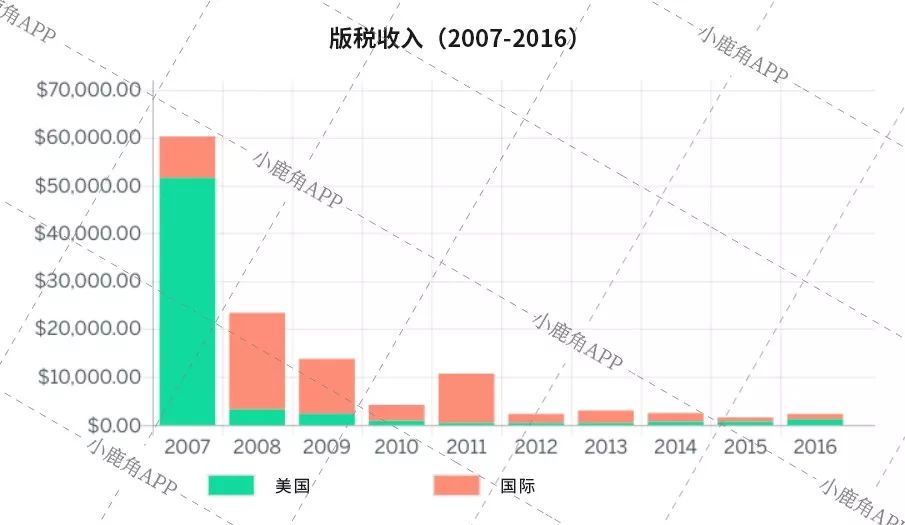 Data Source: Royal Exchange, organized by Little Deer College
In fact, this trend also reflects some of the other popular Hip-hop assets auctioned on the Royal Exchange, such as the author Thomas Fingeren's royalty in the Black Eyed Peas 2011 single "Just Can't Get Enough" Divided into the royalties of the producer Marquinarius "Sanchez" Holmes in the music library. The royalties of these assets tend to soar for a year (usually when the most commercially valuable songs in the library are released) and then continue to decline. These assets are not "evergreen" investments.
Royalty Exchange has a lot of such royalty deals, which are more beneficial to artists than investors. For example, songwriters Floyd E. Bently III and Christopher Dotson recently received $30,000 and $40,000 each to trade their royalties in Chris Brown's single "Party" – even if the song was in 2016 Released in December, it only received a royalty of $544 at the time of the auction, and did not prove its worth in the market. As another example, an investor spent 17 times more money than a song's 12-month royalty to buy the drummer Thomas "Coke" Escovedo's royalty in Santana's No One To Depend On, even though this part of the royalty Since 2008, it has been maintaining a downward trend.
If a hit song is not the best investment, what type of music library is good? The answer may be in movies and on television. For example, voice actor and television music producer Christopher Arias sold his entire public performance royalty in the theme song "In Touch with Dr. Charles Stanley". Investors only pay five times the cost of the asset, but the stability and continuity of their royalty income is more attractive than the popular song library: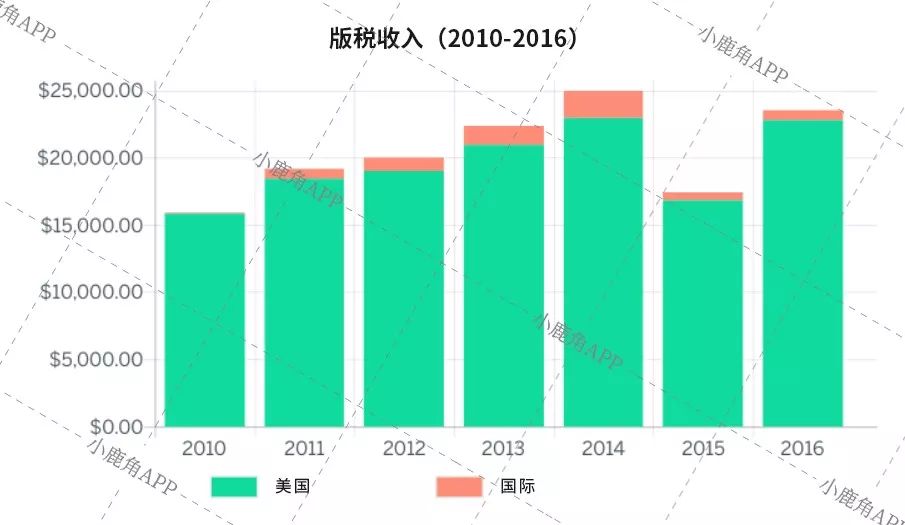 Other film-related auctions, such as some film and television R&B and Hip-hop's original soundtracks, show a more stable revenue model. In fact, it is not uncommon for a songwriter who specializes in the theme song of a TV show to earn a million dollar royalty by writing a song.
(Note: The cover image is from pexels.com)