Xiaomi's high-end impact must have an energy-producing and stunning product.
Editor's note: This article comes from WeChat public account "Wise Finance" (ID: onecaijing) a >, Author Zhang Nan, responsible for editing Xia Yumeng. Reprinted with permission. p>
3999 yuan, 1999 yuan. P>
At the time of 1999 yuan from the release of Xiaomi 1, Xiaomi finally ushered in the high-end era at the 3999 yuan stall. p>
This is Xiaomi's most punctual press conference to date, and also the press conference with the highest price jump so far. p>
Affected by the epidemic, the launch of the Xiaomi Mi 10 series was changed to online. At 2 pm, Xiaomi's founder Lei Jun came on stage. He first described his feelings since the epidemic in Wuhan and the help Xiaomi provided for the epidemic in Wuhan. P>
"Life can be affected by the epidemic, but we cannot be defeated by the epidemic." Lei Jun said with a choked voice. p>
It is reported that Xiaomi Mi 10 uses Qualcomm Snapdragon 865 processor, 90Hz flow rate screen, 4780 mAh battery, the price is 8 + 128G from 3999 yuan, Xiaomi 10 Pro 8 + 256 starts from 4999 yuan, February 14. For sale. p>
One, Xiaomi that can't get up h2>
"Xiaomi officially hit high-end phones, the first one is Xiaomi 10." Lei Jun said in a firm tone. p>
Looking back in the past, looking at the development history of Xiaomi phones, it is rare to see high-end models. Even the Xiaomi 9 Pro 5G version is only available for 3699 yuan. p>
The high-end has always been a hurdle in Xiaomi's mind, and it has also been a hurdle that it wants to impact the high-end market. As early as in the era of Xiaomi MIX, Xiaomi wanted to contribute to the high-end market, but the final effect was unsatisfactory. P>
Shandong millet dealer Xu Mingming told "Wise Finance" that Xiaomi MIX was originally intended to impact high-end models. At that time, Redmi was not yet independent, so it formed a low-end Redmi series, a mid-range Xiaomi digital series, Xiaomi MIX series. p>
"Last year, the sales of MIX 3 were not as good as the previous two generations, and Xiaomi has regressed." Xu Mingming intuitively felt that the sales volume of Xiaomi MIX 3 has been far lower than that of the first and second generation MIX. At the same time, Xiaomi MIX is the price Straight into the 4000-5000 stalls, the minimum distribution price is also above 3,000 yuan stall. P>
Although at the press conference, Lei Jun said that Xiaomi's sales volume rose 31.1% in the fourth quarter of 2019, but in the overall mobile phone sales in 2019, only Huawei was on the rise, and Xiaomi had a negative growth. p>
p>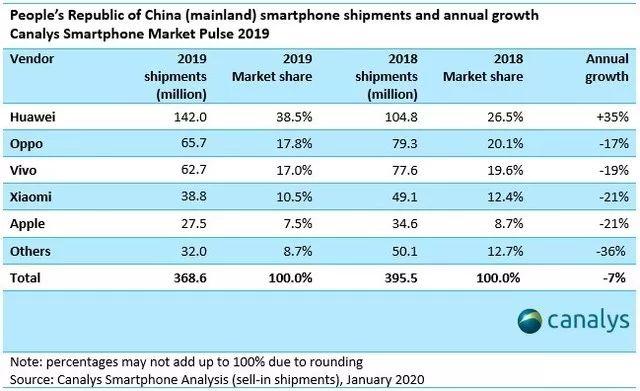 < / p>
Pan Youshang has always been a must-have item in Xiaomi's press conference, but now it seems that the friend merchants whom it has been piling up for many years have already left Xiaomi far away and rushed to the top. p>
As early as the Xiaomi 9 era, some Xiaomi executives wanted to increase the price of the machine to break through the 3,000 yuan stall, but were eventually convinced by Lei Jun to keep the 2999 yuan stall. P>
But after a year, Xiaomi 9's sales are also not satisfactory. "A lot of people think that there is no innovation in Xiaomi. From the 8th generation of Xiaomi, Apple iPhone X has been copied, and Xiaomi 9 has followed the trend and changed the transformation type. Everyone is already fatigued." Xu Mingming said. P>
Only in 2019, Xu Mingming's store sold 50,000 Xiaomi mobile phones, and about 100 mobile phones were sold every day. "This includes the quantity distributed to our county store. Our store sells forty or fifty units a day. The sales volume is really not as good as other brands." P>
Not only did Xu Mingming find the sales bleak, but also Xiaomi dealer Wu Wei, who is in Hebei, felt that Xiaomi's mobile phones will become increasingly difficult to sell in 2019. Instead, the most profitable products are Xiaomi peripheral products. p>
"The situation in 18 years is slightly better than in 19 years. Last year, my store only sold 70 to 80 units a day, all pointing to peripheral products and selling Huawei and OV to make money." Wu Wei told us that he had already His two stores were transformed into Huawei offline stores, because Xiaomi can hardly make any money. P>
Obviously, since Xiaomi went on the market, it is slowly changing its thinking strategy and play style. If in the past, Xiaomi might have been able to create a product that made people look good and made the public pay for it, but now Xiaomi may be thinking about how to make its financial report look better. p>
"I think Xiaomi's most amazing product is the MIX generation. The full screen is really big. I played for a few days at the time, so shocked." Xu Mingming couldn't restrain his heart when he just got the MIX generation. Excited, he feels that Xiaomi can finally make a product that leads the industry trend. p>
Xu Mingming said to us that he feels that Xiaomi has changed in the past few years. He wants to rush to the high end, but he has no strength to rush, it is difficult for people to feel that Xiaomi is rushing to the high end.