The listing status was cancelled and many investors were demanding debt.
Editor's note: This article is from WeChat public account " Radar Finance " (ID: leidacj ), author: long sail, editor: deep sea. p>
On February 14, Huiyuan Juice announced that the company had received a letter from the Stock Exchange stating that. As the trading of the company's securities on the Stock Exchange has been suspended since April 3, 2018, and the company cannot fulfill the resumption conditions and resume securities trading on the Stock Exchange by January 31, 2020, the Listing Committee of the Stock Exchange under the Listing Rules Article 6.01A decides to cancel the company's listing status ("Delisting Decision"). p>
Previously on February 12, Huiyuan Juice announced that the company's founder, Zhu Xinli, had resigned as chairman, executive director, authorized representative, and chairman of the strategy and development committee of the company. At the same time, Zhu Xinli's daughter Zhu Shengqin resigned as an executive director of the company. This means that both left the board of directors of Huiyuan Juice. p>
Huiyuan and Zhu Xinli are facing difficulties. Due to more than 4 billion illegal loans, trading was suspended for more than 20 months. In addition, Zhu Xinli was listed by the court as a breach of trust, commonly known as "Lao Lai." p>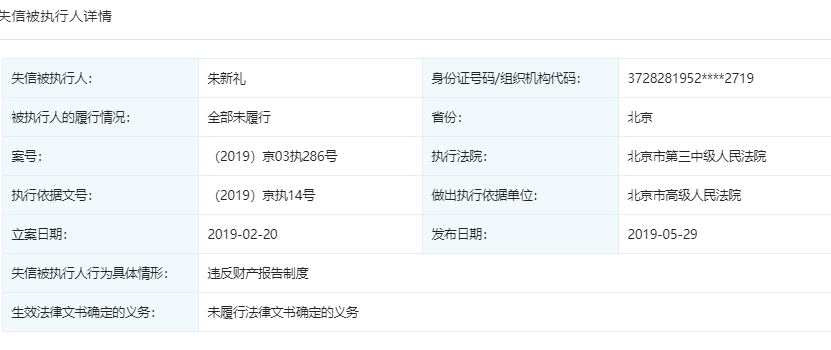 p>
It is worth mentioning that Huiyuan is closely related to the Pioneer Department. Huiyuan's predicament also weighed on the vanguard. Some voices once believed that Huiyuan's overdue caused the vanguard P2P platform to be toppled, and Huiyuan denied this. At present, several P2P investors are calling for Huiyuan to pay back the money. p>
The stock exchange canceled Huiyuan's listing status, Zhu Xinli's father and daughter withdrew from Huiyuan, facing many investors claiming debts. A generation of national drinks should be cool? p>
Coca-Cola's "Sell Yourself" Consecutive Losses After Failed strong>
h3>

In 1992, Zhu Xinli quit his job as a civil servant and went to a cannery to become the factory director. p>

After investigation, Zhu Xinli decided to transform into concentrated fruit juice, which became popular and Huiyuan became a national fruit juice. p>

During the expansion process, Zhu Xinli found that although China has the world's largest fruit output and the largest variety, the fruit pulp in China's fruit juice industry is highly dependent on imports, and the raw pulp produced by Huiyuan Fruit Juice is mostly imported from abroad. In the entire industry, the production of fruit pulp is very small, and the bottlenecks in the development of the industry actually exist more.In upstream industries. p>

Zhu Xinli believes that if Huiyuan is to grow quickly, it is not enough to rely on its own accumulation. To this end, Huiyuan needs like-minded partners. p>

Zhu Xinli's awareness has almost determined Huiyuan's future destiny. p>

Huiyuan's first partner was Delong. The Delong system at the time was described as an "unsinkable aircraft carrier." p>

In 2001, Huiyuan and Delong formed a joint venture, and Huiyuan transferred 51% of the controlling interest. But soon Zhu Xinli found something wrong. By the end of 2002, Delong had borrowed RMB 380 million from Huiyuan. p>

Zhu Xinli believes that the cooperation between Huiyuan and Delong will only be dragged into the water, and he will break up with Delong. Although Delong was unwilling, Zhu Xinli's determination was finalized, and he finally achieved a split on New Year's Day in 2003. p>

In April 2004, Deron's myth was shattered. The founder fled to Myanmar and returned to China for trial. Huiyuan escaped because of the earlier cutting. p>

In 2005, Zhu Xinli chose Unity as his partner. On March 21 of that year, Huiyuan and Uniform signed an agreement to form a joint venture. But for various reasons, they finally broke up. p>

Huiyuan then passed on French food giant Danone, a move that helped Huiyuan go public. In February 2007, Huiyuan's public offering of funds with a fundraising scale of HK $ 2.4 billion became the largest IPO on the Hong Kong Stock Exchange since 2007. p>

Relying on the funds raised from the IPO, Zhu Xinli laid out nine factories in Shandong Leling, Jilin Shulan, and Jinzhou, Liaoning. p>

In September 2008, Huiyuan announced that Coca-Cola acquired Huiyuan Juice in full with a 200% premium at HK $ 12.20 per share and a total price of HK $ 17.92 billion. The information has been submitted to the Ministry of Commerce for approval. p>

Zhu Xinli looks forward to entering the upstream juice industry after the completion of the acquisition. p>

But the acquisition has been widely criticized by netizens. In March 2009, the Ministry of Commerce suspended the acquisition case in accordance with the "Anti-Monopoly Law", and Huiyuan's "selling" Coca-Cola failed. p>

In hindsight, Zhu Xinli does not seem to be ready for a failed acquisition. Huiyuan completely abolished the sales team, 21 provincial managers in 21 sales regions across the country basically left, and the sales staff also decreased from 3926 to only 1160. p>

At the same time, Huiyuan's march to the upstream of the juice continues. The construction of "Huiyuan Orchard" and "Fruit Tree Bank" in many areas alone cost 2 billion yuan in two months. p>

Huiyuan suffered a loss in 2009. Since then, Huiyuan Juice has deducted non-net profit losses for many years. Huiyuan has no choice but to maintain it by borrowing money. As of the end of 2017, Huiyuan Juice's total liabilities were 11.4 billion yuan. p>

In addition, Huiyuan also continued to sell assets. Among them, the sale of joint ventures in 2012 accounted for 90 million, and in 2013, the two factories in Chengdu and Shanghai were sold for 650 million. From 2014 to 2016, HuiyuanThere are actions to sell assets. p>

Lending money from Pioneering P2P institutions strong> h3>

Zhu Xinli was worried about borrowing money. In 2012, the P2P platform became a "pig on the tuyere" and entered a full-blown period. At the end of the year, there were 2,000 P2P platforms, of which the Pioneer Department was quite noticeable in the P2P wave. p>

Coincidentally, Pioneer's helm Zhang Zhenxin's office in Hong Kong is located in Phase II of Pacific Place, Hong Kong, and there is also the Huiyuan Hong Kong office on the same floor. p>

Same as the previous choice, Zhu Xinli once again chose to embrace capital. In April 2013, Huiyuan and Pioneer Group jointly established Huiyuan Financial Holdings Limited in Hong Kong. In addition, the two sides jointly invested in Four Seasons Source Agricultural Technology (Beijing) Co., Ltd. After the equity penetration, Cai Xikai, the largest shareholder, holds 37.26%, and Beijing Huiyuan Beverage & Food Group Co., Ltd., the second largest shareholder, holds 16.74%. At present, this part of the equity has been frozen by the court, and the reason for the freeze is unknown. Wangxin Group's shareholding ratio is 2.61%. p>

In October 2014, Xianxin Group's Netcom completed a series A financing, and Zhu Xinli was one of the investors. p>

Beijing Huiyuan Beverage & Food Group Co., Ltd., a subsidiary of Huiyuan Group, has taken a stake in Pioneer's Zhongxin (Heilongjiang) Internet Microfinance Co., Ltd., which was established in October 2016 with a subscription amount of 10 million yuan and a 2% stake. p>

In addition to mutual investment, Huiyuan also borrowed a lot of funds from Pioneer P2P platforms. p>

On July 4, 2019, Netcom was exposed to benign withdrawal from the P2P business, with principal and interest to be redeemed reaching 6.25 billion yuan. p>

On July 5, Wangxin Group, a subsidiary of Pioneer Group, issued a "Explanation on the current situation of Wangxin Group" on its official WeChat account, stating: "Because of the large amount of corporate loans, it is not possible to repay in time, and some borrowers have maliciously escaped debts And other reasons, leading to overdue conditions for some of the Group's products. " P>

Many online investors immediately left messages in the Weibo comment area posted by Huiyuan Juice, asking Huiyuan Juice to repay it to Wangxin Group. In addition, it is reported that the Huiyuan Group overdue, which caused Netcom to be overwhelmed. p>

p>

Prism quoted people familiar with the matter as saying that starting in June 2019, the Huiyuan Group's borrowing projects began to be overdue. Prior to this, Pioneer Group had paid hundreds of millions in compensation. At present, Huiyuan Group's borrowing scale at Pioneer may be 2 billion yuan.