Apple's culture of confidentiality has a long history , author: Phoenix network technology channel. p>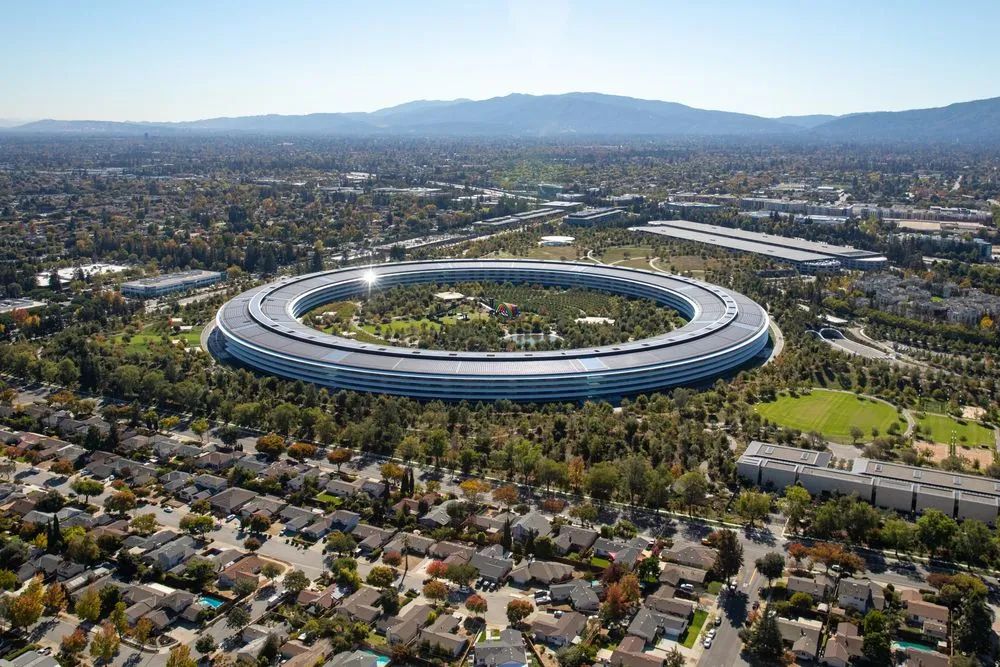 p>
Apple's Apple Park headquarters overhead shot p> Since the Steve Jobs era, Apple has kept the products under development strictly confidential, but these privacy measures are deployed at the company.
Apple is now forced to work from home due to the epidemic, can it be kept at home without affecting the progress of new products? Are employees adapting? Bloomberg News today explored this. p>
Here is the full text of the article: strong> p>
Sitting on the 175-acre California Cupertino campus, with dozens of offices around the world, Apple doesn't want to be a home office company. But three weeks ago, everything changed because of the new coronary pneumonia pandemic. span> p> In early March, as San Francisco Bay Area officials issued a "home order", Apple closed many facilities at Apple Park's new headquarters and the Infinite Loop Old Park. Apple later told employees that special approval was required to enter the office, but the ID card was still valid.
A test of Apple 's privacy culture strong> h2>

The shift from office culture to telecommuting is a challenge for a company that values ​​hardware and has a sense of privacy. In the past, Apple went to great lengths to prevent a new product from leaking until the company was ready to release it publicly. Apple employees' work areas are protected by security doors and windows are tightly covered. Apple requires employees to lock their products in lockers and bar discussions about their work, not even spouses. p>

According to an anonymous Apple employee, the current home office makes it difficult for some people to adapt, and the hardware development has encountered some small setbacks. span> p>

Most of Apple's hardware products are designed and developed in Apple Park or surrounding office buildings in Cupertino, California and Sunnyvale, California. People familiar with the matter said that for some jobs that require hands-on development, some Silicon Valley hardware engineers are allowed to enter the office. In addition, Apple has also been in San Diego, California, Italy, Germany, Asia and other severely affected areas.Have a hardware engineer. However, Apple's restrictions in these regions are far more stringent. Apple has extended its telecommuting policy to at least April 5, depending on where the office is located. span> p>

Apple's notice to employees states: "Whether you work at home or in the office, it is always important to keep the confidentiality of confidential work. Teleworking must be just as careful and always keep unused confidential items safely And files. " Span> p>

Still developing new products and introducing special policies strong> h2> However, Apple has not stopped the pace of developing future devices. Currently, Apple is developing new versions of HomePod smart speakers, Apple TV set-top boxes, MacBook Pro, low-cost iPads, Apple Watch and iMac, which will be released as soon as this year. Apple still plans to release the next flagship iPhone in the normal fall window.

San Francisco Bay Area counties announced Monday that they will extend the "home order" until May 1. This means that these restrictions on Apple will last for at least another month, which is a critical period for Apple, and the company often finalizes products released later this year and next year. p>


Apple CEO Cook p> "Apple realizes that many people in the world are using their products and they need to ensure product features and upgrades. They are balancing product development with employees' "Safe," said Gene Munster, a senior Apple analyst and co-founder of venture capital firm Loup Ventures. "Apple reminds us that they are continuing to work with small products announced recently."

Early March, Apple took an unconventional move and began allowing engineers to take home earlier versions of future devices so that engineers can continue to work during the "cities closure." Previously, Apple only allowed certain employees to take home devices that were close to design, such as the iPhone. p> Generally speaking, Apple is a company based on the on-site office model. For example, designers gather around dining tables to imagine future products. Hardware experts design and test equipment together, which are difficult or impossible to achieve via the Internet.

Vice President approval strong> h2> For Apple employees, getting future products home requiresWith the approval of the vice president of your department. Occasionally, the list of employees who develop future devices at home is reviewed by Apple senior vice presidents. Apple's senior vice president is a management team led by Apple CEO Tim Cook.

As part of the Home Office Directive, Apple has severely limited the number of employees who can bring future versions of software home for development, including the next-generation iOS system running on the iPhone and iPad. As with hardware, employees developing unreleased software such as iOS 14 need approval from the department's top executive to take the development home. p>

Some Apple software engineers have privately complained about the difficulty of working from home, including easy distractions and concerns about the ongoing epidemic. However, the software Apple plans to release later this year is still in normal progress, and the company has announced that it will hold an online version of the Global Developers Conference in June. p>

Apple's conferences are still ongoing through mobile phones and video conferences. Apple requires employees to communicate using its own FaceTime video calling service, corporate collaboration application Slack, and Cisco's collaboration products Jabber or WebEx for confidentiality. For file sharing, Apple restricts employees' use of autonomous productivity suites and Quip and Box, Salesforce's content collaboration platforms. p> Apple also advised employees to set up ergonomic work settings at home, compensate employees for purchasing desks and computer monitors, and responded to employees' concerns about the epidemic.

Do not forget to keep the internal competition strong> h2>

Earlier this month, Apple has closed all 458 retail stores outside Greater China. Apple held retail store employee meetings online and reduced the frequency of meetings. Deirdre O'Brien, Apple 's senior vice president of human and retail store affairs, has also been sending audio recorded by her at home to employees. Last week, she told employees that some employees and their families were infected with new crown pneumonia, and reiterated that retail stores will reopen based on actual conditions, depending on the progress of the local epidemic, which may be as early as early April. p> To relax during the depressed epidemic, Apple also hosted a contest among employees to share photos of them working from home. The final article of the contest guidelines reads: "If you are doing confidential work, please do not take photos."