In the fall of 2018, the first undergraduate major in artificial intelligence in the United States was established at Carnegie Mellon University, and the first batch of 18 undergraduates was enrolled. In May of this year, two of the students are about to graduate, becoming the first batch of undergraduates in artificial intelligence in the United States.
div> In a recent interview with a reporter from www.thepaper.cn, the two graduates shared their learning experience in artificial intelligence. Among them, one joined the Silicon Valley star self-driving company, and the other chose to start a business, intending to use artificial intelligence technology to create a "self-operated" restaurant.
div> In recent years, universities around the world have successively opened artificial intelligence programs. At the end of March 2019, artificial intelligence is also officially included in the undergraduate majors of Chinese universities. 35 universities including Shanghai Jiaotong University, Tongji University, Nanjing University, and Zhejiang University were awarded the first batch of qualifications for building artificial intelligence undergraduate programs.
div> As Reid Simmons, the head of the artificial intelligence program at Carnegie Mellon University, said, the artificial intelligence major is still in the development stage, and the market for bachelor 's degrees in artificial intelligence is just beginning to be tested Many students will hesitate when choosing a major. But he said, "We firmly believe that combining the strong core knowledge of computer science and the specialization of artificial intelligence, our students will be able to find work anywhere."
div> Reid According to Simmons, as of now, 96 students have been enrolled in Carnegie Mellon University's undergraduate major in artificial intelligence.
div> In the CSrankings of the global computer science professional rankings updated in December 2019, Carnegie Mellon University ranked first in the comprehensive ranking of professional rankings.
div> Before the establishment of the undergraduate major in artificial intelligence, Shashank Ojha and Alexander Litzenberger were enrolled in the School of Computer Science at Carnegie Mellon University. Out of interest in artificial intelligence, the two transferred to a new major in their junior year.
div> After two years of study, Litzenberger summed up some learning experiences in artificial intelligence. He believes that "accumulating a strong foundation in programming, probability and statistics is very important for undergraduate artificial intelligence professional learning." In addition, in-depth understanding of some other fields is required.
div>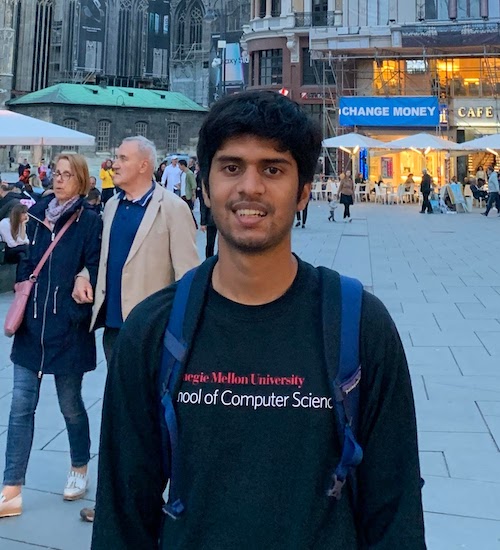 div >
Shashank Ojha span>

div> In Shashank Ojha 's view, the core computer science curriculum is In-depth study of the necessary foundation of artificial intelligence. He took a dual degree in computer science and artificial intelligence, and admitted that without additional algorithms and systems courses, his knowledge of artificial intelligence is incomplete.

div> Talking about the direction of employment, Shashank Ojha said that much of the work of artificial intelligence has focused on research in the past, but it is also very beneficial to transform research into viable consumer products. He chose to join Nuro, a popular self-driving company, focusing on short-distance unmanned cargo delivery. The company's co-founder is also a robot alumni at Carnegie Mellon University. Shashank Ojha will serve as a planning and control engineer, handling external information such as roads, other vehicle status, routes and speeds in unmanned distribution.

div> Another graduate Alexander Litzenberger 's ideas coincided with him, and he also chose to apply the knowledge of artificial intelligence he learned to industry. Litzenberger and friends co-founded an artificial intelligence company called agot.ai, which is using artificial intelligence technology to provide computer vision solutions for restaurants. He introduced that their technology also includes automatically calling customers, ensuring the correct food supply, determining which links are slow, and providing nutrition reports.

div>
div>
Alexander Litzenberger span>

div> Litzenberger told surging journalists that entrepreneurship" is an effective way to have a positive impact on the world "and a good way to pursue his interests and apply them to practical problems.

div> For the boom in artificial intelligence majors in recent years, both students suggested that universities setting up artificial intelligence majors should provide a large variety of courses for students to study. According to Litzenberger, there are a number of computer science colleges where he works One hundred faculty members, as well as three complete departments-Robotics Institute, Machine Learning Department and Language Technology Institute, are generally in the category of artificial intelligence. These departments can provide students with a large number of courses in many sub-fields of artificial intelligence, and Advanced courses in certain key areas. Div>