div> In the early hours of May 23, some Samsung mobile phone users encountered black screens and large-scale restart issues. Samsung responded that the company has received feedback from some users on system problems and is actively investigating the reasons and providing corresponding solutions as soon as possible.
div> In the early hours of the day, a large number of Samsung mobile phone users posted on Weibo that their Samsung devices encountered black screens and restart issues. Judging from the pictures exposed by netizens, Samsung mobile phones have a black screen with several lines of yellow, red and blue garbled characters. The models include Samsung S8, S9, S10 and even S20 series.
div>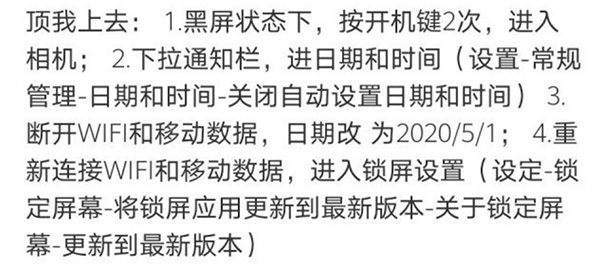 div> Not all Samsung users are successful. Many Samsung mobile phone users said that their phones are still in a normal state, including S9 and S10 users.
div> Some netizens first diagnosed Samsung 's large-scale system problem this time because the lock screen and calendar app were not updated, resulting in a bug that triggered leap April, and pointed out that this is A unique problem in Samsung China.
div> The solutions currently given by netizens are: 1. Find a way to update the lock screen online (the update process is settings-lock screen-about lock screen-update); 2 , The time is adjusted to be outside leap April; 3. Change the lock screen mode to no lock screen. You can choose one of the three options to avoid system problems.
div> For Samsung mobile phone users who have already experienced system problems, the solution is to restart the camera, press the Power button three times to enter the camera, then pull down the status bar menu to enter the settings, Modify the date and time again, you can restart normally. If you can't enter the camera, you can call and connect when you restart, pull down the menu to enter the setting, and modify the time. div>