In-depth study of investment topics and investment trends
Editor's note: This article is from the WeChat public account " Warburg Pincus "(ID: warburgpincus) , author: Warburg Pincus.

On September 15, Wei Zhen, co-president of Warburg Pincus Investment China, was invited to attend the "Consumer Industry Themed Investment Strategy Sharing Conference" hosted by China Insurance Asset Management Association and delivered an important keynote speech at the meeting.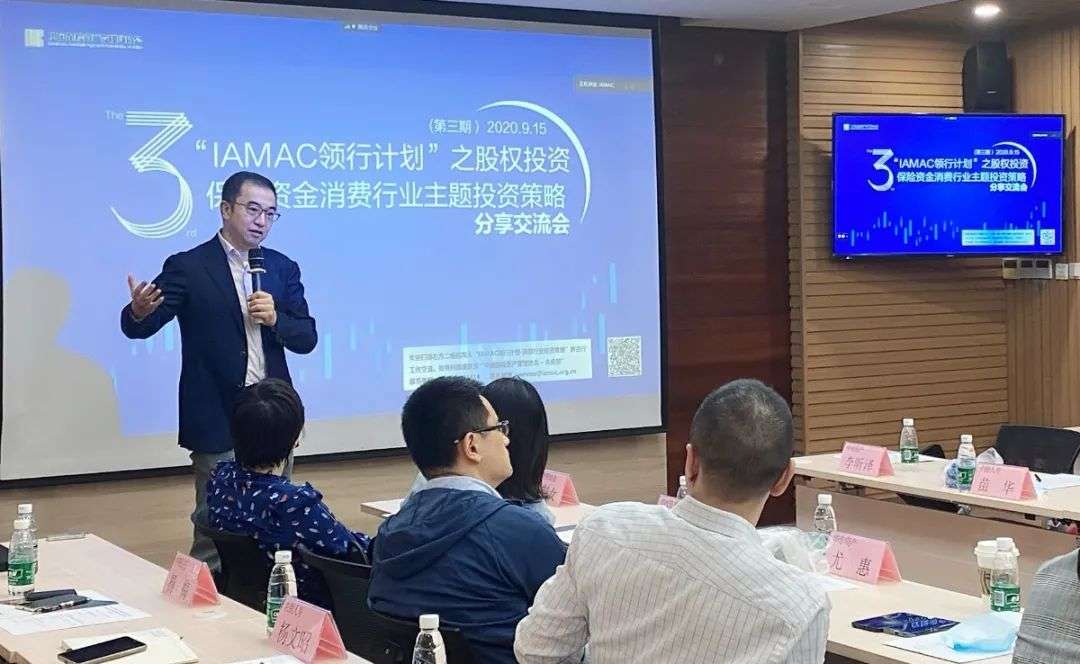 The rise of the new middle class has created new opportunities for the growth of domestic brands. In the future, as consumers increase their recognition of domestic brands and the strength of domestic supply chains, the share of domestic brands will increase rapidly, and a number of outstanding brands will be born in China in the next 5-10 years.
Wei Zhen, Co-President of Warburg Pincus Investment China
This sharing and exchange meeting is the third phase of equity investment in the "IAMAC Leading Program" of the Insurance Asset Management Association of China. The association hopes to gather investment, industry, Think tanks and other expertsStrength to further enhance industry capabilities, guide industry innovation, and promote industry development. The reason why this exchange will focus on investment in the consumer industry is that consumption has become one of the most important economic driving forces in the post-epidemic era, and investment is an indispensable backbone for the development of the consumer industry.
Wei Zhen said that in the past five years, China has become the fastest growing consumer market among the world's major economies. In 2020, China's total retail sales of consumer goods is expected to surpass the United States, and China will become the world's largest consumer economy. In the future, under the new development pattern of "dual cycles", China's consumer market still has huge development potential.
In this speech, Wei Zhen focused on analyzing the development trend of China's consumer industry from the perspectives of consumer group differentiation, channel changes, and technological infrastructure improvement, and used Perfect Diary, Yanli Four companies, namely, Master Education, and Jizhijia, shared the investment experience and experience of Warburg Pincus in the consumer subdivisions such as products/brands, channels, services, and supply chains.
First, in terms of consumer groups, the growth of the middle class has created new opportunities for the birth of domestic brands, and the social needs of singles have given birth to new high-growth brands.
Similar to the United States and Japan, the rapid economic growth has nurtured a large number of middle-class individuals with spending power and independent consciousness in China. This group has a higher and higher pursuit of life. At the same time, due to work pressure and lack of accompanying family members, they are relatively more anxious, so they will increasingly shift from material consumption to spiritual consumption. This means that brands with value and tonality will better meet the spiritual consumption needs of this type of group. In the future, as consumers increase their recognition of domestic brands and the strength of domestic supply chains, the share of domestic brands will expand rapidly, and a number of outstanding brands will be born in China in the next 5-10 years.
For singles, social needs are an important factor in consumption. In recent years, brands with social attributes have grown very fast in various categories such as tea and hot pot, and customer stickiness is also high. One of the main reasons is that these brands have upgraded their spirit and high tone, users can take photos and share, and show themselves in consumption.
Second, in terms of channels, online traffic has shown a trend of decentralization and decentralization, while convenience stores and shopping centers have becomeOffline traffic gathering place.
With Douyin, Kaishou is rapidly increasing, and the online traffic terminal is showing a trend of decentralization and decentralization. This change increases the richness of online retail channels and promotes the new The rise of e-commerce giants: On the one hand, Douyin and Kuaishou completed the closed loop of e-commerce, realizing the entire chain from traffic to transaction Coverage; on the other hand, Pinduoduo has achieved social fission by relying on WeChat traffic, and has rapidly grown into an e-commerce giant with a turnover of trillions.
In terms of offline channels, with China's per capita GDP exceeding US$10,000, people's demand for convenience has gradually surpassed the demand for cost performance, and the convenience store industry has ushered in explosive growth. In addition, as a one-stop comprehensive experience center for eating, drinking and playing, shopping malls have become the main places for offline experience and important positions for brands.
Wei Zhen pointed out that these changes have directly promoted the rise of the DTC (Direct to Consumer) brand. Brands can use social media to plant grass marketing, and build their own private domain traffic pool on this basis, so as to truly convert consumers who plant grass into their own users. Coupled with China's well-developed e-commerce system, brand owners no longer need to develop multi-level distributors, so they will have more room to benefit consumers and provide more cost-effective products. Compared with traditional brands, DTC brands have the advantages of cost-effectiveness and quick response. At the same time, with the help of online and offline channels to connect and diversify, the development of the entire industry has reached a new level. Today, these emerging brands can reach annual sales of 1 billion yuan in a shorter time.
Third, the improvement of technological infrastructure has greatly improved the efficiency of the entire industrial chain.
In the past five years, the prices of cache servers, storage and computing servers have all fallen by more than half, which has made data transmission and storage faster and cheaper. In addition, big data, cloud computing, regionalBlockchain, AI and machine learning technologies are also gradually mature. Take Huapin's invested company Ant Group as an example. It uses the underlying Alibaba Cloud, big data and other infrastructures, and built infrastructure based on Alipay as the center, credit, wealth management, and insurance are The main section radiates the all-round layout of travel, life services, and government services, which truly creates convenience for consumers.
Wei Zhen said that Warburg Pincus Investment has always taken a long-term perspective in the five major areas of consumption, financial services, medical health, real estate and TMT, and continued to explore investment opportunities and cultivate industry leaders around the trillion-level theme. Warburg Pincus Investment continues to be optimistic about the Chinese market and insists on deepening the investment themes and investment trends.
As the world's leading private equity investment institution, Warburg Pincus currently manages more than US$53 billion in private equity assets globally, of which US$20 billion is in China. Since entering the Chinese market in 1994, Warburg Pincus has invested more than US$12 billion in more than 130 leading domestic companies in multiple industries. It is one of the largest and most active international private equity investment institutions in China.
Warburg Pincus's layout in China's consumer industry