Huawei got off Xiaomi.
On October 30, Canalys, an international market research organization, released the Q3 quarterly tracking report on the global smartphone market. In the third quarter of 2020, global smartphone shipments reached 384 million units, a year-on-year decrease of 1%, but a month-on-month increase of 22%.
Samsung took the top spot with a shipment of 80.2 million units, an increase of 2% year-on-year. Huawei dropped 23% year-on-year, but still ranked second with 51.7 million units shipped. And the most eye-catching is Xiaomi ranked third, its shipments increased by 45% year-on-year to 47.1 million units.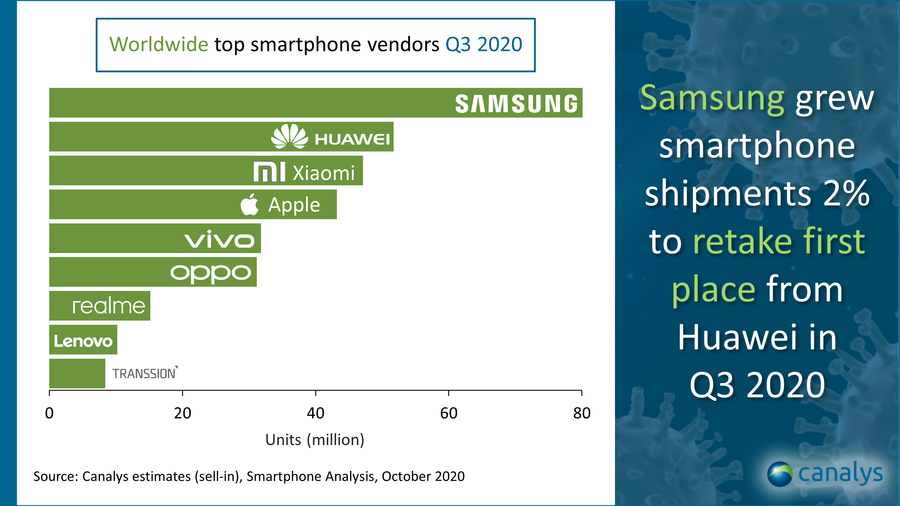 Image source: Canalys
Apple did not release the iPhone 12 in September, with shipments of 43.2 million units, down 1% year-on-year. Vivo and OPPO ranked fifth and sixth with shipments of over 30 million.
After six years, Xiaomi has once again returned to the top three in the world. Among them, the European smartphone market played an important role. Since the beginning of this year, Xiaomi has achieved continuous high growth in the European market. Q2 Xiaomi's European market has grown by 65% ​​year-on-year, the growth rate is the first, surpassing Huawei and ranked third; Q3 Xiaomi's shipments in the European market have increased by 88% year-on-year. 14.5 million units, by contrast, Huawei has reduced 15.1 million units.
Analyst Mo Jia pointed out that Xiaomi has achieved the high target initially set with high-volume devices such as the Redmi 9 series, and has won the trust of local distributors and operators. But he also pointed out that Xiaomi still faces competition from OPPO and vivo, both of which have seized Southeast Asia and are currently entering the European market. In addition, in the low-end market, Realme is also becoming a strong competitor.
In the Chinese smartphone market, although Xiaomi temporarily ranked fourth, its shipments increased by 19% year-on-year to 10.5 million units, narrowing the gap with the top three, which is The only mobile phone manufacturer among the top manufacturers to achieve Q3 growth in 2020.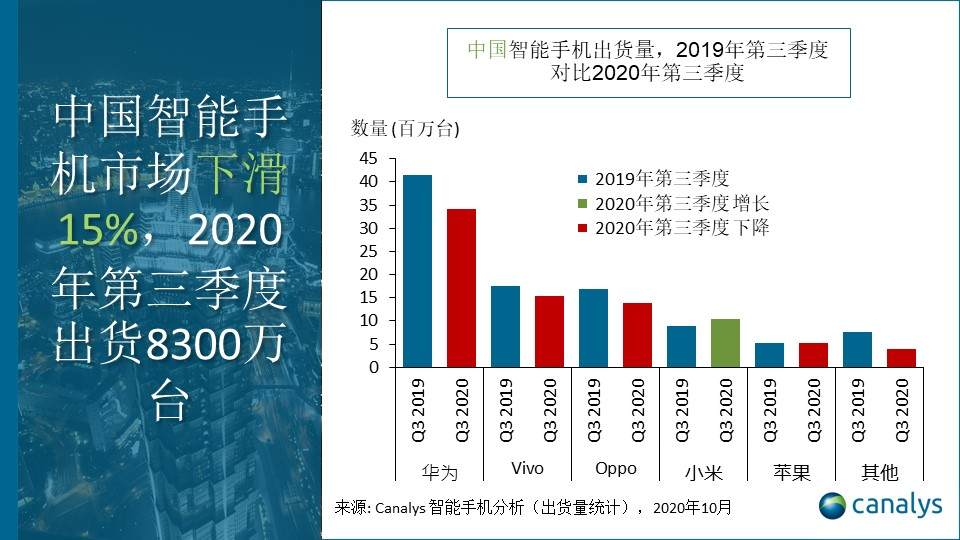 Image source: Canalys
Canalys senior analyst Ben Stanton pointed out that from July to September countries have relatively relaxed epidemic control, but still need to pay attention to the long-term consequences of the lockdown measures in the first half of the year. For example, offline sales channels caused by store closures and layoffs have sharply reduced, and supply chains have been blocked and costs have increased due to limited supply of chips. At the same time, governments in the future may also adopt more stringent anti-epidemic measures, so we should not be overly optimistic about Q3 mitigation.