Online education in the "Zhong Yong"
Editor's note: This article is from the micro-channel public number "New Game" (ID: newgametheory), Author: New Game editorial department.
Wen丨Zhang Yang
Edit丨Liu Yizi
On March 5, GSX released its unaudited financial report for the fourth quarter and full year as of December 31, 2020.
According to the financial report, GSX achieved a revenue of 7.125 billion yuan in 2020, a year-on-year increase of 236.9%; a net loss of 1.393 billion yuan, and a net profit of 227 million yuan in the same period last year. In the fourth quarter, GSX's revenue was RMB 2.211 billion, an increase of 136.5% year-on-year; the net loss was RMB 627 million, compared with a net profit of RMB 175 million in the same period last year.
After nine consecutive quarters of profitability, the story of single-quarter losses in the three quarterly reports is continued. The myth of "the only K12 education and training company that has been profitable since its listing" will no longer continue.
Why will it turn from profit to loss in 2020? In the future, GSX can restart the profit myth?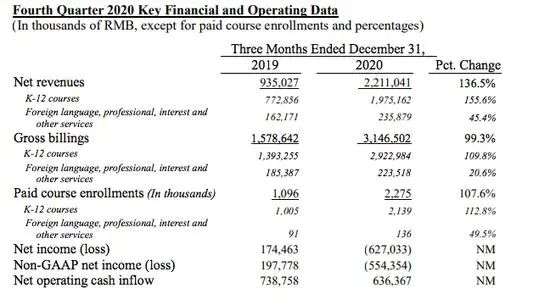 1.
Failed "Secrets for Getting Customers"
The reason for the loss was explained by GSX in its financial report, that is, the loss was mainly due to the heavy investment in marketing activities to expand traffic growth and strengthen brand awareness.
Indeed, from the financial report data, GSX's investment in marketing can be called "crazy". In the third quarter and fourth quarter of 2020, GSX's operating expenses increased from 411 million yuan and 571 million yuan in the same period last year to 2.454 billion yuan and 2.291 billion yuan, an increase of 496.86% and 301.22% year-on-year; From 1.363 billion yuan in the same period last year to 7.117 billion yuan, a year-on-year increase of 422.15%.
For the online education market, it is the norm to invest high marketing expenses to acquire customers. Reports that companies have invested high marketing expenses to acquire customers are also frequently reported in the newspapers. According to public information, the cost of acquiring customers for the 49 yuan class of K12 online large classes in the summer of 2019 is 200-300 yuan, and it has risen to 600-700 yuan in 2020.
But unlike other online education companies, GSX has always emphasized low-cost traffic acquisition, which is also positiveIt is a key factor in maintaining profitability for nine consecutive quarters. This low-cost traffic acquisition method makes it incompatible with other online education companies, and makes its own information extremely opaque, so it once became a "target" for short-selling.
Muddy Waters pointed out in the short selling report released last year that of the 54,065 users they analyzed, at least 73.2% of the users were robots, and at least 70% or even more than 80% of their revenue was fraudulent. GSX naturally denied it and said that the source of the short-selling data was confusing and full of ignorance of the company's business.
As for why GSX can have ultra-low customer acquisition costs, GSX founder and CEO Chen Xiangdong once said that in 2018 the company established a WeChat community public account traffic pool and used WeChat dividends to deposit nearly 100 million users , And transform through the way of community hierarchical operation, which brings a considerable amount of low-cost traffic to the company.
In other words, when online education companies are robbing public domain traffic at high prices, GSX has already used the advantage of private domain traffic to obtain customers to achieve profitability. In 2019, the Education New Growth Research Association made relevant statistics: GSX's eight main companies have 97 certified public accounts, and it is estimated that there are more than 8.5 million active fans.
On the way to enjoy the new media dividend, it is not easy to learn from anyone.
In May 2019, WeChat issued the "Announcement on the Handling of the Induced Sharing of Check-In in Moments of Friends", which governed a number of products that induce "check-in" in Moments of Friends. In June, WeChat issued the "Announcement on Cracking down on "WeChat Marketing" plug-ins", which will clean up and crack down on third-party plug-ins with functions such as one-click group message push, automatic reply robots, and WeChat group automatic promotion.

WeTool, the main customer acquisition conversion tool of GSX, was not spared and was banned. Relying on the business process of "free sharing of information-scanning the code into the group-requesting to share promotion links-continuous fission to obtain customers" has suffered a heavy blow.
In addition to the stricter control of private domain traffic, it will be sooner or later that the private domain traffic dividend will peak, and more importantly, the acquisition of private domain traffic alone has gradually been unable to support this. A behemoth.
GSX had to find another way to get customers.
However, apart from private domain traffic, there are not many choices left to GSX. The most direct and efficient way is to turn on the money burning mode to "kill" into public domain traffic.
2.
The myth of difficult profitability
After insisting on not burning money for marketing, GSX finally came to the same customer line as Yuanjiao, Homework Assistant, and Good Future. Facing the money-burning war, I have sufficient preparations to learn from.
As of June 30 and December 31, 2020, GSX's cash and cash equivalents, short-term investment and long-term investment totaled 2.94 billion yuan and 8.217 billion yuan respectively. Among them, it is worth mentioning that in December last year, GSX completed an equity financing of US$870 million.
Looking from last year's summer vacation war, GSX's 2 billion astronomical marketing investment was generally effective. The revenue growth rate of 252.9% in the third quarter was much lower than the marketing expenditure growth rate of 496.86%, which means its real conversion. The proportion of paying users is not high.
Credits analysts believe that GSX's soaring investment in the summer vacation war was a decision-making error at a critical stage of the competition. On the one hand, GSX is not good at using common advertising channels such as Douyin and WeChat to obtain traffic; on the other hand, after excluding the junior and senior groups, GSX's enrollment base is only 50% renewed. What's more, last year's summer vacation was short and industry competition was fierce. Parents could easily get promotional courses. GSX should focus on transformation in the fall semester just like Ape Guidance.
At a deeper level, Li Heng, a partner of Muhua Capital, who has long been concerned about education, believes that the big class model of GSX has crushed small classes in the market in the past year. It has innovative advantages, but when it reaches a certain scale, it has to think Continuous customer acquisition and growth will result in higher traffic costs, and because of competition, sales conversion rates will also fall. At the same time, in the process of company growth, management costs and organizational difficulties are also rising.
So, from a more long-term perspective, can anyone learn from this way of burning money to win customers, and can it reproduce the profit myth of the past?
For now, this may be a luxury.
First of all, competition in the industry is fierce, and the money-burning war will only intensify.
Different from offline institutions that bring their own physical scenes to attract traffic, online education can only rely on a large number of advertisements to attract traffic. Under such circumstances, as competition intensifies, traffic will only become more expensive, and it is difficult for online education companies to achieve long-term profitability.
Furthermore, due to the low-cost acquisition of customers in the past few years, GSX's popularity is far lower than that of rivals such as Ape Guidance, Homework Help, and Good Future. Nowadays, if you want to compete on the same platform on the same customer acquisition line, you must pay a higher price to learn from in order to establish your own brand image in the hearts of the audience.