China's tide shoe market is growing rapidly
Editor's note: This article is from WeChat public account "RET Rui Yi-de "(ID: retweixin) , author: here yes.
In recent days, many commercial real estate people's circle of friends have been screened by a message: "The sneaker business has exploded."
At the end of July, the global sneakers and trend singles trading platform GOAT announced its entry into the Chinese market in Shanghai. In the first half of this year, China's domestic trend shoe online sales platform "poison" and nice have successively obtained A new round of financing.
According to the sports brand giant and the international tide shoe trading platform, China's tide shoes market is growing rapidly, and will replace the United States as the world's largest market for shoes.
The accompanying second-hand tide shoe market is "materialized" and is bringing opportunities to domestic shopping malls.
Sports culture will usher in a third outbreak in China?
Sneaker culture is a by-product of hip-hop culture, originating in New York in the 1970s.
Hip-hop clothing is free and loose, combining many sportswear design elements. Stylish and comfortable shoes have become the symbol of hip-hop culture. As the hip-hop culture gradually got rid of the stereotype of the poor culture and was widely accepted by white people, the sneaker culture also entered the public eye.
In 1985, Nike first used the celebrity effect to name the AIR JORDAN series of shoes with Michael Jordan, and made the "prohibited incident" of AJ shoes in the NBA through clever marketing, making for the Michael Jordan and AJ series. A large number of topics eventually led to people's attention and pursuit of AJ shoes, and the sneaker culture entered an outbreak.
The second outbreak of sneaker culture is in Japan.
As a country with a high degree of acceptance of European and American cultures, Japan has seen many shoe lovers in the late 1980s. With the popularity of the Japanese legendary basketball manga SLAM DUNK in 1990, the sneaker culture was also sought after in Japan.
At the same time, under the help of trend magazines such as "smart" and "COOLtrans", which were founded by artists such as Fujiwara Hiroshi, Japan began to develop endogenous sneaker culture, making it unique from imported products. Cultural symbols with Japanese characteristicsnumber. According to sports brand giants and international tide shoe trading platform, China's tide shoe market is growing rapidly, and will replace the United States as the world's largest market for shoes.
It can be predicted that after the United States and Japan, the sneaker culture will usher in a third outbreak in China.
Secondary shoe market that is "take off"
The success of the AJ series has made Nike realize that sneakers have changed from consumer products to a wide range of youth cultural symbols, so Nike started as a sneaker The limited supply of products, the manufacture of its scarcity, the collection value of the shoes, which also gave birth to a huge secondary market for shoes.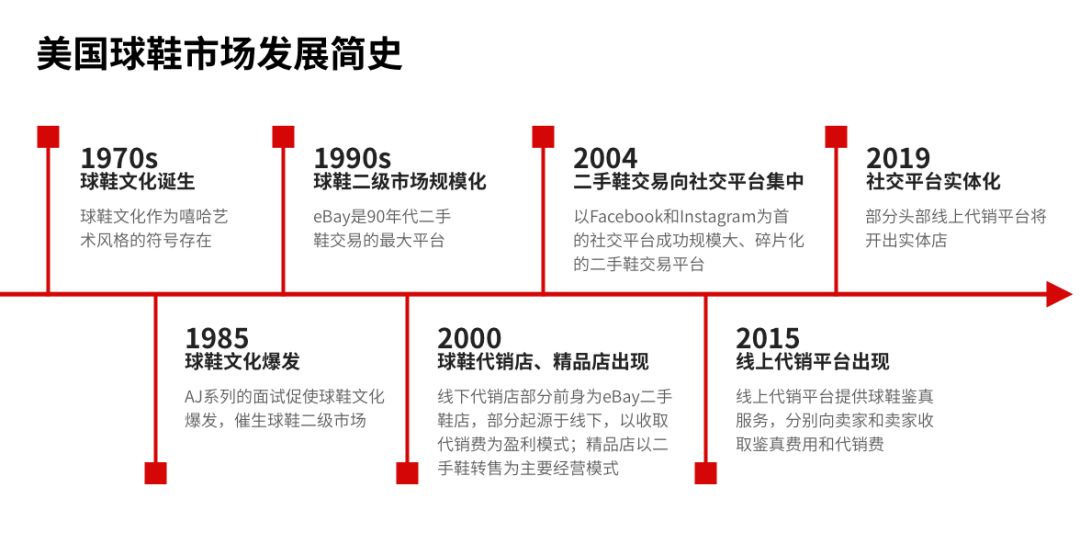 Sneakers secondary market experience The following development periods –
In the 1990s, second-hand shoe deals were conducted on eBay on a large scale.
In the early 21st century, online trading brands, physical stores, offline second-hand shoe boutiques and online social platforms shared the US second-hand shoe market.
The online second-hand shoe trading brand originated from eBay, such as Flight Club to open offline stores, as a middleman to connect buyers and sellers, to provide shoes and authentic services, to make up for the lack of credibility of online second-hand shoes transactions. And the sales price of 20% of the sales price is the profit model.
There are fewer second-hand shoe boutiques that originate from offline, and the stores are slower to expand. More successful examples such as Extra Butter boutique have only opened two stores since its inception in 2007. Shoe lovers offer a selection of shoes and have now grown into a shoe manufacturer. In the same period, the online social platform led by Facebook was born, and it became another major channel for second-hand shoe trading.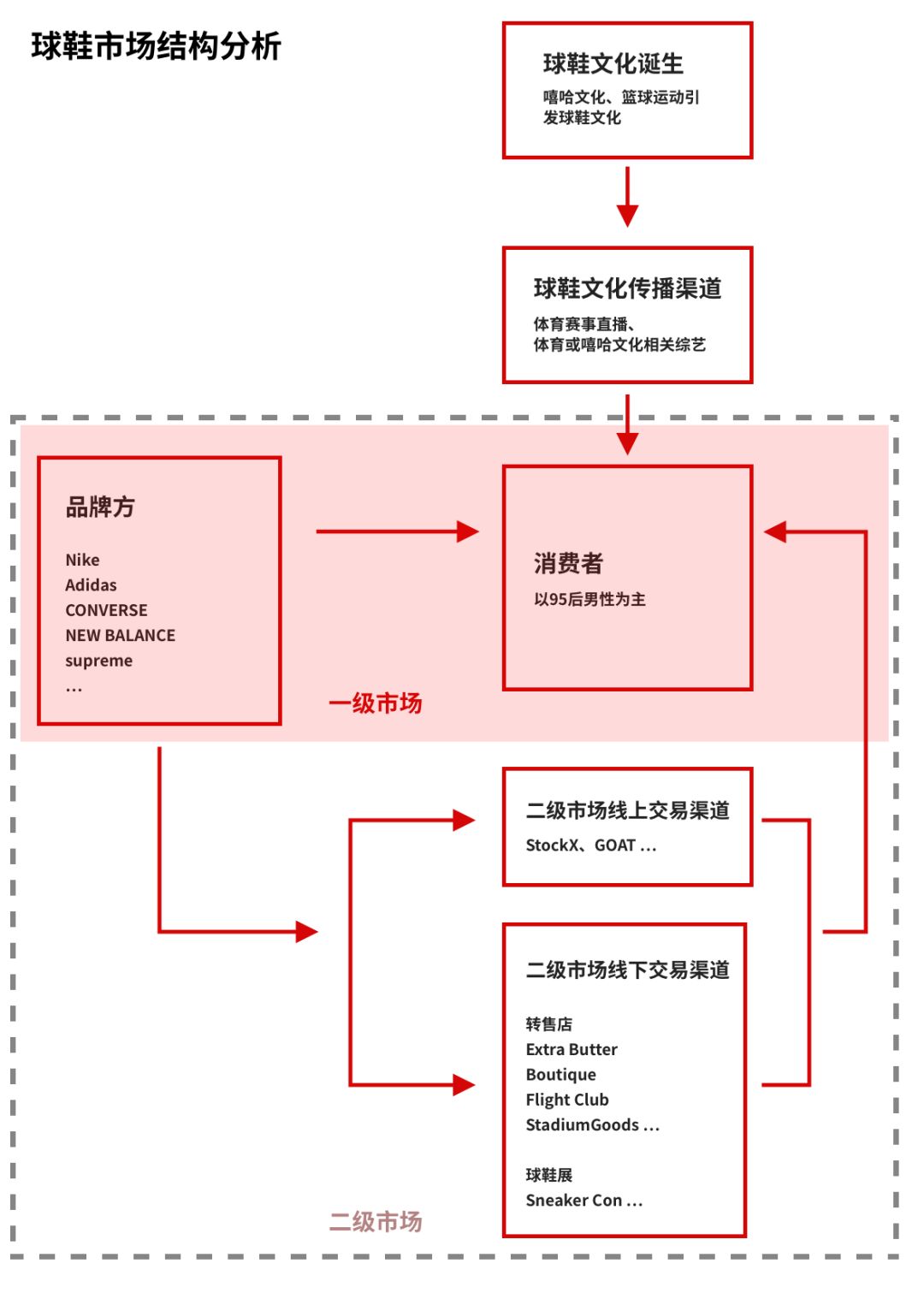 second-hand shoes The upstream of the trading market is the brand side, and giants such as Nike, Adidas and Converse have almost monopolized the supply of second-hand shoes. The middle reaches of the second-hand shoe market is mainly composed of second-hand shoes trading APP, offline second-hand shoe sales stores and boutiques. These sales channels are directly facing downstream fashion shoes lovers.
Currently, used worldwideThe shoe market presents a large-scale and fragmented channel.
In the United States, the second-hand shoe market is worth more than a billion dollars. In addition to the stock-based shoe trading platforms such as StockX, GOAT, Flight Club, StadiumGoods, and Extra Butter boutique, there are a large number of social platforms. Personal sellers in the second-hand shoe trading market and sneaker exhibition.
After 95, "detonate" the development of second-hand tide shoes in China
In the economic upswing, people's material needs are greatly guaranteed, and the demand for enjoyment and entertainment will increase. China has experienced economic growth in the past 40 years. At this stage, people's demand for entertainment is on the rise.
In the past two years, "China has hip hop", "China's new rap", "This! Domestic variety shows such as Slam Dunk have become the export of entertainment needs, and the popularity of these programs has also led to the spread of the sneaker culture.
At the moment, several domestic sneaker trading platforms such as poison, nice, and acquaintances, etc., the number of users has risen rapidly from 300 to 8 million; byte jumps on the billions of investment in Tigers, and Tencent renews NBA. Events such as exclusive live rights also indicate the future growth of the sports field and the potential driving force for the shoe market.
Domestic tide shoes consumers, mainly Z generation (referring to the population born between 1995 and 2010).
Z Generation Growth During the period of rapid economic development and the rapid development of the Internet industry, unique personality, distinct social roles and diverse access to information have affected their consumption decisions.
The richness of material life makes them pay more attention to spiritual and cultural life and has a higher self-awareness. When making purchasing decisions, 95 is less affected by external factors, and is more willing to think independently, paying more attention to the cognitive and emotional value of product communication, rather than functional value.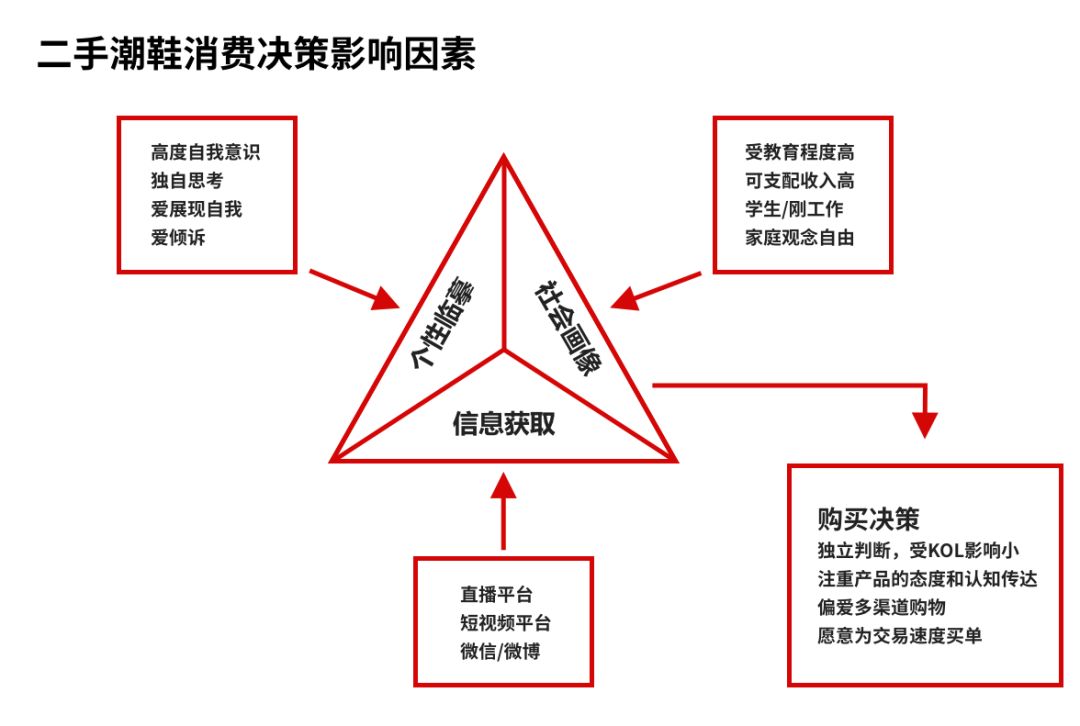 Sneakers in hip hop culture It is "unusual", an expression of rebellion, in line with the personality of the post-95 publicity.
  The current sneaker culture has multiple channels of communication affecting the post-95 consumers, and many trading platforms have formed a multi-contact connection with them.
Consumers, consumer demand, rising market conditions, and the global head platform are in place – all of which may indicate that the domestic second-hand tide shoes are coming.
The opportunity of physical business: the shoe shoe e-commerce line down
As early as around 2005, there have been some used shoe trading stores in the United States that have moved from eBay to offline. At that time, the main driving force for retailers to go offline was to use the authenticity service to make up for the lack of credibility of eBay transactions and to satisfy consumers' demand for genuine second-hand shoes.
Currently, online platforms have the ability to provide authenticity services, so ensuring credibility is not the main reason for going offline.
The demand for offline community operations and the trend of e-commerce materialization may be the driving force behind this "off-line transfer" of second-hand shoe transactions.
E-commerce entityization is a worldwide business trend. Foreign countries have Amazon, Showfields and other e-commerce platforms or brand stores. Domestic Tmall, Vipshop, NetEase and other e-commerce platforms have new retail stores. It is endless.
In the online advertising agency APP which has been concentrated in the past 5 years, StockX and GOAT have planned to open physical stores to provide efficient second-hand shoe trading platform for the tide shoes lovers in the region, forming a highly viscous offline shoe culture. Community.
Therefore, the rise of the sneaker culture is a self-evident opportunity for the shopping center.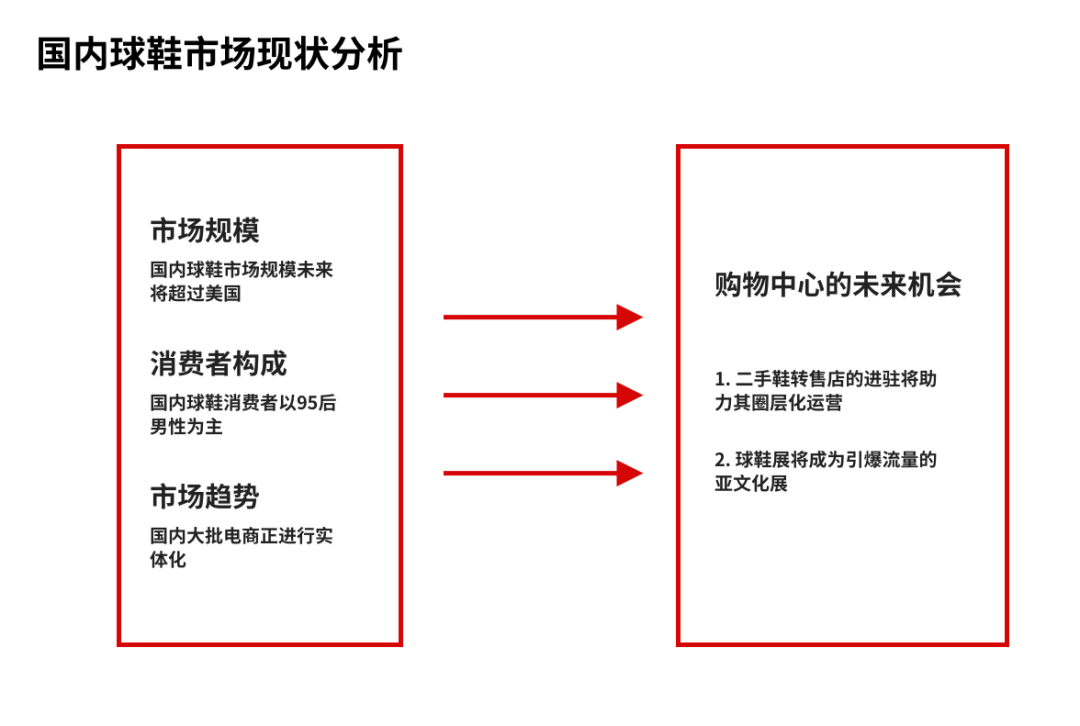 Domestic shopping There are at least three opportunities in the center
It is foreseeable that there are at least three opportunities for domestic shopping malls to be tapped in the second-hand shoe line.
1. Seize the opportunity to materialize online platforms and reach out to younger customers.
The advantage of the online shoe sales platform is that the big data technology can bring accurate capture of the target customer group's consumption behavior and precise touch during marketing. Through the accurate interpretation of online data consumption, the online platform can accurately match customer needs in the online scene and increase the consumption conversion rate.
In addition, the online platform is good at using big data tools and social media to achieve accurate reach, while forming a fissile spread of consumers, and constantly bringing young customers to the physical business.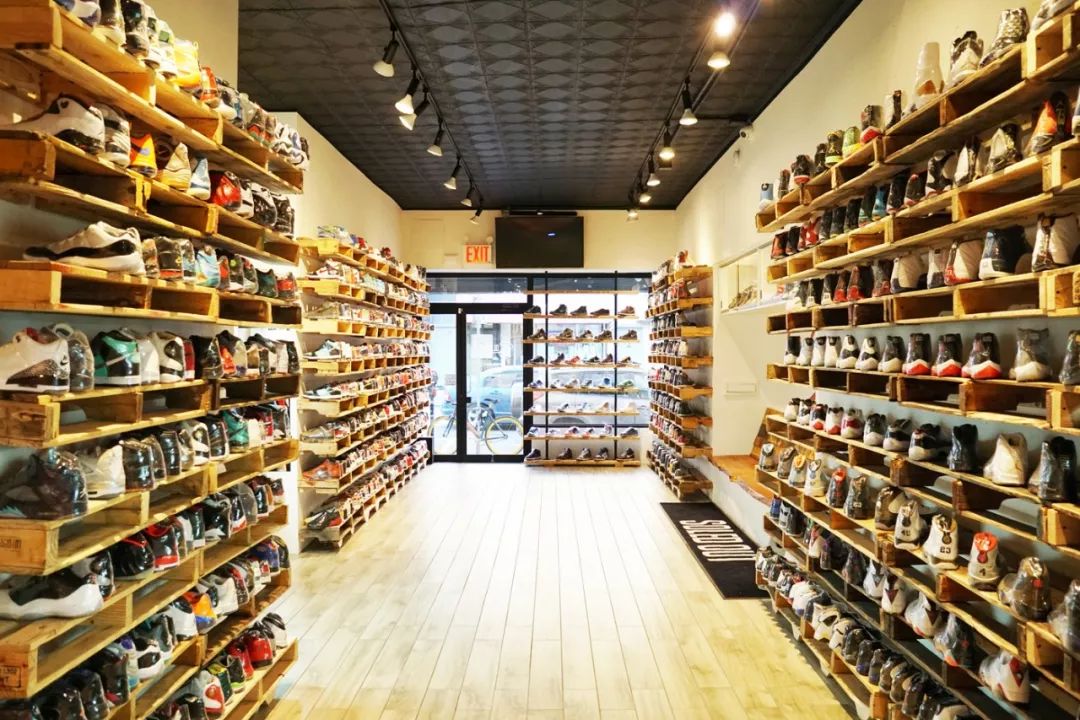 2.
 
  Introducing second-hand stores that originated from offline, using mature models to acquire highly loyal consumer users.
Retailers originating from offline are difficult to form the long tail effect unique to the e-commerce platform, providing relatively few types of tide shoes.
  These retailers often choose to dig deep into a certain segment, accumulate high-viscosity fans, and form a community with strong cultural identity, thus transforming these highly loyal community members into consumers of their own brands.
For shopping malls, second-hand shoe retailers that originated from offline have a mature operating model and use their own brands to create a highly loyal sneaker community. The introduction of a mature offline mode reduces the operational risk of the mall and creates a differentiated competitive advantage.
Taking Mita Sneakers in Ueno, Tokyo as an example, it focuses on retro shoes, in addition to traditional shoes, including Diadora, LeCoq and other niche brands of retro shoes, and Nike, New Balance, Reebook and other big brands have jointly sold products with Mita Sneakers due to the deep development of retro shoes in this vertical field.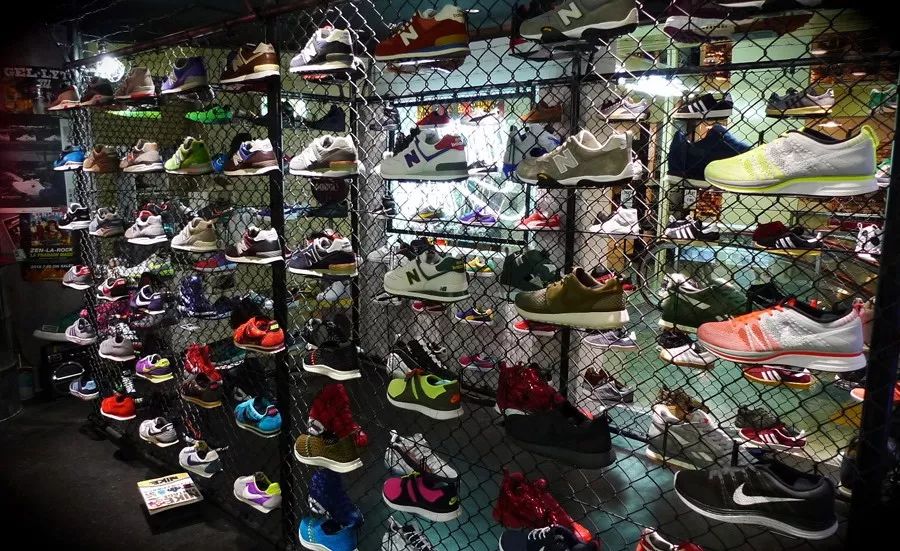 3. Through the Shoe Show, the shopping center will detonate traffic and gain economic benefits in a short period of time.
In addition to online and offline retailers, there is also an important sales channel for the second-hand shoe market.
Influential shoe fairs can bring together a wide range of individual sellers, bringing together trendy shoes that are scattered across social networking channels and that are not easily accessible to consumers, triggering large-scale participation by tidal enthusiasts .
Sneaker Con, launched in the United States in 2009, is the world's largest shoe culture event. In 2019, Sneaker Con landed at the West Coast Art Center in Shanghai, where 45 brands gathered a large number of individuals from home and abroad to enter and display and sell used sneakers. Tickets for $200 are sold out in a few minutes and attract 20,000 participants in three days.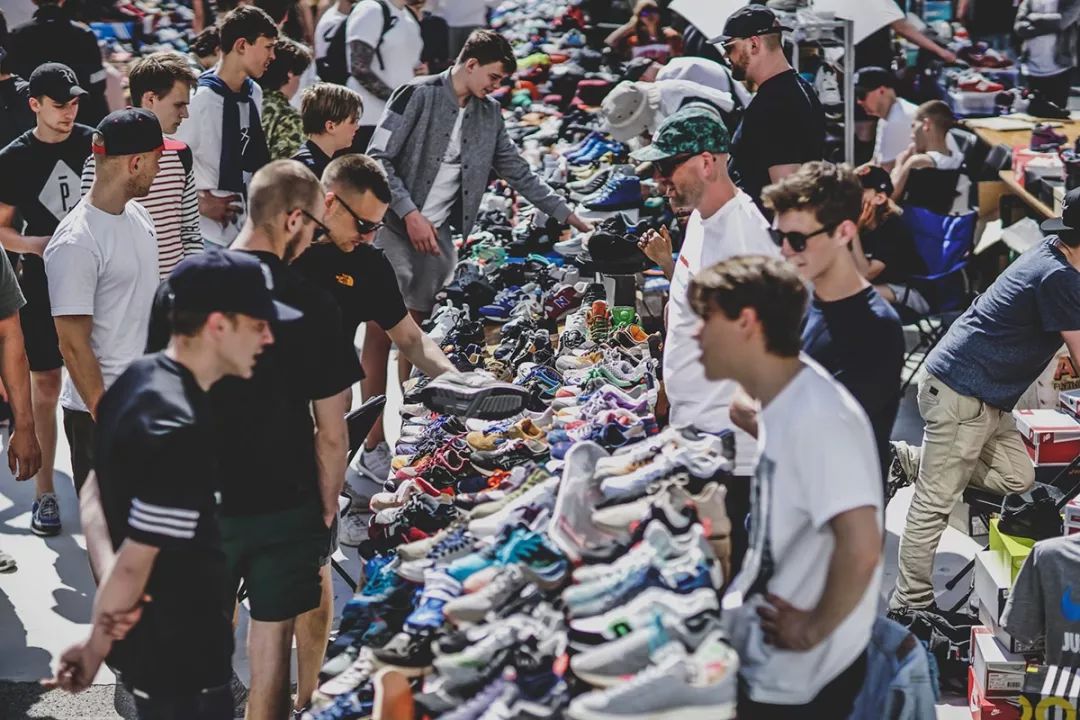 Asian Culture Exhibition is the marketing trend of the current shopping center. Creating immersive wandering experience and diversion for consumers is the two main purposes of the Asian Culture Exhibition. The main role of the Shoe Exhibition is to guide the diversion. The shoe exhibition time is short, generally 2~3 days. Compared with other common subculture exhibitions, it has a "flash" nature, which can gather tide shoes lovers in a short time and detonate the flow. In addition, the trend of the shoe show is very clear and stable, therefore, the second-hand tide show has a high long-term value.
In addition, the shoe show can bring direct economic benefits to the shopping center. At present, the introduction of internationally renowned IP exhibitions in shopping centers is costly, and the introduction of domestic original IPs will have homogenization problems. For the shoe show, sellers around the world can provide a variety of second-hand shoes products, avoiding the risk of homogenization of content, and bring their own trading attributes to bring more direct benefits.