Seductive wealth on paper.
Editor's note: This article is from the micro-channel public number "Business People" (ID: biz-leaders), Author: Guo Ru Yi.
One
In October last year, the Hurun Research Institute released a "2020 100 Rich List". The 62-year-old Li Xiaoming became the new "Yunnan Richest Man" with a fortune of 34.5 billion.
It may not be appropriate to call the richest man in Yunnan, because Li Xiaoming also has a name called "PAUL XIAOMING LEE"-he is already American.
The change of nationality did not affect the Li family's domestic Nuggets. By taking charge of Enjie shares (002812.SZ), a listed company in Yuxi, Yunnan, the wealth of Li Xiaoming and several family members skyrocketed last year.
In 2020, the share price of Enjie shares rose from 50 yuan to 141 yuan, an increase of 178%. As of the end of the third quarter of last year, Li Xiaoming and his three relatives were among the top ten shareholders of the company, with a total shareholding ratio of 46.71% (including the shareholding of an institutional shareholder, which is actually controlled by Li Xiaoming). As the stock price skyrocketed, so did their net worth.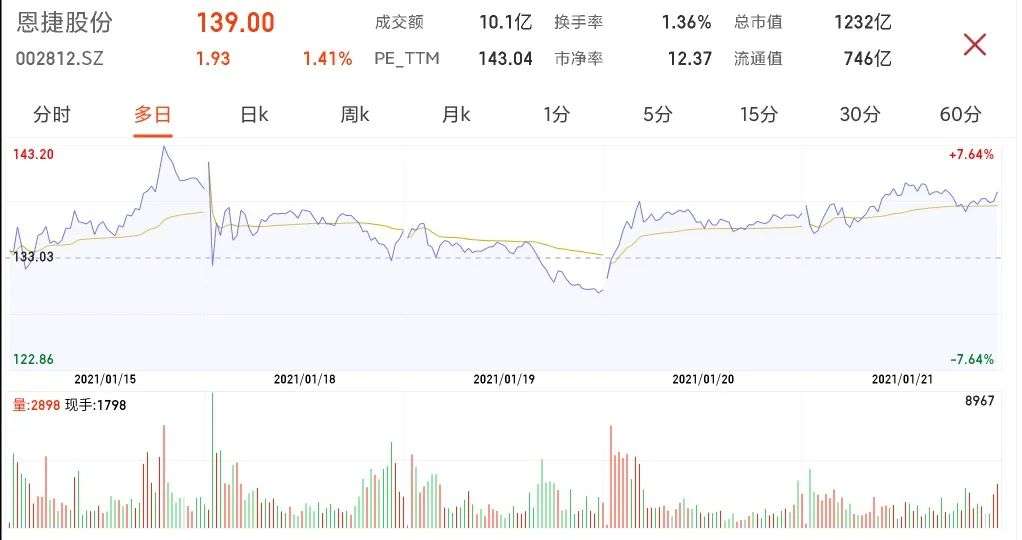 Enjie's main business is lithium battery separator, which is currently one of the main components of new energy vehicle power batteries. Starting from the third quarter of last year, the new energy vehicle sector in the A-share market has continued to rise. Not only has the value of the conceptual stock market soared, but the huge wealth effect brought about by it is also dizzying.
People in the game are "lucky". Just as the Internet, coal, and real estate used to create wealth, new energy vehicles have become a new industry. Behind the stock price carnival, domestic sales of new energy vehicles reached 1.36 million vehicles last year, a record high. A new era of mass wealth creation seems to have arrived.
Of course, those star companies and bosses are most concerned.
Two and a half years after listing on the GEM, the total market value of the power battery giant Ningde Times has exceeded 900 billion yuan, becoming the first in the GEM market. Although its founder, Zeng Yuqun, has long been a frequent visitor on the rich list, his wealth continues to rise significantly under the stimulation of this round of market conditions.
For the whole year of last year, CATL's share price rose by 228%, and at its peak this year it exceeded 400 yuan per share. According to last year's three quarterly reports, Zeng Yuqun held 24.53% of CATL through Ningbo Meishan Bonded Port Ruiting Investment Co., Ltd. As of the close of January 20, the market value of this part of the stock exceeded 220 billion yuan.
His "Old