Go, go to line up?
Editor's note: This article is from the micro-channel public number "love child norm" (ID: ifanr), Author: Wu Yu Chen.
"Time is money, efficiency is life." In 1979, the slogan was born in Shenzhen Shekou Industrial Zone. Today, people still think that this sentence is the epitome of people at the forefront of reform.
However, Wen Heyou's arrival broke people's imagination of Shenzhen people. On the second day of April, tens of thousands of Shenzhen people lined up from the entrance of this newly opened old building, and the line stretched out to the opposite bank of the Buji River, known as the "Shenzhen Mother River."
At this moment, efficiency, time, and even money seem to be less important.
As a local restaurant brand in Changsha, every visit to other cities can cause a sensation. As one of the cities with the strongest consumption capacity in China, Shenzhen has unexpectedly and reasonably provided Wen Heyou with an impressive flow of passengers.
A spectacle that combines retro and fashion, an unprecedented queuing spectacle, and the birth of a new scalper "generation row" and "purchasing agent" industrial chain. Discussions about Wen Heyou have once again risen.
Why can catering complex Wenheyou attract Shenzhen people to line up? In addition to assigning the label of "fanatic" to these constant consumers, what else can we see from Wen Heyou?
"Directly dismissed"
"When are people in Shenzhen so idle?" a netizen asked.
This is a question that cannot be refuted. The question is directed at the consumers of Shenzhen Wenheyou on the opening day, but in fact, another meaning of the question is to question Wenheyou.
According to a report from the "Nanfang Daily", on April 2nd, Shenzhen Wenheyou opened a long queue for consumption on the day of Wenheyou's opening to the other side of the Buji River.
The picture is from Nanfang Daily
During the peak consumption period at noon, there were about 22,000 tables in line on the online number page of the "Shenzhen Wenheyou" official account. The report vividly compares the time from Shenzhen to Changsha and the time for arranging numbers:
"It takes 80 hours for a 22598 table, while the high-speed rail from Shenzhen to Changsha South only takes about 3 hours."
The prosperous consumer landscape makes Shenzhen traffic police appear on site for maintenanceWen He You's order at the scene. Wen Heyou came forward to apologize.
This is its second apology. The last time was in May 2020. At that time, Changsha Wenheyou was unable to enjoy the service due to the number of more than 10,000 tables during the peak period. However, in Changsha Wenhe A large number of Wenhe friends praised Wenheyou's "top stream" below the relevant Weibo comments of the friend's apology.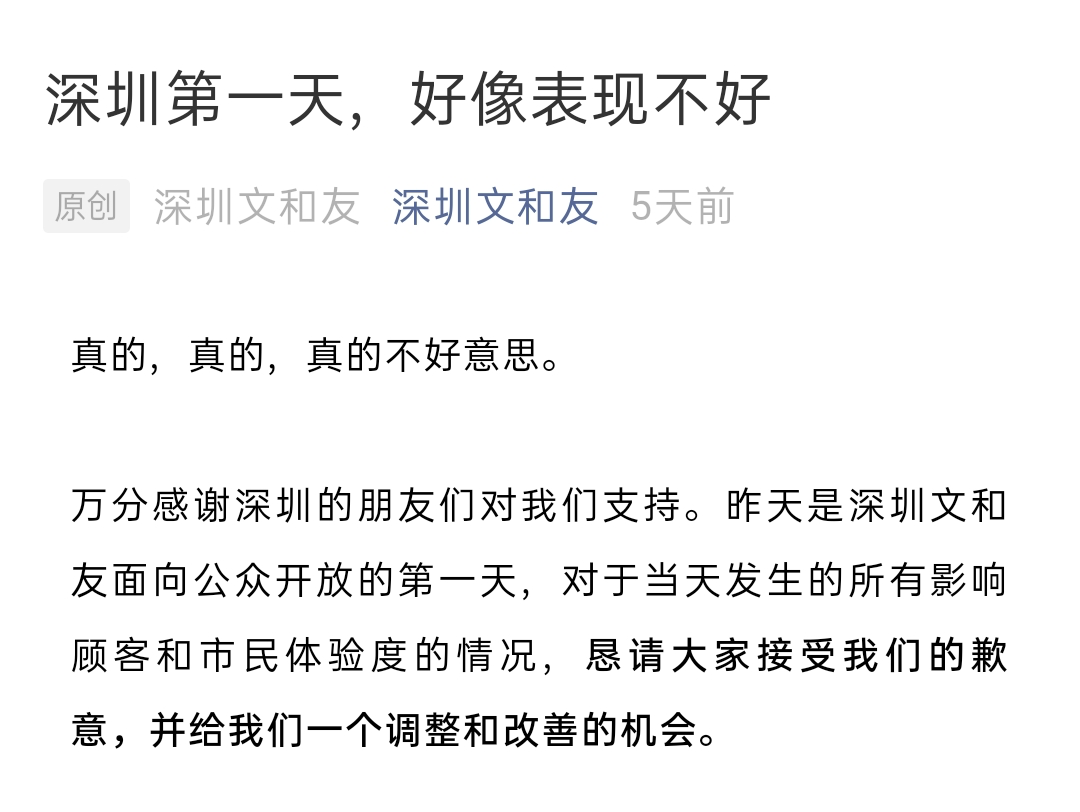 Although most people in Wen Heyou's Weibo comment area expressed support, in the public opinion, Wen Heyou's overcrowding is mixed with water.
In a video circulated on the Internet, a scalper is holding a tea and yelling at the crowd on the flyover. Someone asks: "Are there any discounts? How many cups?"
The scalper replied: "500 a cup!"
There was an uproar in the line of people. "You go in line, wait for half an hour and then come out!" After that, the scalper took the tea and left.
On Xianyu, the price of purchasing tea Yanyue color or queuing on behalf of Wenheyou in Shenzhen ranges from 50-200 yuan.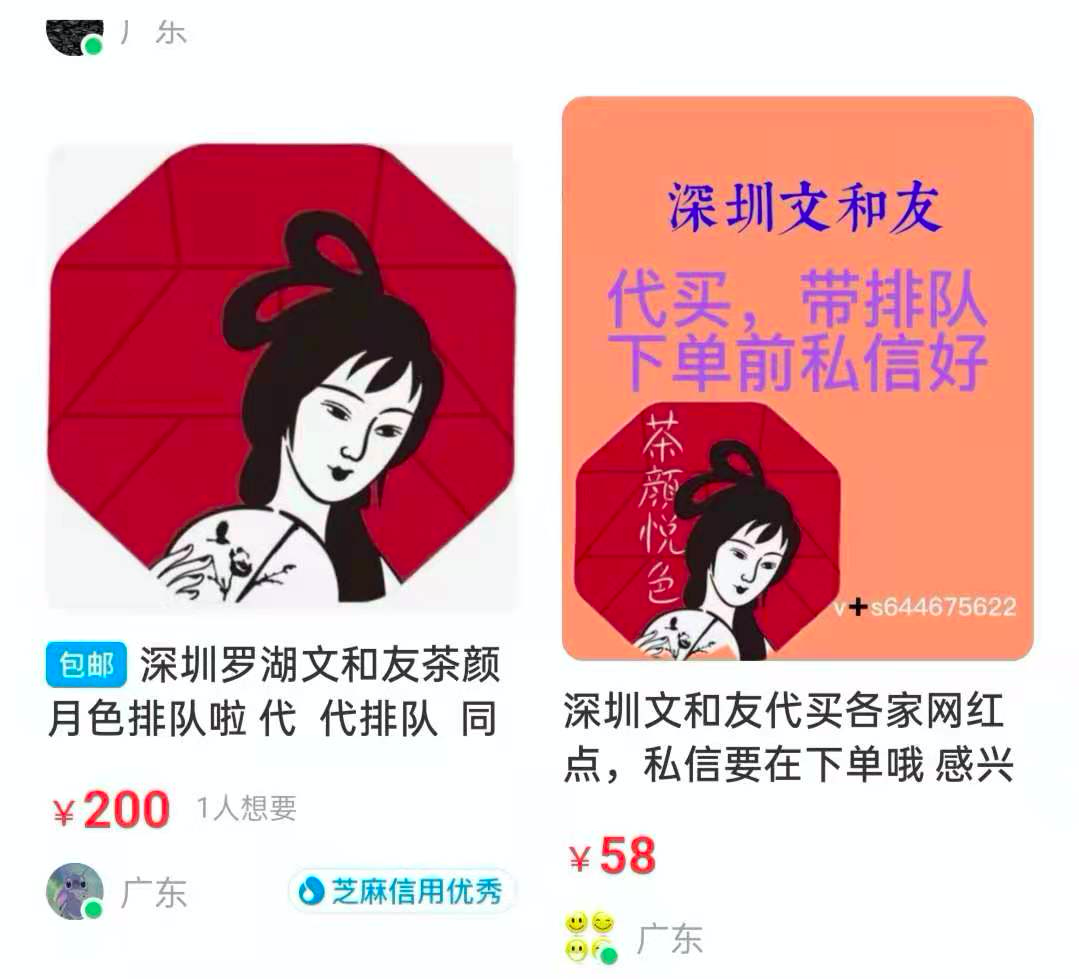 Although Wen Heyou said that he would never conduct queuing up, fake account charging and other behaviors that affect customer experience, from the experience of queuing customers on the spot, all of this has happened.
At 11 o'clock in the morning of the opening day, Wen Heyou's rule is to place the number online, but after getting the number, the offline line still needs to continue to line up again. Such rules aroused dissatisfaction among some Wenheyou consumers, and indirectly caused crowdedness on site.
The rules changed the next day. Shenzhen Wenheyou decided to assign numbers on the hour, and only customers who got the number online could enter Wenheyou.
Xiaoye has been visiting Shenzhen Wenheyou for several days. After picking up the number at 11 am on the first day, she didn't go to the scene to line up until 5:30 pm. Forty minutes later, she successfully drank a tea-colored Orchid Latte. In Xiaohongshu, she made a guide, "Shenzhen Wenheyoucha Yanyue Seyue Seiyi Tips", and thousands of people gave her a thumbs up.
But she is lucky in comparison. Jiangxi peopleLi Yan came to Shenzhen on April 3 to play. It was the second day after Wenheyou opened in Shenzhen. At nine o'clock in the evening, she wanted to check in Wenheyou, but found that she still had to wait in line.
It doesn't seem necessary to enter Wenheyou to consume. The long queues have made her feel terrified.
Li Yan left Wen Heyou to eat supper elsewhere. After returning to Wen Heyou two hours later, the light on the sign was already on. She took a picture and left without entering.
"Directly persuade to leave," Li Yan said.
Why Wen Heyou can make people line up willingly
Waiting in line is certainly a tiring thing, but why can Wen Heyou become the "queuing king" and make people willing to line up?
In fact, the fact that this restaurant brand can make people queue up is already a counterattack.
The report on Wen Heyou from Cheung Kong Graduate School of Business introduced that at the age of 22, Wen Bin, the founder of Wen Heyou, quit his sales job at the automobile company and set up a street stall in Changsha with the start-up capital of 5,000 yuan.
The brand related to emotions was made at the beginning of Wen Heyou's founding. Wen Heyou's co-founder Yang Ganjun was a sausage supplier at the time, and Wen Bin was his customer.
Yang Wenjun said in the interview that he was born in a poor family, had grown vegetables, drove a tractor, and washed a car, but later still wanted to do business, so he went to Changsha and started a sausage dealer. Wen Bin.
At that time, he felt that Wenbin had "advanced thinking, different from others." So after Wenbin closed the roadside stall, he and Wenbin ate two-month supper together. During that time, they increased their understanding of each other and explored business models until they hit it off.
In 2011, the first project of "Wen Bin and His Friends"-"Wen He You Old Changsha Fried Club" was born.
The business is getting bigger and bigger. From 2012 to 2016, Wenheyou Lobster Restaurant and Wenheyou Changsha Sausage were added under the Wenheyou brand. During this period, Wen Heyou continued to incubate new brands while expanding its scale by relying on the "direct management + franchise" model.
In Wenheyou's restaurants, the dishes are divided into multiple price ranges, which are cheap and affordable, and are extremely cost-effective. Coupled with the unique Changsha culture as a selling point, Wen Heyou quickly gained the capital to become a complex by relying on store expansion.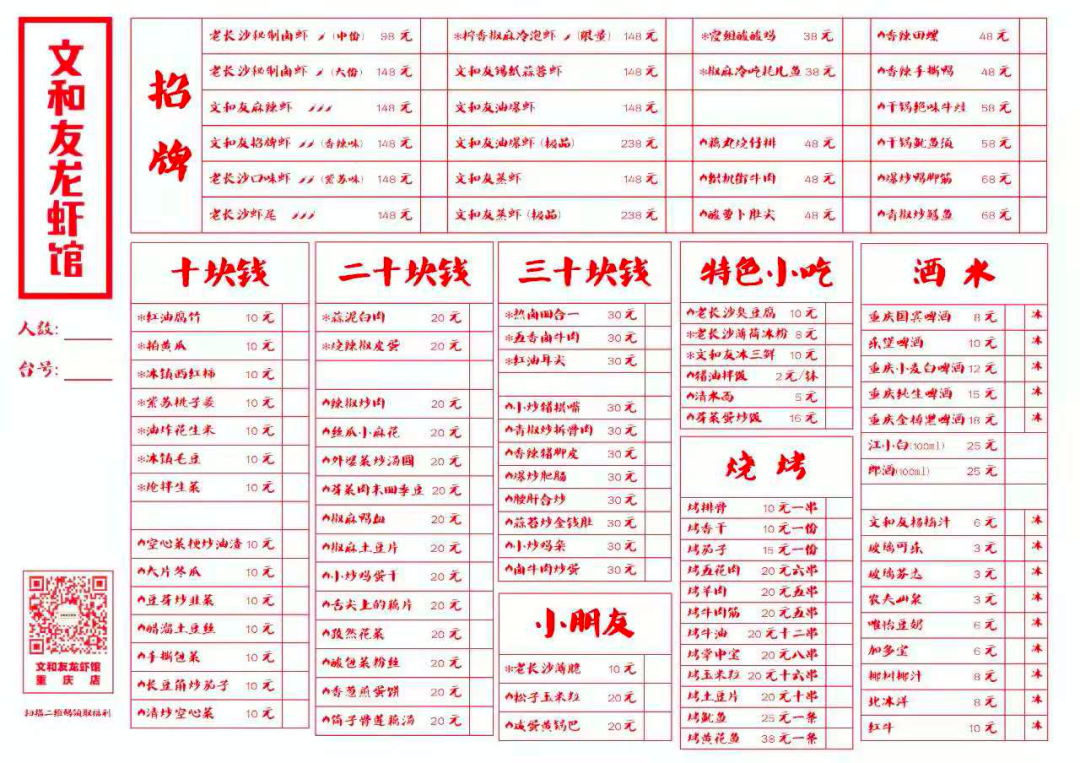 In 2018, Wen Heyou officially gave"Dining Disney" takes a step forward. That year, Wen Heyou obtained a strategic financing of RMB 70 million from Tangrenshen Group and opened a new store in Changsha Hisense Plaza. Different from previous stores, this time more than 100 merchants were introduced by Wenheyou. Among them, the main shop is Changsha folk snacks. Wenheyou was upgraded to "Super Wenheyou".
"Super Wenheyou" has broken through people's imagination of traditional business circles in all aspects and has become a business model for the development of the real economy.
The features visible to the naked eye are reflected in Wen Heyou's decoration.
"Super Wenheyou" inherited the brand's always flagship humanistic feelings, trying to reproduce the lost urban landscape. In Changsha, a 20,000-square-meter dining complex was opened by consumers in a retro-style and distinctive style. The all-round "landscape" allows consumers to experience not only consumption, but also an immersive experience of urban culture.
"I hope to use food, culture and experience to bring you back to the human touch of Changsha in the 1980s." Changsha Wenheyou's official account said so.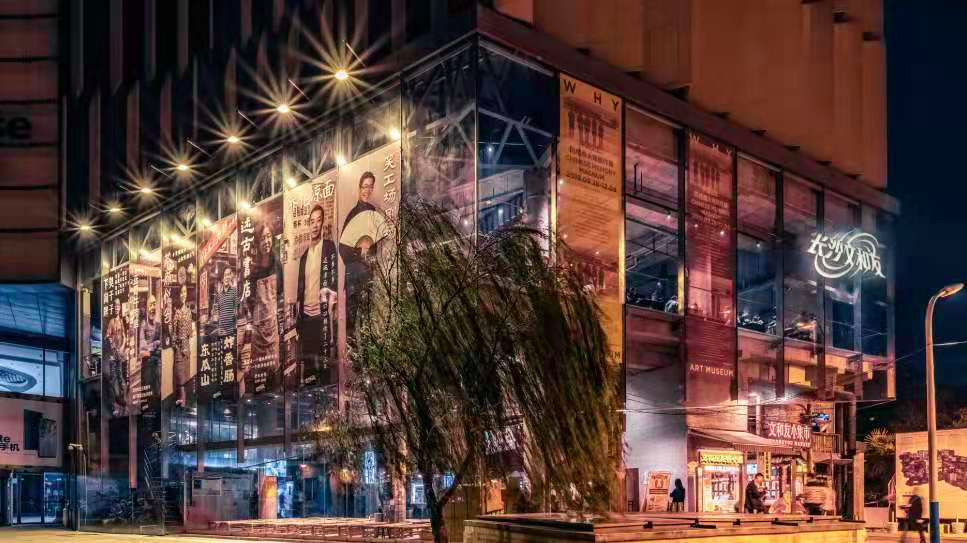 The picture is from the official account of "Changsha Wenheyou"
But simply "making the scenery" is not enough.
In the official introduction, Changsha Wenhe Youli even includes experience halls such as pig farms and marriage registry, and cultural places such as art galleries, bookstores, and laugh factories also settle here. The combination of "culture" + "dining" allows "Super Wenheyou" to have more growth points that stimulate consumer consumption, and it also gives this catering brand more value.
The "Night Market Economy" has also become the wing for the "Super Wenhe Friends" to take off. In first- and second-tier cities, people are unable to experience the night culture of civilians in increasingly scarce food stalls, Wen Heyou has created a new possibility. The unique night market style of the small streets and alleys blends with the huge business district, creating a chemical reaction that consumers can't resist.
There are cultural and content support, and there are consumption scenes. It's not too much for Super Wen Heyou to call himself a "community."
Wen Heyou's marketing is equally hard. On Douyin, Wenheyou has 369,000 fans. On the social platform "Xiaohongshu", there are more than 60,000 notes related to "Wenheyou". KOL takes the lead in punching cards in "Super Wenheyou" Take pictures and upload to social networks. And before,Wen Heyou was invited to "Everyday Upward" and went out of the circle by participating in entertainment programs.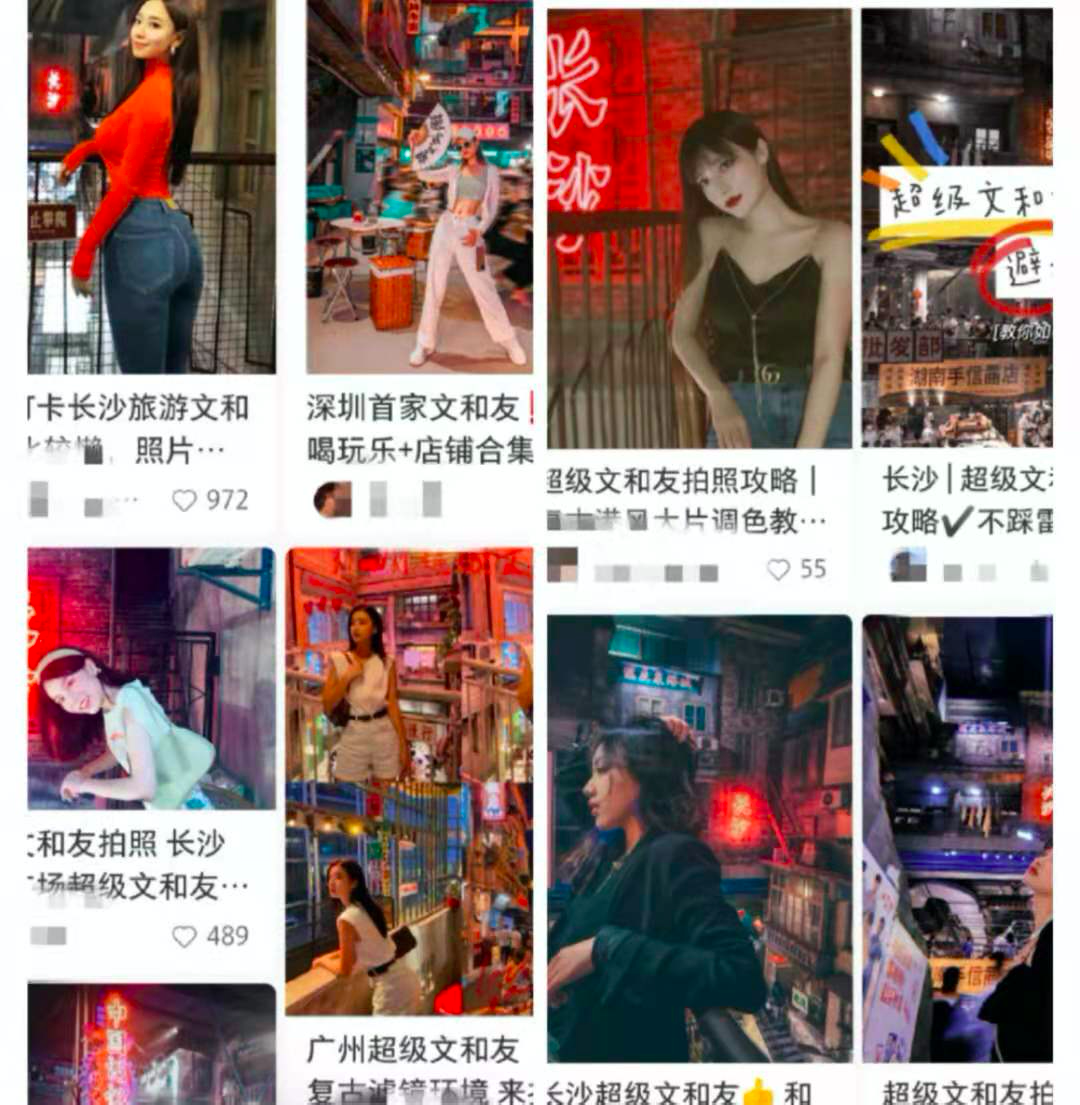 In addition to the introduction of local time-honored brands, "Super Wenheyou" has assembled an online celebrity brand in Changsha. In the long queue of Wenheyou in Shenzhen this time, there is no shortage of consumers who are looking for "Tea Yan Yue Se" pop-up stores.
To some extent, the intention of making retro landscapes is not only the inheritance of the so-called humanistic feelings and urban culture, the hanging signs and flashing neon lights are actually another clever shaping of the current trend.
After the establishment of "Super Wenheyou" in Changsha, Guangzhou and Shenzhen opened new Wenheyou. At the Wenheyou press conference in Shenzhen, Wenheyou announced that the word "super" would be completely removed and the name was upgraded to the city where Wenheyou is located.
"Become a space for coexistence and prosperity with the city," Wen Heyou's ambitions are getting bigger and bigger.
The distance between Wen Heyou and "Dining Disney"
After the establishment of Super Wenheyou in Changsha, Wenheyou won the title of "queuing king" through its surprising play and marketing. The huge passenger flow also brought Wen Heyou reputation and controversy. It lasted until the opening day of Shenzhen Wenheyou in early April.
What cannot be ignored is that Shenzhen Wenheyou's hot passenger flow is actually stepping on the shadow of Guangzhou Wenheyou.
A year ago, Wen Heyou entered Guangzhou.
At that time, Wenheyou co-founder Weng Donghua said in the face of the media that one-fifth of the user portraits of Wenheyou's back-end were Cantonese, and Guangdong Province ranked second among users who read each post.
In July 2020, it is rumored that the investment reached 200 million yuan. After half a year of renovation, "Super Wenheyou", which has been in trial operation for more than 20 days, settled in Guangzhou. During the trial operation period, the peak number of Guangzhou Wenheyou's single-day number collection reached 2,000.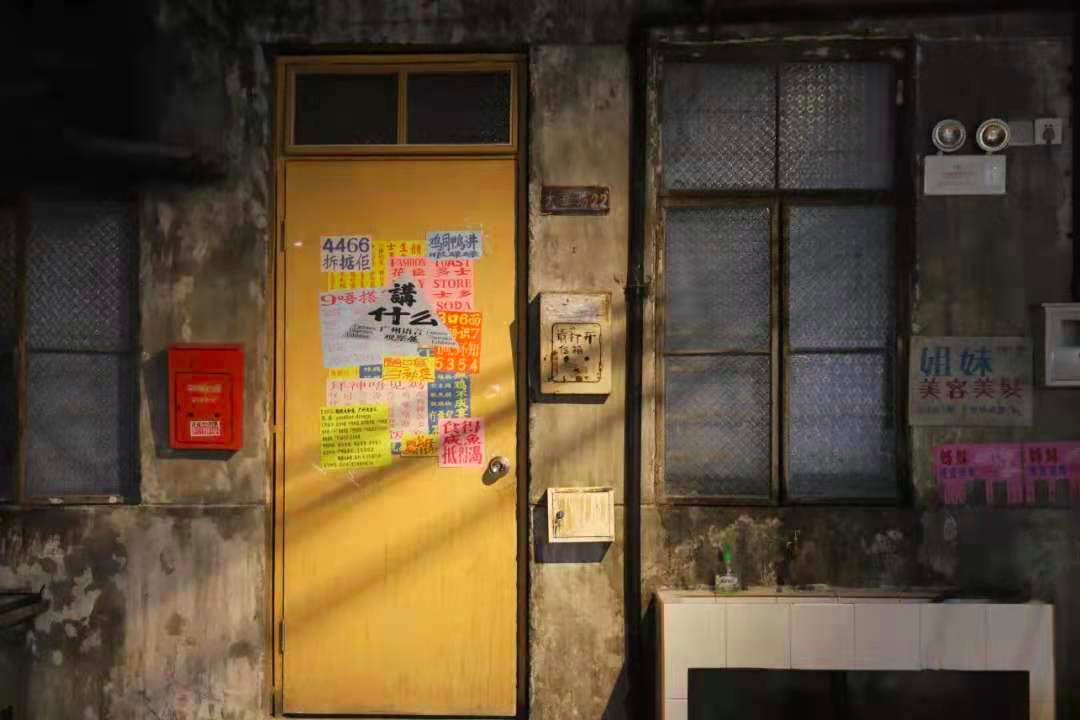 Wenheyou, Guangzhou, the picture is from the "Changsha Wenheyou" public account
Although the achievements are dazzling, but the controversy ensued from the beginning of the establishment of Guangzhou Wenheyou.
As a local brand in Changsha, it is easy for Wenheyou to create the "old Changsha" style in Changsha, but when it comes to Guangzhou, as an "non-local" brand, Wenheyou has no advantage at all.
Will a dim and old building backed by TaiKoo Hui attract local consumers and foreign tourists in Guangzhou? Will they be more attractive than the existing old city in Guangzhou?
The architectural style of Guangzhou Wenheyou also makes people feel unsatisfied. The citizens of Guangzhou think that it is a mistake in site selection to make incompatible Wen Heyou appear in the bustling CBD. From the decoration point of view, this is a collection of old-fashioned Keqi landscapes in cities such as Hong Kong and Changsha. Not only can it not reflect the culture of old Guangzhou, it is a distortion of the old Guangzhou culture to a certain extent.
On Zhihu, some users questioned the lack of persuasiveness of Guangzhou Wenhe Younei's brand introduction. Not to mention whether the crayfish is a local specialty food in Guangzhou. Some "time-honored" rice noodles and catering brands can actually be seen everywhere in Guangzhou. As for the food business cards such as "Fei Tung Hui" and "Fried Luo Ming", they have jumped out of the original. The location loses its characteristics.
Wen Heyou, whose story is bigger than food, will wrestle in Guangzhou where food is the priority.
Changes took place quietly at the end of last year. According to Jiemian News, merchants such as Blind Gong Maru, Fengtong Hui BBQ, and Tang's Secret Roast Chicken Wings withdrew from Wenheyou, Guangzhou. According to news, Wenheyou and the merchant's The sharing model makes it impossible for businesses to make a profit.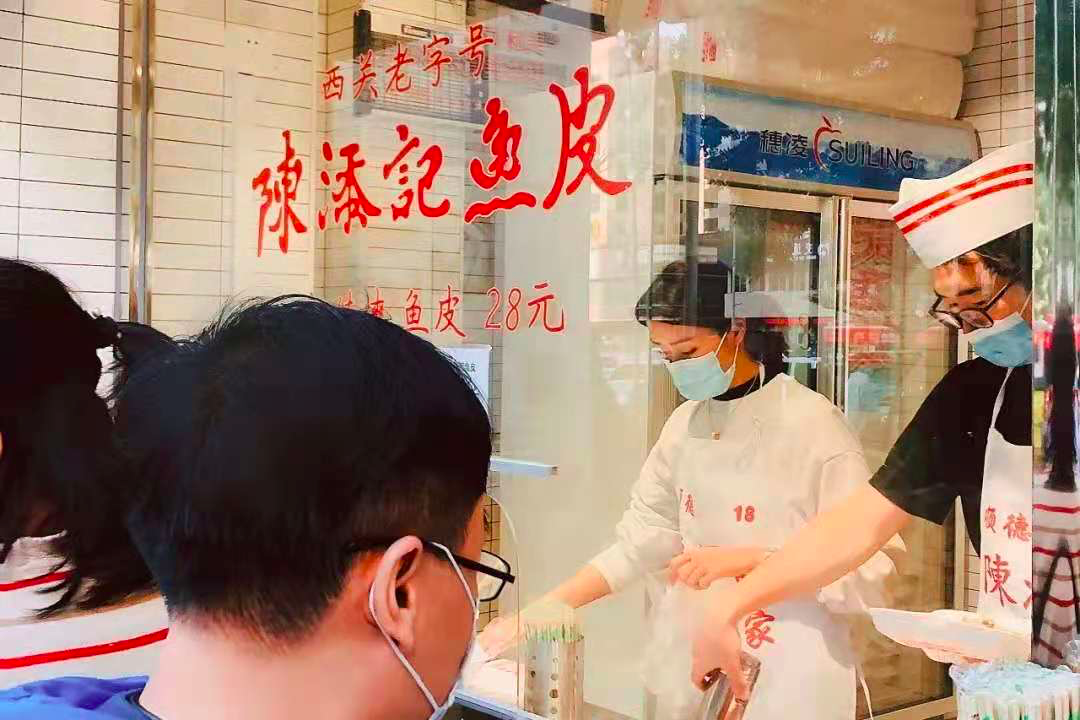 An old brand in Wenhe Youli, Guangzhou. The picture comes from the "Changsha Wenheyou" public account
Nowadays, the doubts about Guangzhou Wenheyou are naturally transferred to Shenzhen Wenheyou.
At present, Wenheyou in Shenzhen seems to be doing better than Wenheyou in Guangzhou. Perhaps because of the experience of Guangzhou Wenheyou, Shenzhen Wenheyou chose the site of Dongmen Old Street, an old business district in Luohu, Shenzhen. This time, Shenzhen Wenheyou also introduced more cultural and creative projects such as drama in it. .
Compared with Guangzhou, Shenzhen itself is more tolerant of culture.
But the problems faced by Shenzhen Wenheyou remain the same. How can Wenheyou who rely on urban culture satisfy the aesthetics of consumers in different cities? And how to arouse consumers' love for man-made landscapes? Furthermore, tireless brand marketing canCan't maintain Wen Heyou's commercial competitiveness?
This is all suspicious.
Xiaoye tells Ai Fan'er that the purpose of going to Wenheyou is to drink tea to make her look happy, and Ronaldinho's stinky tofu is a popular shop.
"Wen Heyou actually has no special attraction. For consumers, the sustainable attraction is food. Those so-called characteristics are not attractive to me. I will not go in for taking pictures after I check in."
Wen Heyou's model is unique. However, Wen Heyou, as a "catering complex", has to spend time and effort to highlight the "urban temperament" in the establishment and cooperation of shops, but in essence it is similar to "commercial real estate." If Internet celebrity shops such as time-honored brands and Cha Yan Yue Se are eliminated, Wen He You's own appeal and value will be greatly reduced.
Take Shenzhen Wenheyou's purchasing agent as an example, consumers still seem to have the most immediate goal of tea beauty rather than the consumption space of Wenheyou. In December last year, Cha Yan Yue Se opened a store in Wuhan, and there was also a long line outside the door, and a cup of milk tea was also fried by scalpers for 500 yuan. This also indirectly shows that in Wenheyou, the largest IP is not created by itself, but leased.
Compared with Disney, which has formed its core competitiveness in the self-produced IP universe, Wen Heyou still has a long way to go to be named "Dining Disney".
A few days after the opening, the line of Wen Heyou has been ebbing. The business of making old towns in cities continues. According to Wenheyou's plan, it will open 10 Wenheyou in Beijing, Hong Kong and other first-tier cities at home and abroad in the next step.
Wen He You is still attractive, as long as it opens again next time, there will be tens of thousands of people queuing crazy for it. But when the frenetic wave passes, time, efficiency, and money will return to the concept of Shenzhen people.
When night falls, the lights are on. Maybe people don't like the spider webs deliberately arranged in the retro old town in the 90s. People who pursue new things are fascinated by any new things.
It's like loving you briefly.