Economy to a good second-tier cities, the property market hot
Editor's note: This article is from the micro-channel public number "sub-timber chat room" (ID: zimuliaofang), Author: Sub-wood.
Wen/Zimu
Foreword:
Some time ago, I wrote an article "Again, How Does House Price in These Cities Go".
The article detailed the market quotations and recommendations for buying houses in all core cities in the three major urban agglomerations in the Yangtze River Delta, the Greater Bay Area, and Beijing-Tianjin-Hebei. The cities that were not named are uncomfortable.
Today, I took the time to make a sequel to elaborate on the core cities of the second echelon, so as to give you multiple reference targets. It's still the old rule, each city is a condensed 5,000 words, starting from recent facts.
The following is the text:
1
Golden three ends
"The highest turnover in a single quarter since 2017."
When I saw this set of data yesterday, I was still a little surprised.
I predicted that Xiaoyangchun in 2021 would be very good, but I didn't expect it to be so popular.
Of course, Xiaoyangchun is not national, and it is completely in line with the "differentiation theory" I have always insisted on.
First-tier and second-tier cities with a good economy, the property market is booming.
Data shows that in the first quarter of 2021, the transaction volume of 18 key cities across the country is the highest in a single quarter since 2017, an increase of 14% over the fourth quarter of last year and 2.6 times that of the same period last year.
In the top 35 cities, second-hand housing prices rose 1.4% month-on-month in March, up 3% from December last year.
At the micro level, this wave is in line with the three-year mini-cycle theory. It is driven by first-tier cities and gradually spread to second-tier cities with strong economies.
For example, in the first quarter, sales in Hefei rose by 60%, Xiamen by 50%, and Chengdu and Wuhan by more than 30%. Even the lost Qingdao and Jinan have begun to bottom out.
In the third- and fourth-tier cities with poor economies, the market is mostly cold.
For example, a few days ago, cities such as Siping in Jilin, Dazhou in Sichuan, and Zhangjiajie in Hunan secretly announced debinding policies to rescue the market, but were later caught by the authorities and made public.
I have repeatedly emphasized that the housing prices in most third- and fourth-tier cities have been overdrawn during the wave of the Shanghai wave, and they are of little value in the future.
Actually, April is the "critical period" of the annual Xiaoyangchun peak season.
If the property market is misfired at this stage, the city is destined to miss the peak season this year.
The reason is very simple. For example, there are many restaurants on one street, and there is a crowd at 12 noon. All the restaurants are full of seats, but only a few restaurants are empty.
There must be something behindThe reason is that the food is not delicious, the price is too high, or the service is not good.
Similarly to the property market, the city's economy, residents' purchasing power, unreasonable housing prices, and inventory will all trigger this phenomenon. Therefore, there is no city in Xiaoyangchun this year, and there will be a backwater in 2021.
Moreover, this year is different from 2015-2016. It is wearing a regulatory yoke. The market prices in all cities are basically driven by rigid demand, which is easy to rise and hard to fall.
For example, in Beijing and Shanghai, so many policies have been issued during this period, but the transaction volume has always been high, all of which have risen steadily, and it is difficult to make a correction.
If there is no market this year, it means that the purchasing power of this city is very poor. You have to consider the long-term value of houses in this city. Everyone must be clear about this.
2
Killer's Tips
House prices rise, and funds will flow to the property market again. After taking the old path, the efforts of these years have been in vain, so the entire supervisory management has been a headache during this period.
Since April, the central government once again used its killer tricks and restarted the "interview model" with credit adjustments.
A few days ago, the Ministry of Housing and Urban-Rural Development focused on interviews with government officials in five cities, including Guangzhou, Ningbo, Hefei, Dongguan, and Nantong. Many people want me to talk about whether these five cities can still buy a house?
The first few cities that were interviewed were "not very clean" before. Even Guangzhou has relatively ambiguous control policies. It has reserved some areas, such as Conghua and Zengcheng, to allow outsiders to come. Buy a house.
As for Dongguan, although the "Dongguan Jiutiao" and "Dongguan Six" policies were introduced to regulate housing prices last year, the land supply could not keep up with the pace.
The supply of land is scarce, and the price of land keeps rising. Controlling housing prices without controlling land prices is a hooliganism. Therefore, housing prices are still rising under pressure because there are not enough houses to sell.
In the city interviewed this time, it is best not to get in the car.
Because according to internal sources, this urban accountability interview was directly elevated to the "stand position."
This means that the housing price of a city is directly linked to the future of certain people in the place.
Everyone knows that this is the most useful regulation.
Last year, 12 cities were interviewed. Afterwards, the regulatory policies became more severe. The property market continued to misfire. This year Shenzhen was also the best example. After being interviewed, all tricks were useless. They simply blocked the market. There was no anchor for trading. How to trade?
Next, you will see various policies come on stage, highlighting four words:
Unscrupulously.
Compulsory policies interfere with the market, which will cause market expectations to fall, and buyers will have a strong wait-and-see mood, which will lead to a decline in transactions and a correction in house prices.
So it has just been heavily regulatedIn cities, it is best not to get in the car and wait and see for the fall.
3
City analysis
Next, we analyze the key core cities except for the three major urban agglomerations.
This issue mainly focuses on second-tier central cities.
Wuhan
The value and concept of Greater Wuhan is constant, so after the epidemic last year, I wrote an article telling everyone to get on the bus.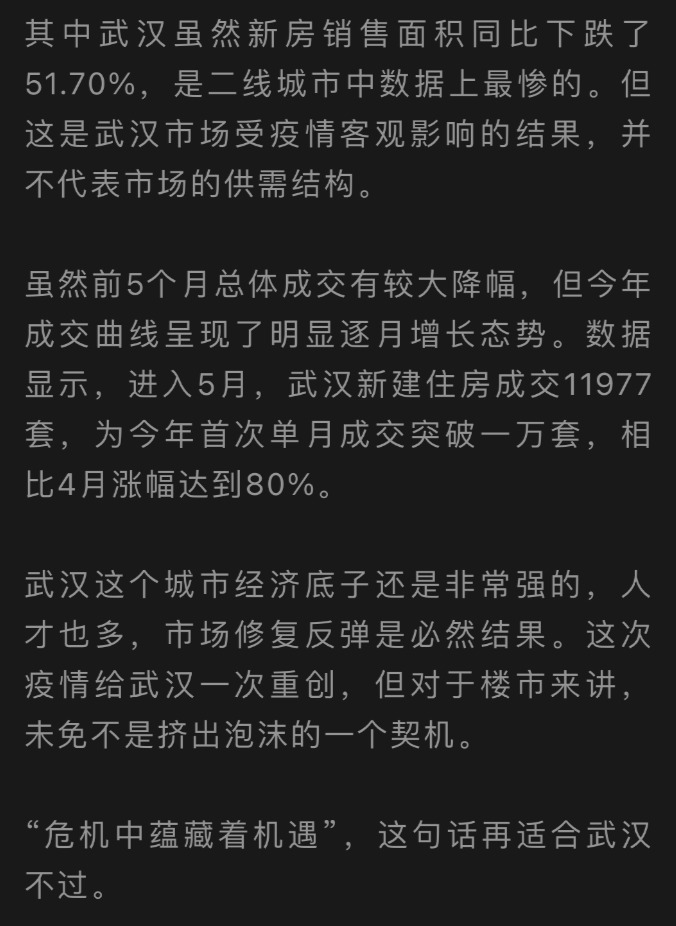 June 2020 sub-wooden screenshots
Because the city's economy is very good and it is a new first-tier city level, although the emergence of the epidemic has hit the economy, it has also helped the housing market to squeeze the bubble faster. After the epidemic, it is the best window.
That's the result.
In the months after the epidemic resumed, GDP has risen sharply, and the underlying potential of this big city has been stimulated.
Years later, the influx of "new Wuhan people" broke the balance of supply and demand, and the Internet celebrity disks on Guanshan Avenue and Optics Valley East began to surge, which then led to the rise of housing prices in core school districts and gradually spread.
Now that the potential of Wuhan has not fully exploded, whether it is investment or just need to enter the market as soon as possible.
Hefei
Hefei, I wrote a special topic a few days ago, "This City Is Regulated Again", there is a sentence in the article:
Hefei has been one of the top dark horse cities in the country for the past 18 years. It has a lot of economic space, but it is also a veritable third city for real estate speculation.
In general, it's a bit fluttering…
The local government is rather ambiguous about real estate regulation and has been keeping a gap. After being jointly raised prices by local owners last year, there was no good control. As a result, housing prices rose three times higher. This time it is reasonable to be regulated.
In cities with relatively loose regulation before, this wave of house price increases will be mixed with a lot of speculative elements, and house prices will fall in an "expected" manner. Facts have proved that it is true.
A friend from Hefei told me that within a week of the Eight Articles of the New Deal, the house price in Hefei was 16,595 yuan per square meter, down 5.6% from the previous month. Some speculators sold overnight and cut prices for sales, and some even lowered the house price by 400,000 overnight in order to cash out quickly.
It is expected that Hefei's property market will enter a deep adjustment nextFor details, please refer to my last article.
4
Zhengzhou and Nanchang
Zhengzhou
As a large city in central China, Zhengzhou naturally has to keep up with the process. According to the latest news, Zhengzhou, which has been sideways for four years, has also ushered in Xiaoyangchun. Guancheng District and Jinshui District are relatively hot, and individual properties are overcrowded.
But I have written an analysis of Zhengzhou before. This wave of Xiaoyangchun in Zhengzhou can only prove that it is "not left behind" in the second-tier city camp. It has long-term stable value, but the overall pressure on housing prices is far less than that of Chengdu, Wuhan, Hangzhou, etc. Core city.
The specific reason is that housing prices rose too sharply in the last cycle, which was a major blow to Zhengzhou, where the emerging economy and talent reserves are not so strong, and it has not been able to slow down for 4 consecutive years.
In 2021, you can buy a house by car. Housing prices in Zhengzhou have bottomed out, but don't worry, because Zhengzhou's inventory is still very large, with a 2.2-year destocking cycle, many new projects, and enough room to choose from.
Changsha
Every time I talk about the city of Changsha, I feel aggrieved. Everything is good in this city, but housing prices will not be able to realize their value in the future.
The reason is also very simple. For example, there are a bunch of students in a class, and Changsha is the squad leader. I taught many cities how to control. Of course, the result of control is to control housing prices.
So in the future, Changsha will be given the title of "control model", which is deeply tied to housing and non-speculation. The whole country is staring at this place, and the future housing prices are unlikely to rise sharply.
Buy whatever you need, investment is not recommended.
Nanchang
Last talk about Nanchang.
Many people say that Zimu doesn't like Nanchang. The article never mentions it, which is not the case.
As one of the five cities in central China, Nanchang has the thinnest foundation. It should develop its economy and find ways to retain more young people. However, the last round of housing price increases even exceeded Wuhan, which directly caused young people to leave with hatred.
The sideways cycle is not shorter than Zhengzhou. After the year, the five cities in the central region will start the property market simultaneously, and only Nanchang will be absent. The most surprising thing is that some time ago, the local government also issued a policy to loosen the property market.
Then the central government called for an emergency stop and put on a hat.
There is excuse for the loosening of the third and fourth lines in the property market, but Nanchang is the capital of Jiangxi province and a dignified second-tier city, so it shouldn't be.
Data shows that Nanchang transactions are on the rise, but they are mainly concentrated in the new housing market. The second-hand housing market is still tepid, which is the result of a serious overdraft.
Nanchang has been trading sideways for several years, and there is not much room for the next decline. There is no need to buy a house this year.Anxious, smart homebuyers still recommend going to second-hand housing to buy bamboo shoots.
In the next issue, Zimu will analyze more cities, including Xi'an, Taiyuan, Hohhot, Kunming, Guiyang and other cities. As for the third and fourth lines, you can leave a message and it will come out gradually.