Subversion is a unique and cruel romance in the business world, but it will be even more exciting if it is left to the death.
Editor's note: This article is from the WeChat public account "Feiyu Finance" (ID: feiyucaijing2021), author: Mr. Ming, content architect: Jingjing.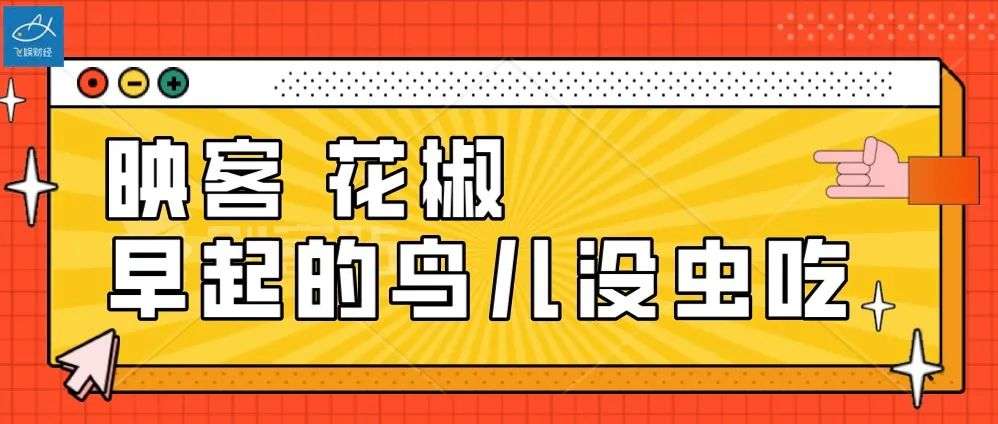 The cruelty of the business world lies in the fact that after a long absence in the arena, even leaving legends in the arena is a luxury.
Inking and Huajiao, who had survived the "Thousand Broadcasting War", failed to enjoy too much glory. In just a few years, they had the embarrassment of being subverted. It can be said that "the early bird did not Worms eat".
According to iiMedia Polaris data, in March 2021, the number of active users of Inke was 10.7 million, while that of Huajiao was only 9.79 million. In sharp contrast, short video platforms led by Douyin and Kuaishou have exceeded 100 million monthly life.
The disparity of data is certainly not determined by the individual. The overlord of pan-entertainment content platform changes frequently, and the protagonist changes from online live broadcast to short video. It is more about the industry-level revolution in the battle of the attention economy.
For the subverted Inke and Huajiao, the more cruel thing is that, as a new force that is difficult to be shaken, the online live broadcast form incubated by short videos has also explored a height that they cannot reach— —Live e-commerce has made the business model of this industry more mature.
Undoubtedly, in the past, single entertainment live content has always been a check and balance of the monetization channels of Inke and Huajiao. Until today, live rewards are still the most important source of income for such established platforms. For example, Inke, the data disclosed in its 2020 annual report shows that last year's overall revenue was 4.95 billion yuan, while live broadcast revenue was as high as 4.837 billion yuan.
Lack of imagination is the biggest crisis.
Yingke and Huajiao are not without finding a new way out. In the past two years, both of them have begun to explore becoming a "pan-entertainment platform" of "live + social". The former focuses on the creation and acquisition of new products, such as social APP for young people, cloud dating, and dialogues imitating clubhouse, while the latter has also tossed on new content such as live variety shows and Lianmai blind dates.
Helplessly, the gap between and shaking fast became more and more obvious.
Now, those who survived the "Chibo War"On the platform, Huya and Douyu, which are based on games, sought to merge with Tencent's support. YY was acquired by Baidu, which has been considered a good home. Inke and Huajiao, one of which is capitalized in Hong Kong stocks and the other is backed by 360.
What I want to discuss in this article is that in the long Internet, the hotspots are always short-lived. Seizing a highlight moment may not necessarily be the real bonus. How did the fate of Inke and Huajiao get to the present point? , What enlightenment does it have for the latecomers, and whether they are originally star products, are they still possible to change their fate today?
01
Things are not humans
The debut of "Live Streaming" is the pinnacle
So far, Inke's highlight moment is the day it went public.
On July 11, 2018, Inke, which was only three years old, was listed for trading on the Hong Kong Stock Exchange. The opening price was HK$4.32, which rose by 40% during the intraday session, and its market value exceeded HK$11 billion. The founder Feng Yousheng sighed that Inke started from a private house, and it took three years to achieve "the first share of live entertainment on the Hong Kong Stock Exchange".
This is certainly worth the excitement. At that time, the live broadcast platforms of the first and second echelons of the market were racing against time for listing. The fastest movements are Huya and Douyu. In its unaudited financial report for the 2017 fiscal year disclosed in early 2018, Huya stated that it had also submitted a listing application to the U.S. Securities and Exchange Commission, while Douyu won an E round of US$630 million in financing exclusively invested by Tencent to prepare for the Hong Kong stock market. .
At the same time, Huajiao Live also reported that it will go to Hong Kong for an IPO at the end of 2018.
It's just that, under the anxious speed, there are already bad stories.
Inke's prospectus disclosed that the company's business is mainly divided into three major segments: live broadcast, online advertising and other three sectors, and most of its revenue comes from live broadcast. In 2015, 2016, and 2017, Inke's revenue was 28.7 million yuan, 4.334 billion yuan, and 3.941 billion yuan, respectively, accounting for 94.6%, 99.8%, and 99.4% of total revenue respectively.
While live broadcasting has become a well-deserved core business, the core data of live broadcasting is gradually declining. When Inke submitted its prospectus, it mentioned the Q1 data of 2018, which showed that its monthly active population increased by 14.15% year-on-year, but the average monthly number of paying users decreased by 59.89% year-on-year, and the number of monthly active anchors also decreased by as much as 74.93% year-on-year. Inke issued a risk warning in the prospectus, and the company cannot guarantee that its performance can maintain substantial growth.
Let's look at Sichuan pepper again.
As a mobile live broadcast product incubated by Qihoo 360, backed by the company's huge traffic and channel support, Huajiao is undoubtedly "rich", which directly makes it a struggle with Inke as the first-echelon entertainment content live broadcast platformBy.
But the pepper is not "competitive". The data in Analysys' "Q3 2017 China Mobile Live Broadcast Market Quarterly Inventory Analysis" shows that Inke and Huajiao have respectively 30.03% and 29.11% of the network-wide user penetration rates, which are comparable. By the end of 2018, Huajiao Month Living equipment is only half of Inke.
Loss also plagued this platform. The announcement disclosed by Huajiao showed that in 2017, its revenue reached 2.419 billion yuan, but its net loss was 140 million.
Inke has 5 financings totaling 420 million yuan. The last time it stopped in 2016. In the full two years before listing, there was no financing record. Since the establishment of Huajiao, it has only completed three rounds of financing. , Including the hatch that 360 initially completed.

Huajiao financing record Source: Tianyancha
Since then, the downhill between the two has become steeper.
At present, Inke's stock price is hovering around 2.1 Hong Kong dollars, with a market value of about 4.2 billion, which has been cut down from the peak of 11 billion. The Huajiao live broadcast has almost disappeared from the public view and is regarded as a 360 mobile terminal. Symbol of failure in transformation. According to iiMedia Polaris data, its monthly active users in March were only 9.79 million, far smaller than the billion-level scale of short video platforms such as Douyin and Kuaishou.
In the competition of the big waves, they have also been dubbed "classical live broadcast", which is reminiscent of the ancient artifact 9158.
02
The siege is hard to escape
An industry that has to prosper falsely
Sometimes I think about it, I really can't blame the Yingke peppers, it seems that nothing has been done wrong, and we have reached the current situation step by step.
We will start from the industry level and the company level separately to review the reasons and enlightenment.
1. Industry level: have to fake prosperity
Zhuang Minghao, a well-known player in the venture capital circle and a former panda live broadcaster, determined the end of the "Thousand Broadcasting War" in early 2017: this is a game that can only be played with "1 billion in cash and 5 million DAU" ".
This sentence reveals the false prosperity of the "Chibo War".
thingIn fact, in 2015 and 2016, during the two years when the industry was at its peak, more than 300 platforms were born, but there were only more than a dozen real players.
Sina Technology conducted monitoring at the same time and selected more than 120 online live broadcast apps from the App Store. Nearly 20 of them have been unable to log in or have no content. Nearly 30% of the products are in peak live broadcast hours, and there are not enough viewers online in the live broadcast room. Hundreds of people. On this type of platform, meaningless content such as live broadcast of one's own TV and other meaningless content again accounted for the majority.
This in itself is a bubble industry ripened by capital. Wang Sicong sent Weibo to popularize it to the public, and Zhu Xiaohu, a venture capital of Jinshajiang, stepped on the accelerator for capital to enter. In November 2015, Inke completed a 70 million A round of financing, led by Zhu Xiaohu's Jinshajiang Venture Capital. Since then, the money-burning war has started.
The essence of online live broadcast is to provide users with entertainment and leisure content and create commercial value in the process of triggering real-time interaction. This also means that interaction, as the core link, needs to be more attractive.
The top live streaming platforms of entertainment content like Inke and Huajiao, on the basis of burning money, have the capital to invite celebrities to settle in.
In April 2016, due to the popularity of "Ode to Joy", Liu Tao and Jiang Xin and other friends started broadcasting at Yingke. The number of people online once reached 170,000, breaking the record for the largest number of people online on the live broadcast platform. On the eve of the 2016 Olympic Games, Inke also proudly signed more than 20 athletes. After the game, Fu Yuanhui became popular because of the phrase "the power of the wild". When Inke's live broadcast debut, it attracted tens of millions of onlookers and rewards. Gifts exceeded 3.18 million.

Zanthoxylum bungeanum's live broadcast is not bad. In the "Night of Huajiao" in September 2016, Zhou Hongyi brought more than 30 popular stars such as Fan Bingbing and Zhang Jike to appear. In addition, Huajiao also won the live broadcast of the AKB48 general election that year.
It's just that this method is a one-time consumption of huge sums of money, and it is difficult to maintain long-term content output. In this regard, celebrities are no different from anchors. On the one hand, celebrities are not stable in coming and going. On the other hand, even if a long-term cooperation is reached, users are prone to aesthetic fatigue and gradually lose interest.
In the first part of the article, we mentioned the data of Inke's prospectus, that is, live broadcast is the most important source of income, but the platform still cannot withstand the declining core data of anchors and users. This is the reason.
2, company level: false prosperity numbers make imagination lack
Since its birth to today, live broadcasting has been in the process of continuous evolution in the past ten years. The end of the "Thousand Broadcasting War" only proves that latecomers have more innovative and mature business models. Statistics show that in the first half of 2020 alone, there will be 13 investment and financing events in the field of live e-commerce, with an amount exceeding 1 billion. Among them, no Yingke and Huajiao were found.
The business model is unhealthy, and slow transformation is the biggest problem.
Regardless of whether Inke or Huajiao, live streaming has remained the same as the top revenue leader. The data disclosed by Inke in its 2020 annual report shows that last year's overall revenue was 4.95 billion yuan, and the live broadcast revenue was still as high as 4.837 billion yuan, which is no different from when it went public.
They put into action at the same time, and under the basic logic of connecting people, they chose to transform to social.
Huajiao Live initially imitated a foreign product called "Periscope", which is a live streaming application that has strong expressive power in some breaking news events. In the initial team, there are indeed many people who have transformed from traditional media. But after Huajiao was officially launched, the introduction became "a mobile phone live social platform that gathers super-high-value beautiful handsome guys, popular internet celebrities, school flowers and school grass, lace news, celebrity conferences, life anecdotes, etc.".
In the name of social, there is actually no social gene. After the product was released, the live broadcast, especially the traffic data brought by the beauty live broadcast, suppressed everything and forced the product to go in an unexpected direction. Until the end, the live broadcast of the show was completely transformed.
Inke's live broadcast + social matrix is ​​more reflected in the incubation of new businesses. Since 2017, Inke has successively launched short video "seed videos" for the sinking market, voice dating platform "Buju" and "Sound Bubble" for young people, and "StarStar", a two-dimensional community, which provides live K song products for middle-aged and elderly users. "Laoyou Live" and so on are all gone. The most famous one should be the acquisition of "Jimu", a social product for strangers in 2019.
The problem is that social networking itself is a dangerous road. The player Zhuang Minghao once said: Looking back at the competition in the domestic mobile social field, all achievements have been accomplished.
It's not easy for social feedback to live broadcast. Even today, with a large number of one billion users, WeChat still has the label of "restraint" in commercialization exploration. The reason is that commercialization hurts the user experience of social products. Is inevitable.
Today, online live broadcast has almost been divided into the world by Douyin and Kuaishou. The live broadcast + e-commerce + local life service model explored by the two short video platforms has made this business more possibilities.
Actually,Feng Yousheng said in 2017 that he is optimistic about live broadcasting for a long time, and he also foresees the possibility of combining live broadcasting with medical care, e-commerce, and education in the future.
But in actual operation, Inke is still outdated. Until last year, on the occasion of the fifth anniversary of Inke's founding, he was late to deliver a speech. The company will make efforts to broadcast e-commerce, but there is no splash.
Huajiao gradually became the abandoned son of 360. In 2018, Huajiao merged with the six rooms of the old entertainment live broadcast platform. After the reorganization, Liu Yan, the head of the reorganization, said that live broadcast is not like watching Douyin. After watching five jokes in ten minutes, he will do something else. An immersive consumption process has huge room for growth.
According to the Mob Research Institute's "2020 China Short Video Industry Insight Report", the number of short video users is as high as 640 million. The market is in the stage of stock competition. The average monthly usage time of users reaches 20.7 hours. Super online games, online reading, etc., are the No. A big "de-fragmented time" project.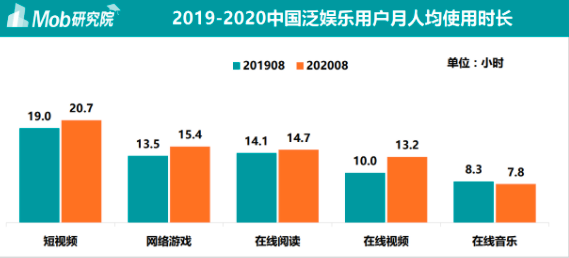 Source: Mob Research Institute
03
A way to break the game
What should I learn from YY and Sina Weibo?
Do not mention Douyin Kuaishou, because these two have the right time and place.
For Yingke and Huajiao, there are still cases where we can learn from experience.
One is YY and the other is Sina Weibo. The former is a model for professionalizing content production, while the latter is a representative product for refined operation and vitality.
Among them, YY was born earlier as a live broadcast platform. In 2012, although it also encountered a mid-life crisis-slow growth and sold to Baidu, such as Inke and Huajiao, who almost "have no such person", this is still A "chicken laying golden eggs". At present, YY has a monthly active life of 40 million and an annual profit of over 100 million yuan. The main reason is the establishment of a content moat.
Inke and Huajiao depend to a large extent on the personal creative power of the anchor, which leads to uncontrollable and disordered content. As an earlier live broadcast platform, YY is known as "Online Foxconn". In short, the anchors on YY are more professional.
This is a multi-party community including live broadcast platforms, anchors and guilds, and forms a complete commercial chain:
Live broadcast platform, responsible for product development, operating content and users;
Gold Medal Guild, responsible for cultivating anchors;
Artist management, responsible for the further growth of high-end anchors, looking for development opportunities including film and television and variety shows;
……
In 2017, Huanju Times CTO Yang Xuebin mentioned in his speech that the number of anchors with an average monthly income of more than 3,000 yuan in the live broadcast business of YY was close to 100,000.
Sina Weibo is more about winning. It became a Chinese apprentice of Twitter relatively earlier. As a community with media attributes, after cultivating the public's 140-character "weibo" habit, By inviting celebrities such as celebrities to settle in, further enhance the influence of the platform.
Several rivals represented by Tencent Weibo, Netease Weibo, and Sohu Weibo, as latecomers, are actually difficult to rise again. Especially represented by Tencent Weibo, by imitating the form and content of Sina Weibo, it is doomed to fail.
But it does not mean that Sina Weibo has no merit. On the one hand, it invested in technology in 2016, through the latter's live broadcast and Miaopai incoming live broadcast and short video, there is no shortage of new content formats. On the other hand, it added detailed operation functions such as blackouts and launched Weibo International. Disrupt the information flow time (although this feature was scolded when it first came out, but from the perspective of the WeChat official account also disrupting the timeline, the commercial value and head content recommendation mechanism still has more advantages than disadvantages )Wait.
The purpose of the model case is not to promote and imitate, but to recognize the advantages and disadvantages of the product itself and make a reasonable plan.
For Yingke and Huajiao, the "Thousand Broadcasting War" has become a thing of the past. In the online live broadcast market dominated by Douyin and Kuaishou, there are few remaining opportunities. The short video era failed to transform in time, and now it has lost the opportunity for transformation.
What the two need to do is how to explore new ways in the only remaining private plot.
Here is a guess:
1. Yingke: "Little Red Book" in the live broadcast industry
From the perspective of positioning, Inke has always focused on the young group, and the outside world's impression of it also remains on the labels of "net celebrity", "fashion" and "star". Judging from the relatively successful exploration of Inke, its social platform for strangers, "Jimu", is also geared towards young and fashionable trendy men and women.
The most important thing for product marketing and operation is to focus on product positioning and find a suitable platform. From this point of view, the tonality of the Inke system is a natural choice for the beauty, service and food industries.Natural advantage.
Currently, short video and live broadcast platforms are involved in e-commerce, brand marketing methods are more diversified, the influence of celebrities or Internet celebrities is increasing sharply, and the channels and mentality of young people to grow grass are no longer limited. It also provides opportunities and possibilities for Inke.
Xiaohongshu started from Haitao and gradually developed into a lifestyle sharing platform. The most important thing is the community atmosphere. When Inke's live broadcast + social networking, content and sharing are connected, imagination can be expanded.
However, the challenge that Inke faces is that the live broadcast market of Douyin and Kuaishou Raiders, to a certain extent, has already planted grass and marketing in some short videos and brand live broadcasts. What Inke needs to do is how to use its own advantages to achieve differentiated competition.
2. Huajiao: B-side live broadcast service
For Huajiao, 360 once regarded it as a content product for mobile transformation, but the latter failed to complete its mission. However, compared with the group's aborted mobile phone and other product lines, if you want to reconsider the transformation, Huajiao is still the smallest trial and error cost.
One of the major areas of online live broadcasting is corporate live broadcasting. Currently, Weihou occupies 70% of the market share. The demand for large-scale events and corporate live broadcasts is not small. Previously, Tencent had launched a "Tencent Live Broadcast" product on WeChat to try to provide services to WeChat public account customers, but there is currently no scale.
At the same time, the epidemic has also increased the demand for online live broadcasts, especially for enterprises. Online activities have become a must.
The biggest demand for B-side live broadcast services is stability and high quality, and 360's inherent advantage is technology. The main business of 360 also provides an endorsement for the security of enterprise live broadcasts.
At the same time, including marketing, content, interaction, etc., corporate live broadcast needs are equally diverse, and the B-side live broadcast + also has considerable potential.
04
Thinking about Feiyu Finance
Subversion is a unique and cruel romance in the business world
But it's more exciting to die and live afterwards
In 2017, when Feng Yousheng accepted user questions and answers, he said "We don't pay attention to our opponents, and we are not so clear about the usual competitive landscape."
Those who came from the "Thousand Broadcasting War" did not even pay attention to their competitors. What's more, its opponent Huajiao, Zhou Hongyi used to drain traffic in order to live broadcast, watching one of his luxury cars slowly burnt Falling, it brings a lot of heat.
As of today, even if you pretend, there should be no way to say this sentence. Fall from the previous online live broadcast, regardless of the capital market or the publicAttention, now, they are all obvious marginalists-Douyin and Kuaishou have been in the C position for a long time. Moreover, this pattern will not change for a long time to come.
There are not many choices in front of Yingke and Huajiao. And their more urgent choice is that they need to make a quick decision in the squeeze between the two short video giants: life or death?
Although "subversion" is a unique and cruel romance in the business world, it will be more exciting to die and live. Yingke is still pepper, as a victor in the bloody battle, in his bones, he still has the courage to rise up.
We look forward to the rekindling of Yingke Huajiao, and the return of Yingke Huajiao to the public's vision!
Reference article:
1, Zhuang Minghao, "After the Thousand Broadcasting War, is the live broadcast still the outlet?" 》
2, interface news, "Why can't Zhou Hongyi make the pepper live broadcast he wants? 》
3. Tiger Sniff, "Inke is about to go public, what problems does its prospectus expose? 》
4. Daily economic news, "Entertainment live broadcast, can you still eat? 》