All the hardships of a listed company?
Editor's note: This article is from the WeChat public account "Zooming Light" (ID: guokr233), author: Big Sheep, editor: Chen Manlei, and ordinary sauce.
Before the end of April this year, there is a high probability that you have never heard of the car brand "Cyrus"; to put it simply, this fake foreign devil brand originated from the 33-year-old car-making "old force" well-off shares in the sea gold plating Project, but the office in Silicon Valley has long since died.
On April 29th, on the same day that the Tesla owner station was on the roof, Huawei put a little-known new energy vehicle, Cyrus SF5, on the booth.
The absurd thing is that the SF5 is not worthy of being called a new car at all. In March 2018, SF5 was released in the United States and accepted orders, and then there is no more information; in 2020, Xiaokang will bring back the "American descent" SF5 back to China, renamed "Gold Concelis" and listed again, but the annual sales volume is not enough. 1051 vehicles[1].
Huawei is online, and chickens and dogs ascend to heaven. After the auto show brought the goods, the SF5 sold in the Huawei mobile phone showroom received 3,000 orders in two days, and more than 6,000 in a week. Now the order has exceeded 10,000, and the schedule has been scheduled to August [2].
According to Huawei's description, SF5 is equipped with Huawei DriveONE electric drive system, Huawei HiCar smart car machine and Huawei SOUND audio technology. As a new energy vehicle that has already been finalized, why does the Huawei Smart Selection SF5 suddenly become more powerful?
In other words, when the audience accused the new energy vehicles of focusing only on software intelligence and not paying attention to the driving nature of the vehicle, there is such a company that does not talk about car building experience or technical capabilities, and only relies on two shouts and not originally used. The cross-border sales channel that sells cars has become a super player with orders exceeding 10,000.
In addition to sales, the stock price of Xiaokang shares has skyrocketed. Since April this year, Xiaokang shares have risen from 22 yuan to a maximum of 69 yuan.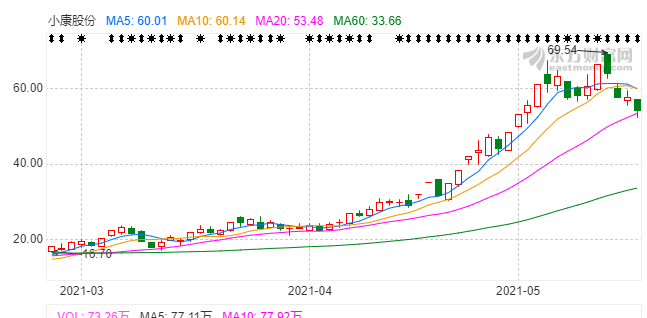 Xiaokang shares stock price | Source: Oriental Fortune Net
Bring out an explosive product and increase the stock price by the way. Now that Huawei, which is already amazing, has become a "golden hand", luck can't let Xiaokang monopolize it.
Whoever does not rub against Huawei, who is anxious with stockholders
Huawei is slightly split on the automotive issue: while repeatedly emphasizingHe doesn't build a car, and frequently announces news of cooperation with car companies.
As of now, in addition to Xiaokang, the car companies that have reached a cooperative relationship with Huawei include BYD, Chery, GAC, BAIC and Changan, all of which are domestic brands:
On March 25, 2019, Huawei signed a contract with BYD to cooperate in areas such as automotive intelligent networking and intelligent driving[3];

On December 15, 2020, Huawei and Chery have reached a cooperation, and the two parties will jointly develop smart cars[4];

On March 10, 2021, Huawei announced that it will jointly develop the next generation of smart electric vehicles with GAC Group's subsidiary, GAC Ion [5];

On April 19, 2021, also at the Shanghai Auto Show, BAIC Blue Valley launched the Polar Fox Alpha S Huawei HI version in cooperation with Huawei. Pre-orders have begun; on May 20, 2021, Changan Future announced Renamed "Avita Technology", together with Huawei and CATL, launch high-end smart electric vehicles[6];

Before the new cooperative car was launched on the market, Huawei's aura has already given some car companies a taste of the sweetness. On April 16, 2021, Huawei's self-driving technology was unveiled. BAIC Blue Valley and Changan Automobile responded to the daily limit, and GAC Group closed up 6.57%[7].

The "golden hands" can not only inspire car companies, but also lead the AIoT industry to soar.

On March 30, 2021, there was a media report that Kysun Technology, a listed company that develops smart beds, announced its entry into the Huawei ecosystem[8]. Kysun Technology's share price rose by 3.35% on the same day and reached its daily limit on the next day; On the same day, Qisheng Technology replied to investors on the matter at the forum and immediately raised the stock price by nearly 3%.

As far as the effect of boosting stock prices is concerned, the surprises and tremors brought by the Huawei concept have made the Olympics dull. On March 12, Qisheng announced that it would become the official smart bed supplier for the Beijing 2022 Winter Olympics and Paralympics, but the stock price rose only 0.19%, and even fell 1.94% on the next trading day.

Without the Huawei element, it is not worthy of being a good thing.

In the gaming industry, Huawei reached a cooperation with China Mobile Games on the gaming business on May 17, 2021. It will provide Huawei cloud services for the latter and explore the application scenarios of cloud games and VR games. It also rose by more than 5% the next day[9].

Huawei now has become a "sweet rice cake", and companies from all walks of life are rushing to cooperate. Internet company 360, augmented reality company Liangfengtai, and environmental technology company Infore Environment have all officially announced that they have reached cooperation with Huawei.

As of May 24th, on the Shenzhen Stock Exchange "E-Interactive" and Shanghai Stock Exchange "Shanghai Stock Exchange e-Interactive" platformAccording to Huawei's keyword information, there were 3032 and 670 messages respectively. Most of them were anxious investors asking "whether the company has cooperation with Huawei"… even Shengxing, a packaging material company that makes cans, It's hard to escape to ask.

Note: The main business of Shengxing shares is the production of cans, metal products coating and printing, etc.; source of pictures | Interactive Easy

Is there a more perfect concept than "Huawei"?

Whether it makes cars or mattresses, "Huawei concept stocks" are like stories told by partners to the capital market.

Take BAIC Blue Valley as an example. At the Huawei Analyst Conference on April 12 this year, Huawei's rotating chairman Xu Zhijun announced that he has cooperated with three car companies, including BAIC, to launch three brands of smart cars. . BAIC Blue Valley harvested three daily limit in the next 8 trading days, during which the cumulative increase exceeded 50%.

However, as can be seen from the daily line in the chart below, the stock price trend of BAIC Blue Valley is not healthy. Stimulated by news in April, it began to rise. After harvesting three daily limits, the company's stock price fell into extremely violent fluctuations. This means that stock trading is dominated by market sentiment and has little to do with company fundamentals. It is a very standard speculation.

BAIC Blue Valley stock price | Source: Oriental Fortune Net

Although the process was tortuous, the result was "positive". From April 1st to May 20th, the stock price of BAIC Blue Valley rose 127%. The company's market value has more than doubled, thanks to a message of cooperation with Huawei. Such "market value management" is really cool, no wonder everyone wants to use "Huawei".

Of course, if Huawei's statement of "not building a car" directly hit a limit, that's something to be done. Anyway, it's not these companies that are being covered..

Due to well-known reasons, since 2018, domestic consumers' support for Huawei has reached its peak, and the media and scholars have frequently spoken out for Huawei——

Niu Wenxin, editor-in-chief and chief commentator of the Securities Channel of CCTV Network, once published an article in China Economic Weekly that Huawei is "forced to be self-reliant" and "it is incumbent on Huawei's platform"[10]. Bai Chunli, President of the Chinese Academy of Sciences, also said that Huawei is the pride of China's brand and nation[11].

Although Ren Zhengfei also said in an interview that Huawei has no inevitable connection with Aigo[12]. However, the US "entity list" has given Huawei a "passportership" in China. In 2019, mobile phone sales surpassed Apple and became the world's second largest. By April 2020, Huawei has surpassed Samsung for the first time with a market share of 21.4%, becoming the world's number one [13].

From the perspective of partners, consumers or investors, Huawei has "political correctness" from the top down, and a deep mass base from the bottom up. It is an impeccable "perfect choice"—— If you have cooperated with the stock price and the performance has not risen, it is because your ability is not good; if you buy the cooperative product and it breaks, it is because your usage is wrong; if you buy the related stock quilt, uh, you have not been favored by the goldsmith. That's bad luck for you.

However, because of the sanctions, it has gained more support from the people and public opinion, sold more goods, and cooperated more. Huawei's strength and halo are more lasting.

Golden hands, not easy to be used

Huawei's recent frequent cross-border cooperation is a passive change under the pressure of the outside world.

After the divestiture of the Honor mobile phone business, Huawei's mobile phone sales have dropped sharply, and its business focus has gradually shifted to cloud business, smart cars and AIoT. In the smart car business, Huawei's goal is to "help companies build good cars"[14], while in the AIoT business, Huawei will "join hands with partners to connect to the Internet of Everything"[15]. This also means that in addition to the cloud business, Huawei has to cooperate with a large number of enterprises in the other two businesses.

On the other hand, offline channel vendors have put forward more requirements for Huawei's business expansion. Since mobile phones are out of stock, Huawei always needs to let dealers have stock to sell and support their families, and cars are a very good story. According to a report from Tencent's deep network[16], Huawei stores with more than 200 square meters can apply to sell cars, and each car will generate 19,000 yuan in revenue for the store, while the initial store renovation and the purchase of prototype cars for test drive vehicles need to be sold. The business investment exceeds 800,000 yuan.

With the advancement of more cooperation, the golden hand effect is increasingly regarded as a marketing gimmick by the partners.

For example, many car companies have confused concepts on the topic of "Huawei cooperation", forcing Huawei to repeatedly declare "not to build cars." In fact, Huawei only provides solutions for car companies, not car manufacturers. Those who useA car with Huawei technology is like a mobile phone with an Android system.

The Economic Observer Network commented that the quality of the car itself depends on the strength of the car company [17]: "For the car, the software level change is ultimately the icing on the cake, not the product itself. Upgrade." Cyrus has changed vests many times, essentially because of insufficient technical strength and limited consumer acceptance. If the product still fails this time, even with Huawei's endorsement, it will inevitably become a marketing gimmick.

Frequent cooperation will also overdraft the brand. Perhaps it was just aware of the risks. On May 24, Huawei issued a statement again, reiterating that it will not build cars or buy shares. Subsequently, the "Huawei Auto Concept Stocks" fell again. As of the day's close, Changan Automobile and BAIC Blue Valley fell by their limit, Xiaokang shares fell 6.02%, and Guangzhou Automobile Group fell 4.32%[18].

It's not over yet.

On May 25th, in the event that the broader market "beat the blood" and the three major indexes rebounded in an all-round way, BAIC Blue Valley continued to close down 4.82%, and Changan Automobile closed down 4.44%. This can be said to have buried a piece of porcelain for investors who chase high and bought, and even a bit like "killing pigs". It shows whether the previous rise really saw the value of the company or the concept of hot money following the trend.

Since the partners deliberately or unintentionally create illusions and retail hot money is chasing up, don't blame reality for bringing them back to their original form.

References:

[1] Zhang Wei: The sales volume of smart electric vehicles is less than 5% of the competing products. How does the well-to-do share expected loss of more than 1.3 billion "counterattack"? Investor Network. 2021.2.4

http://www.investorchina.cn/article/56791

[2] Song Doudou: A real exploration of Huawei's car sales: the joys and worries of "Cyrus". 21st Century Business Herald. 2021.5.24

https://m.21jingji.com/article/20210524/herald/156f803bc42227a432b2b9abdd9cff23.html

[3] BYD and Huawei signed a comprehensive strategic cooperation agreement. Auto. 26.3.2019

https://news.yiche.com/hao/wenzhang/1183919

[4] Ding Weiyi: Huawei and Chery jointly develop smart cars. Future Car Daily. 2020.12.17

https://auto-time.36kr.com/p/1014119826840195

[5] Skylark: It's announced! Huawei and the auto giantHand-built car, the stock price rose immediately. China Fund News. 202.3.10

https://mp.weixin.qq.com/s/J6Gf0mKi-dlLzefv7aIRfQ

[6] The Voluntary Information Disclosure Announcement of Chongqing Changan Automobile Co., Ltd. on the change of its holding subsidiary Changan Weilai to Avita Technology

http://static.cninfo.com.cn/finalpage/2021-05-20/1210022147.PDF

[7] Zuo Maoxuan: How good is Huawei's autonomous driving? Three cooperative car companies have daily limit. 2021.4.16

https://m.21jingji.com/article/20210416/herald/189561deaee4a0176d31b2d7de3f8f58.html

[8] Qisheng announced that it has officially entered the HUAWEI HiLink ecosystem. Zhongguancun Online. 201.330

https://pad.zol.com.cn/765/7653954.html

[9] Jiang Ge: Huawei and China Mobile Games formally reached a strategic cooperation in the game business. The latter has "Legend of Sword and Fairy", "Monopoly" and other IP.IT House.2021.5.17

https://www.ithome.com/html/discovery/551941.htm

[10] Niu Wenxin: It is incumbent on the "Huawei" platform-self-reliance forced out. Economic Net-China Economic Weekly. 2020.9.15

http://www.ceweekly.cn/2020/0915/313107.shtml

[11] The Chinese Academy of Sciences and Huawei held a working meeting. WeChat public account "Voice of the Chinese Academy of Sciences". 2020.9.21

https://mp.weixin.qq.com/s/eTnee6ephyvhht3u93ispg

[12] "News 1+1" 20190521 Ren Zhengfei: Correct answer to "Huawei is banned" right and wrong! CCTV.2019.5.20

http://tv.cctv.com/2019/05/21/VIDEBmcieM1qZtyOFN303Ceg190521.shtml

[13] Counterpoint Research: In August 2020, Samsung mobile phones accounted for global smart handsMachine market share reached 22%. 199it.2020.9.29

[14] Huawei does not build cars, but focuses on ICT technology to help auto companies build good cars. Huawei's corporate business official website. 2019.4.17

https://e.huawei.com/cn/news/ebg/2019/huawei-aims-to-enable-car-oems-to-build-better-vehicles

[15] Huawei joins hands with partners to move towards a smart world with the Internet of Everything. Huawei's official website. 2018.2.26

https://www.huawei.com/cn/news/2018/2/Fully-Connected-Intelligent-World-MWC2018

[16] Ma Yuanyuan: Survey of Huawei's car sales: Small brand Cyrus orders more than Weilai in a single month, with a target of 300,000 units next year. Tencent News Deep Net.2021.5.19

https://view.inews.qq.com/a/20210518A0B81J00

[17] Wang Guoxin: Huawei failed to build a car than a well-off? Economic Observer Network. 2021.4.30

http://www.eeo.com.cn/2021/0430/486648.shtml

[18] Zhang Xingwang and Cui Xiaosu: Huawei's sudden release of heavyweight "bad"! Hundreds of billions of giants were smashed to the limit, and the "four little partners" fell miserably. China Securities Journal.2021.5.24

https://mp.weixin.qq.com/s/FF6nJVvEZp4U9oOjYAenYQ