According to QuestMobile data, the pan-entertainment payment market exceeds 100 billion. The majority of pay-per-view users pay more attention to content quality. E-commerce members value money-saving rights most, and young users pay a higher willingness to pay.
Editor's note: This article comes from WeChat public account "QuestMobile" (ID: QuestMobile) by Mr.QM.
Mr.QM says
Children's shoes, what about the last period of growth in the dark horse? There are children's shoes message: the data has wood to remove the brush? (⊙o⊙)… This question is really sharp. After all, what we are doing is not the installation, but the MAU, DAU. This is natural and natural, and the silent users are eliminated. Therefore, there is no problem of eliminating the amount of brushing. After all, in this world, not everyone like Mr.Zhou, must prepare a lot of mobile phones, many contacts, many social, shopping accounts…
Span>
In other words, the children's shoes in the background message have become more and more talented. They began to add poetry and poetry: "To incubate the new theme IP features, it's a dry-going flow, and there's an integration towards content. About the competition for business efficiency! "Look, is it a ghost, it's a good wet!" Children's shoes, help you on the list, you are the most embarrassing thing on the gai of QM big data!
Return to the truth, share the report of the paying users with you today, and look at the status of paid users and paying users outside the e-commerce. In general, national copyright protection, consumption upgrades, and the ease of use of mobile devices have led to a combination of user growth and other factors. Spiritual and service-level payments have become more common. QuestMobile data shows that mobile game and game live pay users account for more than 30%. %, it can be said that the station has a lot of money; the enrollment rate is close to 30%, the content payment potential is large; the entertainment live pay rate has also exceeded 25%, the future prospects are expected; online video, online music industry pays a low proportion At 20%, but can't stand many people, the plate is huge!
From the perspective of user images, paying users are young, highly viscous and have high spending power, which is good news for the industry. Different platforms, how to target the different generations of Z generation, town youth, workplace youth, etc., will be the key to success in the next few years.
How to do it? Let's look at the report.
Crowd description
The paid users in this report include:
  1, paid members of each platform: such as PLUS members of Jingdong, VIP members of Tencent Video, known salt-selecting members, etc.
  2. In addition to the e-commerce platform, users who have paid behaviors on typical pan-entertainment platforms, such as users who pay for digital singles in music apps
 
China Mobile Internet user culture and entertainment consumption continues to rise, laying a good foundation for the development of the paid market
1,As China's government departments tighten their copyright regulations and raise their income levels, consumption is gradually upgrading from material consumption to spiritual and service areas, and spending on cultural and entertainment Increased, user payment terms are already mature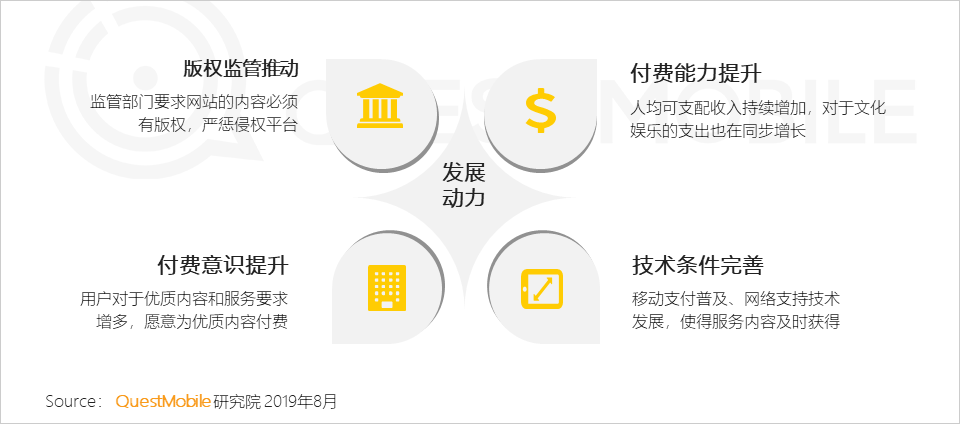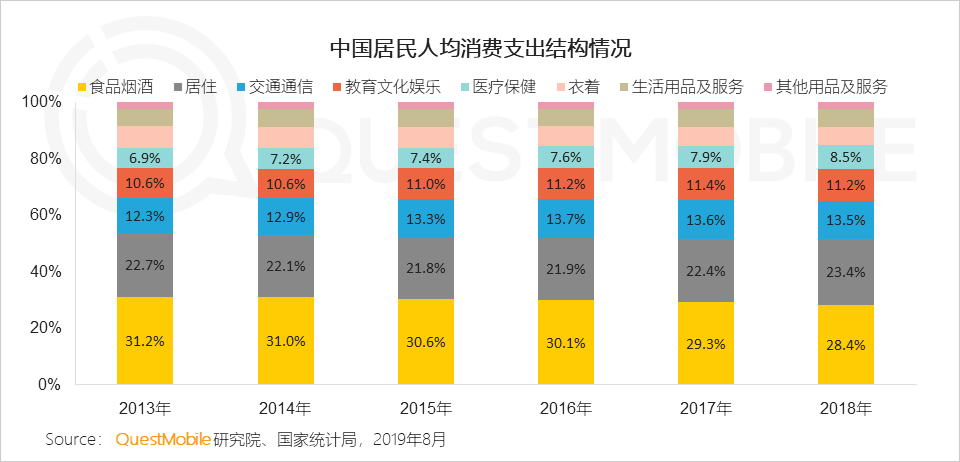 2, Online video, integrated e-commerce, and online music industry users all exceed 600 million in size, paying member base Good, but faced with problems such as slow growth of time and increasing competition for stock users, the development of paying users is conducive to its refined operation; online reading, encyclopedia question and answer industry users are growing rapidly, and paying users help them reduce content costs and form benign Development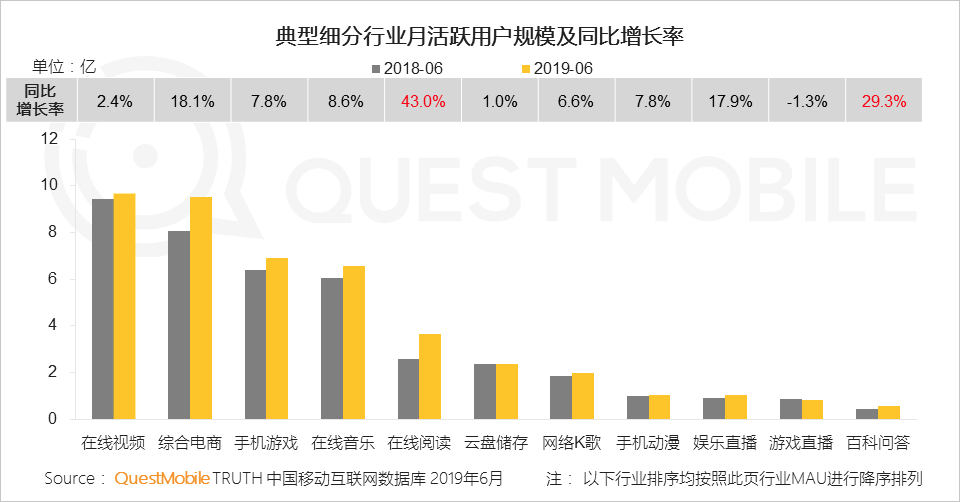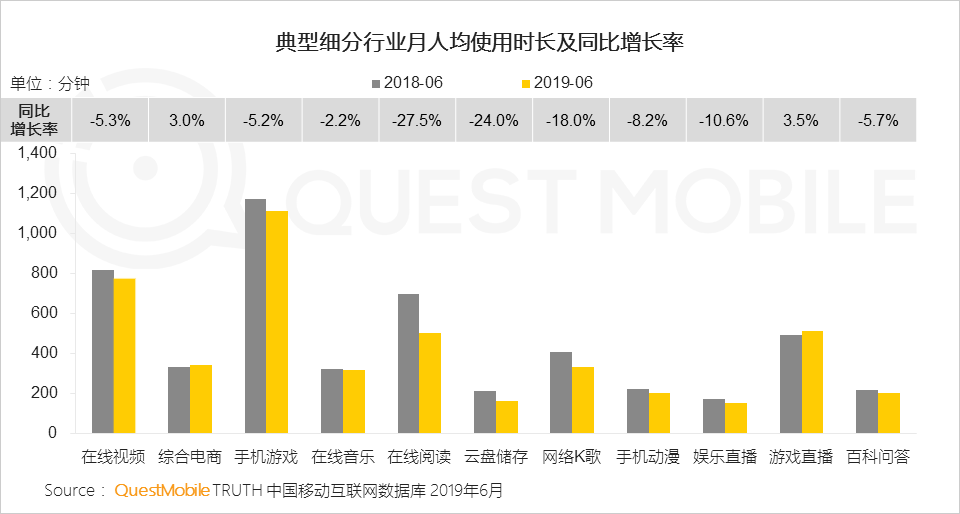 3, Pan-Entertainment The industry's paid market scale reaches 100 billion, and online video, live broadcast, online karaoke and other industries have already Formed a relatively mature paid business model, the market scale is above 10 billion; online reading, online music industry is currently not paying high income, but with the improvement of copyright supervision and user awareness of payment, the market potential is huge Strong>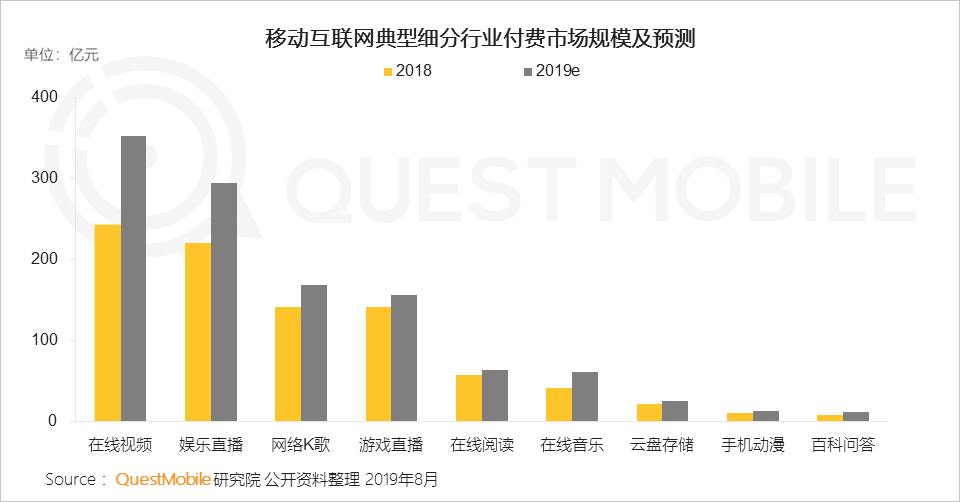 The huge cake in the paid market, how many people can compete for each other?

1, mobile games, games, live paying users accounted for more than 30%, the most powerful ability to absorb gold; online video payment accounted for nearly 20%, due to a huge user base, the paid market The scale is huge; with the increasing willingness of Chinese netizens to pay for content in recent years, encyclopedia question and answer accounts for nearly 30% of the total, and the growth potential is large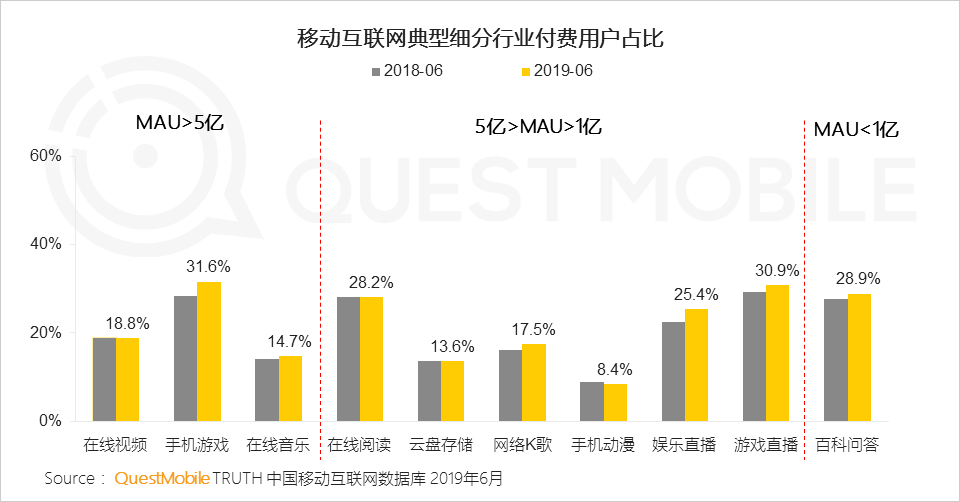 2, paid users compared to all netizens Generally speaking, young people under the age of 24 are willing to pay for the game and are willing to pay for the study. They are particularly high in the live broadcast, mobile animation and encyclopedia question and answer industry; in the online K song industry, users over 30 years old account for Higher, social attributes are prominent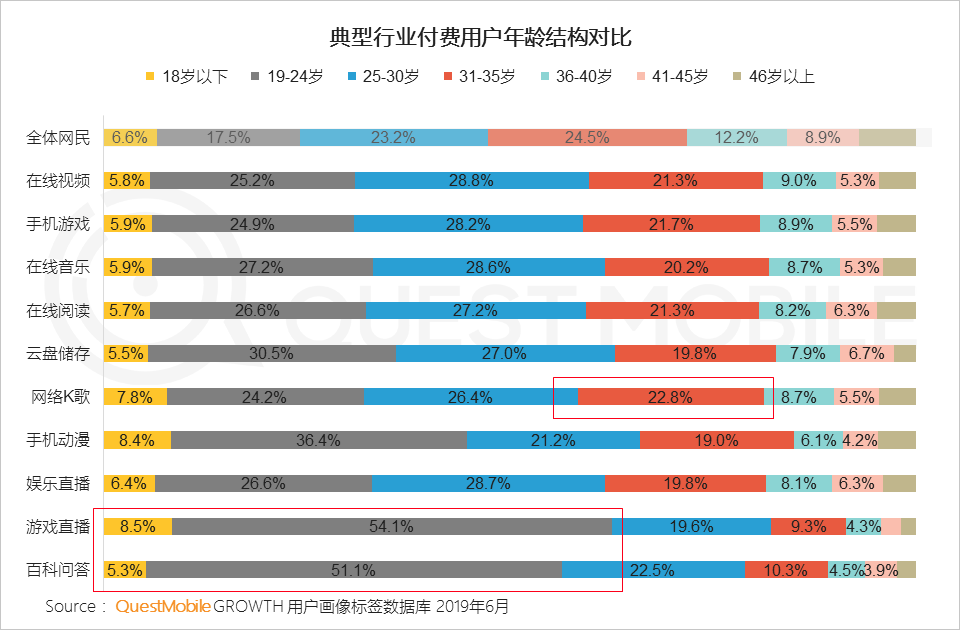 3, Typical Paid Markets – Pan Entertainment area
3.1 The paid membership model of the online entertainment industry, such as online video, mobile games, online music, online reading, etc., has matured, and the development of paying users has become the platform standard. Become one of the key revenue sources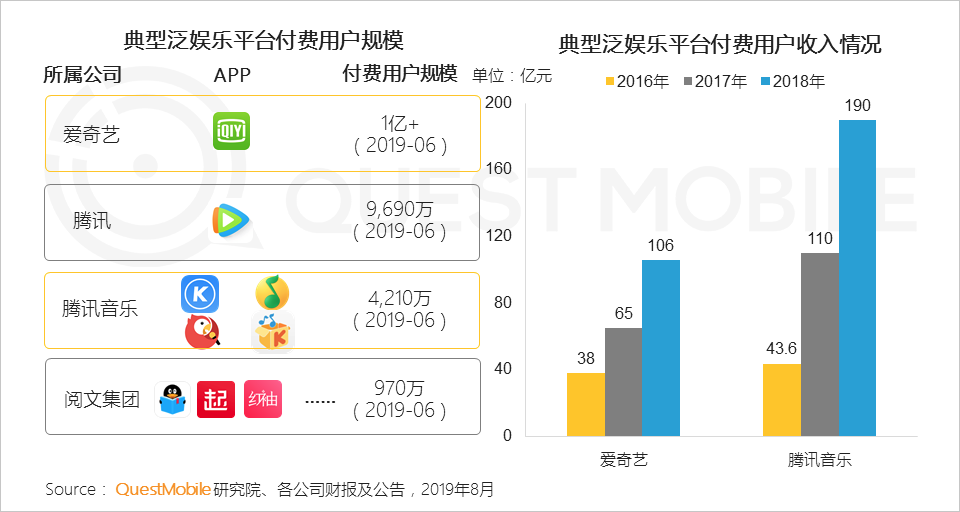 3.2 Paid users not only contribute revenue to the pan-entertainment platform, but also contribute a lot of time, and the stickiness to the platform is significantly higher than that of non-paid users Strong>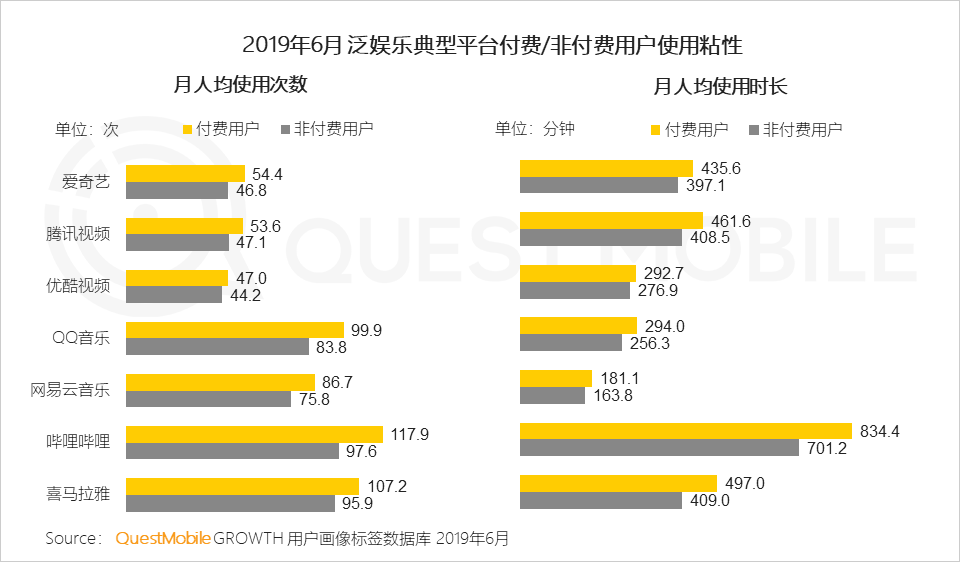 3.3 Content quality is the most important factor in the payment of the entertainment industry. A good experience, reasonable price and expansion of rights and interests will create a "value" for users and promote user renewal. /strong>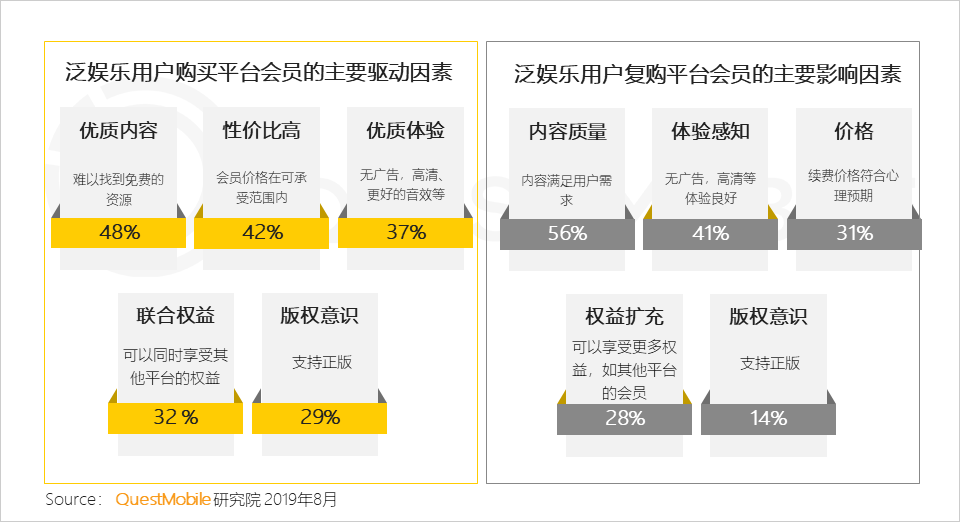 3.4 The premium content of the platform is the guarantee for the development of paying users. For example, the solo dramas of major video websites are significantly improved for users, and they are attracted by content such as secondary yuan and games. A large number of young users, users are getting bigger and bigger, creating the foundation for paid member conversions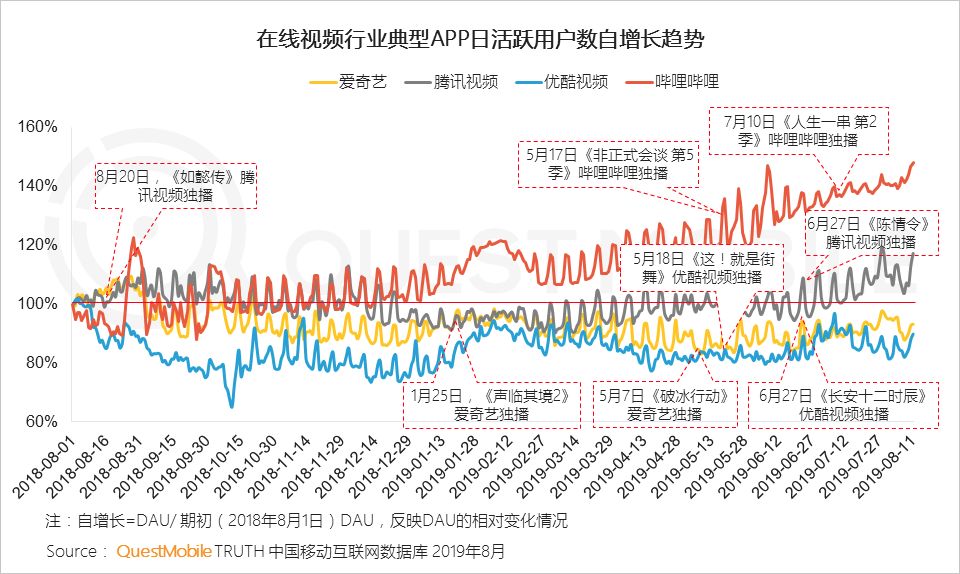 3.5 The value of paid members in the online video industry is prominent, the platform is more active, and retention is higher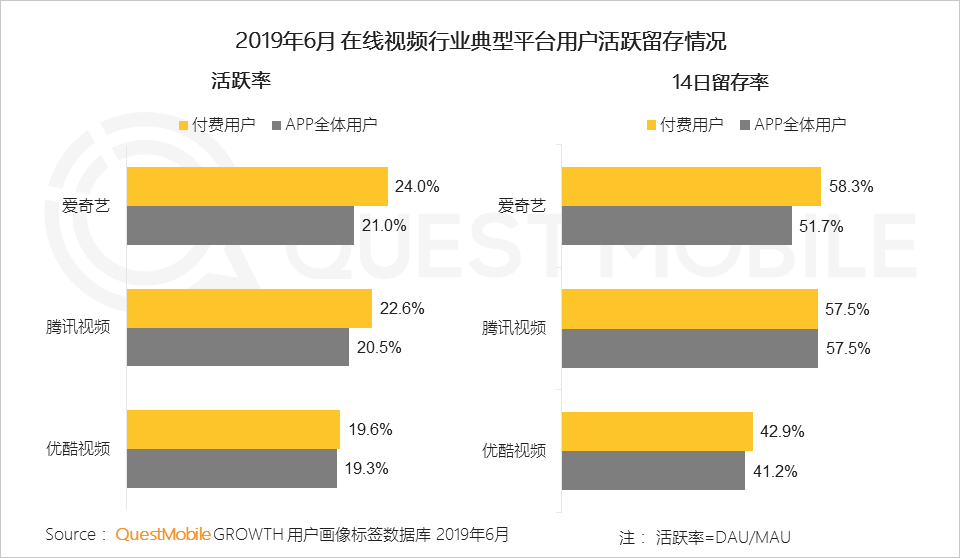 3.6 Compared with the industry, users aged 19-30, younger, newer and higher-tier cities, and high-end consumers are more likely to become paying users Strong>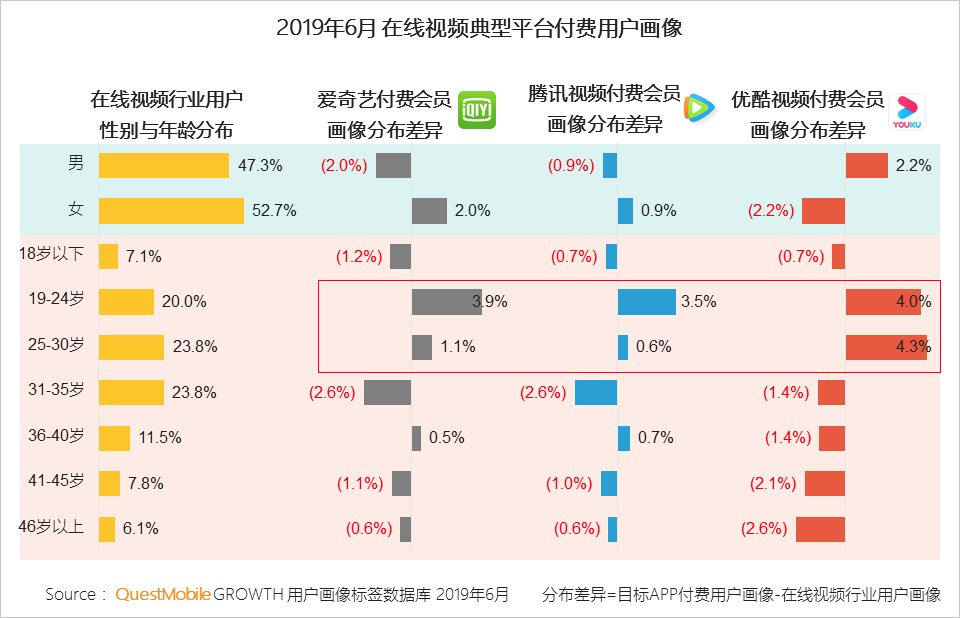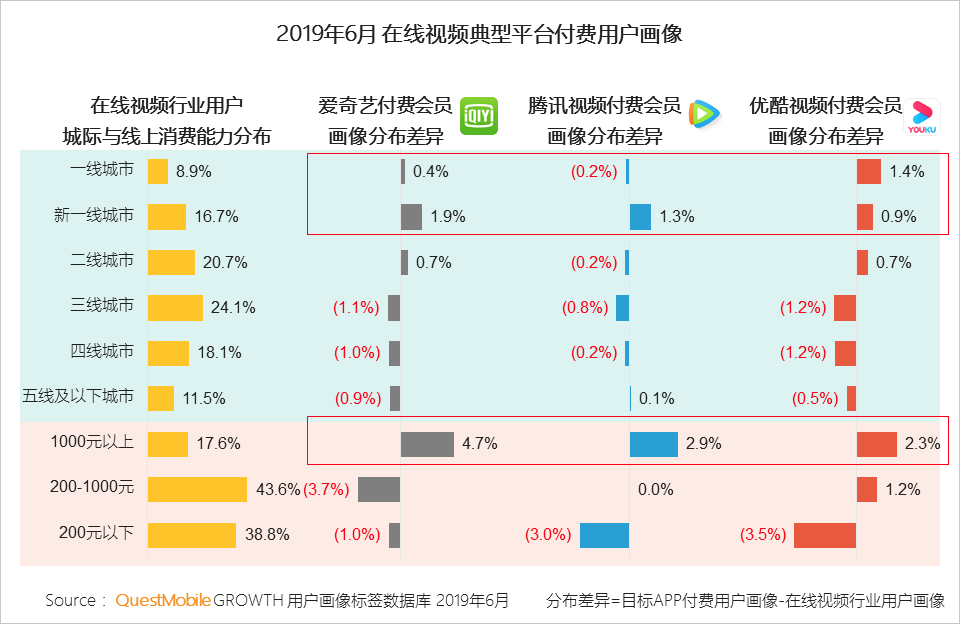 4, Typical Paid Market – Electricity Paid members
4.1 At present, the penetration rate of e-commerce paid members is still low, and the payment habits need further education and training.
  Joining with pan-entertainment products , Ecological and cross-border become an important means of attracting members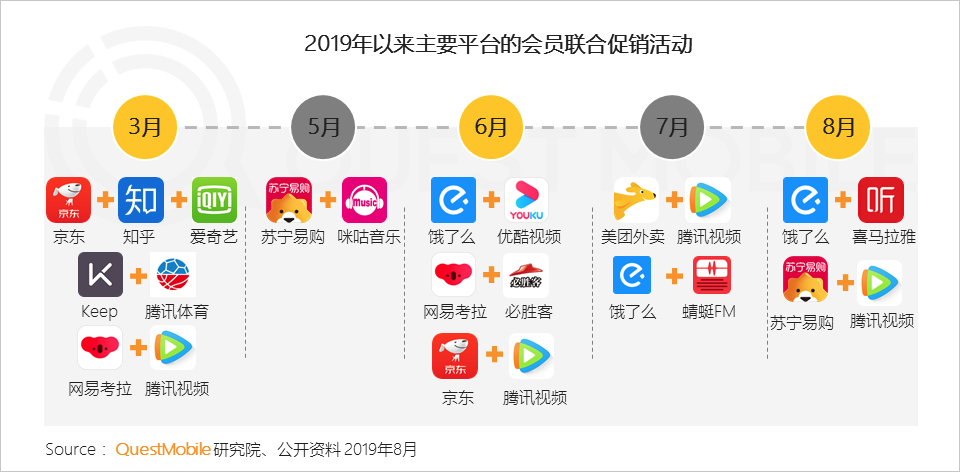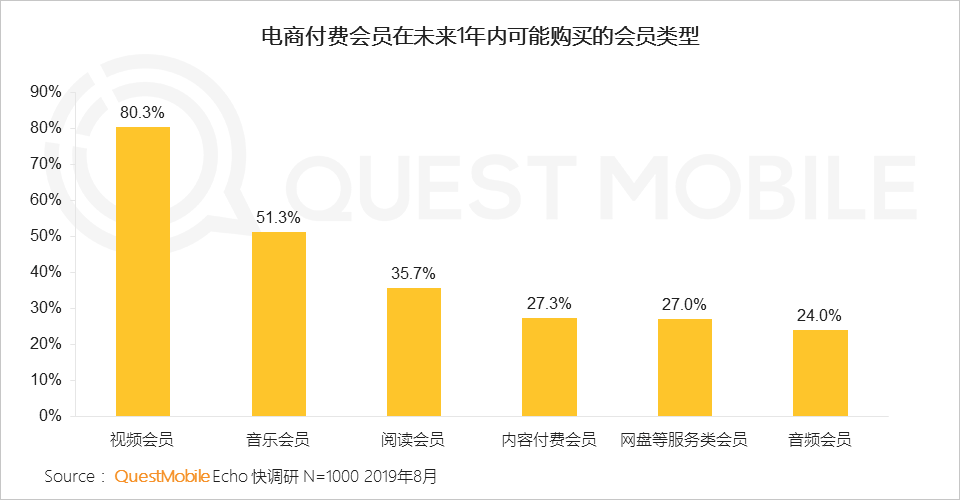 4.2 The membership benefits given by the head platform are all around the value chain of the shopping, giving more privileges and differentiated services in rebates, shipping, exclusive benefits and after-sales to help users. Saving money is a prominent selling point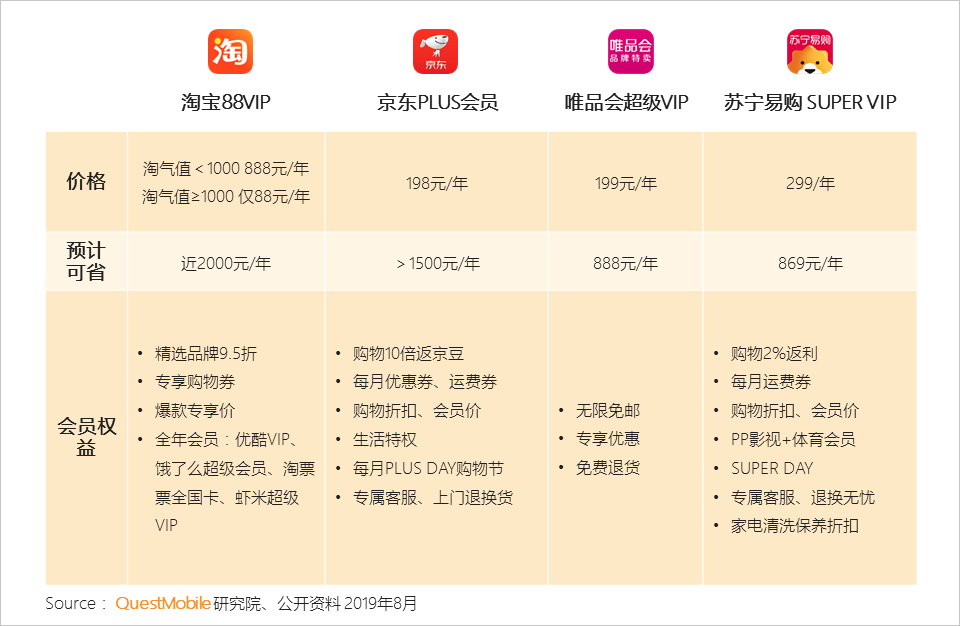 4.3 Among e-commerce paying members, users aged 25-30 are particularly high; income levels are also higher than national urban residents' income levels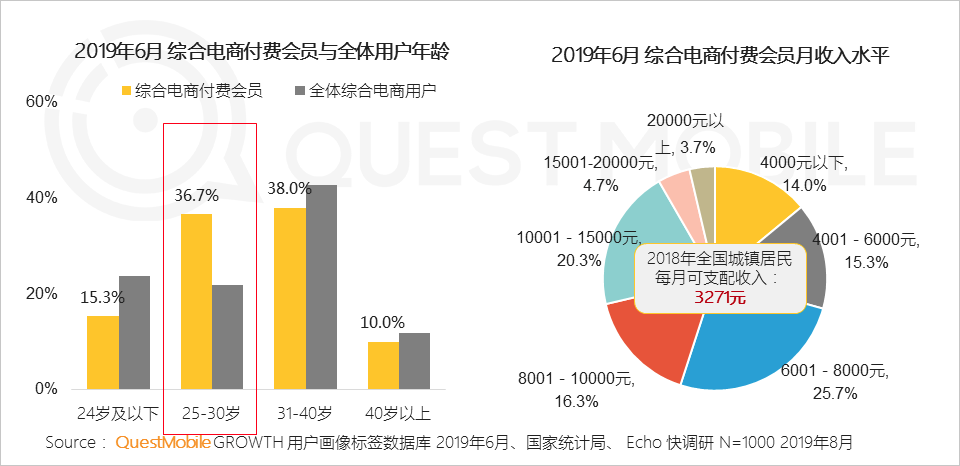 4.4 Saving money is the main motivation for most users to purchase e-commerce members, and it is also the most important interest perceived by users. The importance of free return and exchange rights is increasing, and the impact on membership renewal is improved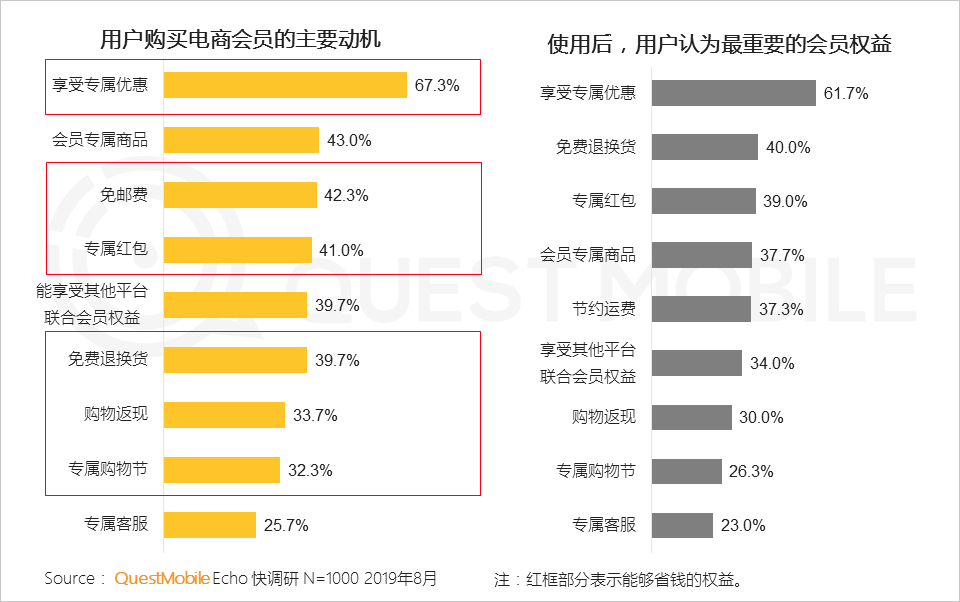 4.5 E-commerce paid members are highly recognized for current membership benefits, 90% of users are willing to continue to purchase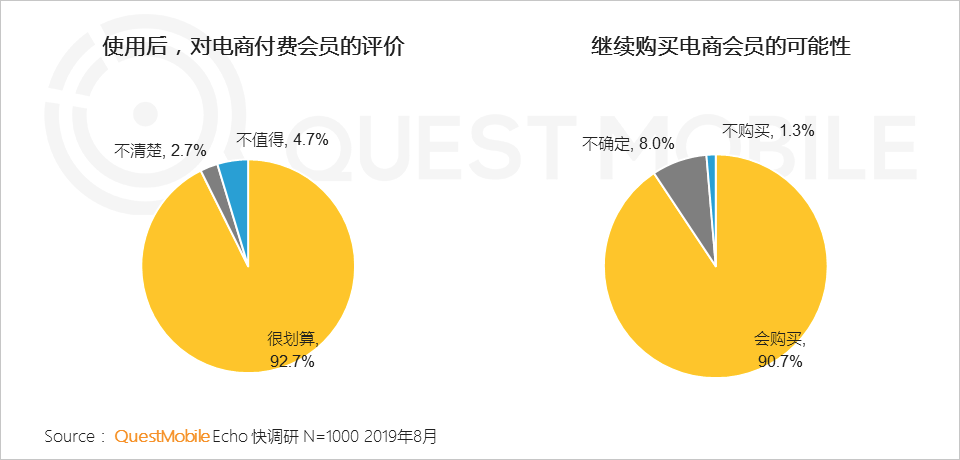 5,Typical paid market-> Content paid members
5.1 The content-paying platform provides users with high-quality content through books, audio, etc., allowing users to learn anywhere and anytime, and attract users to pay Strong>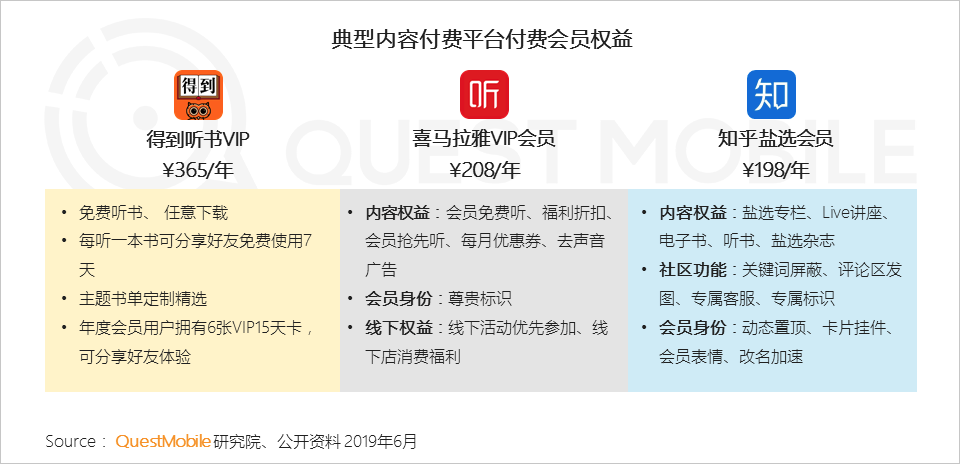 5.2
  Content quality and content value experience is very important for users to pay for it. Himalayan, knowing and other typical content payment platforms have launched membership day promotions, through free membership, low price and multiple benefits. Other offers that drive more users to experience premium content and lay the foundation for paid conversions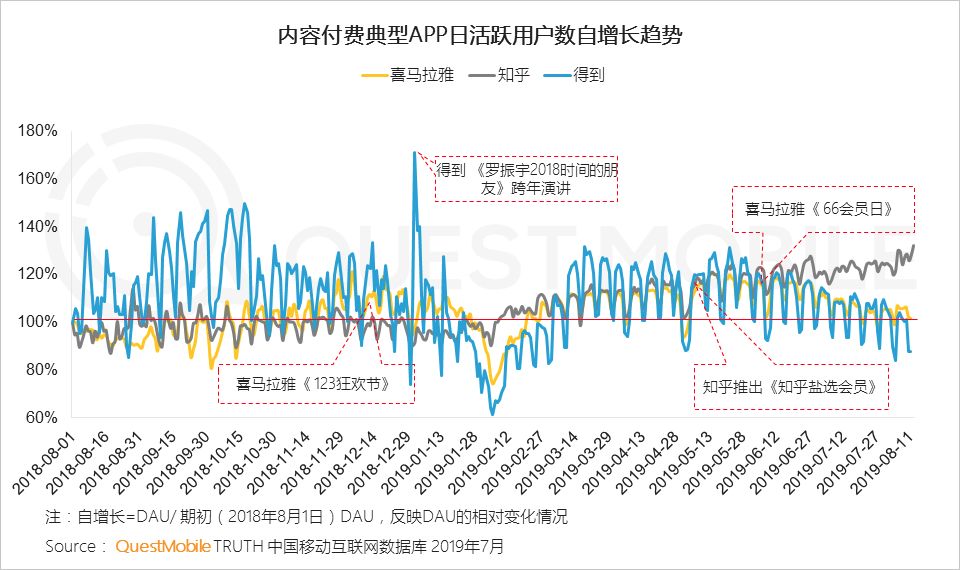 5.3 Men, 19-30 years old, just entering the workplace or rising career Users pay more than they do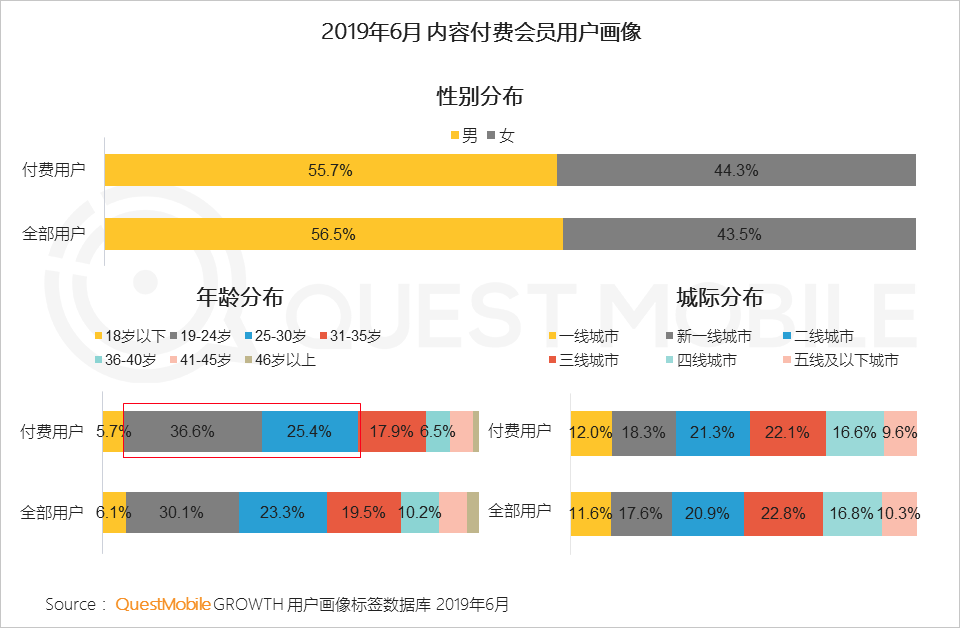 Characteristics of the typical group's paying habits reflect different spiritual consumption characteristics
1, Generation Z
1.1 Generation Z's awareness of paying is high, and the proportion of payments in typical industries is significantly higher than that of all netizens, especially for the entertainment industry. Strong>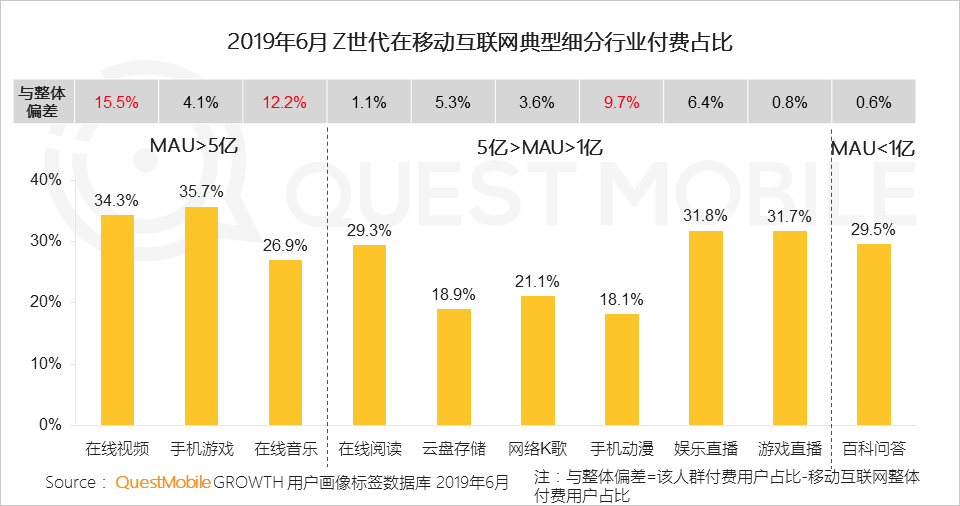 1.2 Quality products and experiences are the most critical for the Z generation;
  At the same time, Z's copyright awareness is very high, and the platform will greatly facilitate the payment of Z generations through appropriate star linkages and values. >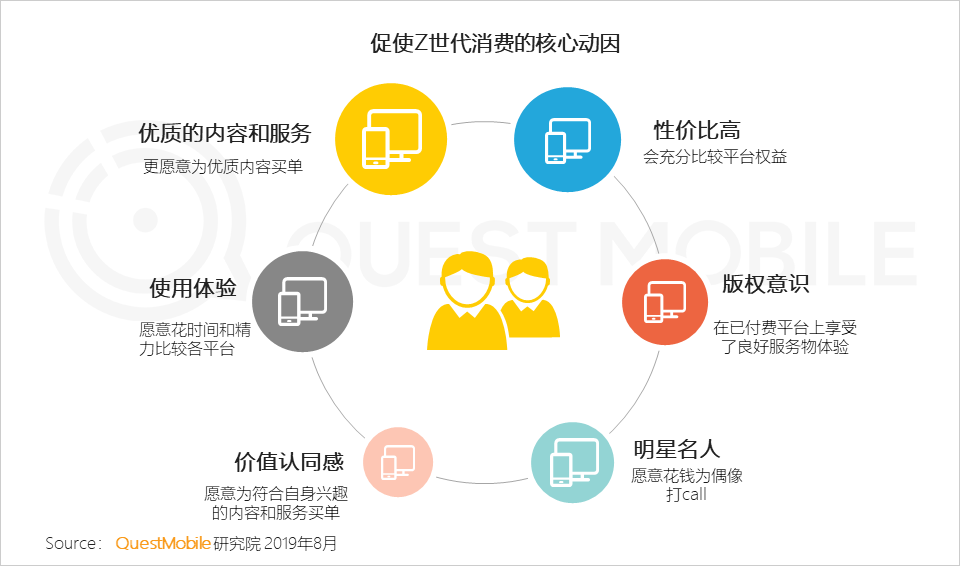 2, town youth
2.1 There are few young people in the town, and there is plenty of time. The online entertainment, mobile games and other entertainment applications have low barriers and rich choices, attracting a large number of young people to pay for their services
2.2 The income of young people in towns is generally low, price sensitive, but also high quality, willing to spend time researching cost-effective paid platforms< /strong>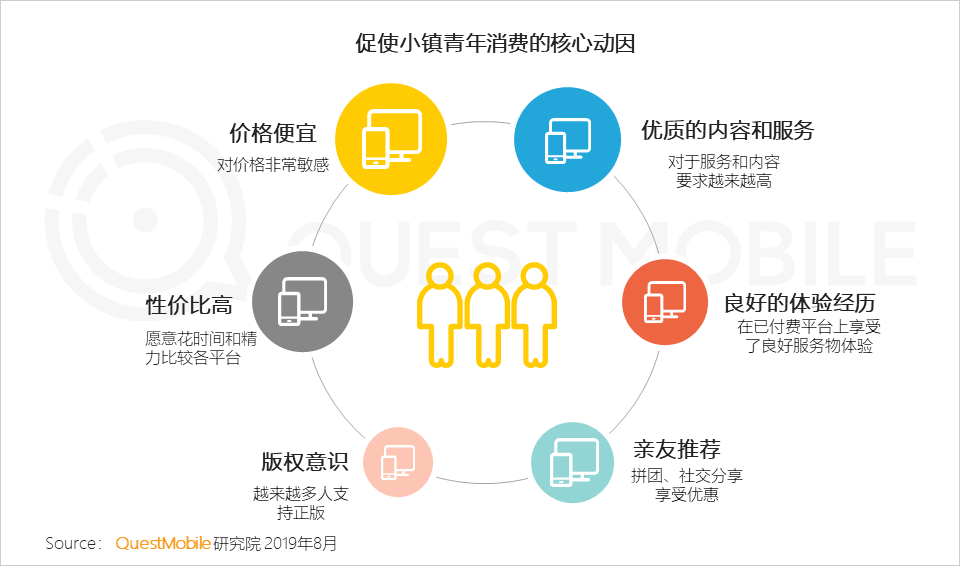 2.3 However, young people in the town are very willing to pay for entertainment consumption, and the relevant expenditures are higher than the national average, which is especially generous in live broadcasts< /strong>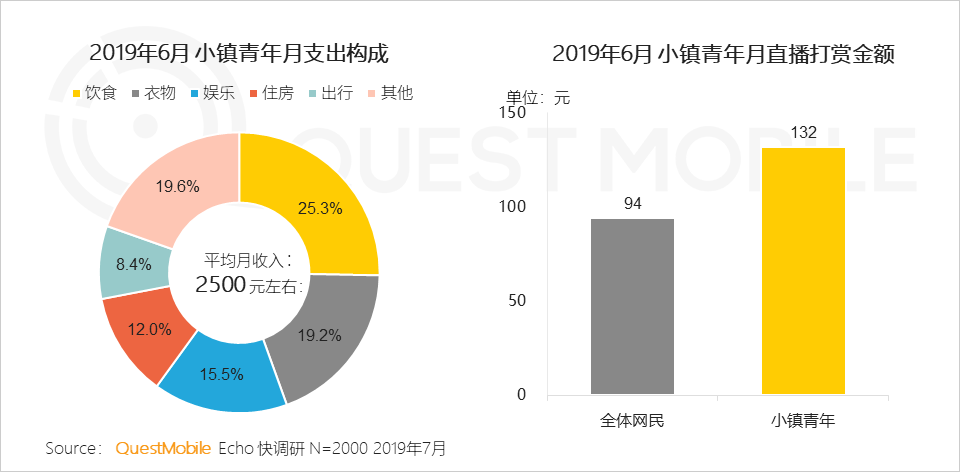 Selected recommendations